Jan 14 2013 2:22PM GMT

Profile: Nathan Simon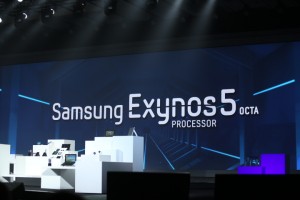 Samsung sure isn't backing down from NVIDIA, announcing an 8-Core Mobile Processor. Didn't they just announce a new Quad-Core Processor? Yes I believe they did, considering I wrote an article about it!
Because it's using this strategy, this chip is more suitable form small form factor devices like phones. Samsung says this tech will allow the chip to use up to 70-percent less power than a traditional quad-core A15 SoC, or even a dual core Exynos 5 like the one seen in the Nexus 10. source AndroidCentral

Samsung used the big.LITTLE technology developed by ARM for its Exynos 5 Octa chipset. The Samsung processor is built using four ARM Cortex A15 cores, most likely clocked at 2.0 GHz, used for the tasks that require more processing power (games, photo/video editing, etc.) and four ARM Cortex A7 cores, probably clocked at 1.7 GHz, for the basic tasks. Source Android.gs
This seems very promising, but then again, the processor isn't currently the battery drain, it's the screen, in the end, every little bit helps. I sure look forward to seeing this in our future smartphones!