---
February 21, 2014 2:39 PM

Having now covered the MCSE and MCSD certifications, let's take a look at the Microsoft Certified Solutions Associate (MCSA). Prerequisite to the MCSE expert level certifications, the MCSA has been reinvented to replace the Microsoft Certified Systems Administrator certification.
Unlike the previous Microsoft Certified System Administrator cert which focused on a specific job role, the new Microsoft Certified Solutions Associate credential focuses on the holders ability to design and build technology solutions. Holders of the legacy MCSA need not worry about the validity of their certification, Microsoft have publicly  announced that the cert will not expire and continues to demonstrate a users ability to manage the Windows Server 2000 and 2003 operating systems.
On to the new
In total, there are seven MCSA certifications each focusing on the Office Suite, relational database management, server and desktop operation systems. Lets take a closer look:
Windows Server Tracks
MCSA: Windows Server 2008 – this certification validates your ability to work with the operating system at professional level and is perfect for those looking to reinforce their existing experience. The certification is a gateway to the MCSE: Private Cloud only, holders would need to upgrade to the MCSA: Windows Server 2012 certification before widening their horizons with additional MCSE certifications.
MCSA: Windows Server 2012 – qualifying you to work as a network or computer systems administrator or a computer network specialist, this certification shows your ability to operate across multiple solution areas within business. Focused on the primary skills of Windows Server 2012, the certification is a gateway to the MCSE: Desktop Infrastructure, MCSE: Messaging, MCSE: Private Cloud, MCSE: Server Infrastructure, MCSE: Communication, and MCSE: SharePoint certifications.
It's also possible to upgrade to this cert from the legacy MCITP certifications.
Windows Desktop Tracks
MCSA : Windows 7 – thinking about becoming a desktop support technician? This cert shows you have the skills to configure and support a Windows 7 enterprise system.
MCSA : Windows 8 – attaining this certification will qualify you for a position as a computer support specialist, like the above, the certification demonstrates your ability to configure and support a Windows 8 enterprise system. It may be worth delaying your cert, Windows 8.1 has arrived and updates to the official curriculum are expected soon.
SQL Server Tracks
MCSA: SQL server 2008 – prove you have skills to implement and maintain SQL server 2008, as well as BI development and maintenance. This cert leads on to the MCSE: Data Platform or MCSE: Business Intelligence certifications. Attaining this certification prepares you for a career as a database analyst or developer.
Microsoft SQL Server 2012 – much like the Windows 8 track, there is an upgrade round the corner with SQL Server 2014. In the meantime, this cert proves you have the skills to query and administer databases in SQL server 2012, whilst as implementing a data warehouse. This cert is also a gateway to the MCSE: Data Platform or MCSE: Business Intelligence certs.
Office 365 Track
MCSA: Office 365 – want to take advantage of a host of opportunities as a software as a service (SaaS) administrator or cloud applications administrator. This cert proves you can hold these positions with a focus on managing Office 365 products such as SharePoint and Lync. As we are heading to a cloud dominated environment, this cert if a gateway to a long lasting career.
Get Learning
Those looking to start honing their skills to achieve and MCSA should be heading over to the Microsoft Virtual Academy  right now. Get the latest info, delivered by Microsoft professionals on all the aforementioned technologies. Alternatively, head over to the learn platform and access supplementary material for the MCSA tracks to get a taster of the information.
Those considering the training route can check out Firebrand Training. We offer all MCSA certification tracks.
About the Author
  By Edward Jones
Edward works for Firebrand Training as a Technical Writer within the Marketing department. He spends his days thinking up topics for surveys, engaging articles and concepts for informative infographics.
February 7, 2014 3:56 PM

This is one for all the developers out there.
Last week we took a look at the MCSE; the history of the certification, the modern learning tracks and some helpful information sources to help you to attain the certification. Today we move on to the Microsoft Certified Solutions Developer track. Following in the footsteps of the MCSE guide, let us first take a brief history lesson.
The MCSD is set to be the replacement to the following certifications:
Microsoft Certified Technology Specialist (MCTS) – this certification validates your knowledge of a specified Microsoft technology. For developers, the MCTS certification focuses on application development through Visual Studio for .NET framework 4. Other tracks include application development for SharePoint and Windows Phone. These certifications are no longer being upgraded, but are still valid.
Microsoft Certified Professional Developer (MCPD) – going into decline, the MCPD was once the most highly regarded track for developers, like the MCSE in days gone by. The certification focuses validating the holders ability to develop applications, with tracks targets at Visual Studio 2010, Windows Phone, SharePoint 2010 and Silverlight.
Both the MCTS and MCPD certifications can still be attained for Visual Studio 2010 until July 2014, at which point they will be retired. You  can keep tabs on the validity of these certifications via Microsoft's scheduled exam retirement page. At which point you will be required to certify on the MCSD.
The Microsoft Certified Solutions Developer (MCSD) is now considered to be the globally recognized standard for developers. Like the revitalized MCSE and MCSA certifications, the MCSD is designed to reflect the holders ability to build solutions across multiple Microsoft technologies, and integrates a cloud focus to reflect the changing environment, this is vastly different from the historic MCTS and MCPD that focused on single technologies.
That's it for this weeks history lesson,  on to the new tracks.
The Microsoft Certified Solutions Developer tracks
MCSD: Windows Store Apps – this certification has two paths dependent on your intentions, either of which will qualify you for a career in web development, software development or as a quality engineer. If you are a .NET developer planning to create Windows 8 apps, follow the C#, otherwise, take the HTML5 track for those planning to create a new website or those with existing web programming skills in JavaScript. It's important to factor in that major upgrades to Windows 8.1 and Visual Studio 2013 are expected in the coming months, which could affect the existing curriculum.
MCSD: Web Applications – earn recognition as an expert in creating modern web apps and services, this certification should qualify you for a career as a web developer or administrator. You will learn programming language, whilst familiarizing yourself with Windows Azure and Web Services. Again you can personalize this cert by swapping out a single exam to focus on C# or HTML5 dependent on your prerequisite skill set.
MCSD: SharePoint Applications – for those working with SharePoint 2013 looking to design and develop applications in collaboration with the platform, this is the certification for you. Earning this certification is for those intent on becoming or are currently in the role of a software or web developer.
MCSD: Application Lifecycle Management – this certification will qualify you for a job as a developer, IT Project Manager or developer. You will gain a full understanding Visual Studio 2012 and prove your knowledge of managing the entire lifecycle of application development.
It's important to note that as part of the new tracks you will be required to maintain your qualification by taking an exam to re-certify every two years. Failure to do so will mean you cease to hold the title of MCSD.
Get Learning
With Firebrand Training you can take all MCSD certification tracks. Get a taster by heading over to the learn platform where you can see our supplementary courseware. All the material is free, and will help you benchmark where you are in the learning process.
As I mentioned before, it's also worth heading over to the Microsoft Virtual Academy  where you can find material for MCSD. Below are 3 websites also work a look.
If you are new to coding then you'll need to work up to the MCSD, start off looking at the MTA developer track where you can gain all the fundamental skills required to begin a career in development.
That's it for the second installment in this three part series. Join me next week for the final installment looking at the MCSA.
About the Author
  By Edward Jones
Edward works for Firebrand Training as a Technical Writer within the Marketing department. He spends his days thinking up topics for surveys, engaging articles and concepts for informative infographics.
---
January 31, 2014 11:52 AM

A quick history lesson for those unfamiliar with the MCSE.
Historically, Microsoft's flagship MCSE track was known as the Microsoft Certified Systems Engineer. At the time it was recognized as the highest level of certification one could achieve for Microsoft operating systems. In 2007, it was exiled and replaced by the new Microsoft Certified Information Technology Professional (MCITP) tracks. Deemed outdated and in need of a fresh start the MCSE was abandoned to the scrap pile of certifications left in Microsoft's wake, doomed to linger in the annals of history. Unexpectedly the acronym did not disappear, the Information Technology sector clung to the MCSE. The certification had history, it was well known to the industry and carried a recognized authority, holders longed for its return and the MCITP failed to gain the traction it deserved.
In 2012, the return of the MCSE was announced, only it came back to use with a new name, the Microsoft Certified Solutions Expert. Microsoft took the certification in a new direction, unlike the tracks of old that focused on specific job roles, the MCSE targets a holders ability to design and build technology solutions, whilst adressing the integration of different technologies, or multiple versions of a single technology.
There's a great video from Microsoft on why they reinvented the MCSE for the cloud, sadly I can't embed it, but you can view it by clicking the below image:
With the history lesson complete, lets take a closer look at those new tracks.
The Microsoft Certified Solutions Expert certifications
There currently exist eight certifications that relate to the new MCSE:
MCSE: Server Infrastructure  – this certification focuses on Windows Server 2012 and the skills required to operate a modern and efficient data center. The track covers systems management, virtualization, identity management, networking and storage. Typical job roles associated with attaining the certification include information security analyst and computer support specialist. Pre-requisite certifications to the Server Infrastructure certification include the MCSA Windows Server 2012, MCSA Windows Server 2008 and a range of soon to be retired MCITP tracks including the Server (MCITP SA) and Enterprise Administrator (MCITP EA) tracks.
MCSE: Desktop Infrastructure – common job roles associated with this certification include desktop support, device support, data and applications manager. The certification develops a skill set focused on application virtualization, remote desktop services and desktop virtualization, whilst demonstrating the holders ability to deploy and manage desktop devices which can be accessed from anywhere.
MCSE: Data Platform – focussed SQL server 2012, attaining this certification demonstrates the holders ability to build and administer enetrprise-scale data solutions both on-premises and in the cloud. With the growing demand for big data and cloud professionals, this certification is a must have for 2014. Associated job roles include database analyst or database engineer.
MCSE: SharePoint – want to qualify as a network or systems analyst? This certification develops the skills required to attain the aforementioned job title with focus on Windows Server 2012, SharePoint Server 2013 and their integration. Learn how to aid a company in the organizing, syncing, collaborating and sharing information whether it be a start-up single site or global multi-site enterprise.
MCSE: Private Cloud – through System Center and Windows Server 2012, organizations can create their own private cloud solution, which is precisely what you will learn on this track. Demonstrate the skills required to implement and manage a private cloud with Microsoft technologies, qualifying you for the role of systems programmer, network manager or server administrator.
MCSE: Business Intelligence – learn knowledge on how to design, build and deploy solutions in SQL Server 2012 which provide your organization with the data required to make better informed business decisions. Become a Reporting Engineer or carve out a career in Business Intelligence.
MCSE: Communication – facilitate your organizations communications through gaining the skills necessary to implement, configure and administer Windows Server 2012 and Lync Server 2013. Typical jobs roles that can be attained on completing this certification include computer and network systems administration.
MCSE: Messaging – with 51% of worldwide mailboxes in the business email and collaboration market serviced by Microsoft Exchange Server, if your looking to become a computer or network systems administrator then the MCSE messaging track is right for you. Learn the skills required to transition your organization to the cloud whilst improving productivity, reducing data loss and boosting security.
Get learning…
So now you know all about the tracks, lets take a look at a few resources that will help you attain the MCSE in all its guises.
Why not take a training course?
Take the official route with a Microsoft Gold Learning partner. Firebrand Training offers the full range accelerated courses helping you to get the MCSE certification faster. In bootcamp format you work through MOC and get hands on with the technology.
Make use of the Microsoft Virtual Academy
The Microsoft Virtual Academy is a fantastic resource that can help you prepare for the full range of MCSE certification tracks, as well as the MCSA and MCSD tracks. There are virtually thousands of hours of dedicated learning materials in videos across the full portfolio of Microsoft Technologies. The content comes from MCT's, so you know its experts that are teaching you.
Test your knowledge
 Taking a practice test will help you access your knowledge in a current area and benchmark whether you are ready to take the exams. There are three  practice test sources I can recommend (endorsed by Microsoft):
So there you have it, a post all about MCSE, check back for the MCSA and MCSD posts.
About the Author
  By Edward Jones
Edward works for Firebrand Training as a Technical Writer within the Marketing department. He spends his days thinking up topics for surveys, engaging articles and concepts for informative infographics. 
---
January 16, 2014 1:58 PM
If you work in IT security, and you're considering improving your existing skill set or career prospects, securing a certification is one of the fastest and most promising paths to take. Industry recognized certifications are a third party endorsement that you have the skills necessary, don't believe me? The following figures might just shift your perspective:
Ninety one per cent of recruiters view certification as a critical part of their hiring criteria. (Microsoft, Microsoft Certification Program Satisfaction Study)
In a survey of 700 IT networking professionals, sixty per cent said certification led to a new job. (Network World and SolarWinds, IT Networking Study).
Online salary database Payscale.com recently reported certain IT certifications can boost your pay twenty seven per cent. ( Monster, Best Certifications for Boosting Your Salary)
When it comes to IT Security, the CISSP certification from (ISC)² is among the most popular pursued by professionals.
Who is the CISSP for?
The certification is recognized globally, attaining it is confirmation that you have paramount knowledge with the field of information security. It was the first of its kind to attainin the ISO standard 17024, after conforming to a range of strict requirements. Holders of the CISSP tend to hold the following job titles/functions:
Security Consultant
Security Manager
IT Director/Manager
Security Auditor
Security Architect
Security Analyst
Security Systems Engineer
Chief Information Security Officer
Director of Security
Network Architect
What does the CISSP exam cover?
It is based on ten domains covering a wide range of carefully selected information security topics which are:
Access Control
Telecommunications and Network Security
Information Security Governance and Risk Management
Software Development Security
Cryptography
Security Architecture and Design
Operations Security
Business Continuity and Disaster Recovery Planning
Legal, Regulations, Investigations and Compliance
Physical (Environmental) Security
More information can be found on the CISSP domains via the official (ISC)2 site.
Resources to help prepare you for the CISSP certification
When taking a professional certification, it is of vital importance that you prepare accordingly:
Get the official material
Don't settle for second best, whilst third party textbooks are often appealing due to a reduced price and "added extras", they are a false economy. Nothing can prepare you better for an examination better than the own vendors common body of knowledge. You can secure the official (ISC)² Guide to the CISSP CBK from their main website in 3 formats.
Take a training course
There are many training providers offering multiple formats, Authorized Partners again should be your trusted route, anything else is likely to be gray material.
Classroom Training – if your company sponsored or require the certification as soon as possible, put your self in a dedicated training environment, surround yourself with like minded individuals and find a qualified instructor to guide you through the official material. Firebrand Training are an official provider of CISSP training,  offering the course in a seven day accelerated format.
Online/eLearning – attend virtual training at lower cost which can be wrapped around your schedule. (ISC)² offer official training live online.
Self study – don't want to spend money on training, or keen to learn at your own pace in your own style? Purchase the official material outlined linked above and work through it in your own time. To maintain motivation, and bounce ideas, try working with a partner.
Test your knowledge
Whether your ready to take the exam, or just trying to gauge your knowledge levels to see if CISSP is right for you, testing your knowledge is an important step. Use the studISCope Self Assessment and Exam Simulator Tool and test your base knowledge level.
Watch a video/webinar
With the advent of YouTube, and the sheer amount of video material made available by vendors and training partners alike. (ISC)² offer a fantastic 11 part CISSP Domain Webcast Series which covers all 10 domains and an overview webcast on how to become a CISSP.
The benefits once you're certified
We've come full circle when looking at the benefits of certification, this time specific to the CISSP. (ISC)² Global Information Security Workforce Study recently found the following:
Almost ninety per cent of hiring managers view security certifications as a vital requirement when selecting candidates.
Sixty per cent of respondents reported a salary increase after attaining their certification.
Hiring managers were more likely to hire a credentialed professional suggesting it reflected quality of work and competence.
The study was summarized fantastically in this recent infographic:

About the Author
  By Edward Jones
Edward works for Firebrand Training heading up community engagement within the Marketing department. He spends his days thinking up topics for surveys, engaging articles and concepts for informative infographics. You can check out a range of his most recent work via the Firebrand Press Page.
---
December 9, 2013 4:47 PM
As eLearning companies continue to charge thousands of dollars for self-study resources, a new survey from Firebrand shows the majority of IT professionals believe classroom training gives students a better chance of preparing for exams.
The recent study received 952 responses, with 87.2% of respondents agreeing classroom training prepares students better for exams. The 87.2% who prefer classroom based training were then asked why they thought self study was worse with 5 options including other. The graph below outlines the results:
The main reasons for self-study being worse as per the chart were:
71.5% of respondents believe the lack of a qualified instructor negatively impacts training
 75.8% of respondents think it's too easy to be distracted whilst learning
59.2% of respondents are of the opinion self-study material alone is not enough to prepare for professional examinations
When asked about the above figures Robert Chapman, Co-Founder of Firebrand Training responded:
"At Firebrand, we don't believe that self-study alone is a viable method of learning. The compelling results from this survey show we are far from alone in this opinion. Companies should not be charging thousands of pounds for eLearning and self-study resources, while effectively setting up the student for failure."
"While we wouldn't recommend self-study, Firebrand respects each learner's decision to choose their own pathway to certification. In launching the Learn platform, students can experience self-study for free and without risk. Should they be unsuccessful, the student has only given up their time, and not their money."
What is Learn?
Learn is a free self-study platform which has launched with the Project Management Professional (PMP) course, which will enable students to work through:
All the courseware available on Firebrand's accelerated 4-day PMP course
A series of practice exam questions, complete with answers to benchmark knowledge
A range of exercises designed to test real-life problems
Additional resources including books, videos and resource websites.
Over the next few months, Firebrand will be adding to the platform with a series of practice tests and additional resources. By January 2014, students will have everything they need to trial self-studying for the PMP exam.
To try self-studying PMP for free, head to:  http://www.firebrandtraining.co.uk/learn/pmp
About the Author
  By Edward Jones
Edward works for Firebrand Training heading up community engagement within the Marketing department. He spends his days thinking up topics for surveys, engaging articles and concepts for informative infographics. You can check out a range of his most recent work via the Firebrand Press Page.
---
November 13, 2013 3:32 PM
Here at Firebrand, we're conducting a survey to gather your opinions on Classroom based training vs. Self-Study. Complete our ludicrously short two question survey for your chance to win a £50 Amazon voucher or one of fifteen "Failure is not an Option" t-shirts.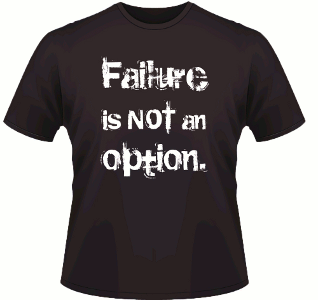 With Christmas round the corner, it's a quick way to tick another item off the list.
Here's how to enter for your chance to win:
Complete the two question survey which on my test run took a whole 36 seconds…
Enter your name and email address on completion of the survey (this is how we will contact the winner).
And you are sorted. The survery will be open till Friday with the winner announced the following week.
Outlined below are the terms and conditions which are also available on the survey page:
The prize draw is open to all respondents that provide their name and email address, and complete the survey before Friday 16 November 2013 at 11:59pm (GMT). The draw will be held by Firebrand Training the week commencing Monday 18 November 2013, and only the winners will be notified via email – by the end of November.
Prizes are as stated and there is no cash alternative. Firebrand training reserve the right to substitute a prize of equivalent or greater value (if this is necessary for any reasons).
Firebrand Training cannot be held responsible for prizes which are lost or delayed.
In all matters Firebrand Training's decisions are final. Entries that do not comply in full with these rules will be disqualified.
Note: The email address entered in this survey will not be shared with any third party.
About the Author
  By Edward Jones
Ed Jones works for Firebrand Training heading up community engagement within the marketing department. Ed spends his days thinking up topics for surveys, article titles and concepts for engaging infographics. You can check out a range of his most recent work via the Firebrand Press Page.
---
September 18, 2013 2:54 PM
After seven months and over 18,000 entrants, Firebrand Training 's Frank Højgaard, Managing Director is happy to announce Joseph Guthrie as the winner of their Free Training For Life (FTFL) competition. A prize worth over £1 million*.
Joseph will be able to take as many IT and project management training courses and exams as he wants, for the rest of his life, for free.
Frank said "We're very happy to be awarding Joseph his prize, and look forward to training him for the rest of his life on any of our 165+ courses. We did some research recently that shows Joseph could increase his earning power by more than 3x over his lifetime by gaining a certification, and a winner like Joseph has the potential to earn more than £5 million over his lifetime compared to around £1.6 million without the training."
Joseph said "I couldn't believe I won Free Training For Life. It took me all weekend to finally process. It was a mixture of elation, excitement and disbelief. Once I settled down and grasped the magnitude of what I'd won it was nothing but excitement and anticipation. I can't wait to get started. The first course I'm planning to attend is the Certified Ethical Hacker course. It is something I have always wanted to do."
Frank added: "Joseph has made a great choice; the Certified Ethical Hacker course has been very popular with our students. An ethical hacker's average salary is over £45,000, which makes the course appealing to those working in IT security."
The prize includes all training fees, exam fees, course books, food and accommodation, and as long as the winners pays for the travel they can take the training in any of Firebrand's training centres across Europe.
Frank concluded, "Firebrand would like to thank all 18,000 contestants for entering and we wish them well in their careers. We have worked out that if all 18,000 made the choice to take at least one certification course with Firebrand they would increase their salaries by around £87.5** million over the next year."
About the Author
  By Edward Jones
Ed Jones works for Firebrand Training heading up community engagement within the Marketing department. Ed spends his days thinking up topics for surveys, article titles and concepts for engaging infographics. You can check out a range of his most recent work via the Firebrand Press Page.
---
August 27, 2013 4:02 PM
There are now only 5 days left in which you can enter Firebrand's Free Training for Life competition for your chance to win unlimited free training for the rest of your life on Firebrand's full portfolio of courses.
You have until 23:59pm on Sunday 1st September at which point the competition will close.
The winner will then be announced to the world on Friday 13th September at 13:13pm.
What courses can I take?
From APMG to VMWare, Firebrand's full portfolio of courses are available from major Vendors including:
Microsoft – MCSE, MCSA, MCPD etc.
Cisco – CCNA, CCNP
Oracle
CompTIA – A+N+
EC-Council – CEH v8
PMI – PMP
APMG – PRINCE2
(ISC)2 – CISSP
Linux
To check out the full range, head to our courses page.
How do I enter?
Really easy:
Head to – www.firebrandtraining.co.uk/ftfl
Fill out your contact details
Confirm your entry by clicking the link sent to your email following your entry.
ENTER NOW FOR YOUR CHANCE TO WIN!
About the Author
  By Edward Jones
Ed Jones works for Firebrand Training heading up community engagement within the Marketing department. Ed spends his days thinking up topics for surveys, article titles and concepts for engaging infographics. You can check out a range of his most recent work via the Firebrand Press Page.
---
July 30, 2013 4:12 PM
  By Edward Jones
I recently wrote an article for Contractor UK showcasing the top 5 in demand courses for 2013. Selection of the Top 5 was based on visits to Firebrand's Global portfolio of websites for the first half f 2013.
After compiling the results, as you might expect there were few surprises in the current top 5. Here they are in order….
5. (ISC)2 CISSP (Certified Information Systems Security Professional) – if you want an Information Security Cert, you get a CISSP.
4. Six Sigma Green and Black Belt – Six Sigma centres around Business Management Strategies.
3. Cisco Certified Network Administrator (CCNA) – no surprises here, anyone looking to start a career in Networking starts off with the CCNA.
2. PMI's  Project Managment Professional (PMP) – a leading certification in the field of Project Management.
1. APMG PRINCE2 Foundation and Practitioner – hugely popular Project Management certification originally developed  by the UK Government.
Whilst conducting the research I uncovered several lesser known courses that seem to have risen in popularity as we move through 2013, so I thought I would take a minute to expand on those courses and give you a glimpse of what lies ahead.
The Enterprise Architecture Framework to rule them all…
First up we take a look at the Open Group's TOGAF certification, which is increasingly in demand thanks to the growing adoption of enterprise architecture amongst large organisations.
Enterprise architecture (for those that don't know) is defined by Gartner as:
"a discipline for proactively and holistically leading enterprise responses to disruptive forces by identifying and analyzing the execution of change toward desired business vision and outcomes. EA delivers value by presenting business and IT leaders with signature-ready recommendations for adjusting policies and projects to achieve target business outcomes that capitalize on relevant business disruptions. EA is used to steer decision making toward the evolution of the future state architecture."
In order to implement an enterprise architecture you require a framework, a set of tools by which you might develop and govern a broad rancge of architectures. Within this field, TOGAF (the Open Groups Architecture Framework) is the most widely used architecture framework, reflected in it's adoption by more than 80% of Fortune 500 companies. As the demand for TOGAF grows, so with it does the requirement for IT managers and Architects with expert knowledge of the framework and enterprise architecture.
TOGAF is certainly one to watch in the coming years.
Everyone loves a Scrum…
Next up we take a look at the Professional Scrum Master certification, which is an increasingly popular Project Management certification set to challenge the likes of PMP and PRINCE2.
The Professional Scrum Master course was originally created for developers in the field of software development, though over time the course has evolved and is increasingly adopted in all areas of business as a means by which to manage projects. Scrum's main function is to optimise productivity and efficiency and has proved hugely popular in recent years due to it's agile nature and the ability to scale across whole organisations.
For anyone creating, managing or executing projects, this is a great Project Management course for honing skills in managing teams, project ownership, planning, predictability, risk management and reporting all in the sphere of a Scrum framework.
Big Data blows up…
Big Data is one of those terms flying around in 2013, just like BYOD and the 'internet of everything'. The reason big data is so….well….big, is because it's changing the way we look at and find insights into our data. Often if you hear the phrase big data, it ends up in the same sentence as Apache Hadoop.
Apache Hadoop is described by IBM as 'an open source software project that enables the distributed processing of large data sets across clusters of commodity servers', much like the case with the TOGAF framework, the more companies utilise and benefit from using Hadoop, the greater the demand for skilled Professionals. Cloudera have responded to that demand by creating the Cloudera Certified Administrator for Apache Hadoop (CCAH) and Cloudera Certified Developer for Apache Hadoop (CCDH) certifications.
Gaining these certifications proves you have the skills to administer or develop Apache Hadoop and will be a coveted skill over the coming years. Those looking to tap into what looks to be a lucrative and expanding market should be looking to take the CCAH and CCDH as soon as possible.
Keep your eyes peeled…
So there we have it, three up and coming certifications you can ponder adding to your portfolio and as we move through 2013 there will no doubt be more, there always are.
We'd love to hear your thoughts. So why not drop us a comment?
About the Author
Ed Jones works for Firebrand Training heading up community engagement within the Marketing department. Ed spends his days thinking up topics for surveys, article titles and concepts for engaging infographics. You can check out a range of his most recent work via the Firebrand Press Page.
---
July 18, 2013 3:24 PM
  By Edward Jones
Microsoft Genesis
1. In the beginning Bill created MS-DOS. 2  Now MS-DOS was formless and empty, darkness was over the surface of the desktop screen, and the mind of Bill was hovering over the creation of the desktop OS.
3 And Bill said, "Let there be a better OS," and there was . 4 Bill saw that the OS was good, and he separated the good  from the bad. 5 Bill  called the good "Windows 1.0," and the bad he called "Mac 1.0." And there was evening, and there was morning—the first Microsoft Desktop OS.
The Journey
Microsoft have come a long way since they launched Windows 1.0 on November 20, 1985. Over the last 30 years the organisation has grown into a Global leader in creation of Enterprise Technology. Following the recent launches of flagship products SQL Server 2014, Windows Server 2012 R2 and System Center 2012 R2 we decided to pay homage to Microsoft by creating the comprehensive guide to Microsoft's existing portfolio of business and enterprise technology.
We hope you enjoy it, if you wish to see a large version take a trip to the Firebrand site.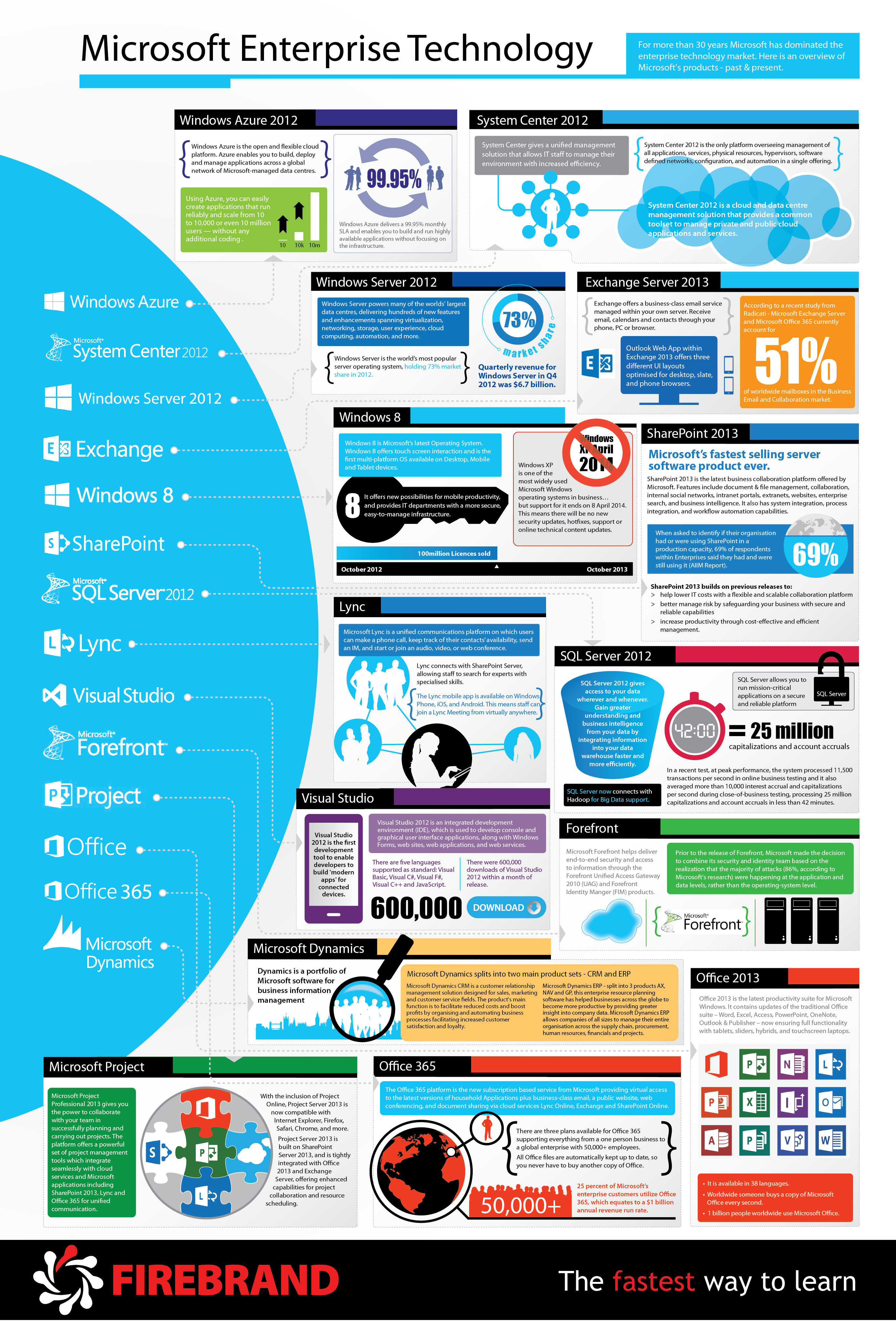 A guide to Microsoft's Enterprise Technology by Firebrand Training
After finishing the graphic, as the title suggests, hopefully you will have a comprehensive understanding of the full range of Microsoft's Enterprise Technology.
About the Author: 
Ed Jones works for Firebrand Training heading up community engagement within the Marketing department. Ed spends his days thinking up topics for surveys, article titles and concepts for engaging infographics. You can check out a range of his most recent work via the Firebrand Press Page.
---