---
May 25, 2016 12:07 PM
robot
,
Robotics
Robots are beginning to invade healthcare. But don't be alarmed, they're here to help.
In fact, the use cases for robotics in healthcare range from telemedicine, to orthopedics, to neurology.
One notable application for robots is in the Lompoc Valley Medical Center's emergency room.. The southern California's medical center's emergency room has a Remote Presence Virtual Independent Telemedicine Assistant, or RP-VITA robot, that helps examine admitted patients with neurological issues while physicians and nurses assess patients and get CT scans. The RP-VITA robot, called Dr. Robot by the staff, a story in the local newspaper said, is a 5-foot-tall mobile android that has a high definition video screen head that allows neurologists to remotely examine patients –by logging into the robot's display via an encrypted connection — and help develop treatment plans.
The robot also allows neurologists to zoom in to see the patient's pupils, read data on equipment in the patient's room, and speak with the patient and doctors and nurses in the room, according to the newspaper story. All the information that is gathered about the patient using the robot and the caregivers in the room is ultimately integrated into the patient's health record.
Furthermore, robots are having an impact when it comes to orthopedic surgery, especially given their reproducible surgical precision. A release from market research firm Radiant Insights said  orthopedic surgical robots are improving knee and hip replacement surgeries. When surgical robots are used, patients have less bleeding and post-operative pain, fewer readmissions and faster recovery.
And robots will not be leaving the healthcare space anytime soon. The release states that "roboticists" –people who have earned degrees in robotics—are increasingly being hired to link robots into existing IT systems. Furthermore, another report, from the Markets and Markets research firm, predicts that the medical robots market will increase from $4.2 billion in 2015 to $11.4 billion in 2020.
May 24, 2016 3:12 PM
EHR
,
EHR adoption
,
EHR implementation
When it comes to EHRs and whether they helped or harm the quality and delivery of care, healthcare professionals are divided.
The majority of hospitals leaders — some of whom had input into replacing their organization's EHR — think their choice to replace their EHR did not have a negative result on patient care. In fact, only 5% of hospital leaders thought that swapping out their old EHR for a new system caused a dip in care quality, according to a Black Book Market Research survey of healthcare executives and IT staff.
"Most executives will not admit they were oversold or that their IT decisions had adverse bearing on patient care," said Doug Brown, managing partner of Black Book Market Research LLC, in a release.
On the other hand, 96% of nurses said they weren't included in the EHR replacement planning process and 90% of them reported the changes that resulted from transitioning to a new EHR reduced their ability to effectively administer care.
The rest of the survey results seem to indicate less satisfaction with moves to a new EHR. Specifically, nearly two-thirds of non-managerial IT staff believe that using a new EHR directly caused a decline in healthcare delivery.
However, the consequences of an EHR replacement extend beyond clinical care into the financial realm. Among hospitals that were struggling financially before opting for a new EHR, 87% said they now regret their decision to do so. According to Doug Brown's comments in the Black Book release, budgetary issues shouldn't have been unexpected. He said, "No other industry spends so much per unit of IT on the part of the business that is shrinking the fastest and holds little growth as did inpatient revenues."
While executives were hesitant to criticize their organizations' decisions to pick a new EHR, their answers to one of the Black Book survey questions seemingly revealed they felt pressure to oversee a calm implementation process. Slightly less than two-thirds (63%) of executives thought that they, or their peers, were in danger of losing their jobs during their EHR conversions. Also, nearly 20% of respondents stated that EHR installation delays, budget miscalculations and other resource shortages resulted in temporary and permanent layoffs at their facilities.
---
May 12, 2016 12:13 PM
HIE
,
Interoperability
,
Interoperability and health information exchange
,
ONC
Most people can be reached instantly by others through mobile technology. A new healthcare contest devised by ONC may make it so that patients are able to approve the electronic transmission of their health data just as quickly.
The ONC Move Health Data Forward Challenge seeks to support the creation of an application programming interface (API) that would allow individuals to control who is authorized to view their data.
According to a blog post written by Steven Posnack, director of the Office of Standards and Technology at ONC and Caroline Coy, an ONC health IT program analyst, up to $250,000 in rewards will be given out to participants in the healthcare contest. The three stages and associated funding opportunities are as follow:
 In phase one, ten finalists will each receive $10,000 for their proposals.
As many as five finalists will move to stage two where they will each be eligible to receive $20,000 based on their prototypes.
There will be as many as two contest winners. Each will be given $50,000 based on an evaluation of how successfully they implemented their API.
The Move Health Data Forward challenge builds on ONC's Shared Nationwide Interoperability Roadmap which intends to give patients more say over where their data is sent.
It's been more than a year since ONC released its 10-year interoperability plan. The agency hopes its roadmap pushes U.S. healthcare providers past the electronic data collection phase and encourages them to more freely share patient data. The ultimate goal of ONC's interoperability project is to see the formation of a national learning health system in which hospitals can get data from providers and individual patients, with the consent of the patients.
Getting patients to agree to share their data is only one part of the process of improving interoperability among U.S. healthcare providers. In a recent interview with SearchHealthIT, Eric Helsher, vice president of client success at Epic Systems Corp., reasoned that the absence of technical and clinical terminology standards is stopping interoperability progress.
---
May 9, 2016 2:49 PM
information blocking
,
Interoperability
Even the vice president of the United States isn't exempt from experiencing information blocking.
At the Health Datapalooza conference in Washington, D.C., Vice President Joe Biden told the crowd how his son battled a brain tumor and about a "last ditch treatment… where [doctors] injected a virus into the tumor in [my son's] brain" when MRIs of his son's tumor were needed.
"We couldn't get that information from Walter Reed [National Military Medical Center] where he was at the time back to MD Anderson [Cancer Center] because the systems couldn't talk to one another," Biden said. His son, Beau Biden, died in May 2015 at 46 years old.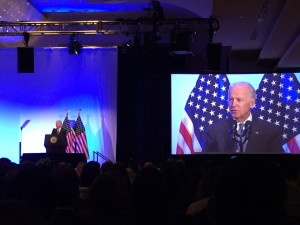 Information blocking appears to be emerging as a major theme at this year's conference, in addition to the issues of value-based care and improving EHRs.
"The U.S. healthcare system is probably the most screwed up part of our economy," John Doerr, a venture capitalist at Kleiner Perkins Caufield & Byers in Menlo Park, Calif., and a member of the President's Economic Recovery Advisory Board, said during a Q&A. "The patients, the providers and the payers are not linked in any rational or functioning economic system."
Sylvia Burwell, HHS secretary, and Bill Cassidy, M.D., Republican U.S. Senator from Louisiana, reinforced this notion, especially as it applies to data sharing and interoperability.
Burwell noted the adoption of EHRs has tripled. However, she acknowledged that when it comes to EHRs, "it does not always work the way that it should," adding that "often [data] cannot move from one system to another" and "hospitals don't want patients to access data for business reasons."
Cassidy shared a personal story of information blocking. When his mother had an X-ray done, the hospital said she needed to get a disk copy of the X-ray images and physically bring it to other physicians to share the information between providers.
"The promise that we have spent billions on… none of that is happening," Cassidy said. "Isn't that remarkable?"
He also discussed how EHRs are tearing apart the patient-physician relationship and creating an environment of care that is "driven by drop down boxes." He said that unless the healthcare and health IT communities focus on the patient-physician relationship, then "it will all be for naught."
Cassidy added that "much of what we do has little meaning to patients" and said he thinks the healthcare and health IT communities need to start thinking less about what software works for the big health institutions that allegedly are data blocking and think about what works for patients.
Burwell stated that three things need to happen to fix this problem:
Make sure health IT systems are speaking the same language
Change the culture around access to information so data blocking isn't tolerated
Ensure rules and regulations support moving and sharing data safely and securely
---
May 4, 2016 12:53 PM
Joint Commission
,
Secure messaging
The Joint Commission, the independent nonprofit that functions as a sort of unofficial arm of government healthcare regulatory agencies, has essentially reversed its 2011 opinion on clinician text messaging.
In the May 2016 issue of its Joint Commission Perspectives newsletter, the commission updated its previous guidance on texting. The commission noted that secure text systems were not widely available when it published a 2011 FAQ stating it wasn't acceptable for physicians and other clinicians to text orders for patient care or treatment to hospitals or other care settings..
"At the time, the technology available could not provide the safety and security necessary to adequately support the use of text messaging for orders," the commission said.
But, "as technology has evolved, however, the number of secure text messaging platforms has increased," the commission added.
The commission said that after conducting research it has decided to immediately revise its previous stance. Now, healthcare practitioners can text orders as long as they use secure messaging systems and meet certain requirements of an order.
Approved secure messaging systems must include these functions, according to the commission:
Secure sign-on
Delivery and read receipts
Date and time stamp
Customized message retention time frames
Specified contact list for people authorized to receive orders
Organizations that use text orders should comply with medication management standards and also consider how text orders will be documented in patients' health records and whether they integrate with EHRs.
Meanwhile, the commission advised organizations that allow texted orders to develop an attestation process to document the capabilities of their secure texting technology; define when text orders are appropriate; monitor frequency of texts and assess compliance; develop a risk management strategy and perform a risk assessment; and conduct training.
To sum up the commission's new position on secure texting: it's OK, under certain conditions.
---
May 3, 2016 1:30 PM
CHIME
,
device interoperability
,
FDA
,
Interoperability
,
ONC
The FDA is making an effort to increase medical device interoperability, but their current plan for achieving that objective isn't comprehensive enough, according to a group of healthcare CIOs and IT executives.
The College of Healthcare Information Management Executives (CHIME) wrote a letter on behalf of its 1,800 health IT executive members to the FDA. The CHIME letter was a response to the FDA's draft guidance on using medical devices to safely exchange patient data. In the letter, CHIME made it known that it fully supports the FDA's goal of achieving more medical device interoperability, but expressed skepticism that the recommendations previously issued by the FDA will seamlessly facilitate improved medical device interoperability.
The CHIME letter indicates that even though CHIME members sometimes purchase new software and devices — which are supposedly interoperable — they struggle to connect the new software and devices with their existing systems without the help of a third party.
The following is a list of some of the advice CHIME gave to the FDA as it continues to develop its medical device interoperability policies:
The FDA should work with ONC, device manufacturers and healthcare providers to establish a defined set of interoperability regulations for medical devices.
The FDA should also collaborate with ONC to better define interoperability and to certify application programming interfaces.
Manufacturers should be mandated to annually complete a risk assessment on their devices.
The FDA should align its interoperability regulations with its existing cybersecurity guidance.
The FDA's stance on medical device security should be fresh in the minds of device manufacturers, especially since the government agency released a draft guidance on the topic earlier this year. In its release, the FDA stated that all connected medical devices have some cybersecurity vulnerabilities. The FDA urged developers to be aware of the performance of their devices even after they are released and sold so they can help preserve high quality patient care.
---
April 28, 2016 11:22 AM
mHealth
,
Mobile application security
,
Mobile applications
Mobile apps in healthcare are here to stay. Indeed, the market for mHealth devices and services market is expected to grow to $50 billion by 2020—up from $14.5 billion in 2014—according to a report from Zion Research.
Furthermore, a purchasing intentions survey SearchHealthIT recently conducted in conjunction with the College of Healthcare Information Management Executives, found that many health IT professionals continue to make mobile a buying priority.
But a study recently published in the Journal of Medical Internet Research (JMIR) mHealth and uHealth  found that "risks lie in the enormous availability and low levels of regulations" when it comes to the use of apps and e-tools for medical use.
The study looked at 116 mHealth and e-tools, with 87% of those tools being applications. Of those apps, 16 of them were classified as a type II medical device.
"If we classified a tool as a type II medical device, and if health care professionals were the intended user group, we also examined whether they were accessible to non-health care professionals," the study said.
Of those 16 tools, seven could be used by non-healthcare professionals.
"Thus, the majority of type II medical device tools designed for use by health care professionals were accessible to the general public," the study found, noting that this is worrisome when it comes to patient privacy.
And it appears the Department of Health and Human Services has taken note of this potential risk when it comes to apps too. The department recently released guidance for healthcare app developers to aid them in navigating HIPAA.
---
April 27, 2016 2:32 PM
HANA
,
personalized medicine
,
precision medicine
,
SAP
Precision medicine has a powerful advocate in the person of President Obama.
Now a powerful multinational tech giant is also throwing its considerable financial and intellectual resources behind the movement to use genetics, genomics and big data to provide individualized healthcare.
SAP, the dominant enterprise software vendor, has made a number of moves in precision, or personalized, medicine over the last year that probably make the German-founded company the most visible non-native health IT player in the field.
SAP's HANA database platform is underpinning the American Society of Clinical Oncology's CancerLinQ project, a precision medicine-style effort to quickly derive clinical insights from millions of health records and clinical data.
In September 2015, after SAP CEO Bill McDermott lost an eye in a fall at his brother's home, McDermott declared the company would plunge into healthcare.
Two months later, SAP released two software systems dedicated to healthcare, both built on HANA: Foundation for Health, a warehouse for clinical and data; and Medical Research Insights, a Web-based cognitive computing engine that compares patient data from many sources.
On April 26, SAP sponsored a forum with the Bloomberg Government unit of Bloomberg Finance L.P. in Washington, D.C. dedicated to personalized medicine and President Obama's Precision Medicine Initiative.
During the symposium, Francis Collins, M.D. director of the National Institutes of Health, explained the initiative's first major project: a $170 million undertaking to collect the health data and blood samples of 1 million volunteer study participants.
Also this week, SAP released, in conjunction with global forecasting company Oxford Economics, the results of a personalized medicine survey. The survey, Healthcare Gets Personal, shows what SAP calls "the next revolution in healthcare," one that "promises breakthrough treatments and lower costs."
SAP and Oxford Economics surveyed 120 health professionals working in personalized medicine and also did in-depth interviews with experts.
Among the top findings:
Diabetes, already the major illness targeted by precision or personalized medicine, with 45% of respondents reporting it as their main focus today, will grow in two years to be the primary focus of 63%.
Next was common cancers, with 38% using precision medicine now and 44% expecting to in two years.
Neurological diseases are targeted by only 33% of precision medicine professionals now. That figure is expected to jump to 58%.
Respondents also reported they expect major increases in the use of personalized medicine for cardiovascular diseases; aging; autoimmune diseases; rare cancers; and other rare diseases.
While personalized medicine is already having a measurable effect on patient outcomes, significant adjustments to healthcare organizations' culture and governance are required. Organizations are still learning how to share new data with patients and are preparing for new government regulations.
Organizations are making substantial investments in big data and analytics. "Technology is at the heart of personalized medicine," according to a release accompanying the survey results.
Business models for personalized medicine are not fully developed, but there is optimism about revenue growth and profitability over the next two years.
---
April 26, 2016 2:39 PM
cancer
,
HIE
,
Machine learning
Machines are just as capable as humans, if not more so, on almost every level when it comes to diagnosing patients.
Open source machine learning tools and algorithms are able to identify cancer cases with an accuracy rate that is equal to or greater than that of trained humans. Furthermore, these machine learning tools are also able to give diagnoses faster than their human counterparts, according to a study done by Regenstrief Institute and Indiana University School of Informatics and Computing at Indiana University-Purdue University Indianapolis (IUPUI). The machine learning tools diagnosed the cases based on text data from pathology reports.
The Regenstrief and IUPUI researchers analyzed 7,000 text pathology reports and used algorithms and open source resources to forecast whether an individual report was positive or negative for cancer. Their central finding was that a fully automated review done through machine learning was correct at least as often as expert human reviewers.
"It's no longer necessary for humans to spend time reviewing text reports… A human's time is better spent helping other humans by providing them with better clinical care," said Shaun Grannis, M.D., interim director of the Regenstrief Center of Biomedical Informatics, in the release that summarized the findings of the study.
Grannis also theorized that physicians, healthcare systems, HIEs and other healthcare organizations can rely on technology, such as machine learning tools, to interpret the growing amount of patient health information. In the research report, first author Suranga N. Kasthurirathne, a doctoral student at IUPUI, stated that the study's way of deploying machine learning to identify cancer could be applied to other health conditions.
Machine learning can be helpful in other ways as well. In an interview with SearchHealthIT, John Brownstein, chief innovation officer at Boston Children's Hospital, discussed how machine learning is incorporated into a disease tracking resource called HealthMap that he helped create. Though it doesn't help diagnose a particular disease, HealthMap uses machine learning to pinpoint the geographical location of patients with a disease such as dengue fever.
---
April 21, 2016 8:07 AM
The use cases for the Internet of Things (IoT) in healthcare are many. Indranil (Neal) Ganguly gave three use cases for IoT in healthcare when he spoke with SearchHealthIT at HIMSS 2016: inventory management, workflow optimization, and medical device integration. And healthcare companies are working to create the technology necessary to make IoT happen.
"I think we're going to see that increase over the next few years dramatically, but in general, hospitals are just scratching the surface with IoT," Ganguly told SearchHealthIT at HIMSS 2016.
A new report by Allied Market Research backs up Ganguly when he says that the use of IoT will increase dramatically in the next few years. The report predicts that by 2021, the IoT healthcare market will reach $136.8 billion worldwide.
The report attributes this growth—and the continued growth– to various phenomena:
Accessibility of wearable devices
The decreasing cost of sensor technology
The launch of technologically advanced devices such as smart shirts, smart lenses and smart bands
The rise in rates of chronic diseases
Demand for cost-effective treatment and disease management
Better access to high speed internet
Implementation of favorable government regulatory policies
However, IoT in healthcare is not without its barriers, the report said. High costs of IoT infrastructure, and data privacy and security concerns, to name a few, are some factors that could restrain the market growth.
Despite this, general growth within the world IoT healthcare market is expected to continue. The report projected that the fastest growing segment would be devices, that patient monitoring will continue to dominate, Fitness and wellness measurement applications will keep growing, and healthcare providers and patients will continue to lead the market.
---