---
January 17, 2018 4:29 PM

Profile: Scott Wallask
Artificial intelligence
I browsed through two vastly different reports on artificial intelligence (AI) this week, leading me to again wonder if there is substance on the matter or just a lot of hot air blowing around.
My publisher posted an Adweek story on her LinkedIn page which reported that marketing teams have decried AI as overhyped. In the marketers' opinions — culled from a study by digital marketing services company Resulticks — martech vendors, journalists and analysts all stand guilty of flinging the alleged AI baloney.
However, just two days later, I read a new study funded by Uncle Sam that predicted significant potential for AI in healthcare, albeit coming with associated challenges.
The report was researched and written by the somewhat clandestine advisory group JASON, an independent collection of scientists that advises the federal government under a contract.
Interoperability could hurt AI in healthcare
The JASON report is a long read, but generally concludes that for AI in healthcare, there is a treasure trove of patient data waiting to be analyzed, but privacy requirements, costs of collecting that data and a lack of EHR interoperability hinder artificial intelligence's progress.
The report acknowledged AI's hype, however, and suggested that the technology has to go beyond its fans in computer science and instead work its way into the lives of clinicians and consumers.
I see AI in heal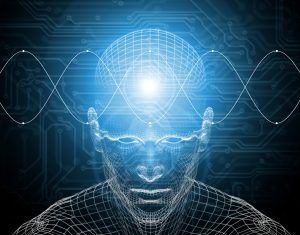 thcare finding its footing with the value-based care movement, which is largely based on patient outcomes with a strong dose of data thrown in. AI will be handy in predicting negative outcomes, which may allow clinicians to change course, avoid future health problems for patients and in turn boost reimbursements.
FYI, you can read the Adweek story here.
Where do you stand with the hype and reality of AI?
January 12, 2018 4:33 PM
Digital Health
,
FDA
In an effort to help consumers make informed health decisions, the Food and Drug Administration (FDA) renewed its commitment to digital health technology in its 2018 strategic policy roadmap.
The FDA said in its roadmap that digital health not only allows consumers to "take more effective control of their care," but also allows clinicians to "provide better medical care." The agency also said it will adapt its traditional approaches to regulation to address the challenges of digital health technology, using its previously announced Pre-Certification Pilot Program.
The goal of the program is to develop a tailored approach to regulating digital health technology by first concentrating on the developer of the technology and not the technology itself, as the agency currently does for traditional medical devices. This will allow change to occur more quickly to accommodate the faster pace of innovation in digital health technology, the FDA said.
FDA Commissioner Scott Gottlieb, M.D., said in a statement that the roadmap isn't intended to be a traditional strategic plan and that it is not a comprehensive list of policies the agency will focus on in 2018. Instead, it is a way to provide transparency about the FDA's policy undertakings to organizations and people affected by FDA oversight. By focusing on new areas like digital health technology, the agency "will optimize our resources to achieve clear deliverables that will yield results over the next two years."
The FDA previously issued draft guidance that loosened its regulations on certain technologies, such as mobile apps that help consumers manage their weight or track their steps. The agency considers these types of apps low risk for causing harm; rather, the data collected and managed by these apps can be valuable to the consumer.
The FDA's focus on digital health technology is in line with an industry trend that shows no sign of slowing down, as investments in digital health hit $3.5 billion in the first half of 2017 alone.
---
January 5, 2018 12:34 PM
health IT tools
I've been reporting and writing for SearchHealthIT for about three years and the day has come for me to say goodbye.
Looking back on these past three years, I can't help but laugh at, as well as be in awe of, some of the experiences I've had and some of the healthcare stories I've had the privilege of telling:
Running around my first HIMSS conference lugging video equipment and booking myself solid with interview after interview;
Finding myself walking around John Halamka's farm;
Geeking out when then-U.S. Vice President, Joe Biden, took the stage at a conference in Washington, D.C.;
Actually getting a VP at Epic on the phone for an interview (Epic is much better about talking to the media nowadays);
Sitting down with Zane Burke, president of Cerner Corp., and Colonel Nicole Kerkenbush, military deputy program executive officer for the Defense Healthcare Management Systems within the Department of Defense, to talk about the DoD EHR contract;
And so much more.
After all these experiences, I wanted to tell you about the top three healthcare stories I reported on during my time as a health IT reporter that I will never forget.
John Halamka and his farm
If you have anything to do with health IT, then chances are you know who John Halamka is. Shortly after I began writing for SearchHealthIT and learned that Halamka, the CIO of the Beth Israel Deaconess Medical Center (BIDMC), is a health IT superstar, as some have called him, I decided I wanted to try to do a video interview with him.
I ended up getting way more than I asked for.
In addition to an hour long video interview in his office at BIDMC where we discussed topics ranging from his wife's battle with cancer to telemedicine to data sharing, he let me visit his farm in Sherborn, Mass.
One of the videos that came from this adventure with Halamka, a video about the technology he used to help cure his wife of cancer, would end up winning several awards.
Joe Biden's personal experience with data blocking
Just seeing the then-Vice President of the United States was an honor. But to hear him discuss the very personal story of how data blocking affected the ability for his son, Beau, to receive care humanized him and tapped into something I was already very passionate about.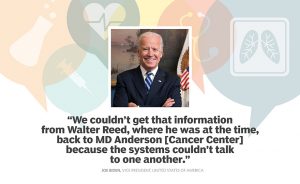 The topic of data blocking has always fascinated me as a health IT reporter and it was always a very slippery subject to really nail down with concrete evidence. Healthcare professionals will discuss the data blocking issues they've experienced but no one will really name names.
So to have someone like Biden publicly discuss his experience and acknowledge that it's happening (there really is no denying it is happening) was a powerful moment for me.
MGH's experience implementing Epic
There's something special about being allowed to visit a healthcare organization, to sit down with the CIO, and to discuss health IT issues at length. It is something that has definitely enriched the healthcare stories I've written.
But to be welcomed at Massachusetts General Hospital (MGH) – video camera in hand — and have the opportunity to discuss with MGH's CIO, Keith Jennings, MGH's experience implementing Epic – a $1.2 billion project – is something I won't soon forget.
Everyone in healthcare can relate to the challenges that come with implementing an EHR. After all, you're all required to do it!
But MGH's implementation of Epic was a huge project and Jennings was open about discussing the challenges and lessons learned from that experience.
Final farewell
It's been my honor to tell these healthcare stories and I'm grateful for all the amazing people I've met and interviewed along the way.
Make sure to visit SearchHealthIT for more health IT articles, podcasts, videos, and more!
---
January 4, 2018 2:52 PM
Amazon
,
Apple
,
consumer devices
,
Google
,
Microsoft
Consumer technology giants such as Apple, Google, Microsoft and more are accelerating their efforts to remake the healthcare technology industry by developing new tools geared towards consumers, patients, doctors, insurers as well as medical researchers, and increasingly investing in health start-ups, according to a New York Times article.
While the tech industry has long been involved in healthcare, especially IBM, Intel and Microsoft, there has been a shift in the creation of, and investment in, new kinds of technologies for doctors, patients, and consumers.
The article cited data from CB Insights, a research firm that tracks venture capital and start-ups, that found that in the first 11 months of 2017, 10 of the largest tech companies in the United States were involved in healthcare equity deals worth $2.7 billion. This is up from $277 million for all of 2012, according to the article.
"Each tech company is taking its own approach, betting that its core business strengths could ultimately improve people's health — or at least make health care more efficient," the article said.
Here are what some of those tech giants are up to in the healthcare technology industry:
Google's parent company, Alphabet
Alphabet is possibly the most active American consumer tech giant in health and biotech, according to the article. Specializing in data, Google's parent company recently acquired Senosis Health, an app development company that uses smartphone sensors to monitor certain vital signs.
Alphabet also has a research unit called Verily Life Sciences, the article said, which is dedicated to developing new tools to collect and analyze health data.
In 2017, Verily introduced a health research device called the Verily Study Watch. This wearable device has sensors that can collect data on a person's heart rate, gait and skin temperature, according to the article, and is currently being used in a research study called Project Baseline, financed by Verily, which has about 10,000 volunteers. Project Baseline participants are also asked to use sleep sensors in their beds and to also have blood, genetic and mental health tests done, the article said. The goal is to use data analytics and machine learning to get a more detailed picture of the progression of diseases such as cancer.
Apple's consumer approach
Not surprisingly, Apple is using its iPhone and Apple Watch to help consumers better track and manage their health, the article said. In 2015, Apple introduced new software called Apple ResearchKit for health researchers and Stanford developed an app to enroll volunteers in a heart study and track their physical activities, their sleep as well as their fitness.
Stanford is also conducting an Apple Heart Study that is intended to determine whether an app for the Apple Watch can accurately detect irregular heart rhythms, the article said, particularly those associated with atrial fibrillation which is a condition that can lead to blood clots and strokes. If the app does detect an irregular heart rhythm it will send participants a notification, the article said, as well as offer them a free video consultation with a doctor.
Microsoft ramps up health business
Microsoft has been a major supplier of software and cloud services to healthcare organizations for a while now. But the company is ramping up its interest and business in the healthcare technology industry, according to the article.
In 2017, the company announced its initiative to create products for medical providers and patients using artificial intelligence and cloud services such as speech recognition, the article said. This initiative is called Healthcare NeXT. Microsoft worked with the University of Pittsburgh Medical Center to develop digital services aimed at improving physician and patient experiences, the article said. One of those digital services includes a virtual assistant that takes notes during conversations between a doctor and patient. Furthermore, the virtual assistant would also analyze the conversation and send a summary to the patient's EHR.
Facebook and Amazon in healthcare
Facebook is making its way into the healthcare technology industry in a couple of ways, the article said. First, the social media platform made it more appealing for pharmaceutical companies to advertise their medications on the platform by introducing a rolling scroll feature. This feature allows drug makers to list their drug and its side effects in an ad, the article said.
Facebook is also the owner of Oculus, a virtual reality gear-maker. Oculus has teamed up with Children's Hospital Los Angeles to develop virtual reality simulations for doctors and medical students in order to allow them to practice handling high-risk pediatric medical emergencies, the article said.
And, although Amazon has been hush-hush about its plans in healthcare, the article said, industry analysts speculate that Amazon could enter the pharmacy business.
---
December 22, 2017 2:46 PM
Data breach
,
OCR
The Office for Civil Rights (OCR) is urging healthcare organizations to create effective identity and access management (IAM) policies to prevent data breaches by former employees.
An IAM policy can help prevent healthcare security threats by making sure that users only have access to appropriate data, and terminating that access when they leave the company.
To combat insider threats, OCR emphasized the need for healthcare organizations to terminate user accounts after an employee leaves to prevent unauthorized access to protected health information (PHI). Any laptops or smartphones should be returned, and PHI should be wiped from any personal devices. OCR also recommended procedures to terminate a former employee's physical access to PHI, such as changing security codes or combination locks and removing users from access lists.
OCR also recommends using logs to document when access is granted to a user or when privileges are elevated. This documentation can be used when it is time to terminate a former employee's access after they leave the company. The IT department or a designated security employee should be alerted when an employee quits or is fired so that person's access to be can be terminated. Audit procedures should also be put in place to confirm that IAM policies are being implemented.
In 2016, insider healthcare security threats accounted for 71% of attacks, and inadvertent actors caused nearly half of those. While that trend appears to be reversing slightly in 2017, healthcare security threats from internal sources accounted for 32.1% of data breaches in November, according to Protenus. Hacking comprised 28.6% of breaches, and stolen or lost records accounted for 25.0% of data breaches.
Altogether, there were 28 data breach incidents in November, down slightly from a consistent trend of at least one breach a day since the beginning of the year. Nine of those attacks were due to insider healthcare security threats; seven involved insider error and two involved insider-wrongdoing. Eight of the attacks were due to hacking — although data was only available for five — and four were due to loss or theft.
---
December 15, 2017 12:26 PM
cybersecurity
,
Data Analytics
,
Mobile
The New Year is right around the corner and when it comes to health IT, healthcare professionals have quite a few health system issues on their mind.
C-level healthcare professionals have to juggle keeping the lights on and making sure their organization is secure, while also looking to the future and innovating to adjust accordingly.
The Center for Connected Medicine, an executive briefing center jointly operated by GE Healthcare, IBM, Lenovo Health, Nokia and the University of Pittsburgh Medical Center (UPMC) in Pittsburgh, in partnership with the Health Management Academy, surveyed and interviewed CEOs, CIOs, CMIOs, CFOs, and CNIOs from major health systems and discussed overall strategy and priorities – including technologies — for their health systems in the coming year.
Here are the top U.S. health system issues that c-level professionals are focusing on in 2018:
Cybersecurity
Cybersecurity is always one of the top health system issues and 2018 is no exception. Nearly all respondents (92%) said they are increasing cybersecurity technology resources for 2018.
Respondents said they plan to focus cybersecurity spending on technologies that will help with identifying (such as asset management, governance, risk assessment, etc.), protecting (such as access control, awareness and training, etc.), detecting (such as continuous monitoring and detection processes), recovering (such as disaster recovery), and responding (such as incident response and analysis) to cybersecurity threats and breaches.
One CIO said in the survey: "Most tools that I want to spend funds on are focused around being more proactive. We are good at reacting after the situation, but I want to be more proactive."
Consumer-facing technology
Another developing health system issue is recognition of the potential of patient-generated data and if a health system doesn't have patient generated data integrated with their EHR, they plan to in 2018.
The top sources of patient generated data for health systems in 2018 are patient portals, home monitoring equipment, mobile health apps, and wearables, according to survey respondents.
Although not all health systems are currently collecting or utilizing patient-generated data, according to the survey, they all recognize the potential and expect patient-generated data to make up a significant portion of patients' health data in the future.
Furthermore, 100% of respondents said they plan to promote health and wellness apps to patients in 2018. Respondents said they plan to promote health and wellness apps in 2018 via physician recommendation/prescription, patient portals, and social media, for example.
Virtual care
Although 71% of health systems are not currently receiving reimbursement for virtual care, many health systems are still using these technologies and developing a strategy around them.
The main clinical areas where virtual technologies such as telehealth are being used today include for stroke, mental health, primary care, urgent care, dermatology, and in the ER, the survey found.
One CIO said: "The lack of reimbursement has not affected our strategy. We have moved forward because it's the right thing to do. [Telehealth] gives a better consumer experience."
Respondents said that while reimbursement for virtual care is of the health system issues right now, they believe they will begin receiving reimbursement in 2018 and many respondents said they believe virtual care is integral to the future of healthcare.
Artificial intelligence
Nearly two-thirds of respondents said that the implementation of an AI solution at their health system are either a low or very low priority for 2018, although the survey found that over half of respondents are currently using AI.
The most common areas health systems either are planning to or have already implemented AI include clinical decision support, population health, and disease management.
One CFO said in the survey: "I think it's just a technology. It comes down to the priorities of the organization. You can use AI for anything: rev cycle, standardization, access, readmissions. AI is interesting and fun and exciting, but nascent. It still needs refinement."
Predictive analytics
One CEO said in the survey: "Just getting started on this now. We need to do much more. It's an area of great interest – we can see the huge impact. We are in the early phases of figuring out practically how to integrate that."
Respondents said they expect predictive analytics to provide significant value in areas such as patient safety and quality, readmissions, and clinical decision support in 2018.
However, a few challenges stand in the way including resource allocation, standardizing clinical practice, culture, unstructured data, and more, the survey found.
---
December 8, 2017 5:09 PM
FDA
,
mobile health
The Food and Drug Administration (FDA) has issued new draft guidance clarifying its oversight of mobile medical apps. Furthermore, the agency will loosen its regulations for certain technologies it has deemed outside of its purview. The changes have been made in accordance with the 21st Century Cures Act.
In its 2015 guidance, the FDA defined a "mobile medical app" as a software application that could be used as an accessory for a regulated medical device, or to transform a mobile platform (such as a smartphone) into a regulated medical device.
Under its 2017 draft guidance for mobile medical apps, the term "mobile application" will be changed to "software function" and will not be defined as a medical device, nor will it be subject to FDA regulations. Software functions that are not related to the diagnosis, cure, treatment or prevention of diseases are also not considered medical devices. This includes software that focuses on weight, sleep or stress management.
The Cures Act states that certain software is exempt from the requirements for medical devices. Software will remain subject to FDA regulations of medical devices if it "acquires, processes, analyzes, or interprets medical information" or if the FDA "identifies use of the software as reasonably likely to have serious adverse health consequences."
As such, the FDA has removed software that it considers "low risk" from its oversight. This includes apps that are intended to promote or maintain a healthy lifestyle, such as apps that track the user's steps, since they can be valuable to consumers.
Some examples include:
Provide dietary logs or calorie counters
Monitor and trend exercise activity
Provide motivational tips via text or other messaging
In a release, FDA Commissioner Scott Gottlieb, M.D., said the changes to its guidance on mobile medical apps is "reflective of the agency's new, more modern approach to digital health products."
---
November 20, 2017 3:22 PM
EHR
,
health IT tools
EHRs have been touted for their ability to make billing easier and more accurate, improve patient care, provide a foundation on which to conduct data analytics, and more.
It may be time to add tracking the spread of infection throughout a hospital to the list of benefits of EHRs.
When a potentially deadly hospital-acquired infection appeared and spread throughout the University of California, San Francisco (UCSF), researchers used the hospital's EHR to figure out where in the hospital people were becoming infected.
In a report in JAMA Internal Medicine, it was revealed that the CT scanner in the hospital's emergency department was the source.
The report's researchers used time and location stamps on electronic records to map patients' movements through the hospital and thereby track the course of the infection as well.
The lead author of the report, Sara Murray, M.D., medical director of clinical informatics at UCSF Health, told Reuters in an article that this research demonstrates just one of the benefits of EHRs and how they can improve healthcare.
"I think it's a proof-of-concept for the capabilities of EHR data that other hospitals can use," Murray said in the article. "Maybe it's not their CT scanner. Maybe it's their pulmonary-function lab or their MRI machine or their operating room."
Using the hospital's EHR, researchers of the report mapped patient location changes for more than 86,000 adults in the UCSF hospital for over three years. One question the researchers wanted an answer to was whether using a room 24 hours after a patient infected with Clostridium difficile (C. diff) increased the risk of infection in specific areas throughout the hospital.

The team of researchers discovered that patients who entered the CT scanner in the emergency department within 24 hours after a C. diff infected patient were 2.5 times more likely to also become infected than patients who entered the CT scanner after the 24 hour mark.
Although doctors frequently complain about EHRs, Murray told Reuters that she believes they will come around and see the benefits of EHRs; especially as it is further proven that EHRs can be helpful in many areas of healthcare.
"The private sector has been data mining for years," Murray said in the article. "We are just starting in the healthcare sector to improve care for our patients. This is an example of that kind of data mining and something that could be replicated at other institutions."
---
November 17, 2017 4:25 PM
telehealth
,
Telemedicine
More senior healthcare executives are planning to grow or expand their telemedicine programs than three years ago, according to a survey by law firm Foley & Lardner.
Of the 100 senior healthcare executives surveyed, 76% said their organization currently offers or plans to provide telemedicine services. More than half of the executives, 53%, said they were currently growing or expanding their existing telemedicine programs. In 2014, only 34% of survey respondents were considering or planning to develop telemedicine programs.
One major component driving the expansion of telemedicine is that patients are beginning to see the value of telemedicine thanks to its convenience and effectiveness. According to the survey, a third of respondents said that half of their patients or more continued to use telemedicine after an initial visit.
Although some healthcare providers have expressed concerns about the ROI of telehealth and telemedicine programs, less than half of survey respondents said they are tracking the ROI of their programs.
"While the low percentage of respondents who track return on investment (46%) appears surprising at first glance, it could simply indicate that organizations have moved beyond questions about telemedicine's ROI," the survey said. This could be due to the fact that the purpose of telemedicine has been to expand the delivery of healthcare services, not to increase returns.
However, reimbursements continue to be a challenge despite the fact that most of the states in the U.S. have updated their telehealth laws to expand access to services. More than half of the survey respondents said third-party reimbursement was the biggest challenge to implementing telehealth and telemedicine programs.
"We are entering a new era of how medical care is delivered, and on whose terms," Nathaniel M. Lacktman, chair of Foley's Telemedicine Industry Team said in the report. "Healthcare organizations have realized telemedicine is not just a fad or pilot project; it is a new way to practice medicine and manage populations."
---
November 10, 2017 1:55 PM
algorithmic
,
Interoperability
Patient matching has been an important issue in health IT and healthcare specifically as it relates to interoperability. More specifically, the inability to match patients to their health data, no matter where it resides, has been a huge barrier to interoperability and has also resulted in patient safety risks as well as decreased provider efficiency, a press release by the Department of Health and Human Services Office of the National Coordinator for Health IT (ONC) said.
This is why ONC launched their Patient Matching Algorithm Challenge. This challenge, an ONC spokesperson said via email, was meant to educate those in healthcare about the performance of existing patient matching algorithms, spur the adoption of performance metrics for developers, and positively impact other aspects of patient matching including deduplication and linking to clinical data.
The winners of this challenge were recently announced and, in addition to acknowledging these winners, valuable insights were revealed about the algorithms currently being used in patient matching, the ONC spokesperson said.
The winners of the Patient Matching Algorithm Challenge included Vynca, a company that offers advanced care planning solutions, PIC-SURE, a patient-centered information commons, and Information Softworks, a company that specializes in enterprise data architecture, data warehouse design and implementation, and process automation
"Many experts across the healthcare system have long identified the ability to match patients efficiently, accurately, and to scale as a critical interoperability need for the nation's growing health IT infrastructure.  This challenge was an important step towards better understanding the current landscape," said Don Rucker, M.D., national coordinator for health information technology at ONC, in the release.
This was an important step because the patient matching algorithms each competitor, and winners, used was different. For example, some used machine learning techniques while others a significant amount of manual adjudication.
"PICSURE used an algorithm based on the Fellegi-Sunter (1969) method for probabilistic record matching and performed a significant amount of manual review," the release said. "Vynca used a stacked model that combined the predictions of eight different models. They reported that they manually reviewed less than .01 percent of the records. Although Information Softworks also used a Fellegi-Sunter-based enterprise master patient index (EMPI) system with some additional tuning, they also reported extremely limited manual review."
ONC plans to hold a webinar soon that will focus on their current patient matching efforts.
---