---
December 12, 2017 10:07 AM
Banks are scaling down their branch networks at an increased pace.
Banks have put a lot of money behind fintech and to retain branches would appear a contradiction.
But as branch closures continue there will be a tipping point for all customers in that when the nearest branch is too far away they will try out digital channels and quickly become converts. But when does it become more effort to travel to a branch compared to signing up to a mobile banking app, for example? Perhaps if the branch is beyond walking distance.
Earlier this month RBS Group announced the closure of 62 RBS branches and 197 at NatWest. Then at around the same time Lloyds announced 49 closures . Combined about 800 jobs have gone.
Most high street banks have been closing branches for years, since the financial turmoil in 2008 it has been a way to cut costs. But today banks do actually have a point when they say that changing customer habits and the move to mobile and online banking is reducing the need for branches.
The reason I blog about this today is that the local Santander branch where I live is closing down. What makes this interesting is that this is a high street in London. If footfall has reduced enough to justify closing a branch on a busy high street then digital channels must be the chosen method of banking for people in my area at least. Not surprising as London is often vaunted as the capital of digital banking with more people regularly using mobile banking apps and things like contactless payments. Despite there being lots of people walking past the branch few are going in. It is now easier for them to use digital channels.
So Santander said: "We constantly review our branch network to take into account changing customer behaviours and the need to operate an efficient and cost effective branch network. Our review has shown that 70% of customers who use our [this] branch, either at the counter or the cash machines, are also using alternative Santander branches. In addition, 54% of customers also manage their money through online, mobile or telephone banking." Another coffee shop on its way.
This is not my bank and although my bank has a branch on the local high street I think I have only been in about six times in ten years. Each time to pay a cheque in. I rarely get cheques these days or pay them and if I did I can now put it into my account via the mobile anyway. If I want mortgage advice from a human I can do it over the phone or even via a video conference if I prefer seeing the person that is advising me.
But what about rural areas? Banks have an excuse for closing branches in urban areas because people prefer digital channels. People in these rural areas are less likely to use digital channels according to multiple reports, yet branches have been cut in rural areas for years. Isn't the answer to the problem giving more support to people in rural areas to get them using digital channels. This might include reducing the reliance on cash in some areas, improving connectivity and providing people with training and computer equipment. Banks should probably offer people smartphones for free as part of their signing up package.
People use gas, water and electricity everyday but never visit the branches of the suppliers. Why should money be any different? You can do everything digitally these days, and cash machine s are there if you need cash.
Branches are still important to some people. But there will be a tipping point when the distance to travel to your nearest branch will be far enough away to push customers to more modern channels. Until this tipping point is reached some banks which have large branch networks are using them to provide showcases of digital services
I am interested to hear from people that still regularly use branches or believe they would be okay without one. When was the last time you used your bank branch and what did you use it for?
December 6, 2017 12:02 PM
Fintech is a movement that is offering organisations a huge selection of digital services for them to choose from.
But they need not be limited by what is being offered on the fintech menu specifically but go out and tell the world what they need and what they are willing to pay for it.
Those that start fintechs are entrepreneurs. They have an idea of how to address a need in the market through an app and get investment to support them designing it and taking it to market.
But why not go off the menu and tell the fintech what you need and promise money to the company that can deliver it. It saves the fintech finding a business need and saves the organisation developing the platform. A real win win. Or even a win win win if you include the benefit to renters.
That is what the UK Treasury is doing. It has announced that it wants a system that can help people that rent build up their credit scores, so they can ultimately get a mortgage and buy a property. It wants rents paid to be recognized when people apply for mortgages. It makes sense that someone paying a high monthly rent would be able to pay a mortgage of the same value.
But the problem is credit referencing agencies don't take into account rental data. They can't access it.
So, through its Rent Recognition Challenge, HM Treasury is offering entrepreneurs £2m if they can come up a system that will enable millions of renters to record and share data about what they have paid in rent.
Stephen Barclay, economic secretary to the Treasury, said "People's monthly rent is often their biggest expense, so it makes sense for it to be recognised when applying for a mortgage. Without a good credit score, getting a mortgage can be a real struggle.
Most lenders and Credit Reference Agencies are unable to take rental data into account, because they don't have access to it. The Rent Recognition Challenge will challenge firms to develop an innovative solution to this problem."
The Challenge will open to applications early in the New Year, and development will conclude in October 2018
This is a great example of how organisations can access software development expertise without hiring the staff internally. It is a form of IT outsourcing that reduces costs and provides agile development teams on a pay for result basis.
---
December 6, 2017 10:45 AM
Opening a new bank account in today's digital world should be easy. Visiting a branch and other manual processes should be a thing of the past.
I recently put this to the test by opening an account with one of the new digital challenger banks. I can confirm it is easy. Everything was done through my smartphone using the camera to take an image of an ID document as well as a video recording of me looking into the camera and speaking.
I have to admit it is the first bank account I have opened for nearly 20 year so can't compare it with any others. I won't give the name of the bank but I must say it was incredibly quick and easy.
But according to a study from technology advisory company P.A.ID Strategies most traditional banks still expect new customers to complete manual tasks and even visiting a branch in one case. "Visit a branch" I hear you cry. If I was going to open an account with a bank and it asked me to visits a branch I would look elsewhere. Unless you live in a big urban area you might not have a local branch such is the rate that banks are closing them.
The P.A.ID Strategies study covered Barclays, HSBC, Lloyds Banking Group and RBS (including NatWest) in the mainstream. It found that RBS was the only one of these that enabled applications to submit proof of identity electronically. Although it said applicants couldn't do it via a smartphone or tablet.
"We were surprised to see so few traditional banks had made progress towards a 100% digital experience through the mobile channel. Many failed to offer a fast, secure and digital account application and activation process, including verification of the applicant's identity. This means the banks aren't truly digital, degrading the user experience at first point of contact and increasing the chance of abandonment," said John Devlin, author of the report and Principal at P.A.ID Strategies
This reminded me when I got a mortgage a few years ago. It was with the same organisation I have a current account with. I applied for a mortgage with a division of my retail bank. This is the bank that received my salary every month. Yet the mortgage division insisted I send paper copies of pay slips and my bank statement by post. But that was ten years ago when digital banking was in its infancy.
It also looked at challengers: Atom Bank, Monzo, Revolut, Starling Bank and Virgin Money.
Monzo and Starling scored highest thanks to their 100% mobile-first digital account application taking 9 minutes 50 seconds, and 9 minutes 49 seconds respectively. The traditional banks didn't take that much longer but some still required manual steps. Customers even had to visit a branch at one bank.
We don't open bank accounts very often so perhaps people are prepared for it to take a bit longer that ten minutes and people will be prepared to put a bit of effort in to the right bank. But what this research really shows is that the big banks have complex infrastructures and although they would like to offer on-boarding as easy as their digital challengers they simply can't yet.
"This study's underlying hypothesis is that the advancement in the analysed banks' digitalisation of their current accounts and savings accounts could be used as a barometer of each institution's progress towards a full digital transformation," said P.A.ID Strategies. "The results clearly show that challenger banks are stealing a march on their traditional competitors across all metrics."
"Being unburdened by legacy technology and infrastructure is a distinct advantage but more so is the desire to be truly digital, and arguably the understanding of what potential customers are looking for."
If you want something to help you picture the complexities of traditional banking IT take a look at this article and the diagram within it.
It is a similar story when it comes to fixing glitches in online and mobile banking services big banks have huge and complex IT infrastructures with thousands of interdependent systems. As a result when something goes wrong it takes to e to fix.
I was recently with the CIO of a major bank and asked how far away we are from having artificial intelligence automate the fixing of glitches when reported by customers and he said we are some way off that. But we know the technology is there so it is another case of banking IT complexity holding things up.
---
December 4, 2017 1:57 PM
This week I wrote an article about a promising UK start-up with a Brexit horror story. The startup, based in North East England is one on the growing group of insurtech firms.
Honcho, as it is known, is an alternative to the price comparison websites for buying car insurance. The mobile app lets people put in their details and have bids sent to them from insurers. This is rather than looking for the offers. It also allows the insurers to see what competitors are offering through a process which sees them bid three times. This is to drive competition.
So as you can see it is a good idea. Price comparison sites were the first disrupters in the insurance sector and it is perhaps time for them to be disrupted themselves. Insurtech, as new tech in the sector is known, is the big thing in fintech at the moment.
But back to the Brexit angle. Honcho was about to launch with £650,000 capital investment which emanated, via a venture capitalist firm, from the Joint European Resources for Micro to Medium Enterprises (Jeremie). This is part of the European Investment bank fund, which is shared by organisations across the UK.
But due to the uncertainties about the final deal between the EU and UK this funding was put hold indefinitely.
So just as it was to launch it lost the money it was going to user to fund the launch. Honcho has set up a crowdfunding initiative on Crowdcube. It has already raised over £300,000 in a week.
The start-up sector is particularly vulnerable to uncertainty and Brexit as can be seen in this story is one of the biggest threats.
But it is not just the startups that might suffer but the UK's future potential as a place to set up tech startups. You only need to lose a few to startup hubs in   other parts of the world and you get a snowball effect. This is because these companies often operate in communities where there is an ecosystem giving them access to expertise.
The commercial director told me startups can't wait around until the money is released if a deal is agreed between the EU and UK. By then it might be too late.
There are other examples of startups finding themselves in a potentially difficult situation after Brexit. Many fear, that when the UK leaves the EU they will no longer have access to the customer base, funds and staff that attracted them to set up in the UK in the first place. Some are looking long and hard at some of the alternative startup hubs across Europe.
---
December 1, 2017 9:37 AM
Lloyds Baking Group continues to cut bank branches, with 49 closures announced this week as part of its closure programme. There are also 99 job cuts planned.
Lloyds bank is not alone. Recent figures from the European Banking Federation (EBF), which include the UK, revealed more than 9,000 bank branches were closed in 2016, and more than 50,000 people working at those banks lost their jobs.
But if artificial intelligence delivers on its promise these cuts might seem small scale compared to what will come. One day your bank might be a red dot on a screen that you talk to and hope it never says "Sorry Dave I can't do that."
Some of the new banks like Starling don't even have branches but are app based.
Lloyds Bank like other traditional high street banks will retain some branches but how many bank branches will survive digital transformation age?
Rob MacGregor, Unite national officer thinks enough is enough and not just because members of the union are losing their jobs: "Lloyds Banking Group needs to halt this unnecessary bank branch closure programme. Local communities are making it clear that the closure of their local branch excludes customers who cannot use digital means to conduct their financial transactions," he said following the announcement.
I was with TSB this week to have a look at some of the stuff the bank will be able to do digitally through its Proteo4UK core banking platform. There was lots of cool stuff including authentication through reconising a customers face. I was shown a demo of the tech and was very impressed how easy it was to use and how fast it authenticated the user. Of course this was a demonstration so I would expect it to be glitch free. TSB also promoted its new branch model. Although there will be some closures when there are lots of branches close together it is upgrading them to help users get more from technology.
Back in 2015 in a report entitled Why branches matter in the digital age, TSB CEO Paul Pester said banks shouldn't be deciding between branches or technology, but investing in both. At the time research TSB's own research found that the bank branch was the most used channel, with 36% of customers only using branches of the bank, 22% using online only and 2% using just telephone banking. Some 24% use a combination of branches and online, while 7% use all three channels. The TSB study also found that 88% of personal banking accounts were agreed, 85% of mortgages were applied for and 71% of personal loans were taken out in branch.
But a lot has happened since 2015 with even online banking being usurped by mobile app based banking. According to British Banking Association research 38% of people in the UK regularly use apps to bank, with revealed over 19 million people in the UK regularly logging on to mobile banking apps in 2016. According to Visa 53% of young people between the ages of 18 and 34, known as millennials, regularly use mobile apps to bank.
But bank branch closures and branch staff cuts could just be the tip of the iceberg for what could come when banks get artificial intelligence right. Just wait until all customer queries and tech glitches are automatically fixed without any human involvement. In the not too distant future when a customer is having trouble using the mobile app he or she will be able to look the bank in the eye through the mobile and tell it the problem in any language. This will be translated to an autonomic platform that will fix the problem before anyone else experiences and the customer that reported it will have little trouble. Then the next time it happens it will be fixed before anyone notices it.
So the branch and branch staff cuts today might be nothing compared to the cuts to operations that might come in the future. Thousands of customer support and IT support staff might be seen as surplus to requirements.
And it doesn't end there. There are banks using AI to offer customers financial advice. NatWest for example is offering consumers an investment advice service automated through software. The automated financial advice services led to a 220-employee reduction in its face-to-face adviser roles. Customers using the service will be asked about their aims as well as their attitude to risk and will be given automatic advice based on this through the platform. So it will do pretty much do what the people did before which was stick to the script.
Financial services is one of the biggest employers in the world but the cuts that technology could lead to might actually be enough to destabalise societies. What are people going to do in the future and who is going to pay all the tax?
---
November 29, 2017 8:58 AM
You would think that banks were about to collapse as a result of computer problems some days when you flick through your Twitter feed, but the online noise is often misleading and makes problems appear bigger than they are.
But highly public outages will cause banks reputational damage and banks will have to use artificial intelligence to automate fixes so as few people as possible are affected. Otherwise they risk their names being associated within problems.
Last Week it was the turn of NatWest as customers vented their anger on Twitter when they were unable to access online banking services. Social media blows it all out of proportion. You only need five angry customers on Twitter experiencing problems and you have a story.
Of course there are sometimes serious problems like the troubles the Royal Bank of Scotland, which owns NatWest, had a few years ago when its CA-7 batch process scheduler froze in the summer of 2012. Customers of RBS, NatWest and Ulster Bank could not access funds for a week or more as account balances had to be manually updated. Such was the magnitude of the problem RBS was fined ₤56m by regulators for the failure.
While this was an exceptional incident much smaller problems often hit the headlines. In the past the public wouldn't notice when a bank had smaller computer glitches because it was all in the background and customers would not understand it.
But times have changed and digital bankers are suspicious if their banking app takes a few seconds extra to download these days. I know I am.
One IT professional in the banking sector told me there have always been computer glitches but in the past customers would never know about them. "I think the main change in recent years is the banks cannot hide or deny problems like they used to. Social media now allows customers to shine a light on problems instantly and widely which prevents the banks from denying issues or playing them down," he said. "So social media is forcing them to be a bit more honest. I'm not sure if there is an increase in glitches, I suspect there is just an increase in them being made public via social media. In the past, I'm sure banks would say 'oh no, you are the only one with this problem' but now they cannot do that if people light up the social media sites."
So social media is a positive force in forcing banks to improve. A virtual kick up the backside if you like.
Following the NatWest problems last week a bank spokesperson said: "We're aware that it took some customers a little longer than usual to access Online Banking today. This has been resolved and Online Banking is now working as normal. We apologise for the inconvenience caused. Customers were still able to access their accounts or complete a transaction using our Mobile Banking, Telephone Banking, or by visiting one of our branches or ATMs". It all seems forgotten a week later as it is just another banking glitch. But when does a small glitch become a problem for banks?
The number of people using digital banking channels is only going to go up as banks move services to digital channels. According to the recent research from Visa found that mobile banking apps are used by 69% of young people to manage their finances in the UK. Just over half (53%) of those between the ages of 18 and 34, known as millennials, are using these mobile apps regularly, according to research of 2,000 people in the UK by Visa.
Banks are putting their money behind this as a way to retain customers and cut costs. But when the number of digital banking users gets close to 100% they cannot afford the number of small glitches they are experiencing.
This week the European banking Authority published its annual report on the main risks facing banks in Europe. Unsurprisingly fintech and a growing reliance on digital platforms are now seen as a current concern with increased the likelihood of cyber attacks and IT failures.
So banks will need to focus on reducing IT failures, no matter how small, and fixing them automatically. Artificial intelligence is the way the banks could do it. Fixes will have to be automated through AI software. Customers will be able to explain a problem to a software robot using speech or text, which will than automate the fix by translating the problem into a language understood by an autonomic platform. This will fix the problem quickly and ensure if it happens again the problem is fixed automatically. Although they wouldn't see it you don't want your customer to have to instigate a traditional ITSM like ticket every time they have a problem. This is the way forward for banks that have been cutting their IT staff and increasing automation.
AI could ensure that problems are fixed so quickly that only one person will notice and through machine learning should not happen again. Well that's the theory anyway.
---
November 27, 2017 11:39 AM
We are currently amid an industrial revolution which is transforming every sector, but uncertainty in the UK brought on by Brexit might mean the UK does not get a good share of the massive tech business opportunity.
Britain benefited from the Victorian industrial revolution in the 18th and 19th centuries, which was ironically fuelled by workers from other European countries, but could miss out on the current digital equivalent.
Artificial intelligence, IoT, cloud computing, big data and many more are technologies that every business needs to plan for. This means big business for those with the skills to support transformations,
But the UK could fall behind in the digital technology sector unless it gives businesses a clear idea of the post-Brexit relationship with the EU, and for that idea the rest of the world. Even when the UK government does have more idea of the post-Brexit business environment there is no guarantee the firms will hang around.
Tech firms, which are international by nature, will move to locations that support their growth.
There are Brexit fuelled uncertainties among tech firms about the loss of access to the biggest free trade area in the world as well as potential shortages of skilled staff, as EU citizens turn their backs on the UK.
Last week, ahead of the budget, TechUK called for some clarity. It warned that tech companies will not hang around indefinitely. The organisation, which represents UK tech companies, said: "Tech businesses are global by nature, and many won't simply wait around forever. Progress is needed on Brexit, and this budget is a golden opportunity for the government to show that it is truly able to prepare the UK for our future outside the EU."
I was at an event in June where startups from the fintech world were discussing Brexit. One told me at the event that the company, which he did not want me to name, already had plans in place to move from London to Dublin if the post-Brexit environment is unfavorable in the UK.
The digital industry is vital to all business sectors with companies either on digital transformation journeys or at least planning one. They will want to ensure they have access to the right skills and experience.
London has thrived from its position in the world as a centre for finance and a cosmopolitan business centre. But no country has a God given right to be a place for business, they have to earn it. According to a recent Economist Intelligence Unit study 48% of businesses will move country to access the right business ecosystems.
There is a lot to lose. In the study London was ranked Europe's top destination for digital transformation, currently at 9th position globally. The UK and London in particular will suddenly face a raft of revitalised competitors in Europe eager to attract tech companies from the UK or encourage their home grown talent to set up companies at home rather than being lured by streets paved with gold.
But there are lots of cities in Europe eager to pick up any stray startups that want to remain in the EU. Dublin, Stockholm and Amsterdam are just three examples.
Indian city Bangalore has the best environment for businesses to transform digitally, according to the research of 45 global cities. Mumbai and New Delhi were also in the top four.
Businesses today are setting up business services hubs across the world where they can access the right skills and investments. A place like Bangalore is home to some of the biggest companies in the world and a wealth of talent, particularly in IT. As it becomes more and more important in the age of digital transformation cities like Bangalore will become even more attractive to businesses.
Then you have Estonia which is offering entrepreneurs form anywhere the chance to set up companies in Estonia. The e-residency scheme has already had more applications than there have been births in the country so far this year. The e-Residency government programme aims to attract entrepreneurs from other countries to register EU businesses in the Baltic state by providing non-Estonian citizens with easy access to online government services.
For a small start-up it is probably easy to move at shorter notice unlike the big banks for example.
But the big banks are planning for the worst. Goldman Sachs CEO, Lloyd Blankfein, has set off a few alarm bells recently with his Twitter activity. In one he suggested he might be spending more time in Frankfurt soon, despite the building of a new European headquarters in London. He also stoked the fire a bit more when he said the company "hopes" to fill the new headquarters, suggesting not as many jobs as expected in London.
Or perhaps this is part of a cunning plan for the UK to leave the UK and give it carte blanche, if I can use the phrase post–Brexit, in terms of business environments. Maybe the UK government wants to offer tech firms incentives that it is currently not allowed to., in a bid to take more of the digital transformation  revenues on offer.
---
November 24, 2017 10:19 AM
The use of cash continues to increase in the world's economies apart from in the Nordic countries Norway and Sweden, according to a study by Federal Reserve Bank of San Francisco.
The ability to make small, quick payments to people and businesses such as retailers through contactless technology is reducing the need for cash. A recent Visa survey revealed that 59% of British millennials have made a peer-to-peer payment to somebody on their phone. This is on top of exploding use of contactless card and phone payments increasingly used to pay for low cost items.
Cash is reducing then, or so we thought.
I hardly ever have cash on me these days. I use my contactless bank card all the time. It also doubles up as my travel card, but I must admit I often really need cash for small unexpected things and it and have to go searching for a cash machine. Some people of course rely on cash and I am sure it will be a long time before fintech can fill all the gaps. And according to the Federal Reserve Bank of San Francisco study it seems fintech has some way to go before it kills cash off.
The study looked at 42 economies that account for 75% of global GDP.
Apart from Sweden and Norway, where the amount of currency in circulation (used as a measure of cash) has declined, in the other 40 economies it has either matched GDP growth or exceeded it.
Nearly two years ago I commissioned a journalist in the Nordic region to write an article about Sweden and its relationship with cash. Sweden is often cited as being the nation that might be first to go cashless. Swedish buses, for example, have not accepted cash for years, retailers have the right to refuse cash payments and even homeless street vendors take cards thanks to new digital payment systems. The Nordic region is also a hotbed for tech startups and citizens seem more open to trying new things than other economies. In the article Niklas Arvidsson, associate professor at Stockholm's Royal Institute of Technology said: "I think [Sweden] could have a cash-free society [where cash plays a marginal role] in something like 10 years from now, maybe even sooner."
Back to the Federal Reserve Bank of San Francisco study. Here is a graphic from the report showing the growth or decline in cash as a proportion of GDP in the 42 countries that make up 75% of Global GDP. The Green countries are those where the use of cash is growing faster or matching GDP growth and the two red countries, Norway and Sweden, where cash is reducing. The grey countries weren't included.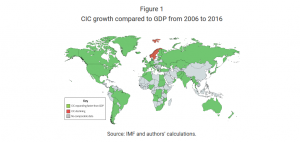 "While Norway has been moving away from cash, Sweden has garnered attention as the poster child of cashless countries. Since the 1960s, Swedish banks have encouraged digital bank transfers, charged for checks, and invested heavily in card payment systems. The banking system collaborated to create an automated clearing house, Bankgirot, and to launch a popular mobile payments app, Swish. Sweden also has a cultural stigma against cash, with some Swedes associating the payment method with crime. The 2009 Money Laundering and Terrorist Financing Prevention Act required police reports be filed for large cash transactions, and high-profile cash robberies have contributed to public wariness of cash," said the study report.
In the UK the British Retail Consortium recently released a study that found that cash is no longer the most used payment method at retailers, with debit card payments taking the lead.
Payment providers are encouraging people to go cashless. For example in the US Visa is offering 50 small US businesses a share of a $500,000 pot of money if they go totally cashless. The Visa Cashless Challenge is aimed at restaurants, cafés and food truck owners to describe what cashless means for them, their employees and customers. Visa will award up to $500,000 to 50 eligible US-based small business food service owners who commit to joining the 100% cashless quest.
---
November 22, 2017 11:06 AM
The search for the Holy Grail that is Google bank, has been going on ever since digital banking took hold.
It makes sense: a company that processes millions of transactions on a daily basis whose bread and butter is making online services user friendly. And it seems consumers want it too. The Google's and Amazon's of this world have great reputations. In fact a fifth of European consumers said they would buy insurance and banking services from technology companies such as Facebook and Google, according to a survey of 7,000 people carried out last year by Fujitsu.
Consumers also want online and mobile banking services that offer similar service levels to the apps they use in their everyday lives. Easy to use, reliable with built in ability to personalise services.
A few years ago in its Why Google Bank Won't Happen report, Forrester said the high costs and strict regulation of setting up a traditional bank – alongside advertising revenue coming from banks – will push internet firms into roles that support the relationship between banks and their customers. These include transactional payment services, financial advice, money management and product comparisons. "[Google] will be by integrating digital assets such as its search engine, Google Maps, Gmail, Google Play, and Google Now that Google could redefine financial services. Thanks to these capabilities, Google is well positioned to disrupt four interlinked areas, disintermediating incumbents in the process," said the research.
There are different ways of fighting competition and avoiding the disruption experienced by companies in other sectors and one of those is to become like your competitors so their advantages reduce. If Google can design more reliable and user friendly apps and web services, find out how. One way of doing this is poaching its staff.
HSBC has just recruited a Google engineer as CIO of retail banking and wealth management. Mark Warriner has joined HSBC retail from Google UK, where he worked for almost six years reaching the role of director of engineering. He was also chairman of Google Payments. Although he is not the head of IT at HSBC, that role remains with Darryl West as the overall CIO. Then there is Ganesh Balasubramanian, global retail banking and wealth management CIO, who Warriner reports to. Yes lots of CIOs at banks, and for good reason.
A contact of mine who has spent time in HSBC's IT department told me HSBC's overall CIO Darryl West has been attending lots of Google events recently. "The firm has been learning from Google in the last couple of years," he said.
It looks like they are going beyond learning from them to acquiring there talent.
Through Warriner HSBC will have access to experience in creating the kind of digital services that consumers want.
Beyond the internet giants the other competition to banks comes in the form of digital challengers. Unlike Google these companies are banks first and foremost but are also tech startups. They are gradually building customer bases and unless banks improve their digital services they will take more ground. II met up with the CIO at one of these challengers recently. John Mountain CIO at Starling Bank, who has a software development background told me that the company makes sure that all department have tech savvy people in them. It doesn't even have an IT department, but rather integrates technology into everything it does. "We don't run a technology function here because the whole business is a tech function," he told me. So a bit like the perception Google Bank then?
Banks need to up their game in digital. Competition to traditional banks will also increase when the latest EU Payment Services Directive (PSD2) becomes law. It will enable third parties to access the customer data held by banks via application programming interfaces, if given permission, and offer services using this information. Payments could be initiated by third party supplier and account information viewed via them, or both. This will mean a third-party can build services on top of an account and allow the consumer to use these rather than those offered by the bank. Banks would still hold the money but would not be the main banking interface. A consumer could have multiple accounts from various banks put together in a single mobile app for example.
---
November 21, 2017 12:28 PM
It's all very well fully embracing fintech and offering customers access to services wherever they are, but the problem is even the shortest bit of online or mobile service downtime  becomes a potential PR disaster.
NatWest  is the latest to have problems with its online banking service down for some customers. Customers are converging on Twitter to air their displeasure
NatWest itself tweeted: "We're aware of some issues on our Online Banking service and are working hard to fix them. Sorry and thank you for your patience.
Customer comments on Twitter include:
"Not just an online problem, my bank card is not working now as well for online payments! People have bills to pay, how much longer?"
"You were acknowledging this problem over an hour ago but only to those that tweeted you directly. Why has it taken so long for a public tweet?"
"It's the first time I am directly affected by NW's technical issues so I'm not gonna bash this time, but please fix this ASAP!"
"Hi I need to transfer money it freezes after login"
The NatWest social media team was trying to keep people happy but it is not easy reassuring people that can't access their own money.
I contacted the press office and they told me they didn't have any statement on the matter yet.
NatWest is not alone. Only last week online services at Lloyds Bank and its Halifax and TSB divisions which went down and hit the headlines.
People have become so reliant on using mobile phones and online services that when they do go down it is highly disruptive. You have to be quick sometimes to get a story done about an outage as more often than not they are fixed before the articles are complete. Although in the summer of 2012 there was a major problem that left customers of RBS, NatWest and Ulster Bank locked out of their accounts for days as a result of a glitch in the CA-7 batch process scheduler, freezing 12 million accounts.
Outages no matter how small add up and can do harm to a banks reputation due to the speed at which new of a problem spreads across social media. Even people that weren't trying to use a banking app or online banking service will join in with the complaining.
With banks reducing the number of branches and support staff, mobile apps are becoming more important for customer services. Figures from the European Banking Federation (EBF), which include the UK, revealed more than 9,000 bank branches were closed in 2016, and more than 50,000 people working at those banks lost their jobs. So banks have to minimise outages as in the future downtime might be a reason for a consumer to switch banks. There are many on offer and it is easier than ever to change current account provider.
---