Dec 4 2007 10:04PM GMT
Posted by:
Ryan Shopp
Tags:
Alright, here is my first pass at a graphic I'm attempting to build that will capture the spirit of my previous posts (this is a work still in progress as previously mentioned);
I'm attempting to come up with a 30,000 foot reference model (functionality focused) for when you're building out a data center's software automation architecture.
The yellow areas are the 6 current areas I've functionally identified. The tricky part is based on the complexities of each category in the Data Center Infrastructure (e.g., Network vs. System), many of the functional areas require technical depth and audience-specific focus (e.g., network engineers vs. SAP administrators). The arrows are trying to capture that.
I know this still needs work but this is an evolution, and I only have a little time each week to currently work on it during these blog posts.
Below the graphic are some current vendors by function that have product(s) in each function that I've mentioned during previous blog posting so far.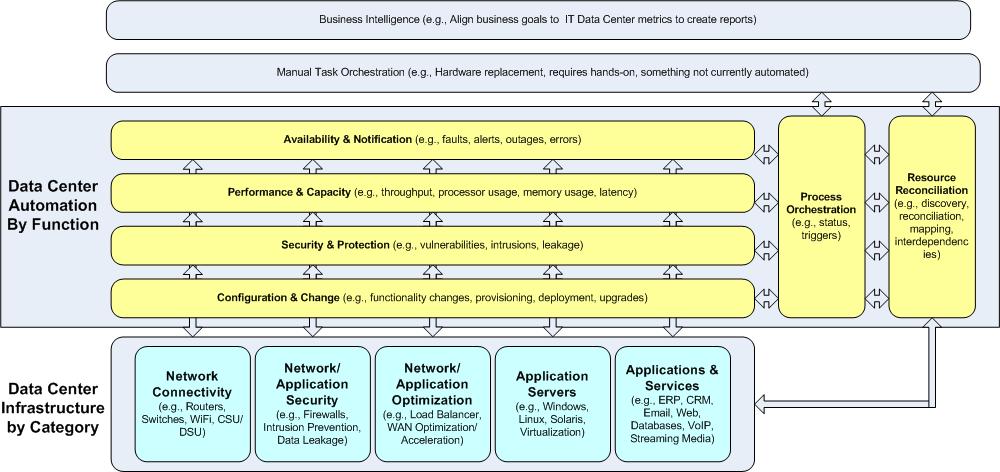 Configuration & Change: BMC (Marimba), CA, EMC (Voyence), HP (Opsware), IBM, BladeLogic, Cassatt, AlterPoint, Platespin, Scalent, Veeam, Vizioncore
Security & Protection: Symantec, IBM, EMC, McAfee, nCircle, Lumension, ArcSight
Performance & Capacity: BMC, CA, EMC, HP, IBM, Quest, InfoVista
Availability & Notification: BMC, CA, EMC, HP, IBM, Microsoft, Quest, Integrien, Netuitive, NetIQ
Process Orchestration: BMC (RealOps), HP (iConclude), Opalis, Optinuity, NetIQ, Stratavia
Resource Reconciliation: Symantec, IBM, HP, BMC, EMC
I know I've missed many and also it would probably be helpful to not simply mention the company but also the product name but that will have to wait until another time.