Dec 17 2007 5:59PM GMT
Posted by:
Ryan Shopp
Tags:
Thanks for the feedback, I've incorporated some points that have been made into an updated version of the Data Center Automation Blueprint (DCAB).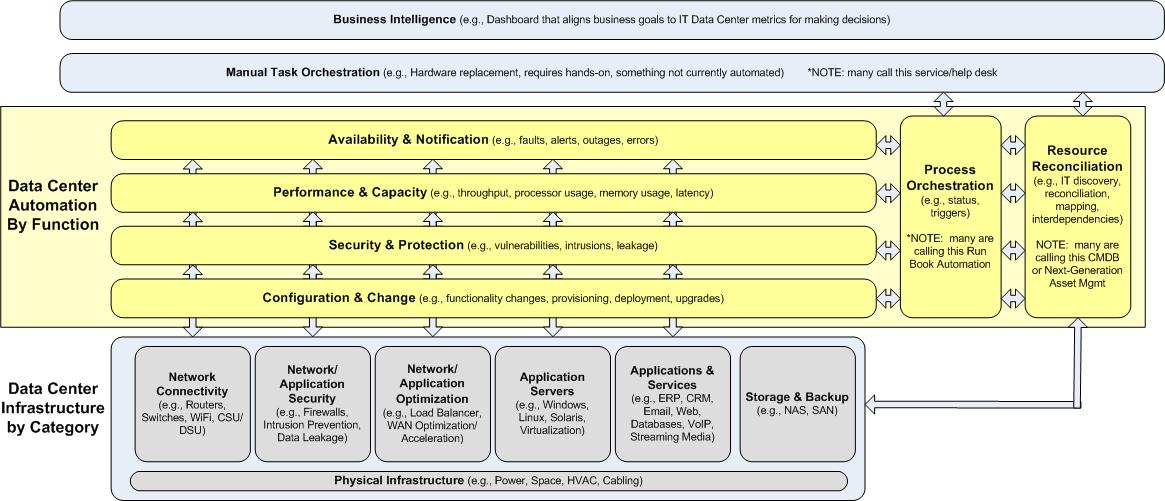 As mentioned previous this is a work in progress and I love getting feedback, ideas, concerns etc. with the model. As mentioned previously I'm trying to build a functional model (at the 30,000 foot level) that represents key software functionality to automate the data center towards someday becoming "lights out."
Also, with that said, it needs to be comprehensive but not overwhelming. I want to keep the yellow DCA functional areas limited in number…if this grows to be much more then the current six I feel it becomes too complex. So to add any new areas I need to assess how do they compare to the current areas and could I combine any areas.
One I'm struggling with right now is I've received feedback that analytics itself is an area. The interesting thing is analytics currently fits to some degree within each of the 4 horizontal functional areas (e.g., Configuration/Change, Security/Protection) as each of those products offer advanced reporting and as that progresses they do predictive reporting and analytics around that functional area.
Analytics would also show up at the dashboard level (currently beyond the scope of what I'm defining as the functional areas of the Data Center Automation Blueprint) where you would correlate business intelligence, patterns etc. across not just Data Center Automation functional categories but also across manual task orchestration (e.g., service/help desk) details.
Thoughts?
One more thing to clear up, I know some (many) of these functional categories and their products extend beyond the Data Center. The lens this blog looks through is exclusively focused on the challenges posed by large, complex data centers. For example, I know performance products are also useful in all sized companies (big & small) and also beyond the data center (e.g., headquarters, remote offices, partner networks, etc).