Mar 10 2009 1:24AM GMT
Posted by:
Ryan Shopp
Tags:
I decided it was time to review and make an update to the IT Process Automation, Process Orchestration, Run Book Automation, Data Center Automation, IT Process Integration, or whatever name each vendor, customer or analysts choose to call it.  Since my last update to the Data Center Automation Blueprint (DCAB) there have been some industry changes with some vendors going a different direction, other being acquired, etc.
A quick review of this space from the DCAB is first up.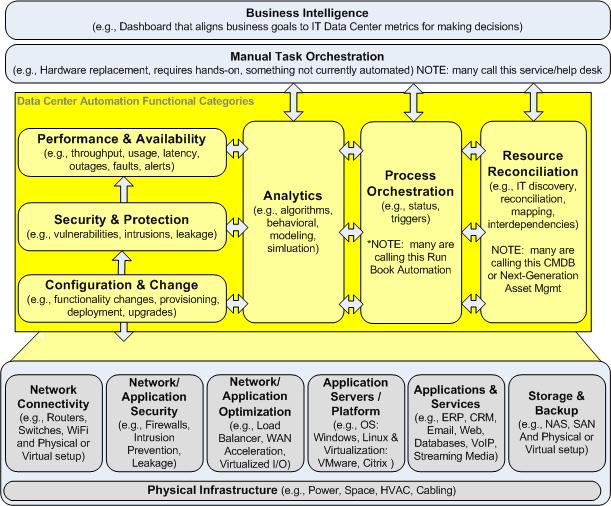 Process Orchestration
Description – Cross-silo automation for mundane manual or high occurrence tasks. The capabilities are focused around helping individual technology domains (e.g., network, windows, unix, database, etc) communicate and collaborate to automate tasks that before required numerous people and passing around a trouble ticket.
Top 5 Capabilities
1) Drag/Drop graphical interface for designing process workflows
2) Common, normalized Data Model of common/primary attributes
3) Library of pre-defined, re-usable actions/triggers/processes for usage out-of-the-box (bigger the better – even a community that shares is a plus)
4) Policy/Desired-state engine driving things
5). Sandbox, simulator to help test workflows without impacting actual resources/instances within the production enterprise.
The Vendors
BMC (formerly RealOps)
CA (formerly Optinuity)
Enigmatec
HP (formerly Opsware, formerly iConclude)
IBM (formerly Micromuse Impact)
iWave Software
LANDesk (Process Manager product)
NetIQ (Aegis product)
Opalis
Stratavia
UC4 Software
So since the last update, what has been going on in the space….
It's interesting to see Stratavia tweaking their company positioning as the "independent" choice.  Makes sense considering we've had a wave of consolidation with the big 4 ensuring they have coverage for this functional area, and also other well known (larger) management vendors (LANDesk & NetIQ) adding capabilities.
Optinuity was acquired by CA in October and naturally that changed some things for Opalis which had a previous OEM relationship with CA.  Opalis in turn also trumpets the "independent" choice and has gone further into talking about how this doesn't serve the customers since those vendors are using those acquisitions to bring their own products together and not looking at it from a heterogenous standpoint of I have 5 products from 3 vendors and I need them all to work together smoothly.  One last area that I need to do some more exploring around is something I felt a year ago would eventually happen and the lines would start blurring between Business Process Management (BPM) solutions and IT Process Orchestration.  The are starting to compare/contract with BPM and also talk more Business Intelligence (BI) messaging.  It's nice to see a vendor lay out in plain site some recommended evaluation criteria for all customers and even competitors to see…great way to set the bar.
Those are a couple key things i'm seeing at a glance…what else is going on out there.  Who else is in the space these days, what is their key differentiator versus the players listed above.  Drop you comments in below if you a vendor or a customer using one of these vendors or another one I don't have listed.  I'll make updates to the DCAB if it's appropriate.