Nov 12 2007 10:54PM GMT
Posted by:
Ryan Shopp
Tags:
Simple, take advantage of FREE but powerful tools to do your job better/faster/easier! Then share these cool tool finds with your friends.
I had the chance to take a look at ZipTie, a free network administrator "cockpit", over the weekend. The utility, available for download from www.ziptie.org, is part of a growing open source movement in network and systems management. I recommend putting aside 60 minutes over lunch one day to download and check this out while you 're eating your sandwich.
The best comparison I can make around current ZipTie capabilities would be to imagine PuTTY or SecureCRT on steroids.  NOTE: you need to have credential password access to the network devices to get the value I'm going to talk about from here on out…so if you don't have those rights on your network devices then this may not be for you. Below is a quick screen shot that shows the primary cool features I'm going to hit.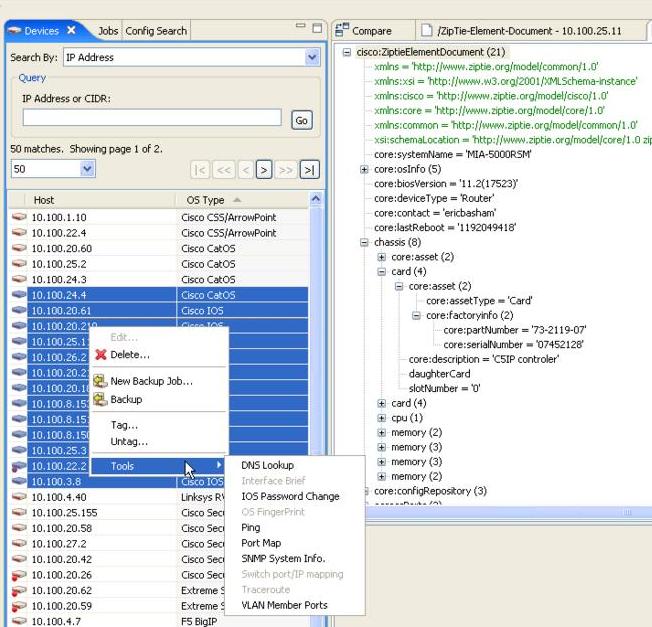 What is so impressive about this desktop utility is it's simplicity. Download, install, discover and now you have a personal inventory list (e.g., routers, switches, wireless access points, application acceleration devices). From that device list you can take a variety of forensic or troubleshooting actions when you need to:
telnet/ssh
ping
traceroute
nslookup
SNMP MIB walk
Port status
Interfaces status
View current configuration files (search it)
Compare to historical configuration files
NIPPER (a really cool configuration auditing tool that analyzes your configurations for vulnerabilities)
and much more…
If you don't see a tool that represents a current script you typically use when you're troubleshooting, no worries. You can build one (remember this is open source) or if that's not your forte, head up to their user community, post the current script you use and ask for someone else to help build it. Same thing goes with making sure ZipTie has support for the network devices you need. Say for example you have some firewall that it seems no other network management vendor supports, not a trouble for ZipTie. There is a "how to guide" to build it yourself or again, post up to the community and ask for help! Also, while your up on the site, check out the other capabilities the utility offers while making sure you review their complete road map which they publish.
It's amazing how far network management has and still is evolving. Functionality like this would have cost an enterprise tens if not hundreds of thousands of dollars less then 10 years ago. This will be another angle to consider as I get back on track and continue to build out the Data Center Automation Taxonomy I've been working on. Just wanted to take a moment and share this find.
Full disclosure: I worked for AlterPoint over a year ago. This ZipTie initiative was just about to start when I left. This was my first chance to check it out and since I was so impressed I felt compelled to share my perspective.