Feb 6 2008 3:44PM GMT
Posted by:
Ryan Shopp

Analytics
,
DataCenter
,
DCAB
,
Virtualization
I've made some updates to the Data Center Automation Blueprint that incorporate recent research, discussions and perspectives on various virtualization technologies.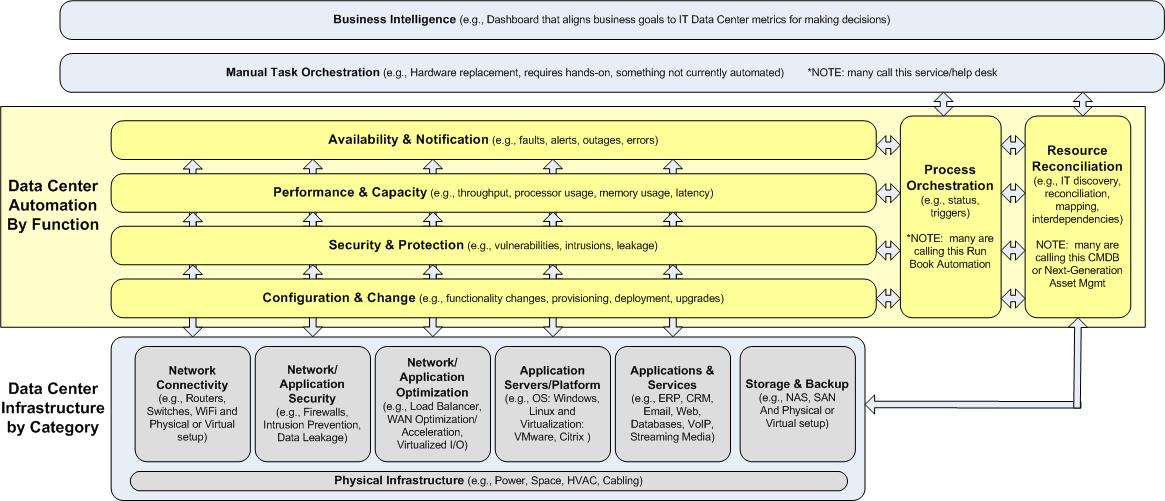 So what's next? I'm sure this will continue to be refined based on additional feedback and perspectives gained around virtualization. In the meanwhile, another trend and discussion I've had with some people has been around "analytics." We see this message showing up more and more in various vendors products and marketing. Some people I've talked with believe analytics should be a functional area of it's own, right next to the two current vertical DCA functions (e.g., Process Automation, Resource Reconciliation). Others believe it's "advanced reporting" within each of the current 6 functions, primarily within the 4 horizontal DCA functions (e.g., Performance, Configuration, Availability, Security). So before I start pulling definitions and further researching my current opinion and thoughts I would love to hear others chime in on this.
One thing to say around it being it's own functional area. In attempting to keep this blueprint as simple as possible I don't want to add a 7th DCA function. So the question then comes up, do you combine two of the current six and make "analytics" the new sixth? If so, which two do you combine and why? Comments always welcome, anonymous or specific to your company or enterprise.