Jan 9 2008 7:06PM GMT
Posted by:
Ryan Shopp
Tags: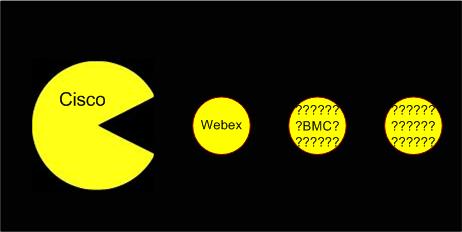 Here are a couple more reads as I play catch-up from the holidays. First up, ITIL then some thoughts around a recent interview with John Chambers at Cisco.
10 Reasons why ITIL spooks IT managers, originally written back in October by NetworkWorld, it was noted by another blog I read so I checked it out. One more I would like to add making it 11 is around challenges with "organizational stability". Companies evolve to fast – i know sounds odd (e.g. reorganizations), technologies keep offering new approaches or benefits (e.g., virtualization), M&A activity that requires trying to blend two different organization and the technical and political challenges that offers Bottom line, there are just way to many things conspiring against something so all-inclusive from the top-down that takes years and years and year to accomplish. It touches ever part of the business and it's snot elf-contained or focused like deploying a new financial application. Now I'm not saying ITIL isn't useful, for example CMDB (e.g., configuration management) is something all large enterprises should have in my eyes. The amount of savings could/would be immense around effective utilization of resources, reducing redundancies, keeping every thing/one on the same page and the list goes on (more on that when we talk resource reconciliation next week).
Cisco's John Chambers interview with Paul Musich titled "Cisco Charts New Course" was an enjoyable read as you attempt to read in between the lines and ponder Cisco's strategy.
My personal thoughts from this center around Cisco's push into collaborative applications being about driving bandwidth intensive applications to sell more/protect current investments companies have made in network plumbing (everything but servers, storage, desktops) while trying to find a bigger piece of the IT pie. They have to be careful not to upset the apple cart as they wish to bite off more of that IT budget pie. Since applications aren't core to the main players that channel/sell (e.g., HP, IBM, EMC, Microsoft) their current cash cow products this ensures only light co-opetition today versus hard head-to-head competition. To date their application choices have been very calculated around unified communications and collaboration, not generalized. So with that said I'm not so sure they are about to just yet take that big jump and go after a more general application strategy (e.g., BEA). I think they have some maturing plans here which include finding a way to more efficiently manage applications, then maybe later in 2008 or early 2009 watch for that next step down the stack from actual applications to enabling the development of applications. I started pondering this back in December where I started making the case for Cisco acquiring BMC. With that said, if they do "go large" in IT management and grab BMC instead of someone like BladeLogic then scrap my thought on them doing the BEA thing.