---
July 18, 2015 5:00 PM
Cloud Computing
,
twitter
When I joined Twitter in 2008, it was still a fairly new medium of communication. But one of the things I quickly learned was how easy it was to find new communities and interesting people, if you used this one simple trick – search for a topic you were interested in and follow the names that came up over and over. This was before all the fancy clients that had filters and lists, but it was also a smaller user-base.
What I quickly found was a group of people that were affectionately know as the "Clouderati". I later learned that this was a self-given nickname and a joke that came out of many beers are some pub at an early Cloud Computing event. At the time, there was this shift beginning to happen where lots of people were jumping on the VMware and virtualization bandwagon, and then there was a smaller crowd saying that much of that "discussion" was not focused on the right areas. This group was more focused on public Cloud Computing, distributed application development, open source and some things that seemed "out there" at the time. For many people, the Clouderati were considered "an echo chamber on Twitter" and often dismissed as not knowing what would appeal to mainstream IT audiences.
The last few weeks have been interesting for the #Clouderati.
Simon Crosby (@simoncrosby) – co-founder of XenSource, which created the Xen hypervisor, which was sold to Citrix in 2007. Several years after the acquisition, he started a company called Bromium, which focused on end-point security. We had Simon on The Cloudcast several times (here, here, here). This week it was announced that the Bromium technology would be embedded in Windows 10.
Sam Johnston (@samj) – one of the smartest people I've ever met, who worked at a number of companies (including some interesting roles at Google), was announced as the ANZ CTO at CSC. When combined with CSC CTO Dan Hushon, this brings a significant braintrust to CSC. Continued »
June 25, 2015 5:43 PM
Cisco
,
Docker
,
Open source
,
OpenStack
,
SIP
I first got (truly) exposed to open source software in early 2000. I was working at Cisco, and we were internally developing a SIP Proxy Server, which would go on to become Cisco CSPS (now EoS/EoL). The project started because one of our VP's decided that they wanted to commoditize the call-control portion of VoIP systems, and Cisco would focus on making money around the edges of the network (IP Phones, VoIP Gateways, etc.). Given that Cisco hadn't published any other open source projects, it was considered someone of a bold strategy – and some considered it crazy. But this was being built in Research Triangle Park, NC ("RTP"), which was just down the street from Red Hat, so lots of people in the area were curious if their business model might work in other places. My first education had less to do with choosing a license, or CI/CD models, but rather about the violent pushback that people had to disruptive economic models. This project lead to the eventual acquisition of Vovida, a maker of other open source VoIP components.
My next exposure was about 5 years later (~ 2005), when I was working in a new group that Cisco spun out to Linksys to build SMB business systems. It was my first exposure to the ODM model, where a 3rd-party would make minor modifications to their base software (based on Linux), that we could then rebrand and sell as commercial products. The ODM's pace of innovation was incredible. We were used to 12-18 month development cycles, and they had new features every 3 months. And instead of having "unique differentiators", we had essentially the same features that all of our competitors in the space had too. This model wasn't about innovation, it was about changing the time to market equation, and significantly reducing the internal COGS (Cost of Goods Sold). The other real eye-opener for us was when they'd bring us some whitebox hardware prototypes – they were often 30% faster, with 80% of the features and 10% of the cost of the typical Cisco boxes we were used to designing around (especially for branch-office use-cases).
Sometime in 2010, I met Lew Tucker, who has just moved over to Cisco. He was going to be in charge of large open source projects, such as OpenStack. I had been experimenting with this new technology (a VMware replacement?) and Lew needed some people to help spread the gospel internally within Cisco. By this time, Cisco was facing competition from several open source projects and companies based on open-core business models, so there was an appetite for how to compete with "free" and also how to engage, contribute and influence the communities around these projects.
But that was all in the past.  Open source was just an element of my previous experiences. For at least the last year, I've been living a much more open lifestyle. Actually, it's been the last 18 months. While my day job was probably the most visible element, there were several things going on behind the scenes. The weekly podcast I host made a distinct pivot to move away from the mainstream Cloud Computing topics and instead focused on open source, SaaS, DevOps Containers and modern (Cloud Native) application development. Open source is at the core of all of these trends. As part of that shift, we started a new partnership with O'Reilly Media and their events (OSCON, Velocity, etc.). Continued »
---
June 24, 2015 8:29 PM
DevOps
[Disclosure: I gave this presentation at EMC World 2015, but all of the content is vendor independent. Nothing in the presentation or this blog is a sales pitch for EMC]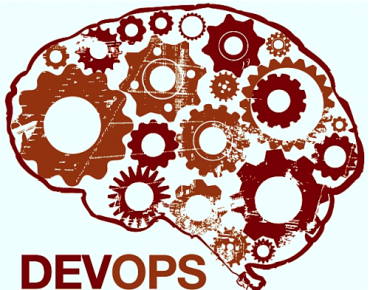 A few weeks ago, I gave a talk titled, "Why DevOps is Critical for Business" (video) (slides). It was part of a broader DevOps track, for an audience that is primarily IT professionals. The TL;DR version goes like this: Your business wants/needs to go faster to remain competitive in their industry. Technology is at the center of most business decisions today. Hence, IT needs to figure out how to deliver technology faster to enable the business.
It makes some analogies between the automotive industry shifts in the 1980s and Cloud Computing today. It also talked about the how information distribution has changed over the years (see: Jevons Paradox) and how people don't need to be so worried about their jobs being automated away.
The room was packed and feedback was very positive. A number of people stuck around afterwards and we had a bunch of good discussions about, "OK, how would we actually do that?"
And then I got a phone call from a colleague….
The TL;DR version of the conversation went like this: "Keep in mind that most companies don't care about the 'HOW' of their IT organization, they just care about the 'WHAT' (and results)."   Continued »
---
June 21, 2015 1:44 PM
As today is Father's Day, I got to thinking about the stuff my father taught me that sunk in enough to have influenced my career or the guidance I've given others. On one hand, he introduced me to my first computer – an Apple II that he brought home to do spreadsheet/accounting work. We didn't have any in school at the time, and I don't recall the neighbors having one yet. He was just curious about how it worked. On the other hand, computers were really not a big part of my life growing up, so this may turn out to be more about learning skills and dealing with changes.
Many of my friends followed a path that was similar to their parents, and in the case of many of my male friends, it was influenced by their fathers. Doctors follow doctors. Lawyers follow lawyers. Engineers follow engineers. Teachers follow teachers. Coaches follow coaches. And so on. But my father grew up a farmer. No computers. No electronics. Just land to plow and animals to raise.
He told me many times how much he disliked the farm life, but he spent an equal amount of time telling me about the work ethic that comes with farming. Up early, work late, deal with bad weather and uncertainties. Sick days don't exist. There were no shortcuts. You measure yourself on the effort (day-to-day), but ultimately on the collective results. And you find the balance between the things you love and the things you need to do – just because. Continued »
---
June 19, 2015 1:28 PM
Cloud Foundry
,
DevOps
,
Docker
,
Open source
,
Security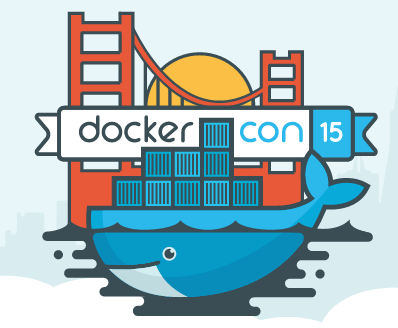 While it is only expected to have 2000 attendees, next week's DockerCon 2015 is already shaping up to be one of the most highly anticipated events of the trade-show calendar. As noted VC (and Cloud expert) Adrian Cockcroft likes to say, "Docker wasn't on anyone's roadmap in 2014. It's on everyone's roadmap in 2015."
Here's what I'm looking forward to at the event:
Overall, it should be a great benchmark to understand where this fast moving company and community is moving. Docker has the potential to disrupt so many segments of the Cloud-Native application industry, so it'll be interesting to see how big of a piece of the pie they are going after and how the marketplace responds.
---
May 31, 2015 10:40 PM
Agile
,
cloud
,
DevOps
,
Operations
Before I get into my thoughts on VelocityConf (Santa Clara, 2015), I thought that I'd share a quick story. I've been attending open source events and meetups for several years (OpenStack Summit, LinuxCon/CloudOpen, DevOps Days, Cloud Foundry Summit, etc.) and have become comfortable with the vibe and communities at the events. They are very different from vendor events, in good ways and bad ways.
A few months ago, during my day job, we decided that we'd like to host a DevOps Days style event before EMC World. I reached out to some friends to see what the proper steps were to host an event, since DevOps Days has a planning organization. I was introduced to Bridget Kromhout (@bridgetkromhout) and we spoke for an hour about our idea for an event. As expected, she was very friendly and informative, but a little bit cautious about a "big vendor" doing this, since other "big vendors" had violated some of their guidelines about over-marketing in the past. Fair enough, we'd do our best stay within all of their guidelines as we hoped to show this community that we wanted to contribute valuable things (beyond free food & drink). Although she didn't need to (we weren't an official event), Bridget continued to provide us guidance and encouragement, as well as occasionally correcting us when we made some tactical errors. I tell this story because Bridget is like so many others that are involved in DevOps Days and VelocityConf – they are passionate about this domain and excited to help others that wish to learn and share. But she's also very focused on it being done the "right way", as we've seen too many other industry trends get swept up in marketing hype.
What does this have to do with IT organizations and VelocityConf? Actually, quite a bit…
Some common misperceptions about open source events (or DevOps or Web Scale, etc.)
If it's all open source, nobody spends or makes any money. – Tell that to Target, MLB, Google, Microsoft, Etsy, Orbitz, and many others names that presented sessions. Or tell that to the many VCs walking around the halls looking for the next big idea to fund.
It's just a bunch of neck-beard hippies. – Keep thinking that. They run some of the most influential and powerful companies in the world, and are getting presidents elected. Beards optional.
They don't understand the Enterprise. – Tell that to the Enterprise group that stuck around after a Security + DevOps session to talk about how they used DevOps, Public Cloud and Agile Development while dealing with SOX, HIPAA, and a bunch of other heavy regulatory guidelines.
It's just a Silicon Valley thing. – Except that they hold the events worldwide, and you'd find as many influential people from NYC or Minneapolis as you would Portland or SF/Bay.
Here's what I loved about VelocityConf:
---
May 25, 2015 10:23 AM
Docker
,
Open source
,
Puppet Labs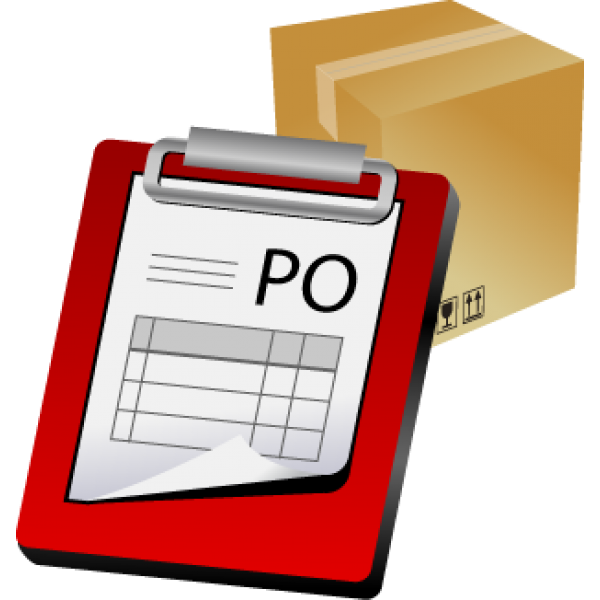 One of the most frequently discussed topics on the podcast, sometimes on the air and sometimes off, is the financial future of all these cool new technology companies that have open source software at the core of their business. Companies like Docker, CoreOS, Hashicorp, Mesosphere, Puppet Labs, Chef, Mirantis, Ansible and many others. We watch as they continue to get increasing large VC funding rounds, and like the dot-com bubble of the last 1990s, we wonder how they will match their revenue models with their valuation models. [Note: Puppet Labs had a strong Q1 revenue announcement]. Are these companies that are built only for acquisition (short-term), or do they have the sustaining power to last 5, 6 or 7 years before they move to IPO stage.
Keep in mind that these companies, with open source at their core, are different from other start-ups that are enduring longer periods of existence/growth (5, 6, 7yrs) without building an open source community – eg. Nutanix, SolidFire, Virtustream, Box.net, etc.
As I think about all the funding, I remember back to some of the most important (and pragmatic) guidance I've gotten from entrepreneurs like Rodrigo Flores and Rodney Rogers – "no matter how cool you think your technology is, it can only create a sustainable business if you can actually collect a Purchase Order (P.O.)". And it's important to remember that there is a big difference between building  a community around a technology and building a business around your technology. It's the difference between creating value and capturing value. The former requires technologists and vision. The latter requires that you understand not only who will fall in love with the technology, but who will approve and fund the acquisition of the technology (directly or as-a-Service). It means contacts, licenses, terms of payments and all those are things that aren't embedded in a GitHub update. Continued »
---
May 24, 2015 6:48 PM
Cloud Foundry
,
IBM
,
Microservices
,
PaaS
,
Pivotal
For just a two day event, the 2015 Cloud Foundry summit produced quite a few interesting elements for a community that is starting to mature and hit it's stride. I've written about it a couple times (here, and indirectly from discussions here) immediately following the show. But now that I've had a few days to reflect on it, some other thoughts came to mind:
The Foundries are Forming
When we spoke with Sam Ramji, he spoke about the development and contribution model for Cloud Foundry projects. While "outside" contributions are considered, to become a core contributor one must work within the "Foundry" model of pair programming. And in 2015, several new "Dojos" have been stood up. Dojos are the physical locations where the Cloud Foundry model of pair programming is preached and practiced. While a dojo existed at the Pivotal offices in San Francisco, new dojos have now been added in EMC's Boston/Cambridge, and new dojos were announced for RTP, NC (by IBM) and another independent dojo in San Francisco (by Cloud Foundry Foundation). In speaking with leaders in the Cloud Foundry Foundation, it's expected that more dojos will open in 2015 and 2016, including locations outside of the United States.
New Business Models are Forming
IBM offers Cloud Foundry as a public cloud service, under the BlueMix brand. Pivotal offers it under the Pivotal Web Services Brand. CenturyLinkCloud now offers Cloud Foundry via their 13 Data Centers. Huiwei will offer Cloud Foundry to their global customer base. And many others are offering Cloud Foundry both on-prem and off-prem, delivering interoperability across multiple clouds and in multiple geographic regions. Interoperability and competitive markets create great value and opportunities for customers. It creates the potential for new business models to emerge.
Public Cloud is the Starting Point, But Private Clouds still Exist
The premier customers that were highlighted throughout the week were well-known Enterprise names, across multiple industries. For many of them, their starting point in using Cloud Foundry was a public cloud offering or instance. It not only allows the developers to get new applications up and running quickly, but it also begins the organizational transformation that's needed to make PaaS a successful IT model. It's the model called out in books like "Switch", where small but noticeable change is more important than boiling the ocean. And then for many of these companies, they would deploy an on-prem instance and continue to build cloud native apps and transform their culture or business. This is a reversal of the model we frequently heard about IaaS models, where it started as an on-prem IT Transformation, with the promise of extending it to a public cloud for added capacity – "cloudbursting". Continued »
---
May 2, 2015 11:12 AM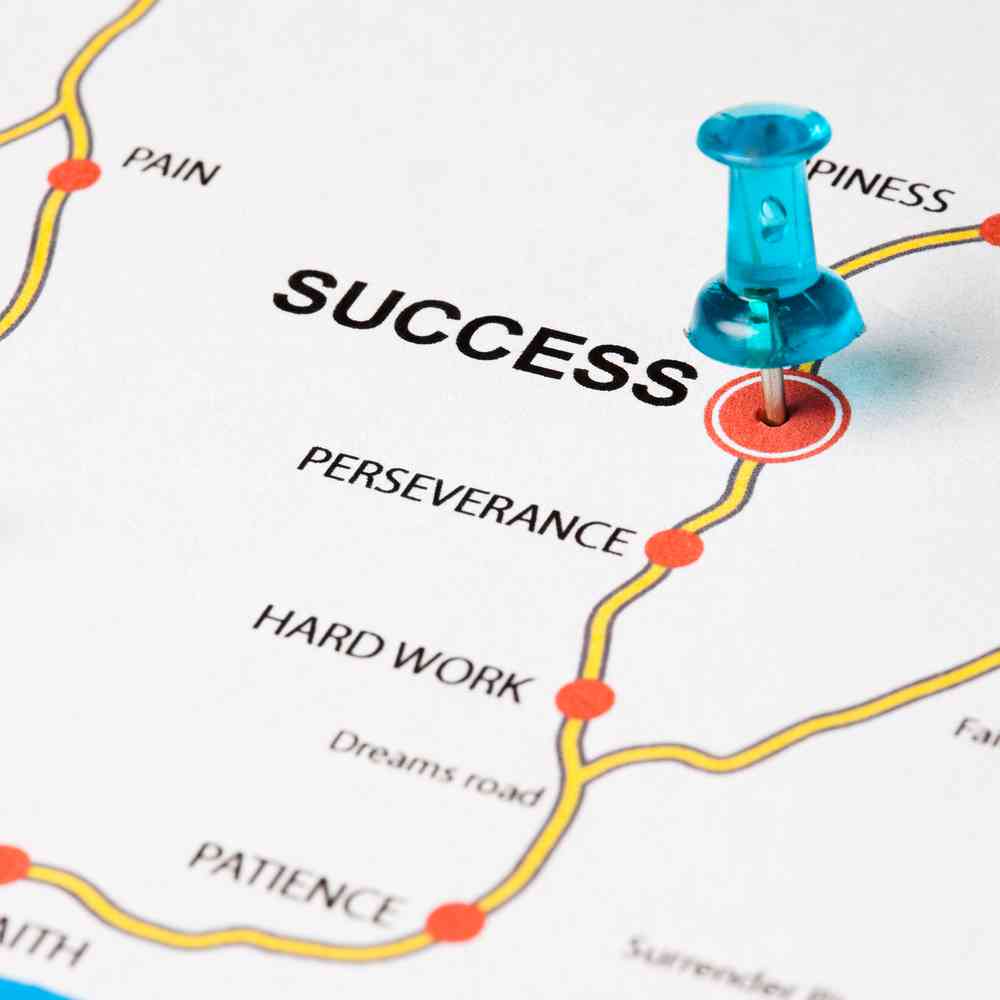 Sometimes life takes us down some interesting and serendipitous paths.
In my case, I recently found myself in Kitty Hawk, North Carolina, ascending the sandy Kill Devil Hills. It was on a school field trip with my older daughter to learn about the history of the state. On this site, back in 1903, Orville and Wilbur Wright manned the first motorized flight. Soaring amongst the birds, high above the sandy ground, finding balance between wind and gravity.
In parallel, I've been preparing a talk about "Why Business Should Care about DevOps" for EMCworld. To draw an analogy, I go back and look at how Henry Ford revolutionized the creation of not only a new industry, but also the surrounding industries of hotels, suburbia, drive-thru restaurants, and interstate highways.
Even though I benefit from their genius on a daily basis, I hadn't really thought about any of these men in decades. Sometimes we take their amazing accomplishments for granted once they become a normal part of our lives.
Three amazing individuals. Three amazing innovators that spent their entire lives focused on a singular purpose – airplanes and automobiles.
But we no longer celebrate the ones that dedicated their lives to a singular purpose. Those that continued to iterate and improve on their enormous accomplishments. Too often we celebrate the "Renaissance Men (and Women)" that dabble in many pursuits.
I'm not sure what happened:
Is it that the Microsoft "monopoly" case has people afraid of having too much market share?
Do we morally fear that the prospect of "Do No Evil" isn't possible if you achieve the successes of Google?
Is it that market dominance is a fading concept, with the barrier to entry for new competition being so low, that people believe they need a portfolio of ideas to iterate upon in parallel?
Is it that we've become such a distracted society that boredom and ego need to be feed at all times?
It's not as if the world lacks for big problems to be solved or re-invented. We have global problems of food, water, energy, and literacy. Continued »
---
April 30, 2015 11:49 PM
AWS
Last week, Amazon finally broke out the revenues (and expenses) of their Amazon Web Services (AWS) division. As many people expected, it's 2014 revenues were in the $5-6B range, showing solid profitability. So what does this all mean?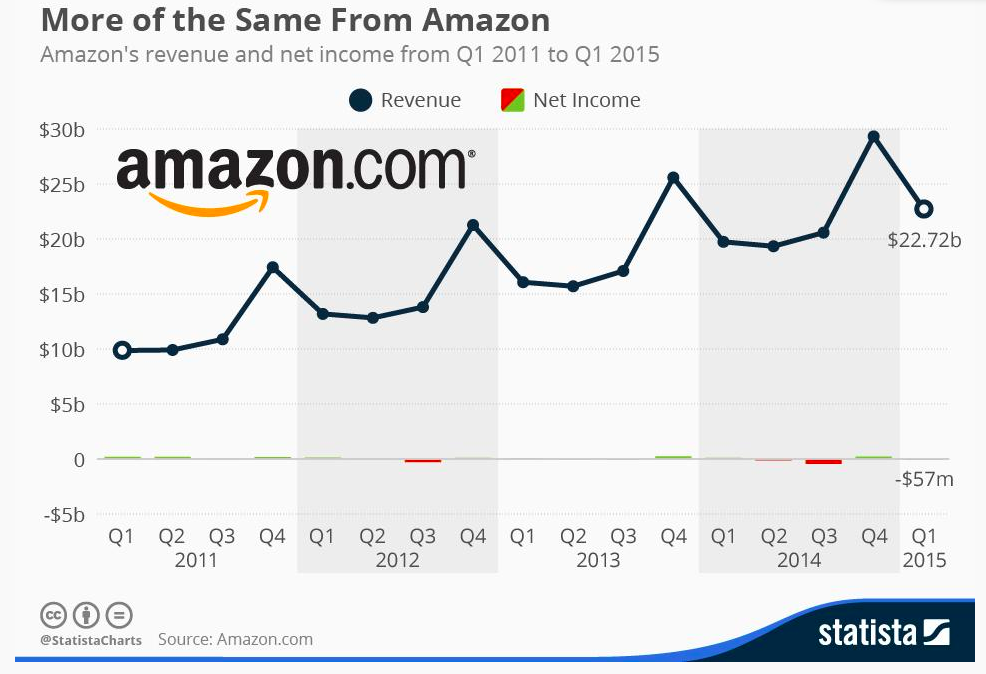 From purely a contribution perspective, AWS is obviously a critical aspect of the overall Amazon business. While it may be less than 5% of overall revenue, it's much more profitable than other business segments. And it can be the foundation for many other aspects of Amazon's business – video, phone, tablets, FireTV, etc.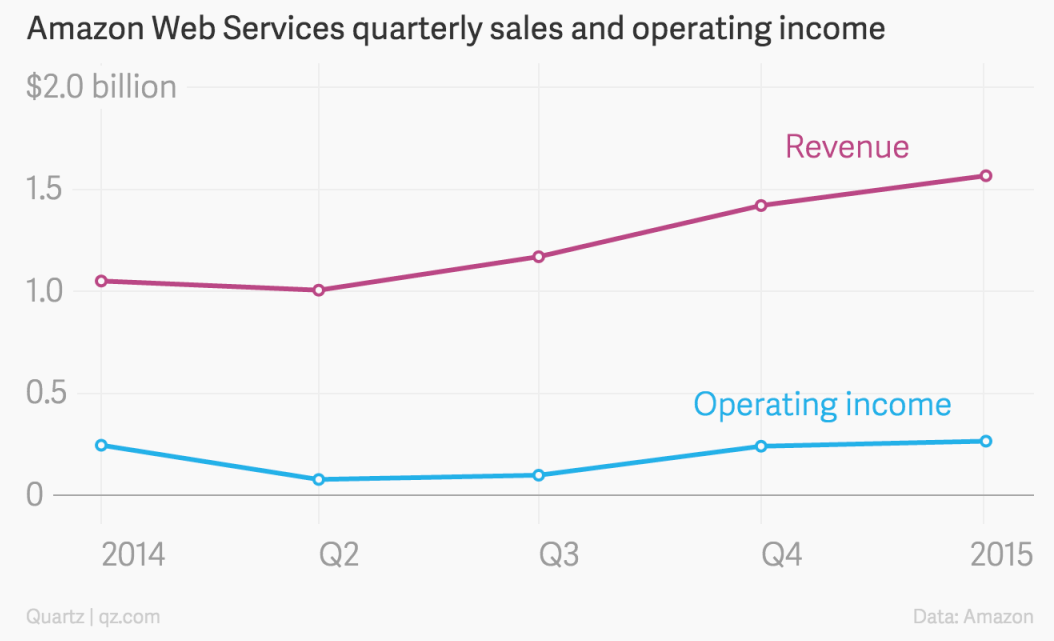 But to me, there are two aspects of their revenue announcements that are most interesting. Continued »
---