Nov 25 2009 7:04PM GMT
Posted by:
Dave Bateman
Tags:
Whenever I teach, I begin the class by doing introductions. One week while we were doing introductions, a student introduced herself and said, "And Unity sucks." I said to her, "I can sense something's bothering you, would like to share it with the class?" She said, "Yeah, we just ran into that Unity bug this weekend, and I spent the whole weekend fixing it." I told here that she would have to be a little more specific than that "Unity bug." "You know, the one where the phone doesn't ring when it is transferred from the auto attendant" was her reply. I immediately knew exactly what she was talking about.
If you don't change the subscriber templates before adding users, you are going to end a few things that you may like about the way it operates. One of things is that when it transfers the call, it is sent directly to voicemail and does not ring a subscriber's extension. This is not a bug in the system, or an error. This is just the way it works. So before you add subscribers you may want to make a few changes.
Let's take a look at a few of the settings that you may want change. First let's look at the issue this young lady had. If you look at the default subscriber template and go to the Call Transfer settings, you'll see that it is set to go directly to greeting. You will want to change this to ring the subscriber's extension. Figure 1 shows that how this setting should look.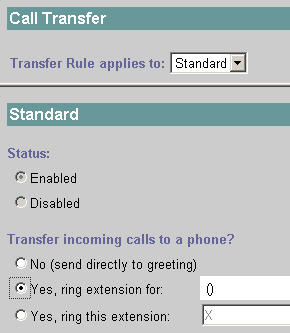 Figure 1



Another common issue is that when a user wants to send or forward a voicemail to another user of the same system, Unity will ask them to address the message by entering the name of the other user. Typically, people want to simply enter the extension number of the person. To fix this setting, go to the Conversation section of the subscriber template and set the Identify addressee by: setting to Enter the extension. You need to go into system settings to fix this. Figure 2 shows what this setting should look like:
Figure 2



Another setting that a lot of administrators don't like is that by default the user will have the ability to remove themselves from the directory of the auto attendant. This setting is not part of the subscriber template but rather the Class of Service. To change this, navigate to the class of service you wish to change and go to the Profile page. Change the setting so it reflects what you see in figure 3:

Figure 3



There may be other settings that you want changed based on your environment. Do yourself a favor – take the time to look at all the different settings within Unity and make sure things are set the way you want before adding subscribers.
The good news is if you don't do this, there is a way to quickly change settings for multiple users. There is a tool called bulk edit. We'll take a look at this tool in the next post.