Jun 27 2012 7:31AM GMT
Posted by:
Dave Bateman
Tags:
As an instructor, I am always looking for material that my students may find interesting. Today I stumbled across a neat little document that the folks over at Packetlife created. It provides a lot of information in a rather small space. It covers all of the Cisco interior routing protocols on a single page. That is a pretty impressive feat when you compare it to volumes of books that have been written on the same topic. Of course, you can't fit everything about every protocol on a single page, but the author did a great job of zeroing in on the key points of each protocol and have even included sample configurations for all of them. This is great reference for anyone that is going to be taking any of the Cisco route/switch tests.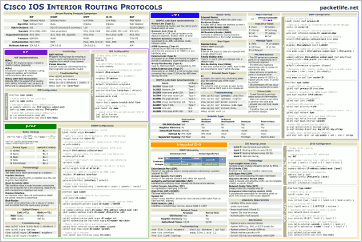 You can also order a 36×24 laminate copy of it to hang on the wall of your office. I can't think of a better way to show your geek pride for only 10 bucks.