---
---
---
October 2, 2015 3:04 PM
Big Data
,
Big Data analytics
,
Biometrics
,
CIO
,
corporate governance
,
cybersecurity
,
Data breach
,
Data governance
,
Digital business
,
Financial firms
,
Financial regulations
,
Gartner
,
HIPAA
,
Hybrid cloud
,
IT outsourcing
,
it startegy
,
regulatory compliance
,
SMB
The uniqueness of fingerprints, retinas and the other biological features that biometric authentication relies on is the security tool's greatest asset. But in light of the theft of 5.6 million fingerprints in the recent Office of Personnel Management breach, this immutability is also the...
---
September 11, 2015 8:55 PM
Apple
,
Apple iOS
,
BPM
,
CIO
,
Cisco
,
customer
,
cybersecurity
,
Data governance
,
Information security
,
ipad
As if you needed even more convincing that Apple was serious about breaking into the enterprise, here's further proof: Its business-centric iPad Pro is bigger, lasts longer and performs faster than its predecessor (and comes with a stylus, to boot). Could this be the device that gives Apple the...
---
August 28, 2015 8:18 PM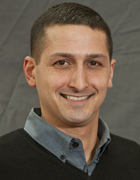 Profile: Ben Cole
CIO
,
cybersecurity
,
Technology
Cyberdefense has become major concern across the globe: Individuals, companies, governments and even national security are all being threatened by cybercrime. As the cyberthreat landscape grows more dangerous by the day, SearchCIO contributor Harvey Koeppel offers a 12-point
---
August 14, 2015 8:56 PM
CIO
,
CIO innovation
,
Customer engagement
,
cybersecurity
,
Digital initiatives
,
Gartner
,
Google
,
Information security
,
Regulation SCI
Gartner research vice president Paul DeBeasi kicked off its annual Gartner Catalyst conference this week with a subversive idea: that while the technology foundation of "mobile and cloud-first, predictive and self-conductive" remains crucial, organizations are also going to need a personality...
---
July 2, 2015 8:45 PM
Apple
,
CIO
,
Compliance
,
cybersecurity
,
Digital business
A stellar CIO is only as good as his direct reports. To build a leadership team of that creates breakthroughs in its industry, leadership and agility expert Joseph Flahiff argues that CIOs need to build a supportive culture in which senior IT feels confident experimenting with new ideas.
---
May 22, 2015 8:43 PM
BPM
,
cybersecurity
,
Data Center
,
Holacracy
,
Mobile payments
Imagine never having to report to a boss or supervisor again. Sounds great, right? Well, not all the employees at Zappos think so. The company's controversial new holacracy system enforces self-management instead of boss supervision and has led to a mini employee exodus. In this two-part Q&A,...
---
March 6, 2015 6:45 PM
Automation
,
CEO
,
CIO
,
cybersecurity
,
iot
,
IT systems
,
Legacy systems
Knowledge workers might soon be competing with machines for jobs. In this week's Data Mill, analytics thought leader and author Tom Davenport explains the business benefits of computer augmentation and lays out
---