---
October 30, 2015 3:57 PM
Agile
,
cloud
,
it management
,
PaaS
,
Public Cloud
For many technology providers, Amazon represents one of the biggest competitive threats. This is most recently evident with HP's decision to shut down its Helion Public Cloud, ceding to the likes of Amazon and Microsoft. Oracle, on the other hand, is still devoted to competing with Amazon's cloud services, unveiling new cloud features. Fran details the companies' strategies and gets analysts' takes in this week's Searchlight. Also in Searchlight: IBM acquires The Weather Co.'s digital assets; MasterCard wants to turn everything into a payment device.
Change management strategies should think Agile, according to Ken Accardi, the former CIO of GE Medical Systems. In Senior News Writer Nicole Laskowski's interview with Accardi, he explains why change management strategies should adapt concepts from Agile software development.
Better user experience is always the goal, but it can sometimes be a challenge to balance that with data security. In this tip, SearchCIO expert Harvey Koeppel gives advice on delivering great user experience without inviting unnecessary data risks.
Prevention security isn't always enough, according to SearchCIO expert Eric Parizo. CIOs need to guide a shift in IT security spending toward attack detection and response. Parizo explains how to get there.
An IT asset management strategy (ITAM) can be a saving grace for many companies. In this Q&A, find out what it's like to skirt software companies' license compliance requirements and how IoT will impact ITAM.
Over on SearchCompliance, explore how businesses must stay alert and incorporate front- and back-end processes to make sure their information is protected in an evolving threat environment.
Check out the TotalCIO blog to read why the Cloud Standards Customer Council advices you to pick PaaS in order to swiftly develop and deploy applications. Then, on the IT Compliance Advisor blog, site editor Fran Sales runs down the latest GRC news, including Goldman Sachs' $50 million fine and the Wal-Mart bribery probe.
Please follow @SearchCIO, @SearchCIOSMB and @ITCompliance for our new stories throughout the week.
October 23, 2015 3:09 PM
Chief marketing technologist
,
CIO
,
CMO
,
Configuration management
,
Dell
,
Digital platform
,
Gaming
,
Hybrid cloud
,
IT career
,
IT department
,
Marketing
,
Microsoft
,
Mobile Application Development
,
Surveys
The results of the Society of Information Management's annual CIO survey are out, revealing that senior IT executives are shifting their perspective when it comes to business and IT agility. Senior news writer Nicole Laskowski laid out some of the survey's key takeaways: security ranks third; IT budgets are on the rise; the cloud's influence grows; and more.
Dell is determined to become a big-time player in the cloud game. A week after the company announced its purchase of storage heavyweight EMC, CEO Michael Dell took the stage with Microsoft CEO Satya Nadella at this weeks' Dell World 2015 to announce the two companies' joint hybrid cloud offering, which they say will make it easier for businesses to transition to the cloud. Assistant site editor Brian Holak talked about the enterprise implications in Searchlight.
The stories behind how great CIOs got to where they are — from their family backgrounds to their academic experiences — are as varied as the personalities of these individuals themselves, but they all have one major thing in common. From the recent Gartner Symposium ITxpo, features writer Jason Sparapani recounts a discussion by CIOs and IT experts on how to be passionate about what you do — and why that leads to success.
For a platform business to succeed, it must attract external producers who produce value, in addition to buyers willing to consume that value. That's exactly what South Korean game startup Smilegate is looking to do with STOVE, its online game platform. SearchITChannel site editor John Moore detailed how the company is using predictive analytics and other initiatives to appeal to more developers.
Today's consumers are exposed to thousands of digital advertisements a day. In this digital business climate, business can't afford to have their IT and marketing departments not work in close collaboration. At the recent FutureM conference, marketing leaders discussed the value of a tight CIO-CMO alliance, and how a chief marketing technologist or similar function can facilitate such a partnership.
Niel Nickolaisen gets it: Mobile apps are crucial for business success and is certainly high on his priority list. But it's important to take a balanced approach to developing mobile apps, writes Nickolaisen, a SearchCIO columnist. In his latest tip, the CTO of O.C. Tanner offered CIOs four guiding principles to building mobile apps that go beyond the hype.
Think of IT as a car shop, with "cars" being information, Agile being the assembly line and the maintenance shop based in ITIL. What's missing in this picture, says Ken Lewis of PA Consulting Group, is a digital "bill of materials," contained in an IT configuration management system. It's a crucial element, but building one isn't easy. In this tip, Lewis lays out how.
The next #CIOChat is coming up! Join guest expert Stephanie Woerner, from MIT's Center for Institutional Research, along with SearchCIO editors and readers, to talk about how businesses can thrive in today's digital economy. The tweet jam will take place next Wednesday, Oct. 28, at 3 p.m. EST. See you there!
That's all we've got for the week, folks! Follow our @SearchCIO, @SearchCIOSMB and @ITCompliance accounts to get updates on our upcoming stories.
---
October 16, 2015 5:10 PM
CIO
,
CMO
,
Compliance
,
Dell
,
EMC
What does the Dell-EMC deal, the largest technology acquisition ever, mean for IT? We asked CIOs and IT pros to weigh in on the deal and its impact on digital strategies, vendor relationships and the future of IT.
Speaking of the Dell-EMC deal, in this week's Searchlight, features writer Jason Sparapani finds out how the deal highlights the changing role of the CIO. Also in Searchlight: Twitter layoffs and the Intel Skylake chip.
Failing isn't necessarily bad, but failing fast is harder than it seems. At last week's Gartner Symposium/ITxpo, Pixar's president described the double meaning of failure and the difficulty of building a "fail fast" culture.
In a Q&A on SearchCOmpliance, ISSA International Conference organizers discuss how InfoSec professionals have to change in order to effectively promote a security culture at their organizations.
Over on the TotalCIO blog, learn about "omniculturals" and the intersection of technology and marketing according to Frito-Lay's CMO at the recent FutureM conference in Boston. On the IT Compliance Advisor blog, explore the increasing importance of regulatory compliance to the board of directors and find out what compliance is worth to the business.
Please follow @SearchCIO, @SearchCIOSMB and @ITCompliance for our new stories throughout the week
---
October 9, 2015 5:19 PM
cloud
,
Cloud contract
,
cybersecurity
,
Gartner
Migrating to the cloud is a big decision with a lot of moving parts. One of the most crucial pieces is the often-dreaded cloud contract. In this two-part feature, learn best practices for negotiating a cloud contract and explore the importance of CIO peer review in contract negotiations.
From the Gartner Symposium:  Read why vigilance and curiosity make for the best cybersecurity. Plus, senior news writer Nicole Laskowski explains why the CIO needs the CDO.
IBM seeks to bring cognitive computing to the masses with the new Cognitive Business Solutions group. Will it succeed? In this week's Searchlight, site editor Fran Sales details IBM's initiative and explores the CIO angle. Also in Searchlight: Apple splits with VMware and Dell considers buying EMC.
What are big data's biggest ethical challenges? At a recent Harvard University event, academics and IT professionals discussed big data ethics and why CIOs need to get involved.
Quiet time isn't just for kids. At the recent Strata + Hadoop World conference, IT professionals discussed why more quiet time leads to a more creative mind. Also in Data Mill, meet the #HowOldRobot and find out how IoT is influencing the Tour de France.
Before diving into IoT projects, there are some things CIOs need to know. In the latest issue of our CIO Decisions e-zine, discover the must-know aspects of IoT that all CIOs should know before getting started on their next big enterprise IoT project.
Over on the TotalCIO blog, find out how knowledgeable security experts can help keep your company breach-proof. Then, features writer Jason Sparapani explores whether CIOs are ready for a future filled with hybrid cloud.
On SearchCompliance, corporate customers play a bigger role in cloud data loss prevention than you thought, according to security expert Jeff Jenkins. Find out why. Then, check out the latest handbook on cloud risk management to learn governance strategies to protect digital assets.
Please follow @SearchCIO, @SearchCIOSMB and @ITCompliance for our new stories throughout the week.
---
October 2, 2015 4:24 PM

Profile: Nicole Laskowski
Running a focus group is not unlike gathering requirements for an IT project: Both rely on collecting qualitative information to tap into the customer's perspective. As IT professionals know, what business users say they want and claim they do often differs from what they really need or actually do. Focus groups also fail to tell the whole story, as Farrah Bostic, founder of The Difference Engine in Brooklyn, pointed out during her talk at Strata + Hadoop World in New York City.
Bostic doesn't consider the focus group a broken tool; it's more like it's become a crutch. Instead, businesses should look beyond the focus group — or any one tool — to collect qualitative research. "One of the problems I see is that we use one tool, and often not the right tool, to figure out what we're going to do next as opposed to using all of the tools at our disposal," Bostic said.
Several years ago, in a study Bostic did with a food marketer, she asked customers to talk about how they put together their grocery lists and how they did their grocery shopping and then asked them to record the process with a video camera.
One customer said she didn't need to make a list, and that it was all, "up here." That turned out not to be true, based on the video evidence, which showed her opening every cabinet and both refrigerators to find out what she was running low on and then jotting down a list of what she needed.
Even more telling? Only 50% of what the customer included on her list ended up in her grocery cart, and the other 50% was swapped out on the fly for something that looked better, for something new she decided to try or with an "artifact" gathered by her children, Bostic said. "What happens is that you encounter reality," she said. "She placed a bet on what she was going to buy … and was right about 50% of the things she bought."
The big takeaway for Bostic in this study was how the combination of having the customer describe the process and observing the process revealed what the customer valued, what the customer believed about herself and how those values and beliefs played out in "real" life. "If we just had focus groups, we would have just heard her tell us she doesn't make lists," Bostic said. "And that would have been an incomplete picture of her life."
For IT professionals who often find themselves frustrated by the standard requirements gathering process, job shadowing might be a useful tool. Rather than just rely on business users to tell you what they think they need, watch how they work and derive or at least modify requirements based on their actions.  As the late great Yogi Berra said, "You can observe a lot by just watching."
---
October 2, 2015 3:04 PM
Big Data
,
Big Data analytics
,
Biometrics
,
CIO
,
corporate governance
,
cybersecurity
,
Data breach
,
Data governance
,
Digital business
,
Financial firms
,
Financial regulations
,
Gartner
,
HIPAA
,
Hybrid cloud
,
IT outsourcing
,
it startegy
,
regulatory compliance
,
SMB
The uniqueness of fingerprints, retinas and the other biological features that biometric authentication relies on is the security tool's greatest asset. But in light of the theft of 5.6 million fingerprints in the recent Office of Personnel Management breach, this immutability is also the technology's greatest challenge. In Searchlight, assistant editor Brian Holak gets security experts' take on the future of biometric authentication, and their thoughts on what CIOs can learn from the hack.
Implementing a hybrid cloud architecture is rife with challenges. Not only does it involve integrating disparate systems and keeping them secure, but also requires alignment among multiple departments and a thorough understanding of the technology — or risk suffering the legal consequences. From Hybrid Cloud Summit, features writer Jason Sparapani details advice from cloud experts and practitioners on hybrid cloud mistakes to watch out for.
IT outsourcing deals are like snowflakes: No two are alike. But when they fail, the reason they do so is the result of an error in one of three areas: outsourcing strategy, contracts and post-deal governance. In a three-part tip, Andy Sealock, managing director at outsourcing advisory firm Pace Harmon, guides CIOs through those three failure points.
Looking to go down the road to starting a big data analytics platform? There's no easy prescription for CIOs, according to experts at a panel discussion at the recent Big Data Innovation Summit in Boston. Senior news writer Nicole Laskowski lays out practical advice from experts about how to adapt IT to digital business.
Moving to the cloud promises many benefits, including lower hardware costs, improved application scalability and performance, and more. But planning for and executing a cloud migration is complex. In our latest Essential Guide, we explore these challenges and offer best practices to help CIOs make the leap.
CIOs well know that in order for their organization to succeed in today's competitive landscape, they need a well-defined strategic IT plan. Crafting one isn't simple, however — which is why we've created a CIO checklist to help you make sure your plan has what it needs for your company to succeed. Find out more and download the checklist here.
Over on Compliance…
Digital evidence, such as the evidence from Google's computer systems that was allowed in a recent U.S. criminal case, is being increasingly used in court cases. In this Q&A, information governance expert Jeffrey Ritter lays out details of the aforementioned case and discusses the impact this trend could have on the future of corporate data governance.
The number of financial regulations companies must adhere to, both domestically and worldwide, have reached peak numbers — and it will only continue to increase. As a result, financial services firms and their compliance teams report experiencing "regulatory fatigue," particularly from tracking and managing these rapidly escalating regulatory requirements, according to a survey of these firms by Thomson Reuters. Dig deeper into the findings in this feature.
On the blogs…
The work that goes into hybrid cloud is complicated enough without taking vendor hype into account. On the CIO Symmetry blog, find out why cloud experts advise organizations to stop trying to control vendor hype — and instead to manage it. Then, pin down what the term hybrid cloud really means from the many definitions floating around. Elsewhere in the blog, find out why SMBs' IT spending on software and services, particularly around cloud, are forecasted to increase through 2019.
On the Total CIO blog, Laskowski describes the concept of "choice architecture" and gets tips from an expert on how IT leaders can become choice architects. Plus, Laskowski details the steps UPS took to transform from an analog to a digital business. Elsewhere on the blog, executive editor Linda Tucci investigates the gulf Gartner says is widening between digital business "front-runners" and those only in the digital planning phase. Plus, security experts share how companies should include data protection into their innovation lifecycle.
And on IT Compliance Advisor, we summarize the latest GRC news, including Fitbit's announcement that its wearables are now HIPAA-compliant, CFOs' belief that earnings misrepresentation is rampant in their industry, and more.
That's all the news we have for this week. Follow our @SearchCIO, @SearchCIOSMB and @ITCompliance accounts to get updates on our upcoming stories.
---
October 1, 2015 3:21 AM
Quick — define hybrid cloud. OK, I will: It's a computing environment that relies on both a private cloud and public cloud services and can swap data between the two. Or is it? Maybe it's a data center, private cloud and public cloud. Or data center, private cloud, public cloud and an assortment of managed services?
It turns out there a few definitions floating around, so the recent Hybrid Cloud Summit in Cambridge, Mass., set out to offer some perspective on it all. Judith Hurwitz, president of consulting company Hurwitz & Associates, co-wrote the book on the subject — or one of them, Hybrid Cloud for Dummies — so she kicked things off. Here's her definition:
An environment that transforms traditional IT with a combination of on-premises, public and/or managed cloud services.
By "transforming IT," Hurwitz meant injecting the old notion of providing applications and services and managing and securing them with a more flexible architecture that can grow and adapt as the business grows and adapts to the market.
"A hybrid transforms traditional IT with a combination of 'I'm doing some stuff on premises, but I want it to be fluid and I want it to be self-service. And I need a public cloud because I need really cheap resources really fast,'" Hurwitz said. "'And then I need a very specialized service. I might need security as a service because I don't trust the security either on my public, private or even my own data center.'"
Pamela Wise-Martinez, chief cloud and enterprise data architect at U.S. government agency Pension Benefit Guaranty Corp., shared the National Institute of Standards and Technology's definition:
A composition of two or more distinct cloud infrastructures (private, community or public) that remain unique entities but are bound together by standardized or proprietary technology that enables data and application portability (e.g., cloud bursting for load balancing between clouds).
That's a bit more detail, but Wise-Martinez is OK with it — and so are most cloud experts, for most part anyway.
Others might not be. According to a study by market research outfit IDC, 38% of IT professionals define hybrid cloud as a mix of public cloud services and dedicated IT assets — plus virtualization and private cloud; 23% say it's a combination of two or more "distinct cloud infrastructures"; 11% a subscription to multiple cloud services for different needs; and another 11% say it's a data center that supports hypervisors from multiple vendors.
NIST would mostly approve of hybrid as a combo of cloud infrastructures, but they'd certainly think the first 11% was too broad and the second maybe even a bit loopy.
"Depending on your perspective and what seat you're sitting in, specifically in IT, you're really going to be thinking about it differently," Wise-Martinez said. So much for consensus.
Let us know what you think of this post; email Jason Sparapani, features writer, or find him on Twitter @jmsparapani.
---
October 1, 2015 2:36 AM
CIO
,
Cloud Services
,
IT services
,
It spending
,
SMB
,
Technology spending
Small and medium-sized businesses (SMBs) are spending more on software and IT services, and these investments will continue to rise through 2019, according to IDC's Worldwide Small and Medium-Sized Business Forecast. One main reason for this projected increase, wrote report author Raymond Boggs, is that SMBs are looking to new business resources such as alternative technology to help gain competitive advantage.
"Increasing investment in technology is an appealing way for firms to expand their capabilities without necessarily increasing their head count," Boggs wrote.
IDC forecasted that total SMB IT spending will increase 4.4% year over year, from $560.3 billion last year to $694.5 billion in 2019. Drilling down, software spending will see the greatest increase, growing 6.8% annually through 2019; IT services will grow 4.7% annually, and telecom equipment takes third place at 4.4%.
This increased spending on software and services is in keeping with SMBs placing greater emphasis on solutions, particularly related to cloud and mobility, according to Boggs.
Meanwhile, spending on PCs and peripherals, systems, and storage, will grow at a slower rate, less than 3.5% annually. However, Boggs noted that in both categories, "the transitions to mobility and new technology approaches will still provide attractive growth opportunities."
Compass Intelligence analyst Stephanie Atkinson agreed that SMBs are looking to more sophisticated solutions, particularly in the cloud, as they struggle to maintain expertise in-house in the midst of rapid technology change.
"The SMB sector continues to look for simplification opportunities when buying technology and telecom services, and cloud-based services provide just that," she wrote in a blog post. One driver is that many cloud-based services, such as backup, collaboration and storage solutions, offer flat-rate billing or a recurring monthly fee.
"SMBs are often faced with managing cash flow on a week-to-week basis, and having a planned and fixed budget for IT/telecom services is highly preferred," Atkinson wrote.
According to Compass Intelligence research, the cloud computing and services market is currently experiencing a 40% compound annual growth rate, and will continue to do so through 2016, at which point the market will hit $50 billion (see chart).
---
September 30, 2015 10:35 PM
Hybrid cloud, which blends public and private cloud platforms, involves lots of arduous integration work — so preparation and governance work need to be carefully and deliberately executed. That's a tall order when you have vendors beating down your door.
So how do you control the vendor hype?
That was the question directed at a panel of experts at the recent Hybrid Cloud Summit in Cambridge, Mass.
"Unfortunately it's very hard to control the hype," said panelist Judith Hurwitz. "Because part of the hype is that the technology industry is very ADD. You've got to go on to the next exciting thing."
Hurwitz isn't a medical doctor, so her diagnosis of attention deficit hyperactivity disorder shouldn't be taken literally. But the president of consulting company Hurwitz & Associates and author of many books on IT was making an important point: Vendors know IT people covet the latest gadget, and they exploit that. They've got products to sell, after all.
But therein lies the problem. Buying into that hype can cause organizations looking for a competitive edge to flub an installation — possibly go over budget or even scrap it.
Get rid of the vendors, then. The age-old, tongue-in-cheek suggestion was made by attendee David von Vistauxx, senior security analyst at cloud software company Virtustream. It was met with spirited laughter from the audience, which had taken in five hours of PowerPoint presentations and discussions on the finer points of hybrid cloud computing.
Alas, it's no joke — you can't remove vendors from the picture, said David Linthicum, a consultant at Cloud Technology Partners and another prominent IT author. For one thing, they have all the money, which helps drive innovation in the industry.
"You've just got to learn how to listen to vendors, how they spin things and what they say," said Linthicum, who sat next to Hurwitz on the panel. "Judith and I have been in the business a long time, so we can get beyond the BS that they spin to us and get right down to the essence of what it is."
Hurwitz's advice for CIOs and IT is to educate people about the new technologies grabbing headlines and let them know what the limitations are today.
"You can look at almost anything that has emerged as hype over the last 10 years and see where its roots are," she said. Help them tell the difference: "'This is the piece that's solid and old; this is the piece that is emerging. It would be good to experiment with this, get some experience, but we're going to have to wait until it matures.'"
Pamela Wise-Martinez, chief cloud and enterprise data architect at Pension Benefit Guaranty Corp., the U.S. government agency that protects pensions, described the customer-vendor dynamic this way: a partnership. The question is, how well can it work? Sometimes, she said, it all depends on the contract and service-level agreements.
"You have to find ways to build a more collaborative approach and be partners, because we all have a stake," she said. "I'm trying to win the people I'm servicing, and the vendors trying to win with more business — so if you partner you can all win."
Let us know what you think of this post; email Jason Sparapani, features writer, or find him on Twitter @jmsparapani.
---
September 25, 2015 8:56 PM
CIO
,
Cloud adoption
,
DevOps
,
IT budget
Are you practicing DataOps at your company? In this week's Data Mill column, senior news writer Nicole Laskowski explores the emergence of DataOps and outlines three steps to building an Agile analytics program.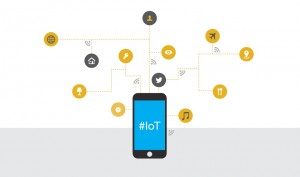 The Internet of Things (IoT) is changing the way companies do business, but it's also sounding both new and familiar alarms over data privacy and security. In this new photo story, SearchCIO followers detail their top IoT privacy and security concerns and how to deal with them.
In this week's Searchlight, features writer Jason Sparapani reports from the Hybrid Cloud Summit on the significance of hybrid cloud environments to IT and business.
Speaking of data security, our most recent handbook attempts to answer the following question: In a breach-a-minute era, how can we achieve data security? SearchCIO expert Harvey Koeppel chimes in by outlining a cybersecurity checklist for IT leaders to follow, and CTO Niel Nickolaisen offers three security processes that can help mitigate human error.
Over on the Total CIO blog, Laskowski discusses startups that are building products and services for aging adults, and site editor Fran Sales explores what HP must do to stay relevant post-layoffs. On the CIO Symmetry blog, Sparapani discusses modern practices for measuring ROI for cloud investments.
Cloud services are growing in popularity, but businesses must be careful to protect against constantly evolving data risk. In this tip, SearchCompliance expert David Loshin gives advice on mitigating cloud computing risk.
Finally, what are your 2016 IT budget expectations? Join SearchCIO's #CIOChat Wednesday, Sept. 30, at 3 p.m. EST, to discuss 2016 IT budgeting and the rise of business technology spending. See you there!
Please follow @SearchCIO, @SearchCIOSMB and @ITCompliance for our new stories throughout the week.
---