---
June 12, 2012 8:02 PM
I am going through the data from the second annual SearchCIO.com Role of the CIO survey. So far, the data suggests more skewing toward business transformation and innovation and away from "traditional" senior IT roles, such as supporting predefined business initiatives. More on that in the next few weeks.
And as we have been writing about here in the CIO/IT Strategy Media Group for some time now, the "new" CIO is many things to many different companies. But our SearchCIO.com news director did a little digging into just exactly what kinds of skills companies are asking for in their top IT executives, and the answers are very interesting.
Here's a sampling:
The vertical virtuoso
The enforcer
The protector
The translator
The negotiator
Not only do they sound like some real or potential Hollywood action flicks, these job skills show how intertwined the CIO and senior IT have become in the inner workings of the business as a whole. Non-IT executives should remember that when they are looking for ways to transform their businesses for today's uncertain markets.
June 11, 2012 8:24 PM
Each week, we round up an executive summary of the high points around the blogosphere. This week, we're taking a look at the legality of Internet traffic regulation and how the big Internet companies deal with change haters. For gadget lovers, we're also looking at the new Apple Retina display, the new Google tablet and whether ultrabooks have a hope of replacing tablet devices in the BYOD landscape.
---
June 5, 2012 3:13 PM
Similar to nuclear war scenarios, the most significant damage the recently discovered Flame malware will inflict comes from its fallout rather than from the initial blast.
The seriousness of Flame is real: Flame and the Duqu and Stuxnet malware are capable of attacking national critical infrastructure. The U.S. used Stuxnet against Iran's nuclear program, which, given the many alternatives, seems like a pretty good idea. The same virus programs, however, could be used against any system that attackers wanted to target, including those in the U.S., and put millions of people at risk.
On the other hand, experts say there isn't anything special about Flame and that it can be easily defended against with conventional security tools and policies. Microsoft this week revoked fraudulent certificates used by the Flame malware toolkit. Some experts say there is a bigger threat to businesses from application-level exploits by individual hackers than from the Flame-category cyberespionage attacks.
Two points are emerging in the wake of the discovery of Flame. One is (needless) panic; the second is a call for international treaties banning cyberwarfare. A big push for this is coming from Eugene Kaspersky, an influential security expert and founder of Russian antivirus company Kaspersky Labs, and the Russian government. Both entities are well populated with talented malware security experts, both legitimate and criminal.
As we have learned over the past decade, the best policy for security is openness. If we start making any kind of code or use of code illegal, we are going to have more problems than the threat of cyberattack. As the saying goes, if you outlaw guns, only outlaws will have guns.
---
June 4, 2012 10:35 AM
We scoured last week's blogs for the best and brightest blog posts and media on topics of interest to midmarket CIOs. This week we're examining the problems that plague midsize corporations, like middle-management tar pits and stuck organizations. We also look at the challenge of constant corporate innovation, as the Chief Innovation Officer must be a problem-solver as well as a visionary. Here are the high points of the braintrust that caught our editors' eyes last week.
With Facebook's disappointing IPO fallout, Allen Gannett has declared that the social media bubble has officially been popped. No offense, Allen, but we're going to hold off on last rites for a bit.
Gartner has its own Gandalf in Mark P. McDonald, and he thinks that a CIO's main problem is too few managers and too many administrators.
Are you willing to ignore dissent in your user community? If not, you might be stuck, according to Seth Godin.
CIOs are always chasing corporate innovation, but how do you measure the speed at which you chase it? Check out the Innovation Ambition Matrix.
Why do we innovate? Because you innovate or you die, says blogger Stefano Boscutti.
There are four zones for corporate innovation: Where does your team fall on Jim Kalbach's scale?
---
June 1, 2012 3:23 PM
Consider your own smartphone use when you engage with other businesses — whether it's checking your servers with a thin client or watching the latest episode of "New Girl." You rely on those apps. They have become a part of your life in some ways. In general, enterprise companies tend to have their ducks in a row, but midmarket companies are all over the board. Some companies dipped a toe into mobility early in the game and are already reaping rewards. For instance, Papa Gino's, a New England pizza chain, engaged customers with a mobile app for ordering hot, fresh pies on the go, and increased their sales by 10%. Meanwhile, Dealer Services Corp. CIO Chris Brady implemented a mobile business intelligence solution to arm her internal customers when they were on the road. But not every CIO has been so forward-thinking.
In the last five months, mobile Internet traffic has shown tremendous growth compared with desktop usage. During this week's D10 conference, analyst Mary Meeker noted that the number of Americans owning digital reading devices or tablets had a huge spike over the holidays, with almost one-third of all Americans reporting that they now own a Kindle, Nook, iPad or similar technology. Add that to the exponential growth of smartphone usage and iPad business apps — the future of mobile computing is impossible to ignore. There's no sign of a smartphone usage tipping point– as Barney Stinson might say, it's all rise.
2012 is turning out to be the Year of the App — again. Midmarket CIOs can no longer afford to "wait and see" when it comes to mobilizing their innovation. Check out my Midmarket Matters column for more of Meeker's insights on the future of mobile technology.
---
May 29, 2012 5:40 PM
Linda Tucci raised a great point in her debut CIO Matters column last week. That is, and I'm paraphrasing, how far have CIOs really come in this digital age from being caretakers of technology to leaders of business transformation?
Or are the two roles really inseparable from one another?
It's both, and that's the real challenge in business transformation. Technologies are changing fast, but the implications of those technological changes are accelerating even faster. The Facebook idea of "agility above all," however, is flawed, in my opinion. As Tucci points out, the "shoot first, ask questions later" approach of the Web era is the very antithesis of the kind of business-transformation strategic approach that CIOs need to embrace.
The most successful IT leaders these days are those who are trying to synthesize both worlds: strategic but agile. You are seeing that synthesis in BYOD "implementations", if you will — empowering the productivity of the employees while ultimately maintaining control of the devices.
---
May 24, 2012 4:03 PM
Millennials are sometimes referred to as the "Facebook generation," and for good reason. About 75% of millennials have a social network profile. Comparatively, about half of Generation X and only a third of Baby Boomers report that they have a social network profile of some kind, according to a 2010 Pew Research Center report.
Since so many Millennials have social network profiles, CIOs may believe that spying through online profiles will help them gather useful information on young employees. This begs the question: Is it ethical to spy on employees' personal profile, or are they entitled to some social network privacy? Furthermore, is the information that CIOs are gathering even an accurate representation of these people?
As a Millennial, I know firsthand how often we are being warned about what we put online. There is no such thing as social network privacy, we are told. We know that anyone from a college admissions officer to a future employer could be looking at our social network profiles at any given time.
Some Millennials listen to the sound advice while others desperately seek out some social network privacy that really doesn't exist. These Millennials employ the use of privacy settings that make it nearly impossible to be found, but there are even more ways. The more clever users may employ a pseudonym and change the name that appears on their account to make it difficult to be found. Other people make two separate accounts — one for professional purposes and one for fun. The more serious Millennials may deactivate their accounts while looking for jobs, out of fear that future employers will see something that they don't want seen.
It's not easy to grow up during the social media revolution. Try to imagine your entire college experience, your entire youth, being captured by cell phones and digital cameras and then plastered online, sometimes so quickly that it happens without your knowledge or consent. If you're a member of Generation X or the Baby Boomer generation, you used to be able to walk into an interview and make a "real" first impression. Today, employers can simply Google the names of future employees, and by the time applicants arrive for an interview, the employer has already formed opinions about them. My suggestion: Try to give young people today the same fresh start that you were given at their age.
As a last resort, using social media profiles to get to know your Millennials may be beneficial. If there are obvious red flags that send you running in the other direction, don't feel guilty for acting on that apprehension, as Millennials are very aware that social media information is fair game.
However, CIOs should try to avoid totally basing their opinions on an employee's social network profile. You'll find out more about employees by actually talking to them than you would by snooping through their Facebook or Twitter profile.
Sarah Blanchette is a journalism student interning as an editorial assistant at TechTarget.
---
May 23, 2012 1:40 PM
Browser wars? What browser wars? A recent news story reported that Google Chrome has overtaken Microsoft's Internet Explorer as the most used browser on the Internet. My first thought was, "What took so long?"
Actually, if you look at the historical record (below; data available from July 1, 2008), at least according to StatCounter, you will see that Chrome first surpassed IE on March 18 of this year, 32.71% to 32.5%. Since then, the two have been playing leapfrog for first place. (Mozilla Firefox maintains a distant-though-solid third place.) Chrome and IE each hit their high (34.55%) and low (29.4%) points, respectively, on the same day, May 13.
The browser wars used to be a big deal, when the PC was king. But no longer, with mobile applications becoming a common method for using the Internet, and with PC sales struggling to maintain any semblance of growth. Still, I was writing and editing stories about Netscape Communicator when the browser wars really meant something — when IE's penetration was like 90%, and when IE essentially put Netscape out of business and sparked the landmark antitrust action against Microsoft. (I also have a theory that the ruling against Microsoft was one of the triggers of the dot-com meltdown and ensuing recession, but that's a story for another day.)
Microsoft, despite its inevitable decline in browser market share, has to feel some vindication by this point. Company officials said all along that its actions with IE were about embracing and extending Windows, and that competition and other market forces would win out. They have. Market forces have won out. And the better browser won.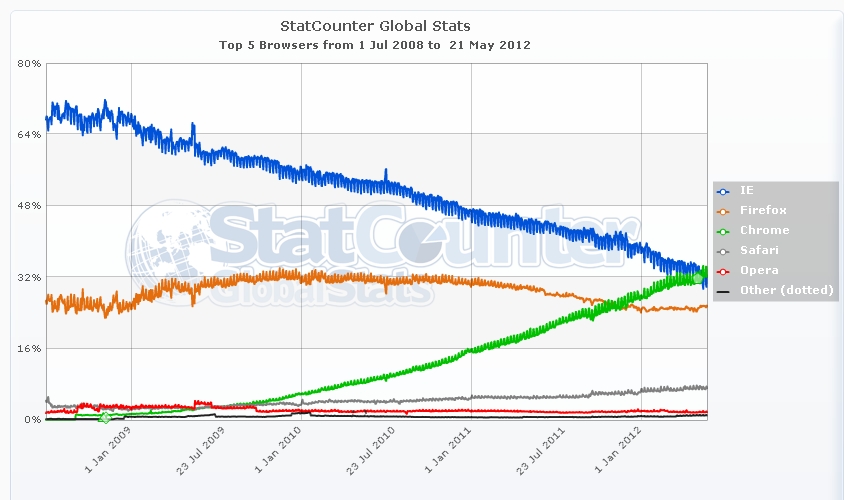 ---
May 17, 2012 4:40 PM
Millennials (sometimes called Generation Y) are in high demand, especially in the IT world. These talented young employees tend to be cheaper than seasoned IT professionals, often fresh out of college and full of bright ideas about cutting-edge technologies. With so many organizations chasing these young employees, however, CIOs are up against some stiff competition for Millennial talent.
While researching this week's tip on retaining Millennial employees, I spoke with Lisa Orrell, author of Millennials Incorporated and Millennials into Leadership. She feels that recruiting young employees should be at the top of every CIO's priority list. "The smart companies are very actively recruiting and getting their infrastructure in place to hire more and more young people," she said.
If you aren't having luck recruiting Millennials, you might be overlooking one key resource: your current Millennials, who often feel that their co-workers are an important factor in their job satisfaction. "Take young employees that you would most want to clone and train them to reach out to people who are already employed," suggested Scott Degraffenreid, an analyst who specializes in corporate referrals, retention and recruiting.
In addition to helping to find new employees, this should also satisfy the young employees already in your IT department. Not only will they contribute to finding new talent, but they will also typically choose other young employees who would be a good fit for your team.
Donald Shandler, author of Motivating the Millennial Knowledge Worker, has seen success with this tactic. "Millennials want to work with people whom they consider friends," he said. "A lot of companies have incentive programs for Millennials to attract others, which works out well."
Millennial Jeremy Baumgartner, a systems engineer at SRC Technologies Inc. in DePere, Wis., agrees that his coworkers are the best part of his job. "It's nice that I know literally everyone that works there. When we're working together, it's a lot more relaxed environment than most corporate places," he said. "We like to tell clients that it's the people that sets us apart."
---
May 14, 2012 5:17 PM
In April, Dell's summit in Copenhagen was emceed by Mads Christensen, who is apparently Denmark's version of Rush Limbaugh — well-known for shocking audiences with bigoted, misogynistic remarks. During his banter, Christensen unleashed a flurry of comments that were decidedly hostile toward women in technology. For instance, noticing that most of the 800-member audience (which included founder Michael Dell) was male, Christensen said, "The IT business is one of the last frontiers that manages to keep women out," and asked the few women present why they were even there. So much for breaking glass ceilings.
Danish IT reporter Christiane Vejlo reported the shocking events as they played out.
After the break Mads Christensen shares with us his whole "show" about the bitchy women who want to steal the power in politics, boards and the home. "Science" he calls it and mentions that all the great inventions come from men. "We can thank women for the rolling pin," he adds.  And then the moderator of the day finishes of by asking all (men) in the room to promise him that they will go home and say, "Shut up b—-!" (via Elektronista)
Dell's official Twitter presence in Denmark said, "[We] are sorry if some were offended. Dell works for women in corporate life." Got to love the hostile workplace non-apologies that did not actually accept any responsibility for hiring Christensen.
While I am absolutely sure that Michael Dell, as well as Nicolai Moresco, Dell's Danish director, had very little involvement in the hiring of Christensen, this is a publicity nightmare for the company. It's important to note how Dell has responded to complaints — which is to say that it kind of hasn't. Moresco told Vejlo that Christensen "did a good job" and  then later echoed the Twitter feed, apologizing that women were offended but continuing to assert that it was all meant to be good, clean fun.
Obviously, there were women in the audience in that Dell summit in Copenhagen — women who either worked for Dell or were invited to attend. They had to sit there and pretend that they were entertained by the promise of a hostile workplace. They had to go home knowing that Dell's senior IT leadership approved this message. When they complained to the CEO, he essentially shrugged and said, "I'm sorry that you feel that way."
The editorial team here at SearchCIO-Midmarket.com has been discussing women in IT a great deal lately. We've grappled with how to discuss glass ceilings without making women feel like special cases or unique snowflakes, while also addressing the very real problem of a hostile workplace, which is usually not as overt as that which played out in Copenhagen. Many of the successful IT leaders are uncomfortable drawing attention to the fact that they are also women as well as senior IT leaders. I can respect and absolutely understand that, especially given the barely hidden resentment that was echoed in Christensen's "jokes."
When we think about a hostile workplace, it's usually not one big event but, rather, death by a thousand cuts. Just as with the debate over booth babes, it's important that we keep talking about women in technology. They ARE different. They DO have to deal with these issues and face an entire audience of men laughing at a man suggesting that women should stick to their rolling-pin innovations. We have to stop trying to blend and disappear in an attempt to break through glass ceilings. These are unacceptable attitudes, and whether one is male or female, we should all be appalled. Continuing to sit by and laugh at the "jokes" means that we are as complicit in creating a hostile workplace as the rest of these jokers.
---