---
January 24, 2017 6:22 PM
Chicago-based IT trade association CompTIA, best known for its vendor-neutral IT certification programs, is launching its first IT professional organization this spring.
"We absolutely hope that through this formalized association and the resources we are offering we can have an impact on the skills gap and encourage folks to enter the industry," Nancy Hammervik, senior vice president of industry relations at CompTIA, said.
As a part of this initiative, CompTIA has acquired the Association of Information Technology Professionals (AITP), a global association for IT professionals founded in 1951. The new organization will be named CompTIA AITP.
"There's a lot of synergy between the organizations, but what we liked most about AITP was that they have a strong existing chapter infrastructure, where they have student chapters at universities and colleges, and professional chapters in different geographic cities and locations," Hammervik said.
Hammervik envisions CompTIA AITP helping members along their "resume-to-retirement" journey. Membership will be open to anyone who works in the IT industry and also to high school and college students.
Bolster student interest in IT careers, support IT professionals
CompTIA research indicates that interest among high school students for pursuing a career in IT and getting a degree in computer science is waning, which in turn will contribute to widening the skills gap in the IT industry, Hammervik said.
"What they need is an influencer, a mentor that can spend a little bit of time with them," she said. "We highly encourage CIOs to give back to the industry … to get involved in any community program where they can be mentors and where they can build internships [for students]."
CompTIA AITP will primarily target the pool of 1.2 million certified CompTIA alumni in the U.S. for membership, Hammervik said.
"We have already established some trust and rapport … this was a natural progression to extend the relationship beyond just training," she added. "If we could leverage these relationships and stay close to them throughout their career it will help to build a more solid industry."
Some perks of the paid membership include access to a customized career portal to help individuals write resumes and plan out a career roadmap coupled with networking opportunities, and discounts on CompTIA's certifications and continuing education programs.
January 20, 2017 6:10 PM
This week, video game company ZeniMax accused Facebook-owned Oculus VR of stealing some of its key intellectual property and then using it for designing Oculus VR headset. In Searchlight, Associate Site Editor Brian Holak talks to analysts to find out what implications the lawsuit could have on enterprise VR adoption.
With corporate boards putting more focus on technology, the number of CIO board appointments is on the rise. "All the indicators suggest that the topic of technology has increased as a board topic because of the additional scrutiny and accountability expected on the topic by boards. And sometimes the skill set they want is right in that sweet spot of CIO," Holly Morris, a former CIO and current board member at NIIT Technologies Ltd., told SearchCIO Contributor Mary K. Pratt. Pratt talks to CIOs serving on corporate boards to find out the requirements and the benefits associated with such appointments.
January is almost over. Here's a quick recap of our compilation of the most popular stories on our SearchCIO site from 2016:
Features Writer Jason Sparapani looks back at the top tech news that SearchCIO covered in 2016, ranging from the Delta outage to Donald Trump winning the U.S. presidential election.
SearchCIO attended scores of conferences in 2016. Associate Editor Brian Holak looks back at some of our favorites.
In this article, Senior Executive Editor Linda Tucci presents the top 11 advice columns from 2016.
Senior Site Editor John Moore looks back at articles from 2016 that highlights what traditional enterprises can learn from startups.
Senior News Writer Nicole Laskowski lists the best-read Data Mill columns in 2016. The most-read articles explored topics like AR, VR and AI.
As government contractors prep for Defense Federal Acquisition Regulation Supplement compliance, Alvaka Network's Kevin McDonald outlines the rules and requirements for being compliant with DFARS in this tip on our SearchCompliance site.
---
January 13, 2017 5:39 PM
Consumer privacy took center stage at Federal Trade Commission's PrivacyCon event held in Washington D.C. on Thursday. Senior Executive Editor, Linda Tucci explores how advancements in technology are taking a toll on consumer privacy, as discussed at the event, and what it means for CIOs. Also in Searchlight: Amazon to add 100,000 jobs to the U.S. economy by 2018.
"Most remarkably innovative startups begin as a bad idea," according to Whitewater Projects' Joseph Flahiff. He suggests organizations should look at the design of political and social movements to help them learn about ways to sustain innovation.
Senior News Writer Nicole Laskowski sums up the five analytics predictions for 2017 from researches at the International Institute for Analytics (IIA). An increase in classification of cognitive tools and in the availability of analytics-specific chips and application are just two of them. Also read about the five analytics priorities by IIA.
On TotalCIO, Features Writer Jason Sparapani writes about how language-learning company Rosetta Stone is using cloud technology to revamp its business to better serve customers. Mark Moseley, head of IT at Rosetta Stone, also explained why it's important for the company to partner with their users in this technology-driven business era.
At the recent ISSA International Conference in Dallas, privacy advocate Grace Buckler talked about the importance of corporate leaders setting the right information protection tone in their organizations. In this Q&A on our SearchCompliance site, learn why a security leader's attitude is important to ensure the security and privacy of corporate information.
Please follow @SearchCIO, @SearchCIOSMB and @ITCompliance to get updates on new stories throughout the week.
---
January 6, 2017 6:02 PM
Artificial intelligence
A bevy of new consumer technology products were unveiled this week at CES 2017, but what does it have to do with CIOs? A lot, according to industry analysts. But it's not so much the fancy gadgets as the technology behind them that CIOs should be paying attention to. In this Searchlight column, Features Writer Jason Sparapani explores the IT and business impact of the technologies behind this year's CES event.
As we kick off a new year, what are your 2017 IT resolutions? We asked eight CIOs and IT execs that question and their responses suggest we'll see improved customer service and smarter technology strategies this year. Speaking of resolutions, in this column CTO Niel Nickolaisen looks back at IT lessons from 2016 and makes some of his own 2017 resolutions.
Experts we talked to this year doled out so many tips for adapting to new technologies and strategies that we thought we'd round them up into a detailed end-of-year list. In this article, Senior Executive Editor presents the top 11 advice columns from 2016.
A company known for language-learning CDs is hitting "play" on digital transformation. In this Q&A, Sparapani chats with Mark Moseley, vice president of IT at Rosetta Stone, about how the company is undergoing an extensive digital transformation and the challenges it's facing.
Not all innovation is the same. In this installment of CIO Minute, SearchCIO columnist Joseph Flahiff discusses incremental vs. disruptive innovation and why it's important for today's businesses to focus on the latter.
Millennials are a widespread force in IT, but training them comes with its own unique set of challenges. In this Conference Notebook, get advice for teaching Millennials critical leadership skills.
Over on SearchCompliance, Assistant Editor Mekhala Roy talks to experts to get their take on data anonymization techniques and the benefits and challenges associated with them.
Please follow @SearchCIO, @SearchCIOSMB and @ITCompliance for our new stories throughout the week.
---
December 23, 2016 5:04 PM
To build a CIO legacy, "what matters is that what you're developing and what you're building right now is in response to the business need," according to Deloitte's Khalid Kark. Senior News Writer Nicole Laskowski highlights points from Deloitte's new research on how CIO's can help lead digital transformation in their organization. Also, Kark offers a three-step strategy for CIO's on how to become business leaders.
Phil Weinzimer, president of Strategere Consulting in Allentown, Pa., wrote Strategic CIO: Changing the Dynamics of the Business Enterprise in 2014. He highlights the four transformations that IT leaders should go through to become a strategic CIO.
At the recent Digital Business Summit in Chicago, ISG Insights' Bill McNee offered pointers for organizations who are embracing digital initiatives.
Features Writer Jason Sparapani looks back at the top tech news that SearchCIO covered in 2016, ranging from the Delta outage to Donald Trump winning the U.S. presidential election andAssociate Editor Brian Holak looks back at the conferences that SearchCIO attended in 2016.
The year 2016 has seen a host of tech mergers and acquisitions, starting from multi-billion to mega million deals. Here's our list of the top five tech mergers this year.
Contributor Mary Pratt writes about how Methods Machine Tools found a new way to improve customer service by leveraging 3D, virtual reality and augmented reality technologies.
In this Q&A, ISG Insights analyst Stanton Jones explains the three levels of digital labor and offers pointers for CIOs who are looking to deploy digital labor in their organization.
Our 2017 IT events calendar is here. It's time to start planning which conferences you want to attend next year.
This Symmetry blog post rounds up tech news from this week: Facebook faces EU scrutiny; Twitter CTO quits; SoftBank invests in OneWeb and Verizon seeks new deal terms from Yahoo.
Over on SearchCompliance, Senior Site Editor Ben Cole interviewed Monique Ferraro, Cyber Counsel for Munich Re's U.S. P&C Cyber and Privacy Risk Practice, to find out whatstipulations could be included in IoT and drone regulations.
Please follow @SearchCIO, @SearchCIOSMB and @ITCompliance to get updates on new stories throughout the week.
---
December 23, 2016 4:08 PM
cybersecurity
,
Hack
,
news
This news roundup was written by Mekhala Roy and Brian Holak.
What made headlines this week? Here, we run down the biggest tech news from the week of Dec. 19th.
Facebook is the latest tech giant to feel the heat from EU regulators. Following a $14.6 billion tax bill issued to Apple and biting antitrust charges against Google, the European Commission has charged Facebook with providing misleading information during its acquisition of the popular messaging service WhatsApp. The allegations center around WhatsApp's recent, controversial privacy policy change that allows the Facebook-owned entity to share user data — including phone numbers and the last time subscribers used the service — with its parent company. The European Commission asserts that back in 2014 during the takeover probe, Facebook claimed it was impossible to reliably combine user accounts between the two companies. Facebook contests the Commission's claims. Analysts think the allegation is representative of regulators' overall lack of cognizance. "Regulators are, to a certain point, naïve and inept," said Holger Mueller, principal analyst and VP at Constellation Research, Inc., "Whatsapp works on a phone number base to validate the user; as Facebook has phone numbers or users share them [with Facebook] — the connection can be made. Believing that Facebook does not have the tools is naïve." Legislators and regulators in general are behind on technology capabilities, Mueller said, as we saw with the unlocking of the San Bernardino iPhone on the legislative side. Luckily for Facebook, the Commission has affirmed that its statement of objections will not affect their approval of the $22 billion merger, but the social media giant could face a fine of 1% of its turnover. Much ado about nothing?
Russia was in the news again this week, but for a different reason. It was discovered that a Russian cybercriminal ring has created more than 500,000 fake internet users and 250,000 fake websites to trick advertisers into paying it as much as $5 million a day for video ads that will never be seen, The New York Times reports. "This is a very advanced cyber operation on a scale no one's seen before," said Eddie Schwartz, COO at White Ops, the cybersecurity firm responsible for the discovery. The cyberforgers impersonated more than 6,100 news and online content publishers, siphoning more than $180 million in ad revenue so far from the digital marketing industry, according to CNN. This went on for two months without detection because the bots have gotten better at creating a "more perfect, life-like copy" of the browsers, according to White Ops CEO Michael Tiffany. White Ops went public with this information in an attempt to coordinate an industry-wide effort to stop it.
Executive departures continue in Twitter: The California-based microblogging service is losing yet another C-level executive: Adam Messinger, chief technology officer, announced his resignation Tuesday. "After 5 years I've decided to leave Twitter and take some time off. Grateful to @jack [CEO Jack Dorsey] for the opportunity and to my team for shipping," Messinger tweeted. The news brought down Twitter shares by 4%. Messinger served as CTO at Twitter for almost four years. Also leaving is Josh McFarland, Twitter vice president of product. He is headed to Silicon Valley venture capital firm Greylock Partners. The two departures follow the resignations last month of Adam Bain, who served as chief operating officer, and Adam Sharp, head of news, government and elections. The company, which is going through hard times, slashed 9% of its workforce in October after failing to find an acquirer.
Verizon seeks to renegotiate deal terms: Verizon, which had agreed to buy Yahoo's core internet business for $4.8 billion in July, is seeking a discount on the deal price "to reflect the economic damage" related to two Yahoo hacks, Fortune reported. Yahoo's recent discovery of a billion-user hack that happened in 2013 came on the heels of its disclosure in September of a 2014 500 million-user hack. "There is no assurance that the Sale transaction will be consummated in a timely manner or at all," Yahoo had warned investors in an SEC filing in October.
Beaming internet from space. Satellite startup OneWeb said Monday that it has secured $1 billion in funded capital from Japanese telecom and financial conglomerate SoftBank that will be used to launch 720 satellites into space in 2019. "The investment will support development to enable global access to affordable high-speed internet services for everyone, as well as using OneWeb's leading technology for growing global markets including consumer broadband, connected cars, cellular backhaul and the internet of things," SoftBank said in a statement. Masayoshi Son, chairman and CEO of SoftBank, said the investment is a first step toward his pledge to invest $50 billion in the U.S. The satellites will be assembled at a new production facility in Exploration Park, Fla.
---
December 16, 2016 4:56 PM
This week, Yahoo revealed that more than 1 billion accounts were compromised in a breach that took place in 2013. In Searchlight, Senior Executive Editor Linda Tucci spoke with experts to find out what's different about the hack and how creating a layered approach to security and establishing a corporate security culture can help.
At the recent AI Summit in New York, Carlyle Group CIO Suhit Gupta talked about what makes artificial intelligence technology disruptive and why his organization is considering implementing this emerging technology. Editorial Director Sue Troy writes about the barriers to AI implementation and how to overcome those, as highlighted by Gupta at the event.
In this tip, Andrew Horne, IT practice leader at CEB, highlights CEB's CIO outlook for 2017 in five steps.
This end-of-year story by Senior Site Editor John Moore looks back at the stories from 2016 that provide hints on how traditional enterprises can learn from startups.
In this tip, O.C. Tanner CTO Niel Nickolaisen forecasts the big IT trends for 2017 and offers pointers on what projects CIOs should be investing in. "We must identify the few things we need to do better than anyone else, innovate just those things and then leverage the innovation, specialization and expertise of others to provide what is not our specialty," Nickolaisen suggests.
In this video, Ray Toler, vice president of IT and marketing at heat transfer technology company HTRI, advices new leaders in IT to learn their business; know what's going on at the company and listen to people.
Last week, Forrester released a report on its post-election projections for the 2017 U.S. tech market. On TotalCIO, Features Writer Jason Sparapani highlights what analyst Andrew Bartels has to say about growing SaaS costs and why CIOs should pay attention to contract details and exit clauses.
Over on our SearchCompliance site, we have a four-part webcast on IoT cybersecurity by vArmour CISO Demetrios Lazarikos. In part one, Lazarikos explains the history of infosec and the three different categories included in the information security maturity model; in part two he talks about the future of IoT and its role in the evolution of technology; in part three Lazarikos briefs on some of the prominent IoT security issues and vulnerabilities and in the final part he answers questions on IoT security.
Please follow @SearchCIO, @SearchCIOSMB and @ITCompliance to get updates on new stories throughout the week.
---
---
December 2, 2016 5:13 PM
This week, Cyber Monday sales hit a new record with consumers spending $3.4 billion on online shopping. In Searchlight, Senior Executive Editor Linda Tucci spoke with research analysts to find out how digital savvy "omnishoppers" are transforming the U.S. e-commerce scenario and what that means for IT leaders.
In this opinion piece, Brown University's Sandra Smith highlights the key skills that technology professionals must develop to become "high impact" business leaders.
O.C. Tanner CTO Niel Nickolaisen offers a strategy for IT organizations that can help prevent them from getting crushed by legacy systems and the pace of technology change.
At the recent Gartner Symposium in Orlando, SeacrchCIO caught up with Otto Berkes, CTO at CA Technologies and former CTO at HBO. In this video, Berkes emphasizes the need for setting attainable goals and focusing on innovation to aid digital transformation.
The December issue of our CIO Decisions e-zine is out! Read about why more companies are using AR and VR technologies and what impact these emerging technologies can have on digital business management. Also in this issue: MIT Media Lab's Moral Machine project and Oral Roberts University CIO offers pointers on how IT can overcome the "IKEA effect".
In this four-part webcast series, mobility consultant Bob Egan explains the impact of mobile technology on business operations, the benefits of investing in mobile security, how to establish a mobile security framework and why businesses should make mobile security and mobile information management a top investment priority.
Donald Trump winning the U.S. presidential election raised questions about how opinion polls are conducted. Features Writer Jason Sparapani sat down with Harvard political scientist Gary King to find out what pollsters can do to improve future election predictions.
Over on Total CIO, Sparapani spoke with King to find out why stable voters matter more than opinion polls when it comes to elections and why organizations should exercise caution when shopping for survey research outfits.
Senior Executive Editor Linda Tucci reports from the 14th annual MIT Sloan CFO Summit, where the CFOs at Blue Apron and Redfin provided pointers about how to deal with the startup mindset.
Also from MIT Sloan CFO Summit: Senior News Writer Nicole Laskowski writes about the differences between the  "consumer internet" and the "industrial internet," as highlighted by Jeffrey Bornstein, SVP and CFO at General Electric Company, at the event.
At this week's CTO Summit in San Francisco, Calif., Xavi Cortadellas, head of innovation at Gatorade, talked about what steps the company has taken to adapt to digitization.
At the recent ISSA International Conference in Dallas, SearchCompliance Senior Site Editor Ben Cole met with Delta Risk's Stephanie Ewing-Ottmers and Chris Evans. In this video from our SearchCompliance site, Ewing-Ottmers and Evans offer their advice on infosec training best practices to help protect business data.
Want to protect your organization's sensitive data from threat actors? A panel of CFOs at the recent MIT Sloan CFO Summit highlighted how hiring a CISO and implementing network segmentation can help.
In this GRC news roundup, read about how a Trump presidency could affect compliance; the recent ransomware attack on the San Francisco Municipal Transportation Authority and how "dronejacking" may be the next big cyber threat.
Please follow @SearchCIO, @SearchCIOSMB and @ITCompliance to get updates on new stories throughout the week.
---
December 1, 2016 11:41 AM
Digital transformation
,
Digitization
,
innovation
If a 50-year-old sports drink company can embrace technology-driven innovation, you can too.
At this week's CTO Summit in San Francisco, Calif., Xavi Cortadellas, head of innovation at Gatorade, discussed how the company is adapting to digitization by expanding its reach and shifting its focus from solving a sports drink problem to solving an athlete problem.
"From a science point of view, there was nothing really to be done with the product … so, we needed to start with a clear approach that would help us evolve the brand for the next 50 years," Cortadellas said.
Gatorade's innovation strategy centers around the development of its new digital platform, Gx, that is using technology to deliver mass personalization to athletes and fulfill their individual hydration needs.
Described by the company as a real-time hydration platform, Gx provides instant feedback on hydration level, fluid intake and fluid balance. It does this by using a sensor-filled "Digital Sweat Patch" to monitor fluid and salt levels and a smart cap bottle that gives visual feedback on fluid intake. Gx also offers different drink formulas depending on the individual's hydration needs.
Athletes can receive real-time hydration reminders on their mobile devices before and after a sporting event. The real-time data collected from the platform can then be analyzed on a smart device to discover trends and figure out how an athlete can perform better on the field.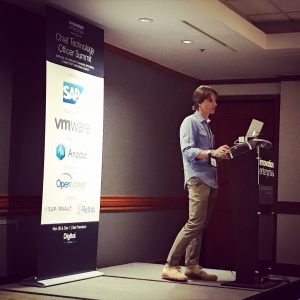 Launching online to consumers in 2017, Gx basically gives Gatorade a foothold in ecommerce, Cortadellas noted, which opens up a massive potential revenue stream and redefines the company's relationship with customers.
The sports industry is one example of the increasing need for personalization and customization in today's digital, customer-first world, but this trend is not new. Every industry is experiencing this shift.
Gatorade just found a way to change with the times.
Cortadellas admits that bringing technology-driven innovation to a product-based, traditional retailer  has been a challenge, but the key, according to him, is recognizing that — no matter what industry you're in — technology-driven innovation needs to be personal and meaningful for the user.
One more pointer: Not everything needs a boost from innovation-driven technology, Cortadellas said. Small pilot and testing programs help you determine where technology can help bring business and customer value — and where it's not needed.
---