---
April 17, 2008 7:27 AM
Microsoft pulled one over on the Windows Vista haters yesterday, releasing a supposed Vista Service Pack 1 (SP1) internal sales video.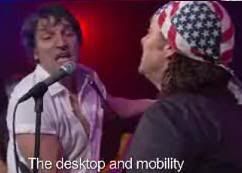 The video, "Rocking Our Sales" by Bruce ServicePack and the Vista Street Band, features a Bruce Springsteen lookalike singing about Vista's improvements in "security, desktop and mobility, and productivity." And there's even a sax solo.
Bloggers jumped all over the video, criticizing it as "the most painful Microsoft video ever made" and "appallingly embarrasing," and even saying it "damages the dignity of not only everyone involved in its production, but everyone who watches it."
All the while, "Rocking Our Sales" sorta seemed almost too ridiculous to be real. And it was. Later in the day, it was revealed that the video was a spoof by Microsoft in an attempt to show its lighter side. And all the critics had egg on their faces.
But "grayforge," a reader on CNET's Coop's Corner blog, did raise a good, serious point about the whole silly incident: "The sad thing is… Microsoft has become the kind of company people think this sort of thing (a crappy marketing commercial) can come from."
UPDATE: It appears that a certain blogger who likes to refer to himself in the third person still hasn't gotten the joke. 
April 15, 2008 1:17 PM
Sun Microsystems says it will help partners build eco-friendly IT solutions.
The company's Eco Advantage Program offers partners tools to calculate for themselves or for their customers how to deploy the best, most energy efficient information technology.
"Partners can take customer data at the server and app level, profile [that] and develop the best case analysis/scenario. They can provide the carbon emission savings, space savings, cooling savings, " said Bill Cate, senior director of global channel planning and programs for Palo Alto-based Sun.
The program includes the afore mentioned Eco Assessment Service, which evaluates actual data center energy use, cooling, air flow etc.; training on data center power and cooling needs; and modeling tools to help simulate energy requirements of alternative datacenter setups.
Helping customers save money is one way to go into accounts in a collaborative way, said Dermot Duggan, senior director for Sun's eco drive.
"You can go into your installed base or new accounts and have a rare opportunity where you will get no pushback. You can say, 'I can save you this much money' and back that up with real data tied to the customer's actual servers and storage."
Hardly any customer will say no to paying less, right?
Vince Conroy, CTO of FusionStorm, San Francisco-based Sun partner said the program aligns with what his company is doing.
"We've developed a data center practice and energy conservation is an important component of that," Conroy said.
Technologies like server virtualization, thin clients, virtual desktop computing, all play into that message.
And, since FusionStorm does some of its own hosting as well as managed services, cost savings are important to its bottom line as well.
Customers are starting to ask about energy efficient computing, although it's not yet a groundswell, he said. " It starts with some of the more forward thinking customers and they may be forward thinking because it makes business sense and they're business savvy or this is a cause for them. In either case we're seeing more activity [in energy efficient computing."
Server virtualization, as has been reported endlessly, is one way to get bigger workloads out of fewer boxes and that will be key here. Asked whether it's really in Sun's best interests to sell fewer rather than more boxes and CPUs
As to whether it's really in Sun's best interests to sell fewer servers, Cates and Duggan said the trend is clear. Either Sun will sell more efficient technology or someone else will.
For hosting partners, the attraction of saving on cooling and electricity is obvious, but it's also away for partners to help customers save money and perhaps divert some of those savings to additional services.
And the company's quick to say it's taking its own medicine, that its latest servers, built on the UltraSPARC T2 chips use multithreading technology and cram 5X the compute power into half the space and get 2.5 times better performance per megawatt.
The Sun execs said the company, through its own eco efforts, received $1 million in rebates onfrom PG&E over the last 12 months.
The company is hardly alone many hardware vendors have jumped on the green bandwagon: Hewlett Packard and IBM also have eco initiatives going.
 Barbara Darrow can be reached at bdarrow@techtarget.com.
---
April 14, 2008 11:58 AM
A Microsoft manager has acknowledged what many people have known for more than a year: Windows Vista is annoying.
Product unit manager David Cross made the comment last week at the RSA Conference, in reference to a Vista security feature called User Access Controls (UAC). UAC requires users to run Vista without administrator privileges, and it prompts users when they attempt to install some new applications.
"The reason we put UAC into the [Vista] platform was to annoy users," Cross said, according to published reports.
Cross said his team designed UAC to force independent software vendors (ISVs) to make their software more secure. Apparently, they thought that annoyed users would lash out against the ISVs whose software generated the prompts. Instead, annoyed users had another can of fuel to throw on the Vista fire.
Vista features several other annoyances, but Microsoft hasn't come out and said they purposely created any more of them. They include:
Cross also responded to claims that the UAC prompts don't make Vista more secure, because most users just click "yes" no matter what. Here's what he said, according to CNET:
"It's a myth that users click 'yes,' 'yes,' 'yes,' 'yes.' Seven percent of all prompts are canceled. Users are not just saying 'yes.'"
I know I'm a writer, but my basic math skills tell me that if 7% of all prompts are canceled, 93% are accepted. Doesn't exactly prove his point, does it?
---
April 11, 2008 6:21 AM
Microsoft partners really, really, really want to be recognized by the quality of their work. And not surprisingly, they want to be paid for it.
One recurring theme sounded by Gold Certified partners as reported earlier this week in SearchITChannel.com, is that being Gold is no longer enough. These partners say there are too many VARs sporting the Gold designation and that leads to cut-throat pricing to win deals. And razor thin margins on the deals won.
Several solution providers, Rand Morimoto, president of Converged Computing among them, say the vendor needs to recognize its truly -top tier partners.
"I've always commented to Microsoft that there's a need for a 'platinum' level, kind of like what Novell had during their heyday,"
Partners say Microsoft has been told this over and over and talks about better recognition of partners who put the most "skin in the game" but still resists the notion of another program level.
But least one Gold partner disagrees with the notion of another tier, saying that would just add more confusion into an already confused partner program.
Microsoft Business Solutions (MBS) Dynamics partners, in particular, feel that the company has done too much recruiting in their bailiwick. This is a particular sore point since the ERP and CRM offerings they deal with make for a longer sales cycle, more hand holding and thus so far command higher margins than the volume-oriented Windows-Office-SharePoint-type products that can be sold by anyone. A Dynamics sale, on the other hand, requires an authorized MBS partner.
"There seems to be a continued push to add more and more partners instead of driving the capacity and ability to scale to those partners that continue to constantly grow and invest in Microsoft. The monies spent on recruiting new partners should be directed toward accelerating and adding capacity to the successful partners in the channel," said one partner, who thinks his organization would benefit from this treatment. But he is not alone. Over the past two or three years, there has been a push among larger MBS partners to consolidate talent and geographical coverage all to better sell and support CRM and ERP applications.
Barbara Darrow can be reached at bdarrow@techtarget.com.
---
April 10, 2008 12:19 PM
You may have noticed that we've started producing news podcasts here at SearchITChannel.com. (If you haven't, what are you waiting for?)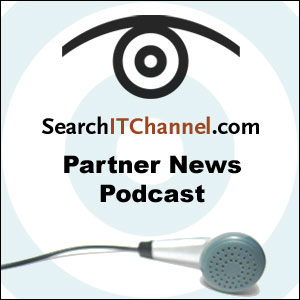 Well now you can find all of the podcasts in one place: SearchITChannel.com/download.
We realize you don't always have time to read our news stories, so the Partner News Podcast is an easy way to follow the weekly channel-specific headlines — whether you're catching up on emails at the end of the day, grabbing a quick bite to eat at your desk or even driving to a customer site (if you download the podcast to your MP3 player).
You'll also get extra commentary from the SearchITChannel.com staff that doesn't appear in our written stories, plus you'll hear from special guests. This week, for example, we'll be chatting with Channel Marker contributor Heather Clancy, who's out in Hawaii for the Cisco Partner Summit. And next week we've lined up an interview with a VMware executive. (After that, our "special guest" schedule is all clear, so if you work in the channel and have something you want to talk about, let me know.)
Soon we'll have an IT channel podcast RSS feed, so you'll know as soon as the latest podcast is available. For now, the podcasts will continue to be on our general Channel News Update RSS feed, and new ones will also appear on the home page and news page of SearchITChannel.com.
But the only place to find all of our podcasts is, again, SearchITChannel.com/download.
---
April 10, 2008 1:19 AM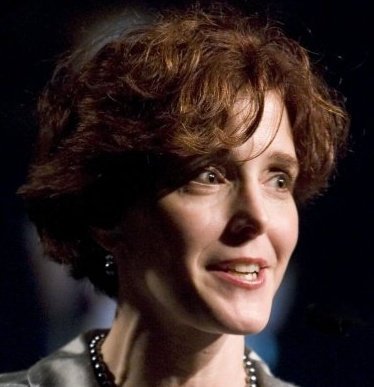 Profile: Heather Clancy
I'd be remiss if I didn't report in this week from the Cisco Partner Summit, where I'm helping the company's Industry Solutions Partner Network team with some breakout panels and communications activities.
The themes I'm about to recount were plucked from the main keynote address hosted by Worldwide Channel Muckety-Muck Keith Goodwin and featuring Goodwin's ultimate boss, Cisco CEO and Chairman John Chambers. For those of you who aren't/weren't here, some highlights:
1. Partner to Partner Collaboration: This topic gets a big-time boost with the introduction of something called the Cisco Partner Exchange. Basically, this is a social network where approximately 8,500 Cisco Certified Partners, managed services providers, distributors and application partners can search for other partners that might be able to extend their reach on a particular project. Cisco is backing up this introduction with a channel survey it conducted with Illuminas Research that found collaborative projects between Cisco partners accounted for approximately 31 percent of revenue within the partner ecosystem. Another very compelling case for collaboration: 78 percent of the resellers who responded to the survey (about 500 in call) reported that collaboration helped them increase deal/project sizes. Partner Exchange is meant to support collaboration in cyberspace by letting partners create skills profiles that include not only info about their Cisco specializations but about other technologies they might support.
2. Data Centers: Cisco is upping the ante with both a new set of Nexus switches (developed by Nuova Systems) as well as incentives for VARs investing in a data center practice.
The Nexus 5000 Series are meant for consolidation projects. It supports 10 Gigabit Ethernet PLUS Fibre Channel over Ethernet Data Center Ethernet and virtualization. The new switches are supposed to start shipping in May starting at $36,000 for a fixed configuration, 40-port 10 Gigabit Ethernet switch. Cisco also evolved its Value Incentive Program and will start rewarding VARs that invest in a data center practice starting in August.
3. Software: This one is a bit of a surprise, given how other vendors are supporting and selling their software as a service (Saas) offerings. That is, by selling them direct. But, Keith Goodwin says Cisco is creating a referral program for its WebEx offerings that will not only reward partners for the initial deal but for recurring activity on the service. You can expect this program to emerge in the next two to three quarters. What's more, WebEx will continue to morph to allow for more and more different types of connections (and collaborative settings) that are independent of device. Hmmm. Is Cisco becoming a software company?
John Chambers was his usual prophetic, evangelistic self, focusing on developments that are drivin where he is asking Cisco to place its bets. The company now has 22 priorities, which range from very broad initiatives such as mobility to very specific ideas, such as "routers in space." Talk about an emerging market! Collaboration and Community are the two big themes underlying most of Chambers' thinking. Focus on markets in transition, Chambers advises partners, if you want to increase revenues. "If you focus on your competition, you are already behind," he said.
I buy most of this, certainly, but the one thing that niggles at me as I write this is the big push that Cisco is putting on collaboration through tools such as social networks, video conferencing, instant chats and so forth. It's not that I don't believe this is the way to go, it's just that I think many people are overwhelmed about how to handle many of these services – many of which currently reside in different silos. I believe in the power of the individuals, but collaboration in chaos could actually result in a decrease in productivity. My two cents.
More later this week from (poor me) Hawaii.
---
April 9, 2008 9:34 PM
Wow.
Yahoo really, REALLY doesn't want to be bought by Microsoft. At least not for the 42 million big ones currently on the table.
Yahoo is talking about combining its Internet operations with those of America Online (aka Time Warner's AOL unit), according to a Wall Street Journal story posted Wednesday night.
Earlier Wednesday Yahoo announced a trial in which it will carry search ads from Google, its erstwhile archrival in web search.
The Journal says these moves are part a potential "three-fold plan" by Yahoo to nuke Microsoft's proposed $42 billion buyout. Another part of the strategy is a Yahoo stock buy back.
All fo these machinations may end up pushing Microsoft's bid higher, alhough in a letter to Yahoo's board, Microsoft CEO Steve Ballmer said given market conditions, Microsoft could lower its offer if Yahoo continues to delay.
Oh, and he threatened a proxy fight.
It just keeps getting better.
Barbara Darrow can be reached at bdarrow@techtarget.com.
---
April 8, 2008 4:20 PM
Google's moving more and more into the enterprise, and with that shift, some changes in its channel program are coming.
I've been trying for a few weeks now to set up an interview with Google about its channel strategy. Today I spoke briefly with Andrew Kovacs, a communications manager at Google, and he told me, "We're currently in the process of sort of re-examining our channel program."
He then took the rest of our conversation off the record as he explained to me when Google will be able to talk about its channel program again. I can't disclose that, but I can say it will be sooner rather than later.
Google's Web site lists several dozen channel partners in the enterprise search market, about a dozen Google Apps partners and three Google Enterprise geospatial partners who do integration work with Google Earth. But as the Mountain View crew expands into the enterprise with Google Docs offline, the Google Apps Engine and a possible enterprise email appliance, it may need to rely more on channel partners to reach new customers.
Of course, company execs could also decide to rely on their strength in online services and go direct. Either method will have big consequences for the channel, so we'll just have to wait to hear what Google has to say, when it's ready to be said.
---
April 8, 2008 9:49 AM
We've been awaiting big enterprise news from Google for a few weeks now, and last night we finally got some.
The Google App Engine is a free, hosted Web development platform that will let businesses and organizations build and run Web applications on Google infrastructure. It's being mentioned in the, ahem, blogosphere (I hate using that word) as new competition for Amazon Web Services (AWS) and even Salesforce.com. But there's some skepticism, too.
GigaOM's Stacey Higginbotham notes that making the Google App Engine available for free "will come at a cost to Google in terms of its margins. … It also will have a ways to go before it can compete with the 330,000 developers Amazon says are using its Web Services as of January."
One of her readers, "Chetan," doesn't think that will ever happen: "Amazon is an equally tough company when it comes to technology. They hold a dozen patents on AWS and they'll punch in Google's face if required."
At first, the Google App Engine will utilize only the Python programming language. (That's what Google uses internally.) Developers responding to TechCrunch's coverage of the announcement say the Python-only restriction will hinder the platform's growth. One reader, "Tom," even comes up with this slogan for the Google App Engine: "Geocities 2.0, now with Python!" Ouch.
Our coverage of Google's major, impending announcement focused on rumors of an on-premise email appliance that would compete with Microsoft Exchange. Guess we'll just have to wait and see when and if that comes to fruition. For now, the Mountain View crew is still focusing on its bread and butter, the online services market.
But fear not, the Microsoft vs. Google angle is still alive and well. Author Nicholas Carr ends his blog post on the Google App Engine with two simple words: "Where's Microsoft?"
And Mary Jo Foley, who's not into the whole brevity thing, devotes an entire post to answering that question. She points out that the Google App Engine may compete with Microsoft's SQL Server Data Services — if Microsoft ever gets around to explaining exactly what that is. Microsoft is also working on BizTalk Services and has a beta version of its Synchronization Framework, which could also tie into their anti-Google strategy.
---
April 6, 2008 10:40 PM
Microsoft CEO Steve Ballmer has given Yahoo's board three weeks to accept Microsoft's $31 per share buyout offer. If Yahoo still does not move, he said Microsoft will put the offer in front of Yahoo shareholders and initiate a proxy fight. He also intimated that Microsoft might revise its $40 billion bid. Downward.
Money quote from Ballmer's letter dated April 5:
"The substantial premium reflected in our initial proposal anticipated a friendly transaction with you. If we are forced to take an offer directly to your shareholders, that action will have an undesirable impact on the value of your company from our perspective which will be reflected in the terms of our proposal."
Barbara Darrow can be reached at bdarrow@techtarget.com.
---