---
August 25, 2008 1:27 PM
The Computing Technology Industry Association (CompTIA) says it has certified more than 50,000 IT professionals with its vendor-neutral CompTIA Security+ designation. How many individual vendors can say the same thing?
August 21, 2008 8:36 AM
We now know how Microsoft is spending $10 million of its $300 million campaign to combat Apple's "Mac vs. PC" ads: by hiring Jerry Seinfeld.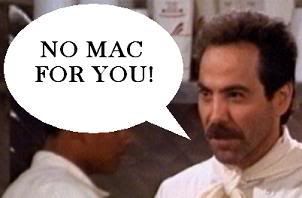 The Wall Street Journal reported today that Seinfeld will be "one of the key celebrity pitchmen" in the campaign, and he will appear in ads with the master of Microsoft's domain, Bill Gates.
By now you probably know the basics of the saga: Apple bombards the airwaves with commercials about how Macs are cool and PCs are lame, now everyone thinks Vista stinks, yada, yada, yada, Microsoft's finally fighting back. But so far, the Seinfeld news is going over about as well as George Costanza's conversion to Latvian Orthodox.
---
August 20, 2008 4:35 PM
So, the word is out: Hewlett-Packard is collapsing its PartnerOne program for resellers, VARs and other IT solution providers, stripping it of all those precious metals designations and creating, instead, new labels that it thinks will mean something more to potential customers.
---
August 19, 2008 7:42 AM
Regulatory compliance has driven a whole lot of business for security resellers in the past few years. But that doesn't mean you can just walk into a customer site, say "compliance" and successfully sell whatever you want.
Security experts Anton Chuvakin and Rich Mogull both recently wrote about the "checklist mentality" that most customers take when addressing regulatory compliance. What that means is, CSOs have a list of what they need to be compliant, and if what you're selling isn't specifically on that list, they don't want it.
---
---
August 18, 2008 7:06 PM
A recent study — albeit a highly unscientific one — has found that 35% of business users who bought PCs with Windows Vista licenses have downgraded to Windows XP.
The study comes from InfoWorld's Windows Sentinel, which collects system statistics from more than 3,000 PCs — including the system's manufacturer, the system's product name and the version of Windows it's running. The study identified the number of systems that typically ship with Vista, then found out how many of those were actually running Vista. Only 65% were.
---
August 18, 2008 2:59 PM
SAP has reorganized its SME channel to improve partner recruitment, enablement and marketing.
Patricia Hume, senior vice president of SAP's global indirect channel unit, stopped by SearchITChannel.com world headquarters today to tell us about the reorganization. She explained that the basic org structure before consisted of a sales team and a marketing team. Now, there are more subsets designed to meet specific goals.
---
---
August 15, 2008 10:04 AM
So, once again, Domino is dead.
That's the gist of Ron Herardian's article in — get this — Dominopower.com. This may be trolling but there's a lot of truth in what Herardian, a longtime contact and a Domino partner by the way, has to say.
---
August 14, 2008 11:54 AM
VMware was rocked by a bug in a critical update to its ESX software. The Version 3.5 Update 2 to be exact.
The issues were triggered when the ESX 3.5 or ESXi 3.5 update 2 clocks hit midnight on August 12. At that point, code in the update triggers the user's software license to expire. When that happens, virtual machines that are powered off may not be turned on and those that have been suspended may fail to leave suspend mode and VMs may not be migrated with VMotion.
The problem prompted new VMWare president Paul Maritz to publicly apologize for the agita.
Wrote Maritz: "I am sure you're wondering how this could happen. WE failed in two areas: Not disabling the code in the final release of Update 2 and not catghing it in our quality assurance process.
The problem surfaced on this community thread.
---