---
December 27, 2011 11:40 PM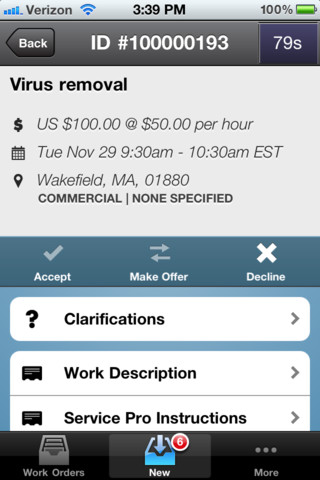 The OnForce IT services collective has created a mobile app for the Apple iPhone that coordinates with its field service automation software.
The app, which can be downloaded from the App Store, helps automate the paperwork that needs to be filed when an OnForce service request is handled. It also provides features such as geotagged check-in and checkout, so that technicians can report when they arrive and leave; the ability to receive new requests in real time; directions that are linked to the Google maps service; and access to business documents associated with the account being visited. The graphic to the right shows you what one of the screens looks like.
"Our customers can continue to deliver best-in-class IT service, while technicians can focus more on customers and less on filing paperwork or searching for service event-related information," said OnForce CEO Peter Cannone.
An Android version of the OnForce mobile field app is due in early 2012, and the company is running a beta test of the software for interested technicians.
Check out more IT channel news on SearchITChannel.com and follow us on Twitter! Here's how to follow Heather Clancy directly.
December 23, 2011 8:07 PM
If you are sick of the ridiculously short battery life you get out of your smartphone, you may only have five years to wait until kinetic energy technologies offer a respite.
That is just one of the predictions in IBM's annual list of the five technologies or technology trends that will reshape computing within the next five years. Here are all five predictions:
"Energy: People power will come to life"
IBM is looking at how motion — from the energy that humans create just by walking around to that generated by ocean waves — will transform energy creation by the next half of this decade. Kinetic energy increasingly is being examined as a source for recharging batteries. Devices that use kinetics to charge mobile gadgets are already on the market: check out the nPowerPEG, which is focused at the outdoors set.
"Security: You will never need a password again"
IBM increasingly is getting amped up about biometrics. This is the idea that certain body parts, such as a retina or a fingerprint or maybe even your voice, might replace all those hideous passwords that we have to use for everything and that always seem completely useless when there is a major security breach. I think that this has a real shot at happening, because people are so fed up with password-memorization hell. But the vendors pushing this technology need to get over many people's distrust of these technologies.
"Mind reading: no longer science fiction"
Today, I randomly ran into someone that I thought of just days ago, in a very unlikely place. This sort of serendipitous thing happens to me pretty often. But this particular IBM prediction scares me. The company believes that over the course of time, you will only have to think of a person's phone number in order to dial it, due to technologies that link our brain to our mobile phones. The real breakthrough of this technology would be in its ability to help those with physical disabilities or brain orders. But generally speaking, it just scares me and I kind of doubt I'm the only person who feels that way.
"Mobile: The digital divide will cease to exist"
There are plenty of examples about how mobile phones and other mobile technologies are helping people in emerging nations or disadvantage regions here in the United States. IBM believes mobility has the potential to help level the playing field when it comes to access to services, such as healthcare. Personally, I think this is a very worthy goal but I seriously doubt we will reach this nirvana within five years. Maybe IBM is just trying to get people to think about this more, right ahead of the holidays.
"Analytics: Junk mail will become priority mail"
I had to read this one three or four times before I finally understood with IBM was trying to convey. Maybe this will help: suppose you could somehow prioritize all the special offers you receive in your email? Not the ones that are autogenerated spam, but the ones that truly have some value to you as a person, such as the concert tickets you really want to buy or that new technology you want to reserve? You can already do part of this today, but requesting alerts but what if software could take things one step further and take action on promotions that really appeal? That's what IBM is driving at.
Which of these predictions do you think will hold water over the next few years?
Check out more IT channel news on SearchITChannel.com and follow us on Twitter! Here's how to follow Heather Clancy directly.
---
December 16, 2011 9:00 PM
Cisco has created a managed service for its channel partners focused on small-business accounts.
The service, called OnPlus, provides technology solution providers with an appliance and cloud-delivered managed service toolset for supporting network assessments, management and other network advisory services. It is part of Cisco's pledge to invest $75 million in enablement and systems capabilities that help solution providers grow their businesses.
Dave Tang, director of strategy for Cisco Small Business programs, said research has shown that fewer than 10 percent of small-business VARs have a formal managed service practice. "We are looking to provide them with the tools and capabilities that will allow them to launch these services more formally," he said.
OnPlus supports the development of services based on the following:
Assessment – By providing a means for "discovering" network devices and collecting information about warranties, configurations and the like, the solution provider can help advise small businesses about their current and future technology needs.
Management – OnPlus supports remote connectivity to manageable network devices (from any manufacturer, not just Cisco), so that VARs can provide ongoing advice and troubleshooting support.
From the VAR's standpoint, OnPlus enables a company to scale to service more customers without having to hire more technical staff, according to Tang. "Their key to profitability is how well they use their technical staff," he said.
OnPlus will be updated routinely, as technologies are themselves updated, Tang said. VARs will be able to access the managed service through browsers, as well as native mobile applications for both Apple iOS platforms and for Google Android-powered devices.
Each OnPlus Network Agent appliance costs $250, which includes a three-year subscription to the OnPlus Service. The service is initially available to Cisco partners in North America; additional geographies will be supported at a later date.
Tang said there are already several hundred small-business networks being managed through the service, which has been in a beta test release phase for the past year. The service is targeted at networks that support several hundred devices.
Check out more IT channel news on SearchITChannel.com and follow us on Twitter! Here's how to follow Heather Clancy directly.
---
December 9, 2011 3:28 PM
Market research firm International Data Corp. reports that storage software sales surged by almost 10 percent in the third quarter. The growth came as businesses rush to find better ways to manage their storage devices in the wave of data center virtualization, but it signals a good investment area for IT solution providers in the year to come.
The IDC Worldwide Storage QView found that storage software revenue in the third quarter reached $3.5 billion, which is the second biggest quarter ever for this particular software category. Ironically the first biggest quarter was actually the first quarter of 2011.
So, overall, this has been a bang-up year for storage software, a trend that is likely to continue into 2012.
The press release about the new market numbers quotes Eric Sheppard, research director for IDC's storage software program:
"Demand for storage software remains at all-time highs. The market has broadly exited the recent phase of product refresh, yet sales continue to increase at impressive rates as users and suppliers come together to help improve the way organizations utilize, manage and protect their valuable corporate data and storage resources."
The biggest beneficiaries of the sales explosion where EMC, Symantec and IBM, which all experienced double-digit growth in the quarter.
The three biggest growth areas within the storage software sector were:
Archiving software
Storage and device management software
Data protection and recovery software
Check out more IT channel news on SearchITChannel.com and follow us on Twitter! Here's how to follow Heather Clancy directly.
---
December 8, 2011 3:37 PM

Profile: Leah Rosin
NetApp is making a bid for the midmarket, and has made some changes to its entry-level product line, the FAS2000 systems, directed at the storage needs of mid-size businesses.  The new FAS 2240 is touted as the most powerful entry-level product for the price that companies can build upon as their needs grow. The company has also repriced the existing FAS2040, which is designed for the more value-conscious needs of a small shop or remote office.
Todd Palmer, vice president of Americas Channels at NetApp, told me that the company currently has 16% of the midmarket storage space and is stealing share using the strength of the NetApp brand.
NetApp partners seem pleased with the change, which Palmer said was a reaction to partner and customer needs.
---
December 2, 2011 8:31 PM
Worldwide revenue for servers increased by 5.2 percent year over year while shipments grew by 7.2 percent, according to the latest forecast figures from market research firm Gartner.
Total revenue for the quarter was approximately $12.9 billion on a worldwide basis, Gartner reported. That compares with $12.3 billion in the third quarter of 2010.
Asia Pacific was the fastest-growing region from a unit sales perspective, while Eastern Europe drove the most revenue growth for the world's top server vendors. The fastest growing form factor was rack-optimized units, Gartner reported.
The firm noted:
x86 servers forged ahead and grew 7.6 percent in units and 9.3 percent in revenue. Some regions like Western Europe and the United States did not produce as much relative x86-based server growth because of comparatively strong third-quarter results in 2010."
Unit shipments of RISC/Itanium servers slipped by 6.8 percent, but the vendors managed a 3.5 percent revenue increase over the previous year.
IBM grabbed the top spot from a revenue-generation perspective. It drove $3.84 billion in revenue, up from $3.7 billion in the third quarter of 2010. That was good for 29.7 percent of the overall revenue during the quarter.
Meanwhile, despite a decline in quarterly server revenue, Hewlett-Packard remained the unit shipment leader. HP shipped about 693,265 servers during the third quarter, a 3.1 percent decline for the time period. Its revenue for the quarter was about $3.8 billion, which made it the No. 2 vendor from a revenue standpoint.
Oracle, which was No. 4 vendor during the quarter behind IBM, HP and Dell, generated $763.6 million in server revenue during the quarter, almost flat from $763.9 million in the third quarter of 2010. Its shipments during the quarter didn't rate a separate mention from Gartner; they fell behind HP, Dell, IBM, Fujitsu and Lenovo.
Check out more IT channel news on SearchITChannel.com and follow us on Twitter! Here's how to follow Heather Clancy directly.
---
November 28, 2011 3:27 PM
When your small, family-owned business has been around for more than 100 years AND it has been successful up to this point, it's kind of a big deal for you to change the way you do things. Don't you think?
But Carlo's Bakery, a Hoboken bakery that has received national attention thanks to some well-timed media coverage and the reality TV show fame of master baker Bartolo Valastro, is ready to change the recipe for how it runs its back-office operations — along with the advice of New Jersey managed service provider and IT services company, Exigent Technologies. Paper and pen weren't cutting it anymore.
Turns out that Exigent Technologies has been tapped to install a completely new infrastructure at Carlo's Bakery's 30,000-square-foot location in Jersey City and at its original Hoboken location. The "technology makeover" will include a virtualized network infrastructure, storage area network, printers, security software, servers and client systems (both desktops and notebook computers). Yep, the works. Carlo's Bakery is investing in Exigent Technologies's primary managed services offerings to pull this off: the ASSURANCE fixed-fee IT service plan and the PREVENT managed backup and disaster recovery service for small businesses.
Here's what Leo Minervini, vice president of technology for Carlo's Bakery, had to say about the plan:
"Investing in IT and selecting a local IT service provider wasn't a decision we took lightly. Exigent Technologies earned our business every step of the way. From the very first call, the team at Exigent Technologies was clearly a cut above the rest and possessed the genuine enthusiasm, values and proven technology expertise we were looking for in an IT services provider."
I invite you to reread that last sentence and to reflect on what gets listed first as the factors that inspired the decision: "enthusiasm" and "values." Not "proven technology expertise."
As your IT services organization gears up for the end-of-the-year push to finish the year with a bang, it is a great reminder of what differentiates the great MSPs, VARs, resellers, IT solution providers — whatever you want to call yourself — from the rest. It isn't the skills. Those are a given. It is the attitude that your team displays to your customers.
Think about it.
Check out more IT channel news on SearchITChannel.com and follow us on Twitter! Here's how to follow Heather Clancy directly.
---
November 21, 2011 3:58 PM
I am only somewhat embarrassed to admit that I have a desk drawer full of mobile gadgets that I probably don't use as much as I should, including BOTH an Amazon Kindle (an older one) and a first generation Apple iPad. It is rare that I carry both of those devices on a trip, but I still do carry one or the other, depending on whether or not I have to do any writing work while I am on the road.
I bring this up because I just read some new data released by research firm ChangeWave Research ( a division of The 451 Group) that suggests the new Amazon Kindle Fire is already much more of a threat to the iPad in just a month of existence than the Samsung Galaxy Tab, which has been on the market for a year.
The report is based on surveys of 3,043 consumers during early November. It shows the Amazon Kindle Fire represents a serious competitive threat to the iPad, at least in North America, where the poll was conducted. Approximately two-thirds of those surveyed expressed an interest in buying the iPad, while about 22 percent said they were interested in a Kindle Fire. No other tablet garnered more than 1 percent of the responses, according to the report.
The data is just another demonstration that Amazon is far, far more than a really efficient online retailer.
Whether it was by accident or design, the company is now at the center of the hottest technology segment since the original personal computers prompted businesses to rethink the way their employees did work. With its vast knowledge of consumer behavior, Amazon represents a far more credible threat to Apple than many of the technology vendors that got their start on the business-to-business side of the world.
Yes, you're right. No IT service provider will get rich selling either tablets or e-readers, but there are rich managed services opportunities in the field of mobile device management. The Apple iPad, as an example, is a serious factor in healthcare IT environments as doctors and other clinical professionals seek ways to increase patient satisfaction. I expect the Kindle Fire will soon begin becoming a factor, especially when you consider all the text books and medical journals that the healthcare industries consults and reads.
Amazon is very relevant for another reason, of course: It is a serious contender in the infrastructure as a service (IaaS) portion of the cloud computing marketplace.
There are few companies in the channel that could hope to compete with Amazon's ability to scale; although, on the flip side, Amazon will find it tough to contend with the channel's ability to offer cloud infrastructure specifically customized for certain verticals along with the personalized service and support that many SMBs need. Of course, Amazon might also be a very relevant infrastructure partner for some aspects of the IT solution provider channel.
The emergence of the Amazon Kindle Fire is another reminder that Amazon is far more than just another e-commerce company. This is a technology company to be reckoned with in both mobility and cloud infrastructure, and IT solution providers are advised to keep close tabs on its plans.
Check out more IT channel news on SearchITChannel.com and follow us on Twitter! Here's how to follow Heather Clancy directly.
---
November 14, 2011 5:14 PM
I was chatting up a solution provider last Friday about one of the stories I'm writing for this month, and we got to talking about the still-widening ripple effects from the hard drive assembly and component facilities flooded last month in Thailand.
As reported on SearchITChannel, the devastated area is responsible for a large portion of the industry's hard-disk drive production, and companies like Western Digital and Seagate are having supply chain problems as a result. Now, market research firm International Data Corp. is reducing its outlook for both hard drives and personal computer shipments as a result of the natural disaster.
IDC said that during the first half of 2011, Thailand accounted for 40 percent to 45 percent of the worldwide production of hard disk drives. Almost half of that capacity was taken offline because of the flooding. (What hasn't been flooded has been compromised by lack of access and electricity outages.) The shortages will continue a least into the first quarter of 2012, according to IDC. Here's what else the research firm predicts:
The impact on fourth-quarter PC shipments will be about 10 percent, because most of those units have already been produced or are in production.
In a "worst-case" scenario, PC shipments for the first quarter of 2012 could be off by 20 percent.
Hard-disk drive prices will rise, as demand outstrips supply. Note to self: Check into whether this dynamic motivates more production of configurations that include flash drives, unless (of course) they are produced in the same facilities.
There could be some market share shifts as a result, so IT solution providers might wind up reconsidering their vendor suppliers on both a short-term and long-term basis.
Pricing should be stabilized by June, but it could take until the second half of the year to ramp back up to typical production volumes.
Said John Rydning, IDC research vice president for hard-disk drives and semiconductors, in a statement:
"In response to the crisis, priority will be given to the large PC manufacturers that drive [hard-disk drive] shipment volumes as well as to the high-margin products used in enterprise servers and storage. But the [hard-disk drive] vendors can't neglect their smaller customers, whose business will continue to be important once capacity is fully restored. Some interesting production and partnering arrangements with customers can be expected as [hard-disk drive] vendors scramble to bring production back up while simultaneously angling for strategic advantage."
Check out more IT channel news on SearchITChannel.com and follow us on Twitter! Here's how to follow Heather Clancy directly.
---
November 10, 2011 7:41 PM
Market research firm Gartner is predicting that spending for security services will mushroom not just this year, but between now and 2015.
Of particular interest to managed service providers should be the fact that the managed portion of the security services pie is slated to almost double during that timeframe — from $8 billion to $14.9 billion by 2015. That $14.9 billion is part of an overall projected spending pie of $49.1 billion across the entire security services market by 2015, according to the Gartner report ("Forecast: Security Service Market, Worldwide, 2011").
Gartner research director Lawrence Pingree said:
"[The uptick in managed security services] is largest driven by organizations looking at managed security services (MSS) providers as a way to maximize resources and lower ongoing operationg expenditures on security. Demand in the small and midsize business segments is also high as businesses continue looking to external parties to provide them with additional security expertise and resources that they may be lacking organizationally to help them make the right security decisions or provide security functions externally."
North America was listed as the biggest market for security services spending. Revenue is expected to top $14.6 billion in 2012, growing to $19 billion by 2015. Those figures are for the overall security services marketing, which includes consulting, development and integration, management, software support, and hardware maintenance and support.
Check out more IT channel news on SearchITChannel.com and follow us on Twitter! Here's how to follow Heather Clancy directly.
---