---
April 13, 2012 5:20 PM
Sometimes I feel like I can't turn around without seeing another update on how tablet computers are doing. I tend to be morbidly fascinated with this particular topic because I have been covering tablets since Slate was bought by Compaq Computer sometime in the 1990s. Yep, I am really dating myself, I know.
In any case, I just finished writing up a story for SearchITChannel.com about how adoption — sanctioned and unsanctioned — is creating services opportunities for technology solution providers. (Look for that story to publish soon.) Literally the day after I filed my article, research firm Gartner updated its projections for the category, suggesting accelerated adoption of these consumer-focused tablets within enterprise and business accounts.
Here are some highlights:
There should be approximately 118.9 million tablets shipped worldwide in 2012, which is almost double the 60 million tablets shipped in 2011.
Tablets using Apple iOS (the iPad portfolio) will account for 61.4 percent of the shipments this year, while Android tablets should capture 31.9 percent. Windows-based tablets could claim about 4.1 percent of the shipments.
The release of Windows 8 could change the equation for IT-supplied tablets, because it will include more enterprise-class features.
"This is exactly the same trends that vendors such as RIM had to face in the smartphone market," said Carolina Milanesi, Gartner vice president, in a statement about the research. "The difference here is that tablets have been created for consumers first and then relied on an ecosystem of apps and services that make them more manageable in the enterprise. When the deployment will come from an IT department, we believe that operating systems such as Windows 8 will have an advantage as long as they are not seen as a compromise in usability for the users."
Check out more IT channel news on SearchITChannel.com and follow us on Twitter! Here's how to follow Heather Clancy directly.
April 6, 2012 8:00 PM
Research firm Gartner reduced its expectations for 2012 IT spending this week, even as IDC suggested that small and midsize businesses could spend a record amount on IT technologies and services.
First the not-so-great news: Gartner now believes that global IT spending will increase only about 2.5 percent in 2012, compared with 2011 levels. It previously had hoped for a 3.7 percent growth. Overall, spending should reach about $3.7 trillion by December 2012, the research firm predicted.
Mind you, one of the motivations behind the new forecast is currency fluctuations, as the dollar strengthens against other currencies. So, even though revenue will be lower than anticipated, that doesn't necessarily mean there will be fewer projects than expected.
Now for the more positive information released this week, which has to do with SMB spending expectations.
Gartner predicted that spending will reach $874 billion in 2012, expanding to $1 trillion over the next four years. Midsize organizations will offer the most opportunities for technology solution providers during that timeframe, mainly because of their spending on enterprise software, Gartner reported.
IDC's latest SMB forecast, specific to the 8 million companies of this size in the United States, predicts a "record-breaking" year for the sector.
IDC projected that IT spending by U.S.-based SMBs will reach $138 billion in 2012. Small businesses will lead the way in personal computers and peripherals, spending about twice the amount on these technologies as midsize companies, IDC estimated.
One-quarter of the spending will go toward IT services, or about $38 billion in 2012. Systems and storage represent the slowest growing category from a revenue standpoint, IDC said.
One sector in which SMB spending differs dramatically from those of enterprise is networking, IDC reported. This category will account for the smallest amount of spending; that is in contrast with larger companies, which are investing heavily in next-generation data center and networking infrastructure.
Realistically, the difference isn't that surprising: many smaller companies still rely on consumer broadband and wireless services for access. Only one-third of them have actually invested in networking infrastructure, IDC estimated.
Check out more IT channel news on SearchITChannel.com and follow us on Twitter! Here's how to follow Heather Clancy directly.
---
March 30, 2012 6:33 PM
There's a new Microsoft survey out this week that suggests adoption of paid cloud services among businesses with two to 250 employees will double during the next five years.
Right now, approximately 30 percent of all SMBs use some sort of paid cloud service, according to the research.
That, in itself, is a notable trend. What is also interesting, from a channel partner standpoint, is the fact that many of the SMBs surveyed by Microsoft felt that it was important to buy their cloud services from a local technology solution provider.
In addition, approximately 56 percent of the companies that were surveyed indicated that they would prefer to buy their IT services and cloud services from a single source — suggesting that there is a serious opportunity for VARs, resellers, integrators, MSPs and other technology solution providers to layer cloud recommendations into their solution portfolio.
Many of the SMBs surveyed (53 percent) said they would turn to an ISV or software company to acquire cloud services, while approximately 12 percent said they expected to source these services from a local reseller or systems integrator.
"Trust development is critical to our work with SMBs. Increasingly, clients tell us they work with Hostway because our global datacenter network often provides local support," said Aaron Hollobaugh, vice president of marketing for the Microsoft business partner, in a statement. "Client trust is earned because we view every business — regardless of size — as an enterprise."
The study covered 3,000 SMBs in 13 countries; it was conducted in December 2011 by Edge Strategies on behalf of Microsoft. Some additional statistical highlights can be found in the infographic below.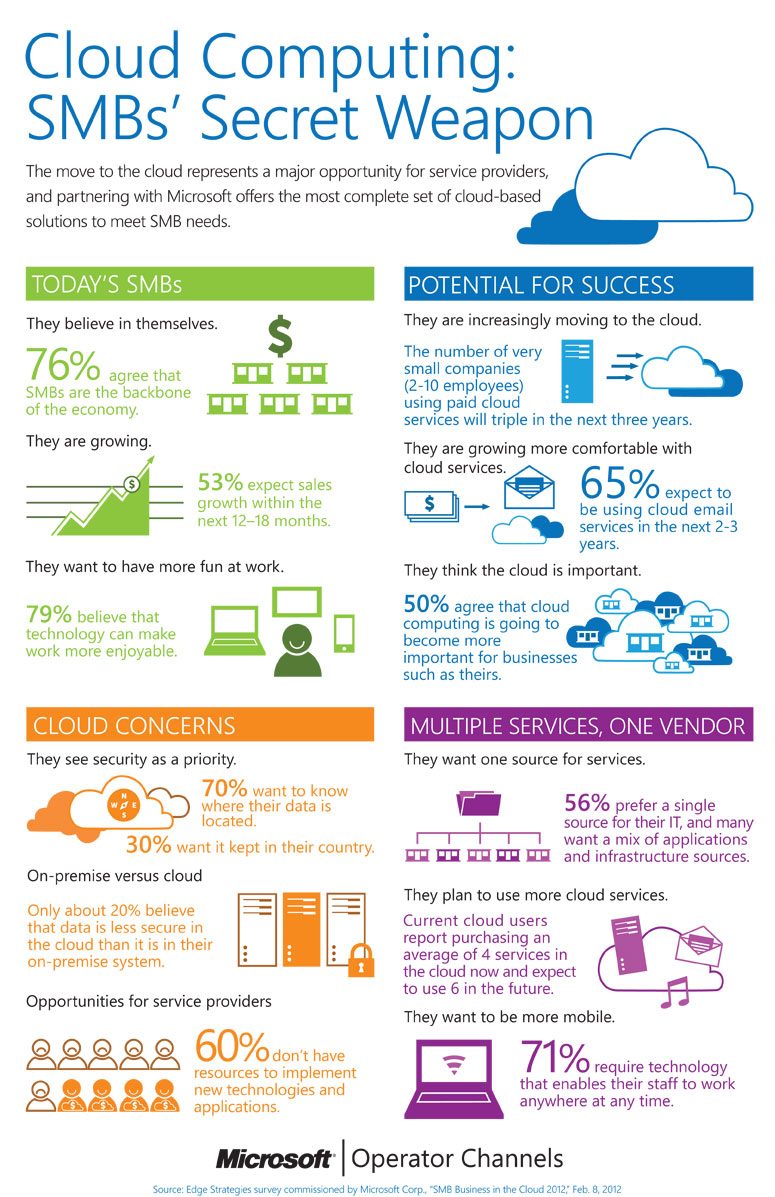 Check out more IT channel news on SearchITChannel.com and follow us onTwitter! Here's how to follow Heather Clancy directly.
---
March 23, 2012 8:00 AM
As part of its latest server technology onslaught for custom systems builders and other channel resellers focused on hardware innovation, Intel has introduced a management tool specifically designed for custom server builders and the VARs deploying servers using its latest processor line.
The introduction is part of Intel's massive server microprocessor, motherboard and component refresh rolling out this quarter, the Xeon Processor E5-2600 series. That technology is at the heart of server refresh wave from many major OEMs, and the tools introduced this week by Intel at its premier channel event, the Intel Solutions Summit, are its latest competitive weapons for the channel.
Lest you worry that Intel has focused too heavily on the needs of big OEMs, Intel has shipped eight new motherboards and four new chassis specifically designed for the needs of custom server builders.
There are now more than 50 different solution guides now available for the Xeon Processor E5-2600 as part of the Intel Enabled Solutions Acceleration Alliance. Channel system builders including Appro, Bell, Penguin Computing, Seneca, Proactive Technologies, SuperLogics, sgi and ZT Systems have all come to market with new servers designe to server the needs of data center VARs.
The new software management suite that accompanies the new server line is called the Intel Server Continuity Suite. The software was designed to aid with real-time monitoring, backup, and virtualization provisioning. It complements all of the different server configuration supported in Intel's channel-focused portfolio, including rack, pedestal and modular.
Check out more IT channel news on SearchITChannel.com and follow us onTwitter! Here's how to follow Heather Clancy directly.
---
March 16, 2012 10:19 PM
Finished wrapping up interviews for my next SearchITChannel Tech Watch story, looking at the convergence of network video applications and unified communications solutions that combine IP telephony, email, instant messaging and other voice applications.
In the process, I came across some new figures from International Data Corp. that suggest enterprise videoconferencing solutions will grow to about $3.2 billion in 2012, which is an 18.7 percent growth rate over 2011. Last year, the market reached about $2.7 billion in revenue, IDC reported, which was a growth rate of 20.6 percent.
In a statement accompanying some of the IDC stats, Rich Costello, senior research analyst for enterprise communications infrastructure at IDC, said his team expects "increasing integrations of video and telepresence with unified communications and collaboration applications, and other related video network equipment."
It appears that people are getting sick of communications application islands and are looking for VARs to integrate video applications, including videoconferencing, with existing unified communications platforms.
Anecdotally speaking, the technology solution providers I have interviewed for my upcoming story said that videoconferencing applications are moving beyond nice-to-have technology that can bring some benefits when it comes to corporate travel budgets.
Smart small businesses are using emerging videoconferencing options that don't require room-based or immersive deployments to create face-to-face experiences with customers and customer prospects. Why limit your selling activities to a canned video on your Web site? This is an example of a tool that could provide a revenue stream for VARs and systems integrators, AND also become something that aids their own selling activities.
Watch for my coverage of the convergence of video and UC later in March on SearchITChannel.com. The site editor Leah Rosin, riffs on managed video conferencing in a related post.
Check out more IT channel news on SearchITChannel.com and follow us onTwitter! Here's how to follow Heather Clancy directly.
---
March 9, 2012 3:17 PM
Just in case there was any doubt that consumer tablet computers are a force to be reckoned with in the business world, Forrester Research significantly increased its shipment projects for the next several years.
In its "U.S. Consumer Tablet Forecast Update, 2011 to 2016," Forrester analyst Sarah Rotman Epps suggests that the aggressive market expansions by Amazon and Barnes and Noble is one of the big things that inspired the firm to update its forecast for the period considered. By 2015, Forrester predicts that 105.1 million U.S. consumers will own a tablet. Its original prediction was for 82.1 million by that timeframe. Annual sales should reach 60.3 million units by 2016, Forrester predicts. That compares with 10.8 million sold in all of 2010.
This forecast dovetails with another research report that I read earlier this week, suggesting that the Apple iPad is the most coveted technology purchase on the minds of small and midsize businesses.
What does all this mean for technology solution providers? The extent to which your organization can support the security, patch management and application support concerns that are bound to arise because of the tablet invasion will be really important. Just because you probably won't sell these devices doesn't mean you won't be required to support them — and you'll probably be supporting devices that weren't necessarily requisitioned by your customer's IT department. This is another example of how the bring-your-own-device movement will rewrite the rules for IT solution providers.
Check out more IT channel news on SearchITChannel.com and follow us onTwitter! Here's how to follow Heather Clancy directly.
---
March 2, 2012 4:38 PM
I never really think about the ratio of men to women in the technology industry until I travel to conferences, where I find myself in the minority. The more technical the event, the fewer the women attendees, historically speaking.
The Anita Borg Institute for Women and Technology has just published a series of best practices that technology solution providers might want to consider if they are trying to expand their hiring and recruiting practices to pull in more possible, qualified candidates — both female and male.
These ideas are included in a new report, "Solutions to Recruit Technical Women," and here is a thumbnail of the strategies:
Make managers accountable for specific hiring goals, ones that might more accurately reflect the makeup of your customer accounts
Ensure that your company's culture supports the inclusion of women or other candidates you are trying to attract
Evaluate your job descriptions, especially to make sure they don't reinforce gender stereotypes
Include women in the recruiting and hiring process
Make sure that a viable female candidate is considered for every open technical position
Institute a "blind" resume screening process, so that candidates are considered solely on their credentials and experience
Measure your company's progress, if you're trying to change the makeup of your staff
Of course, it is difficult for me to write a blog like this because I AM a woman, so automatically I have a bias to be favorable to ideas like this.
I will state that I have never ever been one interested in quotas or diversity requirements; I feel that even just increasing the awareness of these things can go a long way toward starting to change things. Most of the time, the fact that a company has few women on the team isn't a strategy that was adopted intentionally. But if your company has any desire to change this sort of thing, it will need to be proactive in order to change hiring habits of the past.
Check out more IT channel news on SearchITChannel.com and follow us onTwitter! Here's how to follow Heather Clancy directly.
---
February 21, 2012 12:43 PM
After a roughly eight-month pilot, distributor Tech Data is rolling out its TDMobility service line to VARs and resellers. The goal is to help technology solution providers work more closely with small and midsize businesses (SMBs) to manage their mobile gadgets and wireless services, according to Tech Data executives.
"It really insulates the VAR from the complexity of buying, selling and servicing mobility solutions," said Joseph Quaglia, president of TDMobility. The division is operated by ActivateIT, which is a joint venture between Tech Data and Brightstar Corp.
There are two services initially being offered under the TDMobility umbrella. CellManage is a service that lets VARs manage multiple cellular lines through a single portal providing access to billing, deployment, asset tracking and other procurement information. The other service, called TDActivate, enables VARs to participate in provisioning hardware.
The services are available in the United States. Charles Kriete, executive vice president of TDMobility, said the services currently support three major wireless carriers: AT&T, Sprint and T-Mobile. (Not Verizon.) The distributor also provides solution providers with the ability to manage BlackBerry services (which is considered a separate offering). The length of the wireless contracts, as well as the commission that is paid to the solution provider for recommending or selling a given service or piece of hardware will depend on the sorts of solutions that it is representing, Kriete said.
Don't make the mistake of limit the definition of mobility to mobile phones or smartphones. TDMobility will cover the gamut of technologies that make up mobile solutions, including rugged or specialty handheld devices, notebooks with broadband connectivity, and telemetry applications.
Solution providers will need to submit an application before they can represent TDMobility services, Tech Data executives said. For the time being, at least, they will need to apply separately to work with each carrier.
Check out more IT channel news on SearchITChannel.com and follow us onTwitter! Here's how to follow Heather Clancy directly.
---
February 13, 2012 8:57 PM
General Electric and Microsoft have disclosed some details around a new 50-50 venture, called Caradigm, that the two companies are creating to target the healthcare IT segment. (Try saying the name of the company out loud, and you'll get it.)
The company, which will get its formal launch during the first half of 2012 provided it surmounts some government regulatory hurdles, are specifically focused on addressing the need for health care organizations to develop more efficient ways to collaborate through technology. Both Microsoft and GE will contribute technologies to the venture, including:
Microsoft Amalga, described as a "health intelligence" platform
Microsoft Vergence, which addresses single sign-on and "context management" challenges
Microsoft expreSSO, enterprise single sign-on software
GE Healthcare eHealth, which is positioned as a health information exchange
GEO Healthcare Qualibria, a platform for sharing clinical knowledge
Both companies also are contributing executives and board members. For example, Neal Singh, currently the general manager of MIcrosoft Dynamics AX Global Financial Management, will be moving over to Caradigm as the chief technology officer and senior vice president. The chief executive officer for Caradigm will be Michael Simpson, who currently runs the GE knowledge sharing and connectivity business unit over at GE Healthcare.
Check out more IT channel news on SearchITChannel.com and follow us onTwitter! Here's how to follow Heather Clancy directly.
---
February 3, 2012 3:15 PM
As awareness about software and content piracy increases along with the need for proper licensing management, distributor Tech Data has created a site that creates a way for technology solution providers to streamline software licensing management and to offer cloud-delivered applications and services to small and midsize businesses (SMBs).
The StreamOne Solutions Store represents dozens of different software applications and cloud service offerings. Technology solution providers can use the store's StreamOne Software License Selector to figure out which licensing policies make most sense for their individual customer, provision the software or service, and then offer a simple invoice. The latter is especially important if a business is selecting more than one application or cloud service, because it helps simplify license management.
Said Gertrud Pillay, vice president of category marketing and licensing operations at PCMall:
"The Tech Data StreamOne platform is unlike anything currently offered within the channel. With the intuitive interface, we're able to quickly and easily bring greater value and efficiency to our customers by identifying which software solutions and cloud services will help our customers reach their goals."
From the solution provider's standpoint, Tech Data's store not only helps simplify software management tasks, it provides a single location for helping their customers consider different applications or subscription options that they might not previously have considered.
StreamOne also obviously provides a way for independent software vendors or developers to get their applications in front of potential sales and business partners.
Check out more IT channel news on SearchITChannel.com and follow us onTwitter! Here's how to follow Heather Clancy directly.
---