---
June 28, 2012 3:19 AM
There's an interesting but not-so-surprising survey out from IT services giant Dimension Data this week suggesting that many companies are overlooking the need to upgrade their corporate networks in their rush to accommodate mobile devices.
The research, which examined the habits of 300 organizations, found that while many companies are upgrading the wireless technologies at the edge of the network, fewer of them are looking downstream to ensure that the backbone of their networks can support all that extra traffic.
Dimension Data's report, the 2012 Network Barometer, found that one-third of the wireless access points installed in 2011 were 802.11n-capable. That has implications for speed, traffic and network prioritization.
In addition, the solution provider found that about two-thirds of the devices that it assessed during its study had at least one known security vulnerability. Generally speaking, these vulnerabilities were new (that is, they indicated that the companies weren't keeping their network operating systems up-to-date.
Dimension Data's overall suggestion is that companies need to spend more time examining the switches and routing equipment supporting an influx of smartphones, tablets and other mobile devices.
"Without adequate planning, organizations can expect traffic jams and performance bottlenecks," said Raoul Tecala, Dimension Data's business development director for network integration, commenting on the findings. "It's like building a number of new on-ramps onto a motorway, and not adding new lanes to carry the additional traffic."
The takeaway for other technology solution providers is that they need to more carefully assess the network infrastructure supporting their customers' mobile solutions rollouts — with an eye to accommodating the extra traffic and ensuring that security breaches aren't introduced for the sake of productivity.
Look for more channel news coverage on SearchITChannel.com and follow us on Twitter! Follow Heather Clancy directly.
June 22, 2012 3:16 AM
Social media. Social CRM. Social business software. Whew, seems like every software category is adding the social adjective in an effort to inspire new revenue or new interest. Rumors that Microsoft is about to pay $1 billion to buy Yammer, which makes software for creating private social networks, certainly shine a brighter spotlight on this whole discussion.
Part of the hype around social-this-and-that might just be the usual pre-chasm hype fuled by high-tech marketers. But could technology solution providers build new practices by developing skills, services or consulting storylines tied to social software recommendations?
It is pretty clear to me that the principles of social media and social collaboration will have a profound impact on customer service and on preferred methods of collaboration.
Consider new data released this week by IDC about so-called enterprise social software. The research firm reports that adoption of software from IBM and Jive Software, in particular, accelerated significantly between 2010 and 2011. In fact, both of them reporting more than 70 percent growth year-over-year. Yammer was the fastest growing vendor in the lot, growing its sales by more than 132 percent, according to IDC.
Said IDC analyst Michael Fauscette, group vice president of Software Business Solutions:
"Companies are turning to social software in increasing numbers as they look for ways to increase collaboration, improve both business and individual worker productivity, and efficiently manage a growing deluge of content and information. Compartmentalized and specific collaboration is still required by many organizations and traditional collaborative applications providing closed loop and B2B communications will retain their existence in organizations alongside more open social solutions."
At the very least, technology solution providers should dedicate someone on their team to exploring scenarios in which the existing solutions for collaboration or workflow processes and customer services could be extended or usurped by some of these new social software approaches.
The momentum behind social networking and social media is very real, and people like you and me have become very used to using these tools for collaboration and communication in their personal lives. Increasingly, that interest is going to spill over into the business world and it is important for solution providers to be prepared for the potential impact.
Look for more channel news coverage on SearchITChannel.com and follow us on Twitter! Follow Heather Clancy directly.
---
June 14, 2012 1:09 PM
If you enjoyed near-double-digit revenue gains for your software solutions business in 2011, take note: growth for many traditional applications will taper off this year, according to a new forecast from IDC.
During 2011, the average sales growth for software in the Americas was 8.7 percent, according to the research firm. For 2012, IDC is projecting overall software market growth of 7.3 percent for the Americas. Apparently, the economic turmoil in Europe is dragging the rest of the world down.
Microsoft was the No. 1 software vendor worldwide, following by IBM. Several vendors enjoyed double-digital growth rates of more than 20 percent last year: VMware, Salesforce.com and Cadence Design Systems.
Look for more channel news coverage on SearchITChannel.com and follow us on Twitter! Follow Heather Clancy directly.
---
June 8, 2012 4:55 PM
Holy smokes! Just when you thought you MIGHT be able to convince some of your customers to migrate their operating system over to Windows 7, there's a new survey out that suggests small-business owners are eager for the still-to-be-release Windows 8.
The reason? Windows 8 ability to help workers get a better grip on managing their information and accounts across multiple devices such as on a desktop or notebook as well as a tablet or smartphone.
The data, part of the Staples Small Business Index, suggests that about 70 percent of the small-business owners who have heard about Windows 8 (it doesn't say how many of them DO know about it, BTW), already have upgrade plans. Of those with upgrade aspirations, approximately 28 percent focused on the operating system's promised interoperability with tablet computing devices.
As you might expect, Staples has a position on this, which is something that solution providers should be prepared to address or combat.
Earlier this month, Staples started selling a Worry-Free PC Promise that will make it more attractive and easy for small-business owners to update to Windows 8 when it hits general availability. Staples is attaching this service to certain Windows 7 systems: for $14.99, buyers of those PCs will get an update to Windows 8 Pro.
The Staples data reflects the sentiments of approximately 500 small-business owners or executives from companies with no more than 20 employees.
If your company is still trying to get customers updated to Windows 7, the Windows 8 release cycle will definitely be top-of-mind for those clients. So, offering them a way to make the switch to new systems now, without it costing a bundle for them to get over to Windows 8 when it emerges, is a smart strategy.
There's no official word yet on Windows 8 will ship, but pundits are suggesting that an October 2012 timeframe is likely.
Look for more coverage soon of cloud backup options on SearchITChannel.com and follow us on Twitter! Here's how to follow Heather Clancy directly.
---
June 1, 2012 4:08 PM
More enterprises are willing to consider cloud backup services as an option for the backup portion of their overall disaster recovery needs, according to independent research conducted on behalf of cloud backup recovery software vendors, Asigra.
Specifically, the data from TechValidate shows that 66 percent of enterprise IT departments are considering cloud backup as they mull plans to update their current backup systems over the next 18 months, Asigra reports. Expanding volumes of data is one of the most common motivators prompting enterprises to reconsider their overall strategy vis a vis backup, the data shows.
According to the TechValidate data, the three most common top priorities of IT professionals who are considering new backup solutions are:
Recovery time
Secure data protection
Affordability and reliability
VARs and MSPs can help potential customers evaluate existing and potential backup options with these factors in mind. "Companies need to do an internal assessment and determine what their recovery time objectives are for their data — what data needs to be restored immediately and what data can be restored later without causing too much disruption," said Eran Farajun, Asigra's executive vice president, in a statement. "They also need to determine what the cost is for recovering both young and old data."
Benefits of cloud backup include risk mitigation (especially if a company doesn't have ANYTHING else) and the ability to spread costs out over time (minimal capital investments).
Look for more coverage soon of cloud backup options on SearchITChannel.com and follow us on Twitter! Here's how to follow Heather Clancy directly.
---
May 25, 2012 3:27 PM
Earnings reports from technology bellwethers Hewlett-Packard and Dell this week weren't exactly confidence boosters. Both companies signalled lackluster IT spending as the cause for quarterly revenue declines, underscoring the need for technology solution providers to continue diversify their own revenue mixes — and vendor relationships — into software and services as quickly as possible.
Here are the numbers for quick reference.
HP recorded net revenue of $30.7 billion for the second fiscal quarter ended April 30, 2012, down 3 percent. Income was also off. Mind you, quarterly revenue of almost $31 billion is nothing to sneeze at, and these results were actually better than the company's projections. And, astonishing, the company's PC business managed to come in flat (with $9.5 billion in revenue). So, if you are OK with the status quo, you probably don't mind.
Dell's revenue for its first fiscal quarter was $14.4 billion, off 4 percent from the year-earlier period. The good news is that it realized increases for its services, server and networking businesses. The bad news for solution providers is that Dell continues to push its services agenda, which may or may not include them.
For me, there was another troubling question raised by this week's earnings reports: How quickly can these companies make innovation pay off in their product lines as the technology market shifts?
These results make me wonder how well poised either company is to make it through the technology market overhaul that is being driven by mobile technology, the rise of purpose-built enterprise software applications such as Salesforce.com and the drive for analytics technologies that are easy for the line-of-business person to use — not a rocket scientist.
Exhibit A:  Yet again, HP is relying on a massive restructuring to hopefully get its financial house in order. (How many times have we seen this script in the last decade?) This time, it plans to cut about 27,000 jobs over the next two years. Mind you, it plans to plow the roughly $3 billion to $3.5 billion in estimated savings back into research and development for cloud computing and "big data" analytics technologies.
But I find myself wondering whether HP can innovate quickly enough to keep up with the flood of nimble startups focused on the same exact thing.
Sure, maybe it can buy its way into these markets, but HP's history of integrating those technologies (WebOS anyone?) hasn't exactly been stellar. What's more, revenue for Autonomy, which HP spent $10.3 billion to buy last year, declined compared with when it was a standalone company. Whoops.
In any event, if I were a technology solution provider, I would be seriously evaluating just how much exposure I have to both HP and Dell.
There are major changes afoot in mobile form factor and software spending habits that don't favor either of these companies right now. Sure, they may be great legacy businesses for technology solution providers for years to come, but is your company cultivating new relationships that will help your own company stay abreast of technology consumption habits?
Check out more IT channel news on SearchITChannel.com and follow us on Twitter! Here's how to follow Heather Clancy directly.
---
May 18, 2012 3:16 AM
Unit shipments of tablet computers should reach almost 425 million by 2017, driven by a diversifying range of product choices, according to a market forecast by DisplaySearch, an NPD Group company.
What's more, annual tablet computer shipments should surpass those of notebook computers by 2016, the researcher suggests in its latest Tablet Quarterly report.
Over the next five years, DisplaySearch predicts that devices using the Apple iOS operating system will lose market share to tablets running various versions of Android and MIcrosoft Windows RT. By 2017, the Apple iOS platform should account for about 50.9 percent market share, compared with 40.5 percent for Android and 7.5 percent for Windows, the researcher writes.
One key factor will continue to be the Amazon Kindle Fire, which carries a lower price that is in part subsidized by content purchases.
DisplaySearch's tablet OS forecast between now and 2017 is below: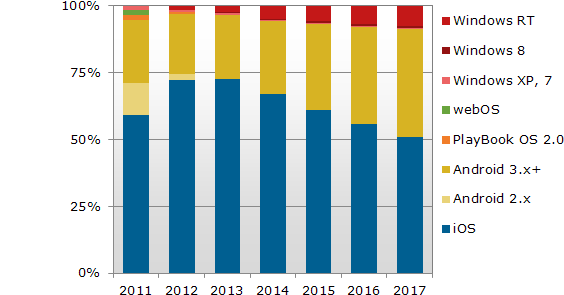 Source: Q1 2012 NPD DisplaySearch Tablet Quarterly report
The takeaway for me is that any technology solution provider hoping to incorporate tablet computers into its solution mix will be dealing with the Apple iOS for some time to come. Things won't seriously turn around until about five years from now.
Check out more IT channel news on SearchITChannel.com and follow us on Twitter! Here's how to follow Heather Clancy directly.
---
May 11, 2012 3:41 AM
Annual IT spending by small and midsize businesses now averages $152,000 per year, according to a bi-annual survey by Spiceworks. That's up 6 percent from the second half of 2011, and 15 percent from early 2011, the data show.
The IT professional social network's State of SMB IT survey reflects the opinions of close to 1,500 IT professionals, 60 percent of whom work for companies with 20 to 249 employees. Spiceworks conducts its survey two times per year.
In the second half of 2011, the average annual SMB IT budget was $143,000; during the first half it was $132,000, according to the Spiceworks survey data.
According to the latest survey conducted during the first quarter of 2012, the biggest chunk of spending will go towards new hardware, approximately 40 percent of the total. New desktops and laptops were the most commonly planned hardware purchases, the survey showed. IT services will account for approximately 26 percent of total spending, with the block of that money going to Web hosting and Internet service provider fees.
Check out more IT channel news on SearchITChannel.com and follow us on Twitter! Here's how to follow Heather Clancy directly.
---
May 4, 2012 3:41 PM
In case you haven't noticed, 2012 is the year in which businesses are supposed to get more social.
Collaboration solutions are getting a makeover, thanks to the help of social business software companies such as pioneer Jive Software. Customer service is getting more social, through applications from the likes of Lithium and Yammer. Marketing and public relations activities are being transformed through social media.
And, increasingly, people are starting to talk about so-called social CRM — technologies that more closely integrate all of the above with customer relationship management systems.
The big question for solution providers, both as an internal business strategy and as a consideration for their clients, is whether being social pays off.
This issue is something I follow pretty closely for one of my other blogs. Just this week, I reported that a new survey suggests that close to 60 percent of midsize and larger businesses are using social media as part of customer service. In fact, many of the companies that are doing this have been doing so for two years.
But a different research set from Gartner predicts that it will be difficult to gauge the return on some of these investments, especially those related to social CRM.
By the end of this year, only 50 percent of businesses will actually be able to measure their ROI related to social CRM applications, according to Gartner. For technology solution providers, that could mean a shut down in funding. Noted Gartner research director Adam Sarner:
"For the 50 percent of Fortune 1000 organizations not determining, or even measuring, ROI, ignorance will mean failed projects. Among the companies who will not see a worthwhile return, only 20 percent will even have the data to evaluate where their social strategy is falling short."
This year, social CRM deployments will account for about 10 percent of overall CRM software license and subscriptions, Gartner figures. The overall revenue expected for the category this year will be $2.1 billion, up from $850 million in 2011.
Clearly, it is important for VARs and manager service providers to build a strong business case for their clients when steering them toward the social CRM realm — one that they should endeavor to track and to measure moving forward. Or, it could be difficult to find future funding for these initiatives, no matter how sexy they seem.
Check out more IT channel news on SearchITChannel.com and follow us on Twitter! Here's how to follow Heather Clancy directly.
---
April 27, 2012 6:03 PM
One of the darlings of the health care IT software sector, Allscripts, announced a tough first-quarter this week.
Bookings were off year-over-year — slipping to $194.6 million for the first quarter of 2012, off from $212.4 million in 2011. Net income was off sharply: $5.8 million for the three months ended March 31, 2012, versus $12.6 million in the year-earlier period. Income was affected by acquisition-related expenses. Perhaps what is more intriguing, however, is the fact that Allscripts has also ditched its chairman, its chief financial officer is leaving to pursue another opportunity, and three directors have resigned in an apparent dispute over future company direction. What's more, expectations for new products apparently have caused a number of customers to put purchasing plans on hold.
"While Allscripts continued to win important new clients, including three new Sunrise Clinical Manager contracts in the quarter, a number of our clients and prospects delayed commitments as they wait for us to introduce new releases and demonstrate more robust integration," said Allscripts CEO Glen Tullman, in a statement about the company's quarter.
All this got me wondering about the general health of the health care IT sector, which has been such a darling among the technology distributors and with certain major technology vendors, including Cisco and Microsoft.
So I did a bit of poking around and came across some projections for health care IT spending release in February 2012 by Compass Intelligence, release in tandem with the HIMSS 2012 conference (the industry's biggest annual conference).
Compass Intelligence predicts that health care IT spending will reach $78 billion in 2012. Over the next five years, the industry should maintain a compound annual growth rate (CAGR) of about 5 percent to reach $92 billion by 2016.
Mind you, growth is growth, but the excitement about electronic health records and other digital health care initiatives has definitely become more tempered. Ask your own doctor or health care professional how they feel about the transition, and you'll probably hear more complaints than praises for their own personal situation.
This sentiment, along with overwhelming adoption of consumer tablet computers and ongoing concerns over privacy regulations, could drive more health care organizations to consider cloud solutions, according to Compass Intelligence analysts. The integration challenge of matching up data across application silos is definitely proving to be a headache for many health care organizations, and cloud solutions could be the cure.
"Implementation of the various stages of electronic health records will drive infrastructure and integration needs to support the access, storage, and transfer of data across CRM, HIS, ERP, clinical and other health care enterprise systems," said Stephanie Atkinson, managing partner of Compass Intelligence, in a press release discussing the research. Compass Intelligence suggests that cloud service providers will rise to handle a number of these challenges, especially the storage and protection of patient records.
Sort of makes you wonder if focusing on the installation of on-premise health care records software is a good value proposition for smaller clinics and hospitals that are struggling to make ends meet through this painful paper-to-digital transition. At the same time, the cloud conversation definitely changes potential liability exposure for technology solution providers and managed service providers. You host it, you're responsible, unless you write some pretty extensive service level agreements that cover your back.
Check out more IT channel news on SearchITChannel.com and follow us on Twitter! Here's how to follow Heather Clancy directly.
---