---
August 17, 2012 12:52 PM
What are small and midsize businesses looking for in virtualization projects?
The overriding objective is to save money, according to a new set of data crunched up by Symantec into the handy-dandy information graphic (aka infographic) that I have embedded below.
But one of the things that bedevils these same companies is "identifying the true cost and budget" for virtualization projects: 81 percent of SMBs want more support in this area.
Here's where else they could use help from technology solution providers:
Understanding the impacts of virtualization (56 percent)
Developing new back-up plans (50 percent)
Obtaining business buy-in (25 percent)
Developing new skills (25 percent)
Application migration planning (25 percent)
The SMBs considered by Symantec cited complexity as one of the most surprising side effects of virtualization projects. About half of them are acting under the assumption that it will result in management simplicity; an equal number are surprised to find that virtualization is much more complicated than expected.
Taken together, the data points to a real need for technology solution providers that are willing to take the time to educate SMBs about the realities of virtualization and that can stick around to help SMBs manage their projects after they are are deployed.
Here's the complete infographic:

Look for more channel news coverage on SearchITChannel.com and follow us on Twitter! Follow Heather Clancy directly.
August 10, 2012 4:26 PM
Microsoft has been closemouthed about exactly how many companies (or people) use its Office 365 cloud services, but the researchers over at SMB tracking firm TechAisle think they have some insight.
Approximately 10 percent of small businesses are actively investigating Microsoft's cloud applications suite, reports TechAisle, based on a survey of small and midsize businesses.
Size definitely matters. For example, 30 percent of the TechAisle survey respondents employing 20 to 49 people were considering Office 365, while only 6 percent of the companies with one to four people were thinking about it.
The most intriguing features for the survey respondents were email and calendar management, remote working capabilities and collaboration applications, reports TechAisle.
Look for more channel news coverage on SearchITChannel.com and follow us on Twitter! Follow Heather Clancy directly.
---
August 6, 2012 2:29 PM
After a four-month pilot test, Dell has decided to let its U.S. and Canadian channel partners offer Dell Cloud Services under the company's PartnerDirect program.
Partners can either become an agent for the services, which means they receive a referral fee, or they can work with Dell to provision their own instance of the service and then resell it to their customers in a traditional resale model for a margin.
The company has also added a new certification level to its training programs for VARs, systems integrators and MSPs interested in wrapping their own services and solutions around a Dell cloud offering.
The new level is called Cloud Enabler, and it will be used to designate Dell partners that can integrate a range of different cloud services on behalf of a customer and then operate it via managed services. The platform for doing this is the Dell Cloud with VMware vCloud Data Center Service. The infrastructure as a service offering (IaaS) is a secure, enterprise-class service that lets MSPs create private clouds for their customers.
"We have been helping our customers implement IaaS for a few years now, so we're very familiar with customer needs and onboarding challenges that can arise. Dell helps us meet those head on," said Dell partner Michael Pearson, DSA Technologies.
The Cloud Enabler certification level launches this week in the United States and Canada; it is scheduled to become available in the EMEA markets at the end of August.
---
July 27, 2012 1:24 PM
Smartphone sales in the second quarter grew at the slowest pace in almost three years, and while Apple still posted health increases it was another vendor, Samsung, that managed to break a new record during the three-month period.
Market research firm Strategy Analytics estimates that worldwide smartphone shipments grew by 32 percent to 146.1 million units in Q2 2012. That was the slowest growth rate since the third quarter of 2009.
Samsung grabbed 35 percent of marketshare during the quarter, shipping 50.5 million smartphones — more than any other vendor has managed to produce during a single quarter. At least so far.
Strategy Analytics credits Samsung's broad product portfolio as one reason for its achievement, which spans from the mass market Galaxy Y to the high-end Galaxy Note.
Don't feel too sorry for the No. 2 vendor, Apple, which claimed about 18 percent of the marketshare during the second quarter, shipping approximately 26 million units. Its growth for the quarter was about the same as what it posted one year ago.
"We believe Apple's lackluster performance was driven by some Apple fans and operators holding off iPhone purchases in anticipation of a rumored new iPhone 5 model around September or October of this year," said Neil Mawston, executive director at Strategy Analytics.
Samsung's growth signals another advance by the Android operating system at the expense of the Apple iOS, which is something that solution providers developing smartphone business applications or managing mobile technology being brought into companies via BYOD programs should watch carefully.
Researcher IDC believes that Android's smartphone marketshare should peak this year at 61 percent. It is calling for overall smartphone market growth of 4 percent in 2012.
Look for more channel news coverage on SearchITChannel.com and follow us on Twitter! Follow Heather Clancy directly.
---
July 23, 2012 9:50 PM
Just weeks before its most important channel conference of the year, VMworld, VMware has revealed an executive switch in the CEO suite: EMC COO and former Intel enterprise hardware executive Pat Gelsinger will take over as VMware's CEO on Sept. 1, 2012.
At that time, current CEO Paul Maritz will move over to EMC in a new role as technology strategy, where he will work on projects related to big data and a new generation of cloud-based applications.
Both men will hold positions on VMware's board of directors.
The industry scuttlebutt is that EMC wants to reenergize VMware's relationships with key data center infrastructure partners as Microsoft makes incursions into the data center virtualization software space. According to Bloomberg, an internal memo also suggests that the switch-up is part of EMC CEO Joe Tucci's long-term succession plan.
At Intel, Gelsinger was in charge of Intel's Digital Enterprise Group, which accounts for more than half of that company's annual revenue. His comments about his new job suggest VWware will seek to strengthen partnerships that underscore its position as a leading component of heterogeneous, hybrid cloud infrastructure solutions. Gelsinger said:
"The next generation of software defined-data centers will be built by combining software with standardized building blocks. VMware is uniquely positioned to be the leader in this endeavor and deliver a whole new level of value to customers and its existing important ecosystem partners."
The CEO switch came days before the VMware reported its second-quarter 2012 results, which suggest slowing growth for the virtualization software giant. While VMware's revenue was up to $1.12 billion for the second quarter, a 22 percent growth rate over the prior year, net income slipped to $192 million from $212 million one year ago.
For the year, VMware is calling for revenue of $4.54 billion to $4.64 billion, up anywhere from 20 percent to 23 percent.
Commenting on the results, current CEO Maritz said: "Our products, amplified by the recent acquisitions, including Nicira, are providing the means for our customers to transform IT as we move into the cloud era."
The proposed $1.05 billion buyout of Nicira will strengthen VMware's position in software-defined networking (SDN) and network virtualization for open source initiatives.
Look for more channel news coverage on SearchITChannel.com and follow us on Twitter! Follow Heather Clancy directly.
---
July 16, 2012 4:53 AM
How refreshing: Gartner is actually raising its projections for 2012 IT spending slightly to $3.6 trillion. That's up 3%, compared with the 2.5% increase that the market research firm made during the first quarter of 2012.
One big bright spot is enterprise cloud services, which Gartner thinks will grow to $109 billion in 2012 compared with $91 billion in 2011. The top cloud priority for enterprises falls into the category of business process as a service applications, according to Gartner.
Technology solution providers will also be interested to hear that global spending should reach $864 billion in 2012, up a projected 2.3%.
Here are the forecasts for some specific categories:
Computer Hardware – $420 billion, up 3.4%
Enterprise Software – $281 billion, up 4.3%
Telecommunications Equipment – $377 billion, up 10.8%
Look for more channel news coverage on SearchITChannel.com and follow us on Twitter! Follow Heather Clancy directly.
---
July 11, 2012 7:22 PM
Microsoft has changed the Office 365 channel program to make the online productivity suite more of an opportunity — and less of a competitor — for partners.
Under Office 365 Open, partners will be able to bill their customers directly for Office 365, bundling additional services in with the software in a single invoice. And with the Office 365 Advisors Program update, margins have increased to 23% in the first year of Office 365 sales for partners who sell 2,500 seats. Partners who sell more than 500 seats get 22%, and 150 seats garners a 20% margin. The 12% margin is staying the same for smaller sales, but the renewal fee is decreasing from 6% to 4%.
Microsoft CEO Steve Ballmer joined Microsoft Office division president Kurt DelBene during the announcement at the Worldwide Partner Conference (WPC) and said that Office 365 is "exploding in momentum," but the company is not releasing any sales numbers at this time.  The Office 365 Open and Advisors Program updates  are designed to help spur momentum in the channel, Ballmer said.
At the WPC on Wednesday, in what would best be described as a cheerleading session, Microsoft COO Kevin Turner pushed Office 365 to partners.
"Winning with Office 365 is the single most important thing we need to do within the enterprise," Turner said.
He also fired some shots at Google.
"Google is pitching our customers, but fortunately they don't win much," he said. "When they pitch Google Apps at $50, you need to help customers look below the surface and understand there's a whole lot of cost associated with making their solution work."
This decrease in renewal fees may be a pain point for partners, who in passing have said that low recurring revenue is part of what made Office 365 a non-starter for their practices. If you're a Microsoft partner, what do you think of these changes to Office 365? Do you have a hard time selling it against Google Apps? Leave your comments below or send me a note at lrosin@techtarget.com.
---
July 9, 2012 9:07 AM
Here's a question: Are you reading this article sitting in your office at a tethered computer with a browser or are you scanning it with your tablet computer or smartphone?
Given the nature of the IT services business, more of you are reading this on a mobile platform than one year ago. And more of you are reading this on some mobile gadget that probably doesn't have a traditional keyboard.
That's why it's very easy to buy into the prediction this week from NPD DisplaySearch that calls for annual shipments of tablet computers to outstrip those of notebooks computers by 2016. It's another harbinger of the impact that the "bring your own device" movement will have on IT solutions, and another reminder that solution providers that rely on hardware margins will need to make some adjustments in their business model during the coming format shift.
NPD DisplaySearch projects that tablet computer sales will reach 416 million units that year, roughly more than triple the number expected for 2012 (121 million units). During that same four-year timeframe, annual shipments of notebook computers should grow from 208 million units in 2012 to 393 million units by the end of 2016, according to the NPD DisplaySearch forecast, "Quarterly Mobile PC Shipment and Forecast Report.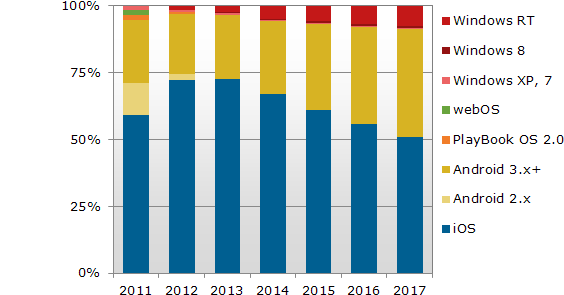 (Source: NPD DisplaySearch, Quarterly Mobile PC Shipment and Forecast Report)
The majority of growth for tablets is coming from mature markets, including the United States.
"While the lines between tablet and notebook PCs are blurring, we expect mature markets to be the primary regions for tablet PC adoption," said Richard Shim, senior analyst for NPD DisplaySearch. "New entrants are tending to launch their initial products in mature markets. Services and infrastructure needed to compelling new usage models are often better established in mature markets."
The challenge for IT solution providers is that many tablet computers, like smartphones before them, are being brought into companies by individuals rather than the IT department. That's the bad news. The good news is that businesses are struggling with how to manage these devices. That has created all sorts of assessment, policy development and managed service opportunities related to security, patch management and collaboration/workflow policies.
While much of that work today surrounds tablets that use the Apple iOS or Google Android operating system, it is likely that Microsoft's new Windows Surface tablet will have an impact within companies seeking to more closely integrate tablet solutions with legacy applications and infrastructure.
The first model, which will be made entirely made by Microsoft (yes, even the hardware) will be 9 millimeters thick, weigh about 1.5 pounds and run on low-power ARM chips. It is expected to hit the market around October.
Look for more channel news coverage on SearchITChannel.com and follow us on Twitter! Follow Heather Clancy directly.
---
July 6, 2012 3:19 PM
Microsoft recently announced their upcoming Windows 8 tablets, called "Surface." So what does this mean for Microsoft resellers?
The first thing to understand is that Microsoft has developed these tablets entirely in house and plans to bring them to market as Microsoft hardware. These aren't reference platforms that will be built and distributed by the usual OEMs. Therefore, it is likely that they will reach customers through the same channels as the Microsoft Mouse and LifeCam products, and with a lot of options for where to buy, customers will need a good reason to spend their dollar with you. Continued »
---
June 28, 2012 3:19 AM
There's an interesting but not-so-surprising survey out from IT services giant Dimension Data this week suggesting that many companies are overlooking the need to upgrade their corporate networks in their rush to accommodate mobile devices.
The research, which examined the habits of 300 organizations, found that while many companies are upgrading the wireless technologies at the edge of the network, fewer of them are looking downstream to ensure that the backbone of their networks can support all that extra traffic.
Dimension Data's report, the 2012 Network Barometer, found that one-third of the wireless access points installed in 2011 were 802.11n-capable. That has implications for speed, traffic and network prioritization.
In addition, the solution provider found that about two-thirds of the devices that it assessed during its study had at least one known security vulnerability. Generally speaking, these vulnerabilities were new (that is, they indicated that the companies weren't keeping their network operating systems up-to-date.
Dimension Data's overall suggestion is that companies need to spend more time examining the switches and routing equipment supporting an influx of smartphones, tablets and other mobile devices.
"Without adequate planning, organizations can expect traffic jams and performance bottlenecks," said Raoul Tecala, Dimension Data's business development director for network integration, commenting on the findings. "It's like building a number of new on-ramps onto a motorway, and not adding new lanes to carry the additional traffic."
The takeaway for other technology solution providers is that they need to more carefully assess the network infrastructure supporting their customers' mobile solutions rollouts — with an eye to accommodating the extra traffic and ensuring that security breaches aren't introduced for the sake of productivity.
Look for more channel news coverage on SearchITChannel.com and follow us on Twitter! Follow Heather Clancy directly.
---