---
August 1, 2007 12:27 PM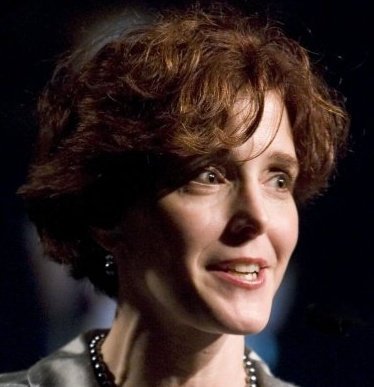 Profile: Heather Clancy
Note to self: Acquire notebook computer before next business travel commitment in early September. Filing blogs from an iPhone distinctly not fun.
Remind TechTarget team to super-duper spell check this.
How do teens and 20-somethings cope with texting, which is like water torture to me?
But more on generation gaps in a sec… Emerging for the next phase of my channel journalism existence in my not-so-favorite place (Las Vegas)
I HAVE run into some of my favorite solution providers (aka VARs) here at CompTIA's 25th anniversary Breakaway event. Good to see you guys!
As is apt for a nostalgia-fest, the opening session here was one of those seat-squirmers intended to make you think outside your comfort zone.
In his session "The Extreme Future: The Top Trends That Will Shape The 21st Century," futurist James Canton touched often on a generation gap that is being exacerbated by technology.
How much have you thought about what your customer will look like in 2015? Not to mention your employees and maybe even your boss!
Note to you: Why are you waiting?
Some of my friends think they can squelch their kids' interest in things like testing and Webkins and MySpace.
Can you say 'lost cause?'
What we CAN do as parents and adults and business leaders is use our, ahem, perspective, to channel those new habits and ideas into solutions for the future. Think about how tech support, as an example, could be revolutionized by adding video.
Quicker resolutions. Empathy.
Anyway, even if it makes you feel "old" you need to start looking to the "youth boomers." After all, why should they have all the fun?
Hey, thanks to the CompTIA organization for inviting me here to Vegas. More soon.
Sent from my iPhone
Business journalist Heather Clancy has been inciting dialogue in the high-tech channel for close to 18 years
August 1, 2007 12:12 PM
Microsoft Surface, the company's prototype table computing device (that looks like a giant iPhone) caused quite a stir among Microsoft solution providers at its recent Worldwide Partner Conference debut.The thing—which allows direct manipulation of on-screen, er on tabletop icons—was demo'd most recently at last week's Financial Analysts Meeting in Redmond, Wash., with Microsoft chairman Bill Gates working a video puzzle for the crowd.
One partner is smitten, foreseeing all sorts of real-world applications beyond the fun-and-gaming apps Microsoft has discussed.
For example, he sees it as a way for stranded airline passengers to re-route their flights. They slap their boarding pass on the surface, where the locator number is recognized and processed, and alternate routes planned, booked, seat assigned etc. etc.
Of course, that's if Surface ships. And/or works. Remember, Gates and company have talked about "alternate user interfaces" since what seems to be the beginning of PC time. And what company has the coolest, most directly manipulatable (word?) device out there? Um, that would be Apple. The iPhone again.
Microsoft doesn't help itself necessarily by hyping what's not there yet. If you look at the Surface site here and click on "About Surface," you might think you could drag yourself out to Best Buy to buy one this weekend.
"With Surface we can actually grab data with our hands, and actually move information between objects with natural gestures and touch.

Surface features a 30-inch tabletop display whose unique abilities allow for several people to work independently or simultaneously. All without using a keyboard or mouse."
Sign me up. Whoops. Wait a sec. back to the site:
"Beginning at the end of this year (2007), consumers will be able to interact with Surface in hotels, restaurants, retail and public entertainment venues."
Initial partners are Harrah's, IGT, T-Mobile and Sheraton.
Everybody else, get in line.
Barbara Darrow is a Boston-area freelance journalist. She can be reached at
---
August 1, 2007 8:08 AM
U.S. awards $50 bln technology contract to 29 firms The U.S. government said on Tuesday it had chosen 29 companies to provide information technology products to federal agencies in a contract worth up to $50 billion. [Reuters]
F.C.C. hands Google a partial victory The Federal Communications Commission moved cautiously toward creating an open wireless broadband network as it weighed the interests of cellphone carriers and other contenders. [NYT]
IBM helps customers get a supercomputer on the cheap IBM ratcheted the world of supercomputing up a few notches in June with the Blue Gene/P, a system nearly three times as fast as its predecessor at a cost of $1.3 million per rack. But in anticipation of the Blue Gene/P, IBM dropped the price of the Blue Gene/L, to about $800,000 late last year and prompting sales of Blue Gene/L to more than doubling the first half of this year, compared to the second half of 2006. [NetworkWorld]
---
July 31, 2007 11:28 AM
Here's an interesting nugget from last Thursday's Microsoft Financial Analysts Meeting.
Jeff Raikes, president of Microsoft Business Systems, said the company's business solutions effort (that's ERP plus CRM plus related goods and services) surpassed the billion-dollar mark in the last fiscal year.
A spokeswoman subsequently confirmed that this is the first time the company has said that this business hit the magic billion dollar level: Up till last Thursday the word was MBS was "close to a billion," she said.
The good news here is a billion dollars is a lotta dough. Even for Microsoft The bad news is that this is most certainly a revenue, not a profit number. And given some past publicly-stated ambitions for this group, a billion ain't so perky.
Witness this quote from Orlando Ayala from June 2003 when he was head of Microsoft's Small and Midmarket Solutions and Partner Group.
"…this asset, called the Microsoft Business Solutions asset, is $500 million. If we partner closely with our associates in the marketplace and deliver that great value to customers, we will see this business growing to be in the range of a $10 billion business by 2010. This is one of those areas where we see a lot of growth."
Microsoft proponents would say that figure probably included "ecosystems numbers." Although that's not how it appears here. to be fair, company poohbahs started backpedaling from this prediction pretty much immediately.
The fact that Microsoft no longer breaks out MBS financial figures from the much-bigger Microsoft Business Division which includes numbers from the Office juggernaut speaks volume.
You can always bet when a public company becomes less transparent with a group's revenue or earnings number, there's a good reason for it. Remember how Oracle used to slam IBM for not breaking out its database numbers? Gee, now Oracle lumps database numbers in with middleware. Hmmm
Directions On Microsoft analyst Chris Alliegro thinks MBS is chugging along nicely, thank you very much.
"They've eked out a profit once or twice in the past" he notes. "Now I think CRM sales are good and the ERP sales are holding their own. I'd say they're close to breakeven in this group. The four [existing] ERP products—that's what's keeping the business afloat. They let them acquire new customers and partners while figuring out the future offerings," he noted. "From a financial standpoint, they can't throw these things overboard."
Speaking to analysts on Thursday, Raikes highlighted some other MBS factoids, claiming 21 percent growth in customer billing for MBS overall in FY 07. Dynamics CRM saw 50 percent growth for the year, and added 85,000 new customers in the most-recent quarter. "That," he added pointedly," is about the same as Salesforce.com"
For full text of Raikes' talk, see this Microsoft site.
Barbara Darrow is a Boston-based freelancer and can be reached at badarrow@comcast.net.
---
July 31, 2007 9:28 AM

Profile: Bcournoyer
Another security vendor is getting into the Software-as-a-Service (SaaS) business.
Trend Micro has released SecureCloud, a platform that offers messaging gateway security, hosted email security and botnet identification services. And the Cupertino, Calif.-based company is aiming SecureCloud at its channel partners: By using SecureCloud in conjunction with the Trend Micro Worry-Free Remote Manager, partners can remotely manage services for multiple customers from one hosted location. The company's future plans for SecureCloud include the ability to manage customers' gateways as well.
Trend Micro also says partners can scale SecureCloud to meet the needs of small businesses and large enterprises. Here's the price structure:
Email Reputation Services Advanced (messaging gateway security): $6.80 per user for 250 users
InterScan Hosted Messaging Security Advanced (hosted email security): $28.50 per user for 250 users
Botnet Identification Service: 9 cents per user for 500,000 users
The SecureCloud announcement marks another shift towards managed services in the security market. In April, Symantec launched its Online Backup Service — its first in a planned series of SaaS offerings called the Symantec Protection Network. McAfee also offers security SaaS platforms, including its Secure Messaging Service and Security Alert Service.
Does the SaaS trend threaten value-added resellers, who see vendors and managed service providers hosting more and more of the work they'd typically do? Or does it present new opportunities? SearchSecurityChannel.com is working on a story asking these questions, but leave your comments in the meantime.
---
---
---
July 27, 2007 7:23 AM
Microsoft now wants its Shared Source licenses to qualify as open source Microsoft officials said at the O'Reilly Open Source conference this week that they are going to seek Open Source Initiative (OSI) approval for Microsoft's Shared Source licenses, but have not provided specifics. Why is Microsoft interested in doing this now?
[All About Microsoft]
Microsoft desktop manager RC1 ready for download The first release candidate for System Center Configuration Manager 2007, the cornerstone of Microsoft's systems management play, bests SMS on several counts.
[SearchWinIT.com]
Microsoft challenges Google with uber search center Dreams the impossible dream. [TheReg] Continued »
---
July 26, 2007 3:53 PM
Published reports say Hewlett Packard Corp. is getting ready to buy French systems integrator Bull SA for 720 million euros 7.5 euros per share.
Speculation on the buyout began when Capital Magazine reported that HP is in advanced discussions with Bull SA and CNN Money.com picked up the story.
Based in France, Bull SA provides system integration consulting, outsourcing, storage infrastructure, security solutions and software publishing.
Among the company's customers are firms in the banking, finance, telecommunication and manufacturing sectors. The group has operations in the United Kingdom, the United States, Netherlands and Germany.
A spokesperson for HP said the company would not comment on rumors of a Bull SA buyout. "The company has nothing to add at this time," the spokesperson said.
The reports come in a week when HP announced on Monday the acquisition of software company Opsware Inc., paying $1.6 billion in cash. By automating certain management tasks, Opsware reduces a company's cost and complexity to run their data centers.
On Monday HP also said it will acquire Neoware Inc., a company based in King of Prussia, Pa. paying $214 million, or $16.25 per share. The acquisition will hasten the growth of HP's thin client business.
---
July 26, 2007 2:25 PM
IBM has launched another reorg aimed at boosting sales of its hardware into SMB accounts.
In the name of simplicity and "ease of use" IBM is building a single partner-facing sales force to rep all of its Systems and Technology hardware brands, its Global business partner org and its Global technology Services Group.
This is all well and good. Partners have long (privately) complained about the difficulties of navigating the various teams and fiefdom's at Big Blue and this could take a chunk out of that issue. IBM's Systems and Technology broad hardware portfolio, its Global Technology Services Group and its Global Business Partners personnel will now be funneled into a single team into a single team that will present what IBM calls one unified face to business partners.
In that way, Joe Schmoe VAR theoretically wouldn't have to deal with one rep for AS/400 (oops iSeries) another for Intel-based servers, and yet another for storage systems. That's all well and good, especially if the designated team member actually KNOWS all those product lines.
But, knowing how complicated IBM remains; there's skepticism that this partner interaction can ever get easy. Also, big gap here: The company's Software Group is not included in the simplification plan, and some partners say it very much should be. Several say the Software group's "Express" efforts – essentially a repackaging of Big Boy products like WebSphere Portals or DB2 for small and medium businesses — haven't met expectations.
One major problem is vendor-mandated segmentation of enterprise partners is vs. SMB partners. IBM, like Microsoft, like Oracle, refuses to believe that even smallish VARs can have very big accounts. Instead they persist in pushing enterprise business to their hand-picked enterprise global integrators or worse yet, to their own services group.
Another issue: If you're a partner, would you rather sell an "Express" product for a couple thousand dollars or a $30,000 enterprise product. You see my point
In its recent earnings call, IBM said software and services led growth in its overall 12 percent gain in net income. Hardware sale/income was relatively flat after currency adjustments.
With a resurging Hewlett Packard gaining ground in hardware and now bolstering its data center services by buying OpSource, IBM's got some worrying to do both on the enterprise and SMB front.
Barbara Darrow, a Boston-area journalist, can be reached at mbdarrow@comcast.net.
---