---
March 19, 2008 11:04 AM
Microsoft says it delivered a "feature complete" release candidate of Windows Server 2008 Hyper-V today.
The RC has been qualified for guest OSes including Windows Server 2003 SP2, SUSE Enterprise Linux Server 10 SP1; Windows Vista SP1, and Windows XP SP3.
Host server Oses now include 64-bit versions of Windows Server 2008 standard, enterprise and data center editions in some languages (English, German).
Microsoft is banking big that its virtualization game plan will take share from market leader VMware and also bring new users into the virtualization fold.
Microsoft says it's on track to deliver Hyper-V by August.
Barbara Darrow can be reached at bdarrow@techtarget.com.
March 15, 2008 8:27 PM
Chances are at least SOME portion of your business comes from wireless networking at this point, but I'd bet most of it is of the indoor variety. Well, Tech Data is throwing down the gauntlet to some of the specialized wireless distributors through its new relationship with BIG Wireless, which sells various outdoor wireless technology and services.
The deal, which points back to Tech Data's Wireless Specialized Business Unit, will let Tech Data VARs "purchase, brand and resell" BIG Wireless's services. The company's specialty is outdoor wireless for municipalities, corporate campuses or universities. These include wireless site surveys, point-to-point path studies, voice/video over wireless, GPS location, Federal Communications Commission licensing compliance and so on. Many of the more obscure requirements for outdoor wireless that a traditional solution provider might not have been able to invest in. If the reseller chooses, they can brand BIG Wireless' services as their own.
How much business is in outdoor wireless? My gut is that it's going to be sort of like Wi-Fi adoption: It will creep up in adoption for the right reason, it helps people do their jobs better. There will be some debates over format of course (ala the WiMax specification I wrote about in January), which is all the more reason why you might choose to team up with a company like BIG rather than investing in your technical skills right now.
Heather Clancy is a widely published business journalist and strategic channel communications consultant with SWOT Management Group. You can reach her at hclancy@swotmg.com.
---
March 14, 2008 4:25 PM
Word out of Redwood Shores is that Oracle has tapped the new channel chief for North America.
Make that channel chiefs. Plural.  Apparently it takes not one but two men to fill Rauline Ochs' shoes: Tyler Prince and John Gray are dividing up Ochs' responsibilities.
Both had reported to Ochs.
What's different here is Oracle has gone back to its applications-and-technology segmentation. Prince will handle the ever-growing applications and the relevant partners. Gray gets technology, aka the database and tools partner kingdom.
An Oracle spokeswoman said she could not confirm the news, which came from sources close to the software giant.
Ochs left the company three months ago for a new gig at Safeco. Then, just two weeks ago, her worldwide counterpart Doug Kennedy took off for Microsoft. Judson Althoff replaced Kennedy.
[Note: An Oracle spokeswoman confirmed the Prince and Gray promotions on Friday night. Prince was previously group vice president of strategic SIs, industry and Fusion middleware alliance. Gray was group vice president, North American ISVs. It was unclear what their new titles would be. The changes were announced internally on Thursday.]
Barbara Darrow can be reached at bdarrow@techtarget.com.
---
March 14, 2008 9:53 AM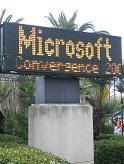 This week I went to Orlando for Convergence 2008, Microsoft's big annual conference for its enterprise applications customers and partners. We learned that Microsoft is planning a hosted ERP service after all, and Dynamics CRM 4.0 has several features that partners think will help them make more sales.
I spent most of my time reporting for those stories in the Expo, a huge room inside the Orange County Convention Center where ISVs, hosting providers and other Microsoft partners showed off how they take advantage of Microsoft Dynamics products.
Every partner had a booth where they gave product demos, sales pitches and the like. But some booths stood out for their creativity — creativity best described through pictures. The first booth I stopped at belonged to LaGarde, an e-commerce solution provider. They had one of those contraptions where you step inside and have 30 seconds to grab as much money out of the air as you can.
I only managed to grab three bucks, and I couldn't even keep it. Stupid journalism ethics.
Across the aisle was Idera, a SQL Server security company with a wheel to spin for prizes.
I won a hat. And I kept it.
Later on, I got to play golf (with Tenrox, a workforce management ISV) and blackjack (with Cincom, a business process ISV).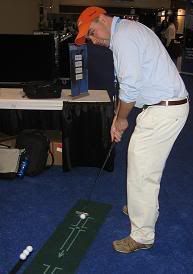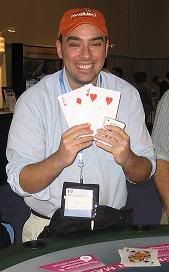 The partners in the Expo also showed their creativity through the promotional trinkets they gave away. When I got back to my hotel room and sorted through it all, I found some nice sporting gear …
… some toys …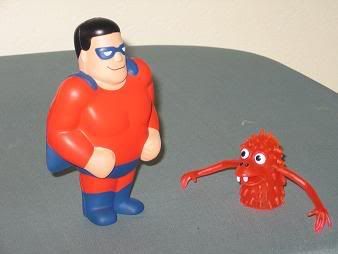 "Come here often?"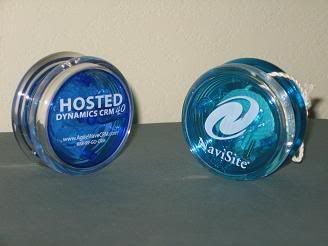 "Yo." "Yo."
… and somehow I ended up with a shot glass, a pill bottle and soap on a rope.

Hey, what kind of conference is this anyway?!?
On a more serious note, SearchITChannel.com next week will feature a podcast on the differences among on-premise Dynamics CRM 4.0, partner-hosted Dynamics CRM 4.0 and the Microsoft-hosted Dynamics CRM Live. Check the home page or news page for updates!
---
March 13, 2008 4:38 PM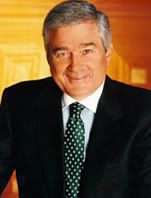 Few figures in tech are more revered than Lou Gerstner, the oft-proclaimed savior of IBM Corp. When he entered the scene, a demoralized IBM had long lost the luster of technology-and-service leadership.
When he left, IBM appeared refurbished. Some argue that the big come-back had more to do with ruthless-if-well-needed cuts  than any particular vision, but still.
Gerstner himself took credit for teaching that elephant to dance.
But Gerstner's golden touch is being questioned in the wake of Carlyle Capital's dramatic and much-publicized meltdown. Part and parcel of the Carlyle Group, home to business-and-government stars, the Carlyle Capital investment firm may soon turn its keys over to creditors.
In a March 13 statement Carlyle Capital  said that despite working diligently with lenders "the Company has not been able to reach a mutually beneficial agreement to stabilize its financing. The Company expects that its lenders will promptly take possession of substantially all of the Company's remaining assets."
Carlyle Group's chairman is none other than Lou Gerstner.
As Fortune put it: "It's a steep fall for a division of the once invincible-seeming Carlyle, which has long populated its corridors with luminaries like former Secretary of State James Baker and longtime IBM chief Louis Gerstner.'
The TimesOnline chimes in with: "The apparent overnight meltdown of a $22 billion (£10.9 billion) credit fund is a huge embarrassment for Carlyle Group, the US private equity firm with unrivalled links to big business and global politics."
Barbara Darrow can be reached at bdarrow@techtarget.com.
---
March 11, 2008 4:19 PM
ORLANDO, FLA. — Microsoft's good friends over at Oracle released the new edition of Oracle CRM On Demand today — conspicuous timing, as Microsoft Convergence 2008 this week highlights Microsoft Dynamics CRM 4.0 and Dynamics CRM Live.
Oracle's move drew some rolling eyes and chuckles from Microsoft partners here today. Most see Oracle trailing Microsoft in the race to catch Salesforce.com atop the hosted CRM market.
"Salesforce.com, that is really our only competition now," said Linda Rose, founder and CEO of RoseASP in San Diego.
Ravi Agarwal, CEO of groupSPARK, a Microsoft hosting partner in Burlington, Mass., agreed. Hosted CRM targets SMBs, but Oracle is not strong with those customers, he said.
"It will take them time to figure out the market," he said.
SearchITChannel.com will be reporting live from Convergence this week, with all the news on CRM, ERP and any other TLAs you can think of — until it gets to be TMI.
---
March 11, 2008 11:42 AM
Old-time PC software players used to kid about Microsoft's ability to create buzz.
 Whenever a competitor came out with something nifty, Microsoft would crank its code-name generator, priming the pump for a deluge of stories about how Microsoft 's newer technology, just around the corner, would kick everyone else's stuff  to the curb.
The more things change …. Last week at Mix 08, Ray Ozzie talked about "mesh" or "synchromesh" which connotes the concept of Web-connected devices and people. The term mesh—in the context of "the social mesh" or "device mesh" was used 14 times in his keynote. You can count it yourself on the keynote transcript here. (At least he refrained from the "S" word although tools guy Scott Guthrie broke out "super" a few times.)
"We need to think of the Web as a hub, the hub of our social experiences, our social mesh, the hub of our technology experiences, our device mesh," said Ozzie. He admitted that this was not exactly new news. But he persisted in the mesh metaphor.
Money quote:
"Related to the device mesh, this first principle also recognizes that we're living in a world where the number and diversity of devices is on the rise. From phones and PCs to smart TVs, DVRs, media centers, game consoles, digital picture frames, pocket media players, digital cameras and camcorders, recently, home servers, car entertainment and navigation systems — the list just goes on and on and on and it grows every CES. Until we believe that the quaint concept that we've kind of grown up with of one PC, of my computer, will give way to the notion of a personal collection of connected devices brought together by the Web. At the principle level, we believe that the Web will be used across all our offerings as a hub to simplify your life in managing and using a world of devices. "
And:  
"Office Live will extend PC-based Office scenarios into the social mesh, expanding the classic notion of personal productivity into the realm of the interpersonal, again, through social mechanisms such as the linking, sharing, and tagging of documents."
Voila: the Microsoft software-plus-services take on software-as-a-service.
It's nice to hear the vision thing. But once again, it seems Microsoft is puffing out vapor.
More Microsoft mesh coverage here. And here.
The whole scenario reeks of the "follow the sandal, follow the gourd" scene out of The Life Of Brian. Monty Python fans will know what I mean. For the rest of you, hit Netflix, it'll be worth it.
Barbara Darrow can be reached at bdarrow@techtarget.com.
---
March 11, 2008 10:04 AM
Is VMware in trouble? Consider:
Last week, the server virtualization market share leader's stock price closed at $51.45. The last time the stock was that low: Aug. 14, 2007, the day of VMware's IPO.
A Yankee Group analyst recently compared VMware to the New England Patriots, who got off to a perfect start but couldn't win the ultimate prize. Those comments appeared in a Network World story analyzing the threats to VMware's dominance. Judging by the length of that article (2,500 words plus), there are a whole lotta threats.
And, as I reported today, there's turmoil in VMware's partner program. Complaints about channel conflict, poor communication and shrinking margins are not what VMware needs right now. Facing its toughest challenge yet, Microsoft's Hyper-V, VMware will have to rely on partners to recruit new customers and keep existing ones happy. That won't happen if the partners themselves aren't happy.
VMware just announced its first true partner conference, Partner Xchange 2008, which will combine the pre-VMworld Partner Day and the annual TSX partner training into one three-day event. It will be interesting to see what VMware does between now and then to address partners' problems, or the company could have some explaining to do come May in San Diego.
---
March 10, 2008 12:54 PM
Just in case the public relations buzzwords haven't been jumping out at you enough, PR-mageddon! this week unveils a new feature: bold buzzwords. Enjoy …
Microsoft
Microsoft Launches Document Interoperability Initiative, March 6: "The launch of this initiative is an important step in Microsoft's commitment to implement a set of strategic changes in its technology and business practices to expand interoperability through the implementation of its interoperability principles. The Document Interoperability Initiative focuses on bringing vendors together to promote interoperability between document format implementations through testing and refining those implementations, creation of format implementation test suites, and the creation of templates designed for optimal interoperability between different formats."
SAP
SAP and IDS Scheer Partner to Bring Customers Easier Modeling and Visualization of Enterprise Services, March 4: "Users will have visibility into a variety of scenarios including the harmonization and standardization of heterogeneous IT landscapes and the implementation of specific process innovations enabled by enterprise services."
Oracle
Oracle Strengthens Content Security, Enhances Enterprise Content Management Platform, March 3: "Oracle also delivered several new features to Oracle Universal Content Management including: Support for BPEL-based (Business Process Execution Language) processes, or standards-based integrations and processes, which helps streamline the integration of document workflows and enterprise applications to enable organizations to more effectively use enterprise content, improve efficiency and accelerate business processes."
Symantec
Symantec Delivers Endpoint Encryption Offering to Help Protect Sensitive Information, March 3: "Designed to help customers protect sensitive information and mitigate the increasing risks of data loss, Symantec Endpoint Encryption offers scalable, centralized management for easy deployment and administration. Customers may also leverage existing tools through synchronization with Microsoft Active Directory for group policy management."
---
March 9, 2008 5:06 AM
Yes, here I am, with more depressing economic news for those of you out there in IT services land who count on small businesses as your bread-and-butter clients.
CDW's latest CDW IT Monitor shows that only 29 percent of small businesses expect their IT budgets to increase over the next six months. That compares with 53 percent of all the businesses responding to the IT solution provider's bimonthly poll of IT decision makers, which encompasses the opinions at least 1,000 participants.
Still, the overall index stands at 73 for February, which is an increase from 69 last December.
In his analysis of the data, CDW Vice President Mark Gambill says that the lower scores for the small-business sector could be tied to the fact that small businesses generally see less perceived value in their IT investments than do midsize or large companies. The results show that 39 percent of small businesses believe that IT helps their bottom line, compared with almost 80 percent of the larger companies. That's a big gap and one that VARs need to work on.Here's a site where you can poke around more at CDW's research.
---