---
December 27, 2012 10:53 AM
Regular readers of this blog may know that I collect records – "vinyl," "LPs," "33s", "78s," "45s" – I even have Edison disks and cylinders (and the related players).
Mine is a formal record library, with sections for Rock, Jazz, Blues, Bluegrass, early Country, Classical, Folk – maybe a few other genres…
Recently I stumbled across a most interesting jazz album, recorded and released in 1959, entitled "One World Jazz."  It involves 15 leading jazzmen – but don't mistake it for "Big Band" – it's in the pocket of that nice late-'50s/early'60s progressive jazz, of which I'm particularly fond.
But here's the amazing thing:  This session bridged three continents, and the cities are New York, Stockholm, Paris, and London – with musicians on one laying down tracks, with subsequent shipment of tapes to the second continent and addition of additional musicians, and then to the third continent, and… you get the idea.
Of course, today this would be a small feat:  digital files can be swapped around the world almost immediately, for contributions and additions of all sorts.  In fact, soon – if not already – it will be possible to be jammin' live, in real time, with any number of people, dispersed around the globe.  Imagine:  Sitting in a room, either alone or with a few other players, and having some video and speaker monitors in the room – your intercontinental friends are in the band in a "virtual" sense, and you collaborate and lay down tracks.  Pretty powerful.
For those interested, the LP is on Columbia, with catalog number WL 162.  Musicians are:
In New York:  J.J. Johnson, trombone; Ben Webster, tenor saxophone,Clark Terry, trumpet;  Hank Jones; piano; Kenny Burrell, guitar; George Duvivier, bass; Jo Jones, drums.
In Stockholm:  Ake Persson, trombone.
In Paris:  Stephane Grappelly, violin; Martial Solal, piano; Roger Guerin, trumpet; Bob Garcia, tenor saxophone.
In London:  Ronnie Ross, baritone saxophone; George Chisholm, trombone; Roy East, alto saxophone.
NP:  One World Jazz, Columbia, WL 162
December 27, 2012 10:13 AM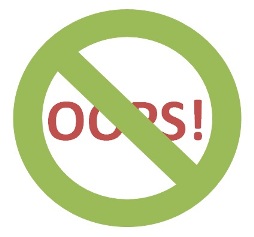 In continuing from yesterday (below), we find that most project problems – not all – but most can be avoided, and any others that pop up can be minimized.
In achieving outright avoidance of most problems, any project needs only a few simple things, leveraged at the very outset – (It is imperative that IT managers, directors, and supervisors [such as HelpDesk, for example]) adhere to this – as well as all business-related people. C-class executives are at the very crux of these matters, and they must be fully vested in these principles too. Be sure to have:
A clear definition of business goals and the related solution(s). The more empirical and on-target you can be, the more you can minimize function creep later, and changes in scope. Adding functions, and widening the scope of the project later has catastrophic affects on your budget and, it bears mentioning, the working relationships of all involved. Do your due diligence in spec'ing the project at the outset – who and what does it serve? ID the elements of business, the departments, people, processes, products, services, customers, compliancies to regulatory authorities – everything.
Identification of valid approving authorities for all stages and deliveries, as well as ID'd authorities for supports such as budget, personnel, sanctioned changes where necessary.
Have a solid system for approving and tracking changes. This can be a shelf-solution, or an internal, custom, sophisticated system – but be certain to have something in place. Systems vary in sophistication, but I've seen many small orgs with tiny budgets do some pretty weighty projects using spreadsheets. The important thing is to adhere to solid communications, early identification of problems, and total buy-in from everyone on changes. That means approving authorities, all involved business and IT folks, and those directly implementing the adjustments and changes.
Manage risk very carefully. Remember: In the realm of risk, unmanaged possibilities become probabilities. If you're worried any particular bad thing can happen, don't risk its manifestation – discuss it at the project meeting table, and alert stakeholders and sponsors where necessary.
Again, due diligence up front is leveraged and makes for smooth projects – define goals and objectives and you'll be fine. Remember too that, whether you're a certified project manager or someone just piloting because you're in the chair, it's best to practice on some smaller-scale projects before tackling big ones. Before your first core, mission-critical, upgrade – start with something a little more limited in scope: A new HelpDesk ticketing software, for example. Pilot a project to update Windows, or MS-Office, or the like.
---
December 26, 2012 2:46 PM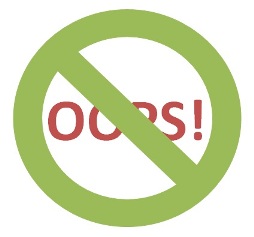 Upon entering any project and its allied management, whether you're the titular project manager, or one of the subordinate leaders of sub-elements of the project, or a member of the  project staff, or a business player, you need to recognize common mistakes so as to avoid them.  Watch for:
Poor identification of the critical path:  Know where you are, where you're going, and how to get there.  Seems simple enough; but simple isn't the same as easy.  In knowing where you are, get all of the necessary resources clearly identified and committed:  Personnel; budget; clear identification of goals – with direct tethers to stakeholders and responsible parties.
Poorly crafted and overlooked milestones:  Be certain to have a realistic hierarchy of goals and deliveries identified.  Once identified, define them well, to include having them in the right order; for example, if a part of the project requires more bandwidth, and another element is a bandwidth upgrade – get the chronology right and do it in the right order.
Lack of Comprehensive Stakeholder Involvement:  Many projects go awry due to a failure to get executive buy-in.  Particularly for IT personnel, determine:
Who are the stakeholders that will "play fair"?  Recognize your strengths, and conversely:  Who has a vested interest in old systems, and who might therefore engage in foot-dragging, or a begrudging engagement?  Are there departments, and therefore players, who might be vested in protectionism and jealousy?  Are any departments "silo'd" that might feel an "outside" project is impinging on their judgments and latitude?
Particularly for projects that bridge "sister-and-brother" agencies, companies, partners, etc., this can be of concern.  Be certain to document "buy-ins" and all agreements – no matter how informal some promises seem to be.  Handshakes and smiles are good – but get it on paper where possible.  Remember:  The most peril can lie outside the legally specified and documented realms.
Broken Communication and Hobbled Collaboration:  Many projects suffer from poor communication, both formal and informal.  In the case of the former, project meetings rely too much on "feel good" accommodations and agreements that are not tied to empiricals, and which are then poorly documented, or not documented at all.  Empirical measures, tied directly to concrete milestones, themselves fully-sanctioned with strong sponsors, are essential.
So, always determine who is doing what, and who has agreed to and sponsored those whats.  Speak directly and accurately in meetings.  Make sure that all accommodations, adjustments,  and agreements are fully understood.  Be certain that adjustments and course-corrections do not violate larger project principles (principles in service to the "local", specific, project – and that also do not violate basic project management practices).  Anything having dire effect must go to negotiation involving business stakeholders, budget authorities, and so on.  Adjustments to timelines, whether involving interim milestones or ultimate go-live, must certainly get on the table as soon as they look to be manifesting, for early involvement of business' attention, and a leveraged attention for best adjustments and outcomes.  Don't try to hide anything.
We'll continue and finish with some final cautions in our next article.
---
December 26, 2012 12:41 PM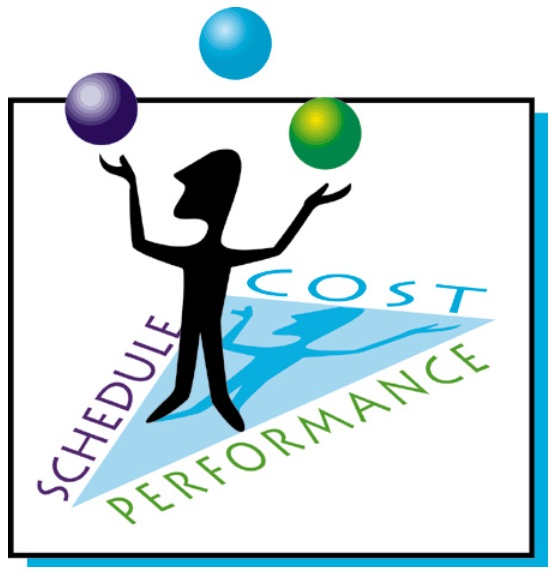 Ready or not, here comes 2013. And… most organizations have critical projects already underway, or planned initiatives for the upcoming new year.
Any new year usually inspires people to forgive, to vow not to repeat past mistakes, and to look forward with optimism and renewed vigor. But in the world of business and one of its most critical supports – Information Technology – avoiding past mistakes, looking forward with optimism, necessitates more than wishful thinking and a forgiving nature.
In a world where, by many estimates, about 25% of projects are cancelled before completion (in order to completely re-define and re-launch), we can see that we need some empirical resolutions to ensure best success. Because, we must further realize that of the projects that are maneuvered to a "successful" outcome, 49% suffer budget overruns. That is not sound business!
Also, 41% fail to deliver the expected ROI and general business value. 47% have higher than expected maintenance costs. And amazingly, 62% fail to meet their anticipated schedules, to include milestones and ultimate go-live dates.
So what is the main problem? According to c|net News, "There exists a disconnect between the IT department and the business owners who sponsor IT projects. The two often have very different ideas as to what they want." But how can it be that IT "wants" something different than Business? The business-half is in charge. IT suggests and (hopefully) brings about the best supports, given the business goals and available supports that the marketplace offers – but IT reports to business – even in a tech company.
Here, we're defining "business" as those leaders and stakeholders who are not IT: In other words, our discussion applies not just to private business, but to public sector endeavors such as government agencies and departments, non/not-for-profits, and even sole proprietors; they too suffer the divide between effective business, and effective business-enablements.
So, business must take the lead: Business must be qualified to discuss its own requirements, priorities, and available resources (personnel, budget, time).
Business must qualify , as a stakeholder, in understanding the technology it owns, uses, and progresses – in not only effecting the best business outcomes and solutions/service to others, but in matters of business survival. Not too many wrong turns can be sustained.
Next: We'll look at the most common mistakes, with advice on how to avoid them.
---
December 24, 2012 1:39 PM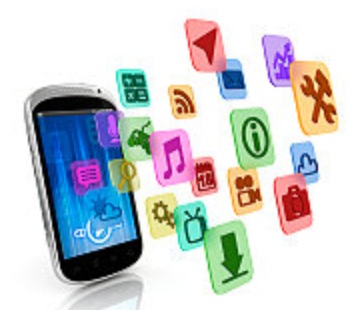 Small businesses manage their budgets and overhead very carefully – they have to.  Investments must represent true investment – with direct payoffs in the form of strong ROI; a carefully managed Total-Cost-of-Overhead (TCO); and it helps to have an efficient Time-to-Value (TtV) – that is, the sooner something can start contributing and delivering to the bottom line, the better.
We want quick returns on our investments, and we want to maximize profit by keeping overhead low even as we invest in, and implement, those things that drive revenue.  And so, in the face of an ongoing mobile revolution, any business has to ask itself:  Should we have an app?
Regardless whether any small business sees the need for an app now, or later, it is wise to have a mobile strategy.  Stay current with what is available and what it may do for you now, or in time.  A good start is to simply optimize your website for mobile.
"Mobilizing" your website
Engaging a provider to build a mobile-friendly website is quite inexpensive.  Most sites today utilize a Cascading Style Sheet-based design (CSS).  If you're not on a CSS protocol, you need to get there in order to be positioned effectively for the future anyway, and that is going to cost a bit.  Assuming you're utilizing CSS, optimizing your site for mobile isn't difficult, or expensive.  Many web hosts will even provide a free basic mobile site.  However, for a polished look, best operations, and best certainty, you'll want to partner with a strong mobile solutions provider.  It's a good relationship to get underway in any case.
Advantage of Mobile Site over App and Vice-Versa
In terms of compatibility, mobile sites work universally, independent of device, and generally independent of browser.  Score an advantage for the mobile site.  However, recognize that a mobile user must open the browser, and negotiate to the URL, or to the Favorite, or Bookmark…
Apps, on the other hand, can be anchored right on the device's desktop.  And, apps can be customized to do anything, whereas mobile sites are merely replications of regular site, or even slightly diminished versions.  Apps can provider reminders, can notify of new products and services, can be customized to tie into other apps, and so forth.  It's important to recognize that each app will need to be created for each platform you intend it for, whether Android, iPhone, or Blackberry.
Apps can also be "inside-facing" – that is, they are not customer-oriented, but rather they help your inside people and processes.  Inventorying, for example.  Dispatching, as another.
Cost?
An app for your organization can cost anywhere from thousands, to tens of thousand, to hundreds of thousands of dollars – depending on the size and scope of your business and related desires.  A good place to start is with an initial, high-level, conversation with a mobile applications solutions provider – that much is free.  They can help you to decide where the advantages lie:  site vs. app, and the robustness of each, and where the paybacks are.
I'd like to wish all readers of this blog and all staff at TechTarget:  Happy Holidays!
---
December 21, 2012 12:24 PM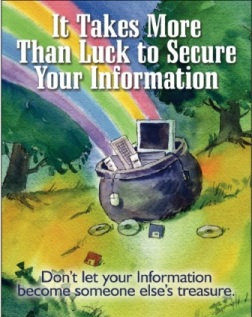 A national newscaster revealed something this past Sunday that is quite extraordinary, given the times we live in. He said, approximately*, the following on a news broadcast: (* details have been disguised)
"I'd just like to say that tomorrow is my brother's birthday. Lieutenant Colonel John Smith, of Oshkosh, Maryland is 50 years old."
It's interesting to note that we have a fair amount of info for piecing together… identity theft:
Name
Rank
Date of Birth
City and State
If you think this is being a little paranoid, remember this saying: Just because you're paranoid, it doesn't mean no one is out to get you. The real trouble here is the efficiency involved. It's one thing to mention this information to a small group of people – perhaps some of whom you don't know well. It's quite another to divulge this information nationally, to millions of people (and that is this particular show's audience numbers).
With a little diligence, an identity thief can cruise past this person's mailbox, and steal even more critical identifying information. As a start, the info above is enough of a foundation to make that cruise a good investment in time. Also, "spoofing" then becomes more easily leveraged; the contact of this person, either via e-mail, USPS mail, or even in person.  One example is a spoof whereby someone poses as the representative of a veteran's organization, and asks to "verify" information:
"Hello Colonel Smith, we have your city and state as Oshkosh, Maryland – is that correct?  Thank you.  We also have your date of birth as 12/16/62 – is that correct?  Would you please provide your Social Security Number for verification?  Thank you Sir."  You get the idea.  It happens quite frequently.
The newscaster could have said, merely, "I'd like to wish my brother a Happy Birthday… tomorrow is his birthday" – and left it at that. However, if it were me, I would say nothing. In the first place, a national news audience doesn't particularly care, and while the mention "on air" might please his brother, it's really not worth it. It's not that big a deal in personal terms – being that it's likely that a phone call will be made (or can be made, in lieu of the on air greeting) later.
It's time to think very carefully about what you do: What you reveal; to whom; where; and when (are others nearby who can overhear? Online – are systems truly secure?).
In divulging personal information, regardless of the reason, always ask yourself:  Is this something that I have to provide? If it is truly necessary, is this the superior way to do it?
What this newscaster did is fine… for the '50s, '60s, '70s… etc. – maybe. But in today's times?
NO. WAY.  Be careful out there.
---
December 17, 2012 5:07 PM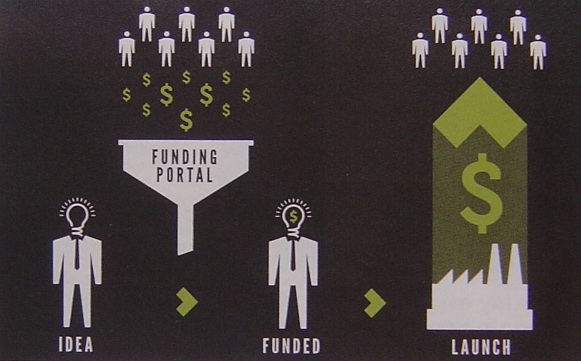 Ever had a great idea, but thought:  Ah, I don't have the capital to get this off the ground… and probably never will…  and who's going to want to invest with an unknown like me, anyway?
Or perhaps you've wanted to be an investor yourself:  Getting in early, when the gettin's good.  A relatively small investment, with big payouts to come once a company or idea really takes off.
But again, perhaps you've lacked what you considered to be the necessary capital.
Well, the opportunities for everyday people, investors large and small, are changing due to the phenomenon of crowdfunding.
Crowdfunding of sorts has been around forever.  Whenever groups of people contribute to a common cause – whether a business startup, political campaign, building fund, or a healthcare endeavor for a sick friend or acquaintance, for example – we're leveraging the strength of numbers (the crowd), in garnering small, but powerful, accumulations of resources.  In many cases, we not only "fund" with money, but also with other resources:  Time; attention; focus; and work.
However, with today's buzzword branding of "crowdfunding," we're speaking of equity-based funding:  contributing to a company's start, with you the funder, subsequently owning a small piece of that company.
"Funding Portals" provide a rich dynamic whereby potential investors can find and begin partnerships with entrepreneurs – websites and related entities already exist, and more are coming.  However, recognize that the Securities and Exchange Commission (SEC) will be regulating these portals, as well as activity within crowdfunding – in protection to both investor and startups.  Much of the legislation is contained in the JOBS Act (Jumpstart Our Business Startups Act), of April 2012.  However, also recognize that the area of crowdfunding is in a relative flux, and due diligence in this area will remain challenging as further legislation and changes manifest themselves.
When considering crowdfunding, whether as pitchman/woman or potential investor, recognize that crowdfunding is undertaken for more than equity.  You may see a startup idea that is poised to deliver something to market that you've been waiting for, or just have a vested interest in, by virtue of the fact that you'll use it to good advantage:  "Why hasn't someone invented a way to _______?"  "Why can't someone invent something that _________?"  Now you can help bring a certain something to market, and capture its best use to your own advantage – whether for personal pursuits or as a business lever.
Crowdfunding is a great way to uncover ideas that, 'till now, may have been hidden.  Consider:  The Wright Brothers invented the airplane by virtue of their knowledge, intelligence, and perseverance – same for Edison and his light bulb and myriad other inventions; but they also had the means, and the time.  How many people, 50 years prior, 100 years prior, had valid ideas, of all sorts, but lacked the resources to develop them?  How many sparks of ideas self-extinguished because the intelligent people behind them spent their days tied to more mundane work – perhaps plowing a field all day in bringing food to their family's table – unable to climb into a position to devote time to development… and delivery?
Given the leverage of today's social media, and funding portals, we can say:
Get ready for a big change…
---
December 8, 2012 12:45 PM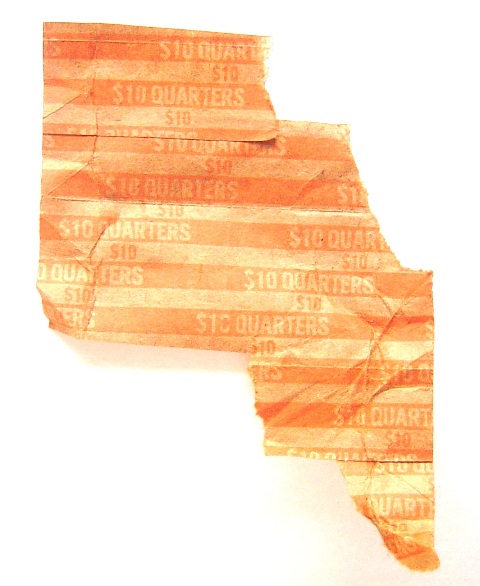 I've been known to say that we're in real trouble as a society when banks start failing the routine task of maintaining simple balances.  Simple balances such as those associated with Checking and Savings accounts.  It will be a sign.  (Maybe some of you will report that we're already there – I'd be interested in any stories).
Recent events, such as this one *, leave me wondering if we're not very close to a failure of banks to do simple accounting – an accounting for whether an account is open or not; whether it is active or not.  And now, another recent event does not lend confidence – rather, I see the value of empirical measures, and associated discipline, being discounted…
This most recent event certainly touches on both business and IT, and I'd like to relay it here.  
Back in July, my area suffered a very severe storm.  It was nothing on the scale of Sandy, but my neighbors and I were without power for 7 days – many other folks went without for 10 days or more.  I live near a state park, and was able to use the facilities there for showers.  Toward the end of the week, I realized I'd need to wash clothes very soon.  I surveyed the park's Laundromat, and saw that I'd need quarters for the washers and dryers.
I procured a $10 roll of quarters from my bank.  However, that very day, my power was restored.  The roll remained unopened in the console of my car for these past months.  A couple weeks ago, I opened the roll… and to my surprise, found a nickel in the middle!  My $10 bill had been turned into $9.80.
Not a big deal to some, and the missing 20 cents was nary a concern to me.  But consider what this means…   A major bank dispensed $9.80 for $10 in what was supposed to be a transaction of equal values on each side.  If a bank cannot execute its primary duty, in safeguarding and accounting for money, then is it a "bank" at all?  In other words, if anyone banks $10, and desires to withdraw $10… then $10 is due; no other amount represents true banking.
But the really interesting part involves my conversation with one of the managers there.  I told her about finding the nickel in the roll.  We laughed over it, and she offered to reimburse me the 20 cents.  I say "no," she only had my word for it – but asked how the error could have happened.  She replied that the bank only examines rolls at each end, for the appropriate coin (in view).  I asked how they knew whether there wasn't a bar of lead in there, or something else lending weight, with coins on each end.  She said that there are rolls the bank packs themselves, but additinoally, the bank takes rolls of coins from customers – but they must be customers who have accounts at that branch, and they must initial the rolls they tender for paper money.  The bank also gets rolls of coins from other banks – in these cases, she said, those rolls are stamped – essentially branded to indicate the bank from which the roll came. 
I asked her if she wanted the initials/or bank stamp that was on my roll – it was intact in the car.  She said "no."
When I returned to my car, I examined the torn roll – all of the paper is there (as pictured), but I found no initials, nor did I find a stamp.  My bank was either being disingenuous with me, or worse, their standards have slipped… or no longer exist.
Again, on the surface this appears to be a small thing.  But, the more you think about it… 
Any thoughts?
____________
*  I am still receiving statements from Capital One – after a three year absence – but now indicating a balance of negative $6.99.  In other words; they owe me money.  Think I'll collect the same exhorbitant interest they charge us?  It's the Zombie account that won't die.
---
December 7, 2012 7:56 PM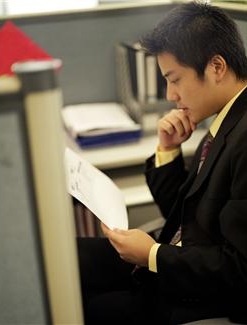 A woman recently lambasted a contractor with a review on Yelp – She gave him a one star review, and commented that he did not do the work she hired him for.  She further accused him of damaging her house and stealing some jewelry.  Ouch.  That could hurt business. 
Caution is indicated here:  Impugning someone, such as accusing them of committing a crime, causing damage, etc., is very harming to one's reputation and business prospects.  The receiving party, if claiming damages from erroneous or exaggerated reviews, can seek relief in the courts and you may be liable for those damages.
The woman in this case is being sued for approximately $750,000. 
Lawyer Steven Sack, appearing on Fox & Friends, Fox News, says:  "The internet is a wonderful tool, but it's a legal trap.  The minute you put something in writing, the genie's out of the bottle, and your words have meanings, and depending on what the reasonable person interprets those words to be, they can be actionable as defamation, or they can be an opinion… so that's where it begins."
When posting online, be certain of the difference between opinion vs. statement of fact – beware of providing defamation; harm to anyone's reputation.
Be wary of certain words and phrases.  Avoid stating that someone's a criminal; that they're going bankrupt; they're financially unstable; they may not be operating in business long, etc.
Be aware of free speech vs. slander.  You can Google these concepts and legalities, and I suggest you do, particularly if you post a lot.  Other readers, business people themselves, likely have ready access to legal counsel.  Adhere to that advice, but as importantly, be certain all staff are trained; be certain there are refreshers; remind staff of their obligations to be careful, to remain informed, and to exercise great caution online – both when "wearing the company hat" – but also when operating as a private citizen.
In another case, a woman pretended to be a customer, not a competitor (as she was), and she wrote an opinion online, posing herself as a consumer who purchased a product that was "shoddy".   She is being sued for $200,000.  The person bringing suit was offered $5,000 and they just laughed, according to Mr. Sack.  The case is now in litigation.
Again, be careful out there.
---
November 30, 2012 3:15 PM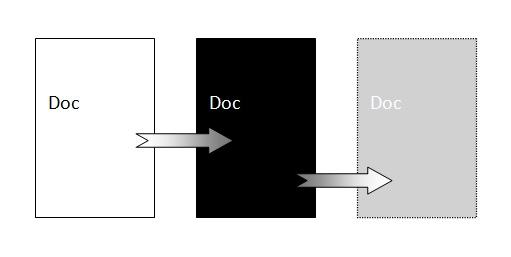 Essentially, the life of a document and its associated control would go something like this:
Creation:  Staff creates new content, perhaps a new word-processing document.  This new content may be generated as entirely new material, or it could be content that is being repurposed and built upon (edited and added to) from existing content.
Filing (Storing):  The new content is filed, as a file's creator would normally generate and store documents (File, Save, or Save As…, etc.).  The Repository will take action based on the file's destination folder; based on the creator's choice of  folder  according to subject matter, and the content's relation to other like-content. 
Categorizing (Taxonomy):  Storage is also the means by which content is categorized; by virtue of the folder in which content is stored by the creator.  Folders within the Repository will be dedicated to specific categories of content.  Depending on your desire, the content management system can also suggest storage and categorization based on its inspection of the document's contents at the time of its creation, and subsequent comparison of key content to an organizational taxonomy table. 
Metadata (Tagging):  The content's location and categorization also lead to the assignment of key metadata.  The document's metadata is assigned by virtue of a metadata template that is associated to each content area (folder).  This way, each template's information is leveraged for the tagging of all like-content in a specific folder.  The system can also extract keywords from documents for inclusion to the metadata, and can generate an abstract or summary.
Delivering/Sharing:  Content is now delivered when users query for various categories of content, on keywords, and concepts.  Collection and reference of data is now as comprehensive as possible.  You can even have your content/records manager query on content that has specific areas of metadata that are unpopulated (unfilled) – for purpose of generating a report concerning these documents.  The report(s) can then be delivered to various content authorities for completing the assignment of metadata to this content.
Re-using and Repurposing:  Now that content is locatable, identifiable, accessible and readily understood, it is easily employed for reuse.  With proper authority and access, departments can glean knowledge, formatting, and process from other department's content.  Further, content can be repurposed:  it can be modified and incorporated to new content.  
Review and Reporting:  Content now is available for review by any appropriate authority.  Reports can be run to review all documentation generated in a given day for a specific client, for example.  You can view who produced the most effort – who is doing the bulk of the real work? 
This is also where you take action on content in accordance with a retention plan.  Disposition dates of documents provide the yield for a monthly report.  The report can indicate all documents subject to archive, and subject to destruction (pending review by the appropriate authority, of course).  This report can also expose those documents that must have their disposition date adjusted – this can be due to reasons of regenerated business, inquiry, subpoena, discovery, etc. 
Action:  Once content ages to the point where it is no longer being accessed (easily determined by reports), and is unlikely to provide further, or timely, business value, it can be archived or destroyed.
     – Archiving:  Archiving the information means that you remove it from your active business environment, and store it somewhere else – perhaps with a vendor who maintains your offsite backups, or in an offsite warehouse where your organization makes other storage of items.  Archived material can be compressed and stored on high-density (high capacity) storage media, such as DVDs and CD-ROMs. 
This material is cataloged, and can always be referenced if the organization needs to go back to it.  It can even be reintroduced to your active business environment if the need arises – nothing is "lost."  The purpose in archiving is to prevent the active business environment from becoming overrun with useless data.  Taken to its logical extreme, if you don't manage the removal of relatively useless data, it will eventually outweigh your useful data. 
     – Destruction:  Business material that becomes completely obsolete, as determined by Business, and technical documentation as determined by IT, should be destroyed.  Anything that serves no further purpose to the organization should be destroyed.
A Practical Example:  Let's provide a quick practical example in the life of a document: let's say that the organization has a current project; Project LMN, and associated content.  The project's scope or domain could be anything: a marketing initiative, it could be legal representation of a client, it could be a new software solution and its implementation. 
Project LMN documents reside in a specific Project LMN Folder – that folder would have an associated metadata-template for the management of this project's content.  Also, the main folder would have attendant subfolders, such as an LMN Budget folder for specific budget info and docs regarding the project.  Of course, specific subfolders to the main project folder would have their own metadata templates too.  Subfolder-templates can inherit the main folders metadata if you like.  However, many subfolders will require at least some unique metadata information.  For example, it's likely that budget material associated with the project has a specific authority for access and edit; so, a budget subfolder within the main project folder would have a metadata template that differs, and it will tag budget information with different metadata.  Of course, authorized content creators and users within any folder can edit and tweak metadata to reflect the desire for control and disposition of that particular content.
Creation of new LMN content, such as a document, would bring up a dialog box requiring a destination folder – once identified, that folder's default metadata would fill this new document's specific metadata template.  This would tag the document based on its content, and its match to taxonomies used in the organization.  Thus, when we create and file content in a specific folder, it gets tagged with appropriate metadata based on the folder's template.  In this manner, controlling elements that are common to all Project LMN material are applied to content: Such things as the document's title, its category (Project LMN), its life, its disposition instructions at the end of that life, its securities and permissions, among other things. 
In addition, other specific tags relevant to the document itself are made.  The contents can be surveyed by the system in order to automatically generate very specific metadata that is relevant only to that individual document – extracting keywords such as author, names, places, dates and other key information.  The system extracts these things based on built-in pattern recognition.  These keywords can be gleaned based on a predetermined list provided by the vendor's application, and by your own internal table of keywords – you can build your own custom pattern recognitions. 
This document could also inhabit multiple categories:  for example, its metadata could indicate that it is a general budget document, and contains specific Project LMN budget components.  The document would have a disposition date for archive or destruction, in accordance with the project's standing in your retention plan, and as necessary, within compliance for any of the other categories. 
The creating user would either accept the metadata, or edit it – as authorized.  All new content that is generated and saved within the Project LMN area of the Repository will automatically assume the appropriate metadata for the management of that content.  Now the document is enriched according to attributes and keywords associated with that document – things your users can identify and use when searching for LMN content.  This way, authorized users can search, browse, and aggregate critical content regardless where the content is stored. 
Let's say a creator generates a document regarding the project, but chooses to store that document in their User folder.  This is ok, since the document's overall subject matter (Project LMN) will still allow appropriate categorization, and subsequent associated default metadata.  The system will still review the document's content in order to generate the other specific metadata.  In fact, a likely scenario would be one whereby an authority would arrange for a Project LMN subfolder within all User folders for those staff associated with the project – using the same default metadata template for the main Project LMN Folder. Therefore as you go along, all Project LMN documents will be traceable, retrievable, and actionable no matter where they reside – in user folders, central project folders, or even e-mail, if desired, and no matter what the form of the document: wordprocessing, spreadsheet, presentation, or e-mail.   
We've now enabled a powerful way to identify the Project LMN files, and anyone associated with the project can search for them, and if authorized, access and use them.  When we capture content, we can: develop; manage; review; approve; archive; check-in/check-out; maintain version control; perform full-text and metadata search; optimize team communication; automate routing requirements; and deliver notification of status changes and new documents.  We can provide specific information and the surrounding context needed to optimize work within the project team.  We add value by exposing such related material as additional documents, tasks, calendar items, and team e-mail.  Our intellectual capital is in a secure, centralized repository.  All project matter is centralized and accessible.
This material can also be copied and repurposed within other projects and initiatives when it has relevant content.  Too, when Project LMN is long completed and done, and its material no longer of any practical use in the active environment, this content can be fully identified and acted upon for ultimate disposition.
---