---
July 19, 2011 7:48 PM
Posted by:
Guest Author

Network Security
,
Web 2.0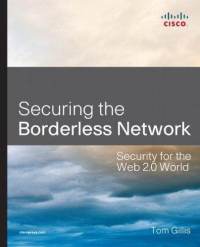 Member MarkAyre agreed to review Securing the Borderless Network: Security for the Web 2.0 World. If you'd like to review a book for the Bookworm Blog, send me an email at Melanie at ITKnowledgeExchange.com to express your interest. Disclosure: The publisher of the book provided a free copy for this review.
Written by an employee of Cisco and published as part of the Cisco Press range it should come as no surprise that the solutions presented in this book to the issues raised are based around Cisco products.
Touching on a number of hot topics, under the umbrella of "The Borderless Network" – which the author later expands on to require "a movement of openness in the Enterprise" – some of the topics covered include the consumerization of IT, cloud computing, identity management and the challenges now and in the future of supporting Generation X/Y employees in the workplace.
Throughout, the author clearly speaks with hands-on experience acquired during the two decades he has spent in the Infosec field and challenges the usefulness of traditional security methods and what he describes as the outdated and increasingly unrealistic "Culture of No."
Continued »