---
May 2, 2010 8:24 PM
This sponsored guest is from Cisco Systems and was written by Mark Leary, a Cisco senior strategist and Chief Marketing Officer – Network Systems.
In the first two segments of this blog series, I focused on two of the three cornerstones to success in Borderless Networks – Workplace Transformation, and Technology Leadership. The former targeted the connected user and the latter took aim at the technology at work within the network itself.
For the final segment in this series, let's turn our attention away from systems and technology and focus on Operational Excellence. How does one take all this advanced technology and effectively and efficiently respond to all the user and business demands that accompany this brave, new borderless world? After all, even the richest and "rightest" technology solution will fall short of expectations if it is not bolstered by 1) a proven set of best practices, 2) a strong support structure, and 3) an accurate and complete view of network costs and value.
Let's examine each of these key operational components.
Best Practices and Borderless Networks
In today's connected world, business systems and processes are built to take advantage of the network. And just as business systems and processes are unique to individual customers, so too are their networks. Special network service requirements can be dictated by customer business model… or industry pressures… or geographic location… and on and on.
At a business level, Cisco functions as a strategic partner. Industry experts advise customers on networking norms and trends. This advice can target a specific vertical industry such as health care or government. Or it can take aim at horizontal business functions such as remote collaboration or customer care. And Cisco backs up this advice with networking solutions that get you up and running quickly. Examples include, PCI for Retail, Medical-Grade Network 2.0 for health care, and Citizen Connect for governments.
At a technical level, Cisco provides IT and network staff with expert analysis, proven designs, certified training, and technology management best practices. Cisco's Design Zone and the Cisco Security Center serve as two prime sources of in-depth technical guidance. Cisco makes sure you do networking right… from the start. Here, the breadth and depth of technical guidance offered to customers is unmatched in the industry.
In addition, Cisco also leads by example. Cisco IT has long been recognized as a leader in supporting the networked organization. Our internal expertise and experience is passed on to customers, enabling them to learn from our successes – and yes, our mistakes. Cisco is also recognized for its leadership in Green IT practices. Teleworking, remote collaboration, and resource virtualization are all of strong influence within Cisco. And for those customers looking to take advantage of developing cloud services, Cisco is an active provider (WebEx Collaboration Cloud) and partner with cloud service providers.
Cisco works hard to make sure you do networking right. As my father was always fond of saying, "Do it right. Do it once."
Support Services and Borderless Networks
The strength of network support services, whether you're looking at your own internal offerings or those of your technology providers, is a prime determinant of networking success. From design to deployment to operations to innovation, how well you support your business and your end users determines how successful you are in networking. This is not to say that technology or solutions or products don't matter. They do. What this says is that support service excellence leads you to use the right solutions and then use them most effectively and efficiently.
Cisco offers a wide range of services options. This allows customers to best balance their support requirements with their support budget. Cisco's enhanced Limited Lifetime Warranty (LLW) reduces maintenance costs, while still providing solid support. Above and beyond LLW, Cisco offers a wide range of services options — from basic (e.g., Smart Foundation) to premium (e.g., SMARTnet and Smart Care) to advanced (e.g., Security Assessment and UC Migration). Cisco will even co-manage your network through our Remote Management Service (RMS).
Customers are provided further flexibility through Cisco direct and on-line service capabilities. Both Cisco's Technical Assistance Centers and web-based support are award-winning. No one supports networks like Cisco.
In order to optimize support for Borderless Networks, Cisco also offers a single service contract that covers the core technologies within the Borderless Network Architecture – routing, switching, security, and mobility. For example, Cisco's Network Optimization Service encompasses all four of these core technologies, allowing Cisco to optimize your Borderless Network as one single business system.
Whatever your preference in service levels or service delivery methods, you can rest assured that, with Cisco, you're receiving the best support available in the industry. No other vendor comes close to offering 5 global TACs and over 1,500 support engineers dedicated to network support. Additionally, as you look to staff your own IT organization, the more than one million Cisco-certified network technicians represents a huge source of talent from which to draw. Combined, Cisco's resources and your resources ensure that your network and your organization overall is provided the best possible service and the best possible service levels.
Cost Savings and Borderless Networks
Operating expenses typically account for 75-80% of the networking budget. It makes sense then that operational efficiency drives the greatest network-related cost savings. That doesn't mean that capital expenses should be ignored. You must save wherever you can. Beyond network-related CapEx and OpEx, you should also be mindful of costs that can be directly influenced by the network. For example, downtime results in lower productivity, customer dissatisfaction, and lost revenue. Underutilized resources result in over-spending on systems and support.
Networking devices that support multiple services (e.g., connectivity, security, voice, mobility…) eliminate the need for specialized devices and reduce network complexity. Service intelligence and modular designs also extend the service life of equipment, protecting your investment over time. The result: CapEx and OpEx savings.
Cisco further reduces OpEx through such key capabilities as zero-touch service activation and management automation. For example, Cisco's ISR allows remote provisioning of integrated services. Cisco's Embedded Event Manager (EEM) automates common tasks and problem handling.
Cisco's industry-leading high availability features help avoid scheduled and unscheduled downtime. For example, Cisco's ISSU allow software updates while the device remains in service. Cisco's CleanAir technology assures the integrity of your wireless network environment. On the security side, industry-leading products and practices ensure your network is protected from forced downtime or slowdowns. These same security solutions also help you avoid productivity losses when users are remote or mobile. For example, Cisco Virtual Office (CVO) provides for full protection and productivity for teleworkers.
Resource savings extend beyond the network through key virtualization (e.g., VLANs, DMVPN) and sustainability (e.g., EnergyWise, CVO) services. Here, reductions in IT systems, energy use, and facilities requirements drive savings across both IT and the business.
Cisco EnergyWise also serves as a prime example of how the role of the network is expanding to drive value beyond traditional IT enablement. Today, operating as energy management software on Catalyst switches and Cisco Integrated Services Routers (ISR), Cisco EnergyWise along with its Orchestrator management console and PC client software, measures, monitors, and controls power demands of a variety of networked devices (e.g., IP phones, WLAN APs, PCs, and servers). Cisco's complementary Network Building Mediator enables heightened control over the power demands and energy costs relating to the facilities infrastructure – e.g., lighting controls and HVAC systems. In the future, Cisco EnergyWise and Mediator integration combined with technology partnerships will further consolidate energy controls across the network, providing you with complete control over your organization's energy consumption and costs.
Last, but certainly not least, Cisco provides for direct cost savings on equipment and maintenance through a number of key programs. Product bundles reduce the cost of purchasing commonly grouped networking systems and components. Cisco Capital Finance provides flexible leasing options when customers are looking to balance CapEx and OpEx and adapt their networks as new demands arise. Trade-in allowances reduce network refresh costs – and support sustainable electronic waste initiatives and directives. And, as mentioned above, Cisco's enhanced Limited Lifetime Warranty further reduces the cost of the Cisco solution.
As you see, doing Borderless Networks right involves far more than picking the brightest technology, the best solution, or the cheapest product. It is as much technique as it is technology. Are you doing networking right? Are your suppliers and service providers doing right by you? Think you'll do this once? Or will it take you multiple tries to get it right? Remember… Do it right. Do it once.
I hope you enjoyed this series on Borderless Networks. Let us know what you think. And as always… let us know what you — and your network — need.
April 29, 2010 3:58 PM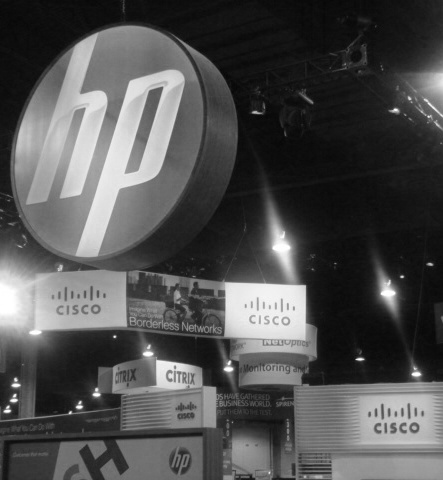 This week at Interop and beyond, the battle lines between Cisco's and HP's networking divisions were clearly drawn in black and white, and the future promises a long-drawn war between the former partners to win the hearts, minds and wallets of networking professionals.
The most visible sign that the two competitors are willing to play hardball wasn't on the showroom floor at all: Both giants held their respective partner conferences April 26 – 28th, with Cisco in San Francisco and HP right down the street from Interop at the Aria Resort and Casino.
IT pundits and partners said the message was clear: You are either HP or Cisco now, not both, particularly if you want to sell networking equipment. The was all precipitated by Cisco's bold move into the server market and HP's recently finalized 3Com acquisition. While the companies had been particularly complementary previously, they now were very much overlapping in product lines, which means a major restructuring in what kinds of deals can be made.
The heat has spilled over onto the Interop show floors: This year, likely due to acquiring 3Com and any Interop reservations they had, HP had not one but two giant show floor presences, one of which was right next to Cisco. I actually sat amidst a posse of HP executives during the keynotes, who not-so-quietly whispered "Bullshit" during the presentation by Cisco's Brett D. Galloway. Let's blame it on the Vegas mentality, but it seemed like the group was two slides away from throwing tomatoes.
I spoke with Nick Lippis, of Lippis Report fame, for his take on the situation and he said that HP faces some big challenges entering Cisco's turf, but they also have some large advantages regarding strong existing channel and supply chain partnerships that span their networking, server and printer lines, which can translate into a lower acquisition cost and the ability to corral fence sitters into their camp whether they want to or not.
"It's going to be very difficult for a channel partner to support both Cisco and HP," he said. But with Cisco retaining a large market margin – about $40 billion to HP's $5 billion, according to Lippis – and a strong technical edge, the two companies will have very different messages to bring to the market.
---
April 29, 2010 8:30 AM
This sponsored guest is from Cisco Systems and was written by Mark Leary, a Cisco senior strategist and Chief Marketing Officer – Network Systems.
In my last blog, I outlined the three cornerstones of success for Borderless Networks – Workplace Transformation, Technology Leadership, and Operational Excellence. I also offered a detailed view into how Borderless Networks accelerates the transformation of the workplace by enabling the visual, mobile, and in-the-moment user experience.
Let's now turn our attention to Technology Leadership within the network infrastructure itself. In this always-on ever-connected borderless world, leadership in networking is a critical success factor for all organizations. And no longer is the network judged as a tactical IT-serving utility. Now, it is judged even more critically as a strategic business resource.
Key questions to ask include… How does the network best deliver rich and consistent services? How does the network best protect connected resources and users? And finally, how does the network best adapt to new business demands and absorb new technology advancements? Let's answer each of these three key questions now.
The Network Best Delivers via a Systems Approach.
The network is a critical business system, with many components required to work as one.
Extensible systems and integrated services combine to multiply the value of the Borderless Network. Cisco's wide-ranging portfolio allows freedom of choice for the customer. Designed-in hardware assists and a wide range of network and service modules ensure that the network delivers not only rich services, but also provides consistent performance when services are turned on. The Cisco Integrated Services Router (ISR), with its extensive services capabilities, serves as a prime example here. Embedded hardware assists for voice, video, and security processing heighten ISR service capabilities and service quality.
Consistent services and common components also enable cost savings and operational efficiency. Cisco IOS provides a common software base across routing and switching systems. Common sparing and component reuse protects your investment as you expand and enhance your network. The Cisco ASR and ISR serve as good examples here. By design, the ASR makes use of SPAs already in use in customer networks. The recently announced ISR G2 makes use of network and service modules designed for the original Cisco ISR series.
The systems approach also delivers operational efficiency. Management expertise, policies, and practices can be applied across the network. Routine tasks and problem handling can be automated via such key features as Command Line Interface (CLI) scripts, Embedded Event Manager (EEM), and Generic On-Line Diagnostics (GOLD). Further consolidation and control is enabled through centralized management facilities such as CiscoWorks LAN Management System (LMS) and Cisco Wireless Control System (WCS).
Sun said it right in the 80s, "The network is the system." We couldn't agree more.
The Network Best Protects via Integrated Security.
Secure access to the network and networked resources is certainly a key area of concern for our customers. Security threats come from every direction – and are ever-changing. Protecting the network – no matter the angle of attack – is a must for every organization in this day and age. In many industries, it is even a regulatory requirement.
Given that threats appear in many forms and along many fronts, it is vital that security mechanisms provide blanket coverage for your network and networked resources. Do you lock all your doors when you leave for vacation? Or just some of them? Blanket coverage requires that security services be in operation across the network infrastructure at all appropriate points of potential attack. 
And while these mechanisms must provide for maximum protection, they must also minimize their impact on network service levels. Protection should not sacrifice performance. And performance should not sacrifice protection. Here, Cisco's systems approach outlined above bears fruit via integrated security services. Networking platforms that are optimized to run security services allow you to "turn on" security without driving down network service levels.
To further ease the impact of security across the network, central policies and consistent management interfaces allow the network operator to enforce security without having to commit to micro-managing security functions and secured users and resources. Here, the key is to balance effective security enforcement with efficient security administration. The goal: Provide full protection for your network and full productivity for your support staff.
Cisco TrustSec serves as a good example of an effective and efficient security service at work across the Borderless Network. TrustSec dynamically assigns access and services for users and devices and ensures that endpoint devices are authorized and healthy via consistent, network-wide security policy enforcement. TrustSec also helps address compliance requirements by providing access control to sensitive and valuable information and assets, collecting user activity and history data, as well as providing end-to-end monitoring and reporting capabilities.
Beyond TrustSec, Cisco further strengthens your security stance across many critical – and vulnerable — fronts. For example, Cisco AnyConnect extends access security to mobile users and their device of choice. The Cisco Virtual Office provides a complete teleworker solution, enabling full productivity and protection for the remote worker. Other security solutions target such key requirements as threat defense, data loss prevention, and PCI compliance.
When securing your network, it is also vital to remember that success is as much determined by solid processes as it is by strong products. Cisco's unmatched portfolio of security support services run the gamut – from assessment to deployment to optimization to ongoing remote operations. In addition, Cisco also provides for proven secure network designs via Cisco's Design Zone for Security, a wealth of security guidance and resources via Cisco Security Center, and rapid reaction to threats via PSIRT Advisories.
In this connected age, you must provide the most freedom and greatest flexibility for your users. While at the same time, you must exercise absolute control over connected resources – and all who wish to use and abuse these resources.
The Network Best Adapts via Continual Innovation.
In today's world, continual network innovation is vital to achieving IT and business goals.
Cisco spends $5B+ in annual R&D on the network. Worldwide, 30 major labs and 20,000 engineers are dedicated to network technology and product development. We are a networking company. It is what we do. This focused and unmatched level of investment keeps us in front of not only our competitors, but more importantly, our customers looking to always do more with their network.
Evidence of this effort can be seen along two critical fronts – network standards and network service intelligence. Cisco has been at the forefront of driving the advancement and adoption of industry standards. Standards pioneered by Cisco read like a Who's Who in networking technologies. Fast Ethernet, Power over Ethernet, SIP, CAPWAP, and MPLS… just to name a few. (See white paper.)
Cisco is also at the forefront of driving intelligent networks. Security, mobility, application networking, voice, video, network automation, and now even energy management all extend the capabilities and business impact of the network. These intelligent services are core to the Borderless Network Architecture. And they are core to the innovation that Cisco delivers to the network and to customers.
Witness the future unfolding within our IPv6 capabilities or our strong 802.11n portfolio. Witness the sustainability gains offered by Cisco EnergyWise and Cisco Virtual Office. Customers are saving money and promoting sustainable business practices by controlling their energy consumption and making the best use of their facilities. With Borderless Networks, everything is possible.
Is your organization leading or lagging in networking? Is your network ready for anything? Or afraid of everything? Does your network allow your organization to jump at or shrink from new opportunities? Let us know where your network stands.
---
April 28, 2010 5:17 PM
I snuck over to the Interop NOC today and surreptitiously took some pictures of all the shiny monitoring tools on display, but it was all for naught. No, my camera wasn't confiscated. Splunk, which provided the most interesting visualizations, went ahead and posted a live streaming video of NOC activity, embedded here:

So far, nothing too lurid or surprising, but maybe you'll spot something.
---
April 28, 2010 3:32 PM
When I spoke with Lenny Heymann, general manager of Interop, he was very conservative in predicting event turnout, saying Interop 2010 was "going to be a little smaller than last year's" conference. Maybe he was just being modest, because once the crowds swelled in, the show was plenty busy.
Several analysts, journalists and attendees all told me that numbers seemed as high or higher than last year's Interop (I didn't attend), but press relations for the show said final numbers would not be available until after they closed up shop, sensibly enough. They would, however, part with one statistic: Paid conference attendance was up 30% over last year, which would (as best I can tell) put conference attendance at around 1,900 people. Keep in mind, conference attendance is a fraction of total attendance since a lot of people just browse the show floor or are exhibiting at the show themselves.
According to the EEIAC (an independent event attendance auditor), last year's event saw a total of 1,478 conference attendees (not including who just visited the expo floor, which is free), which just over half the previous year's attendance at 2,846 (Source PDF ).
---
April 27, 2010 6:37 PM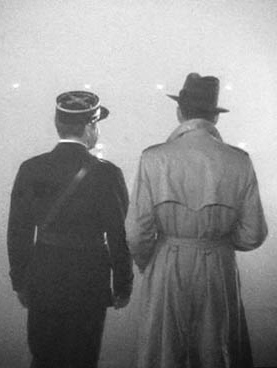 Cisco's been on an acquisition tear throughout most of the recession (See the complete list), but the seeds of today's CleanAir announcement date back to 2006, when Cisco announced a partnership with a little known company called Cognio, which had only begun shipping their breed of Wi-Fi management software the spring before.
But that was just the start to what would turn into a beautiful friendship. The next year, Cisco was so happy with the results it announced it would go on to acquire Cognio, with Cisco's Brett Galloway saying:
"Wireless spectrum is a strategic asset for our customers, and its management is key to the robust delivery of mobility applications," Galloway said. "Cognio's innovation in spectrum intelligence will help ensure Cisco continues to differentiate our ability to deliver our customers rich and dependable end-user mobility experiences."
Yankee Group senior vice president Zeus Kerravala said that acquisition was part of the turning point for Cisco to move from "selling wireless stuff" to becoming a true mobility vendor.
As an aside, Brett Galloway was the Cisco executive who made today's CleanAir announcement, too. While digging around, we also had a Cisco representative offer the following statement regarding what makes CleanAir better than standalone offerings, like Airmagnet or Cisco's own Spectrum Expert:
While spectrum intelligence can be acquired in the form of tools like Spectrum Expert which are useful in the pre-deployment phase, the best solution is to have spectrum intelligence technology integrated directly with the infrastructure.  The fully integrated Cisco CleanAir solution provides powerful features that are not available in Spectrum Expert such as 24/7 proactive monitoring of interference, spectrum security and performance alerts, remote management, and interference device location. And perhaps most importantly, integrated spectrum intelligence enables a new breed of RRM, which is able to understand and intelligently mitigate the impacts of interference.
There you have it: The long, relatively un-sordid backstory behind Cisco's latest wireless defense mechanism. I'm meeting with Cisco again Thursday, so feel free to e-mail or tweet any unanswered questions you might have to me in the meantime.
---
April 27, 2010 2:16 PM

In what may or may not have been a ploy to break the record for number of props used in an Interop keynote (a microwave, Bluetooth headset, mobile phone [those still exist?] and more all appeared), Cisco's Brett D. Galloway (above, right) proudly announced the latest prong of Cisco's Borderless Networks strategy: CleanAir technology (official release). CleanAir-embedded access points (APs) will connect with a WLAN dashboard to give networking professionals a quick overview of where their APs are deployed and, more importantly, what else is laying around in their offices, such as rogue Wi-Fi devices, unsecured wireless routers or even authorized devices that just happen to be knocking out an entire department from being able to sustain a reliable wireless connection to the wireless network.
In short, the new toolset is everything you need to be your own network toxic defender.
The visual dashboard can also overlay an office blueprint so that, for example, you can see who exactly decided it would be a good idea to install that X10 wireless camera to catch who was eating all the popcorn (Cisco's example, not mine). The dashboard also shows a barometer that indicates, on a scale of 1 to 100, how relatively healthy your wireless network is, a nice feature for proving to your local pointy-haired boss that you're doing your job.
The tool is also integrated with some smart technology that automatically helps your APs route around problem areas to reduce interference, and since the technology is on a seperate chip, Cisco claims it won't degrade overall network performance.
Wireless mapping tools are nothing new (Airmagnet is one, for example), but anything officially built into the Cisco fold has a strong market advantage, and it looks like the engineering team there has done a lot of work to make the process as intuitive and friendly as possible.
But really, did they need the bright red barometer?
---
April 27, 2010 12:34 PM
Kevin Kennedy, Avaya's president and CEO, said IP was able to consolidate or supersede dozens of other protocols like PUP and RIP and that the time was soon coming for SIP to take the same route, but a layer higher. Avaya was pushing SIP as the protocol of choice for voice, video, Instant Messaging and other types of communication, and Kennedy gave six core reasons why SIP was the right rule to ring them all: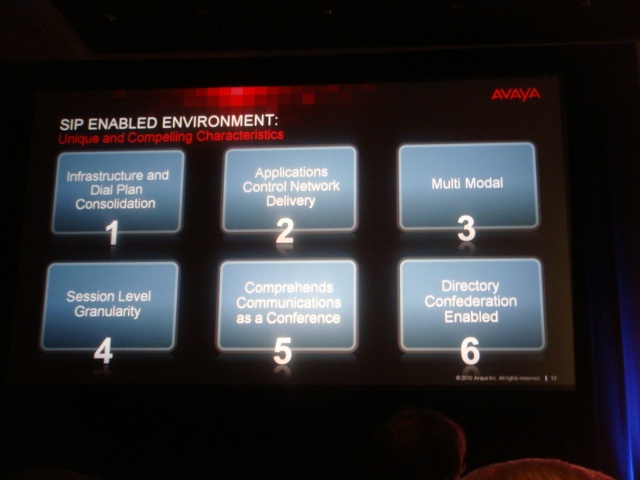 1) Infrastructure and Dial Plan Consolidation

2) Applications Control Network Delivery

3) Multi Modal

4) Session Level Granularity

5) Comprehends Communications as a Conference

6) Directory Confederation Enabled
And while I certainly believe consolidation, standardization and interoperability are beautiful things, Avaya has an uphill battle, at least in the short term. SIP has been over-promised for years and years, while even full SIP compliance doesn't guarantee the communications interoperability and unification Kennedy gushed about.
Still, it's a beautiful dream and Avaya has big enough guns that it's entirely possible, particularly as enterprises look to speed up deployments while reducing complexity.
Curt Franklin has a good write up on the rest of Kennedy's Interop keynote if you're interested in what you missed or want another perspective.
---
April 27, 2010 9:08 AM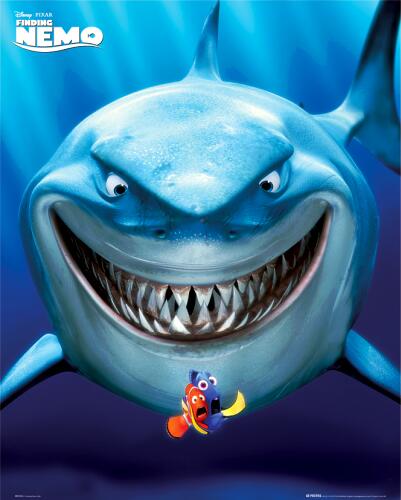 With a few exceptions, conferences are growing smaller: Travel budgets are slashed, work loads are up, and companies are trying to "go green," with or without a pricey Cisco telepresence get up (although I secretly think that last is still less about Mother Earth and more about Father Dollar). Interop is no exception, a fact Lenny Heymann, general manager of Interop, addressed head on when I asked him about it, admitting the "event is going to be a little smaller than last years'," which itself was a smaller event.
But he said that, in a way, that's OK. "We're tracking really well in terms of the key vendors," he said. "The people who still come are the ones … who are going to be buying things, the ones who want to get something done."
Show attendees I spoke with yesterday echoed Heymann's sentiment: This year's Interop isn't about ogling booth babes while getting your booklet stamped to win a Wii; it's shaping up to be a more focused, get-what-you-need show where attendees are coming to learn, to meet potential partners, and to get things done.
"It used to be companies just sent people because everybody sent people," an attendee told me yesterday as we were registering. "Now, you really have to justify it, but a lot of people are still coming, and they're coming with a clear agenda."
And as another attendee pointed out, it might be leaner but it's still a much more happening event than SUPERCOMM, which is now as lean as it can get: Cancelled.
Continued »
---
April 26, 2010 7:20 PM
Maybe it was the equivalent of having a heart attack at a cardiology trade show, but a number of Interop's early bird registrants found themselves on the receiving end of an IT snafu: Attendees were told to "Wait just 10 more minutes" as they were left to stare at an endlessly looping registration screen.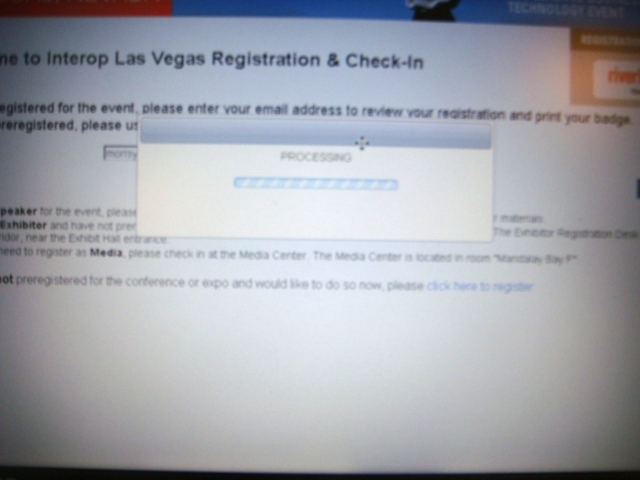 One bemused attendee quipped, "Is there an IT guy in the house?" 10 minutes later, there was still no sign of advancement as the self-service terminals, and the line continued to grow.
Eventually the aforementioned smart aleck begged off: He was on duty in a exhibitor support role to quietly show off his wares, and he had meetings to attend. Things proceeded relatively smoothly thereafter, with at least one more outage but few vocal complaints. Early birds might get the worms, but they also get the bugs, too.
---