---
July 20, 2010 6:15 AM
We've been doing a lot of soul-searching lately here at the Enterprise IT Watch blog. Like the loss of any trusted friend, the recent passing of Windows XP on July 13th has us reminiscing about successes and failures of past Windows operating systems. And it looks like we're not the only ones; check out the Twitter conversation I eavesdropped [below] regarding the general attitude toward Vista. Do you think the multitude of problems from the get-go contributed to Vista going down infamously in OS history? Or do you think its downfall was amplified by Microsoft's broken promises, that it was eventually mended to a working and even satisfactory operating system?
Did you bypass Vista altogether or are you still using it? What is it going to take for you to upgrade or migrate to Windows 7?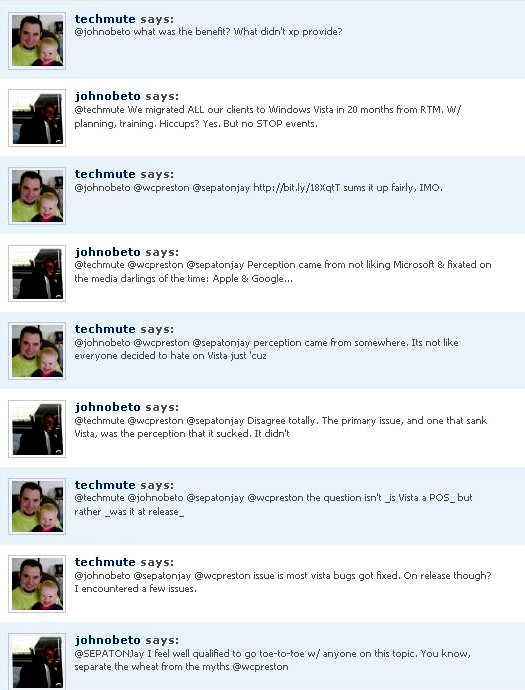 We'd love to know your relationship with past Windows operating systems, and how that affects your attitude toward current offerings such as Windows 7 and rumors of Windows 8. So sound off! And if you see @johnobeto or @techmute around, tell them we'd love to hear the rest of this debate!
Want to see what others on Twitter are saying about Windows 7? Check out our Windows 7 Pros Twitter list and share any interesting conversations or debates with us!
Melanie Yarbrough is the assistant community editor at ITKnowledgeExchange.com. Follow her on Twitter or send her an email at Melanie@ITKnowledgeExchange.com.
July 15, 2010 6:45 AM
No one has ever encouraged comparing apples to oranges, but what about Apple to Microsoft? Having won over consumers' hearts and wallets, Apple is the company to beat and be compared to in laptops, operating systems, phones and tablets. Though admittedly late to the arena, Microsoft hasn't yet given up on playing the game.
At this year's MIX10, Microsoft gave developers and web designers a glimpse into their completely overhauled mobile operating system: Windows Mobile 7, slated to be available by the end of this year. It may sound familiar: there's an app store, an almost desperate focus on social networking, touch screen, and push notification. There's a detailed breakdown of Windows Phone 7 Series over at PC World.
You might expect a phone from Microsoft, a company recognized for its enterprise-friendliness, to follow that route and offer, finally, an enterprise-friendly, consumer-attractive phone. Continued »
---
July 14, 2010 6:32 AM
If you've got Windows 7 on your mind and you're anticipating moving ahead with it in your enterprise, Microsoft has some good resources worth checking out.
Microsoft Assessment and Planning Toolkit: A "Solution Accelerator" to help you take an inventory of systems/software, determine compatibility, and prepare a Windows 7 migration readiness report (something that can really shave some time off any feasibility studies or migration preparation).
Microsoft Application Compatibility Toolkit: A tool and means of documentation for determining application compatibility with Windows 7 (something I don't see being a big problem for most organizations).
User State Migration Tool: A tool for migrating user files and OS settings. (I'm not a big fan of such an approach given all the junk that's often pulled over onto the new machine creating a not so fresh situation on your computers from the get go. For some enterprises, however, this may be the only option.)
Microsoft Deployment Toolkit 2008: A tool for automating the Windows 7—and Office 2010 and Server 2008 R2—deployment process; a big time saver if you do it right!
Time management experts have shown that one minute of planning can save five minutes in execution. Taking the time to sit down and go over your Windows 7 migrations/deployments up front will provide a huge payoff. You know Windows 7 is coming, might as well start thinking about it now.
Kevin Beaver is an independent information security consultant, keynote speaker, and expert witness with Principle Logic, LLC and a contributor to the IT Watch Blog.
---
July 14, 2010 6:08 AM
The day before Windows XP SP2 was to be no more (or its updates at least), Microsoft released Windows 7 SP1 beta. The preview isn't meant for home users; when downloading the preview from the Microsoft site, choosing Consumer or Tech Enthusiast will block the download from your system. This doesn't provide much security, since consumers and tech enthusiasts can instead choose IT Manager, Worker or Developer. Still, statements from the Microsoft site discourage consumer downloads: "SP1 Beta does not provide new end-user features, and installation is not supported by Microsoft."
The preview is available for download as a combination with Windows Server 2008 R2 SP1, including an update to the Remote Desktop in Windows 7 that works with Windows Server 2008 R2 SP1's remote-access platform RemoteFX. Another addition to the server? Dynamic Memory allows IT staff to adjust the memory of guest VMs on the fly.
There are both 32-bit and 64-bit versions of the combination download. You have a choice of using Windows Update or network installation of 1.2GB disk image in .iso format.
Have you tried out the preview? We'd love to hear your opinions and experiences with it. Email me directly at Melanie@ITKnowledgeExchange.com or let us know in the comments!
Melanie Yarbrough is the assistant community editor at ITKnowledgeExchange.com. Follow her on Twitter or send her an email at Melanie@ITKnowledgeExchange.com.
---
July 13, 2010 12:18 PM
As you may or may not have heard, it's Windows 7 in 2010 month here at IT Knowledge Exchange, and we're dedicated to bringing you the latest news on this latest Windows OS. Luckily we have a little help from our friends around the IT Knowledge Exchange block, so without further ado…
Update on Sysinternals Website! and Sysinternals Disk2vhd from The Real (and Virtual) Adventures of Nathan the IT Guy by Nathan Simon
Not sure what Sysinternals is? Kevin Beaver highlights his favorite suite of tools in The Windows 7 Toolbox from the Enterprise IT Watch Blog.
A Little Birdie Told Me: Windows 7 Pros from the Enterprise IT Watch Blog by Melanie Yarbrough
Windows 7 SP1 Beta Released Today (7/12/2010) from IT Career JumpStart by Ed Tittel
Check back for updates on what's being said around IT Knowledge Exchange regarding Windows 7. Have your own tips and stories? Send them to us at Melanie@ITKnowledgeExchange.com or leave them in the comments section!
Melanie Yarbrough is the assistant community editor at ITKnowledgeExchange.com. Follow her on Twitter or send her an email at Melanie@ITKnowledgeExchange.com.
---
July 13, 2010 6:00 AM
Next week marks the end of support for Windows XP Service Pack 2, and along with it comes Microsoft's continuous push for full adoption of Windows 7. But Windows XP, a beloved OS for many years, will be hard to let go of. To aid you in the mourning process, we've compiled a list of Windows 7 pros from all over Twitter. Check them out, ask them your questions, befriend them. You'll be moving on in no time.
@EvertonBlair describes himself as a "wannabe tech blogger/geek from London" and updates his account with interesting discussions he finds on Windows 7. He also blogs over at Windows 7 News.
@twechy: One guy's project in gathering the best IT news and putting it all in one place, his Twitter feed.
@MSSpringboard is the official feed for Windows 7 IT Pros. Tweets come from community managers Stephen (SR) and Adam (AT).
@TechNetTips Microsoft TechNet's @MattGraven tweets daily tips for IT pros.
@GKRaleigh: The official Twitter account for Global Knowledge, an IT & Business Training company that focuses on Cisco, Microsoft and project management. (Recent tweets have advertised a contest for a discount on Windows 7 training.)
@ITProPortal: General IT news from IT Pro Portal, which has a great Windows 7 resource area.
As always, this is a live list, so let me know who you rely on to get the latest news or help with Windows 7. Email me directly at Melanie@ITKnowledgeExchange.com or leave it in the comments section, then check back for updates!
Melanie Yarbrough is the assistant community editor at ITKnowledgeExchange.com. Follow her on Twitter or send her an email at Melanie@ITKnowledgeExchange.com.
---
July 12, 2010 6:19 AM

Here's a nice piece on SearchEnterpriseDesktop.com by Gary Olsen that covers some often overlooked and under-appreciated tools, many of which are built right into Windows 7. In fact, if administering Windows 7 systems is anywhere on your list of responsibilities,  you'll find there are many free tools at your disposal for administering, securing, troubleshooting—you name it—your Windows 7 systems.
In his piece, Gary touches on my favorite suite of tools: Sysinternals. Over the years I've found that hardly anything matches the power and utility of the free Sysinternals tools. It's no wonder Microsoft acquired them. The Sysinternals tools actually take me back to my days working with Novell NetWare and JRBUtils. No one around offered a more comprehensive set of niche tools that could take the pain out of administering NetWare (which really wasn't painful). Interestingly, JRB software apparently saw the proverbial writing on the wall with Novell and has moved on to Active Directory tools. They've begun charging for them (the NetWare stuff used to be free), but they're still worth checking out.
If you're not all that familiar with Sysinternals, check out these pieces I've written for TechTarget that describe what they're all about:
Using Sysinternals tools in security management scenarios
Sysinternals tools: A must-have for every Windows security toolbox
The very best Sysinternals tools for Windows server security
Kevin Beaver is an independent information security consultant, keynote speaker, and expert witness with Principle Logic, LLC and a contributor to the IT Watch Blog.
---
July 12, 2010 6:04 AM

Profile: Michael Morisy
Cisco recently unveiled the Cisco Cius, which I dubbed an "iPad for the working stiff." At the device's introduction, Cisco CEO John Chambers was clear that Cisco wasn't trying to build an "iPad-killer" so much as a killer business tablet, focusing on high-def video and enterprise-grade functionality instead of the pure "Wow" factor that drives so much Apple hysteria. I also noted that, despite Chambers' laser-focused aim on the enterprise market, Apple already had a headstart, winning over "scores of business professionals that have already adopted, gleefully, the business side of the Apple iPad."
Bloomberg Businessweek drove that point home on Tuesday, profiling major firms like SAP and Mercedes-Benz that were, sometimes tentatively, beginning to deploy the iPad out on their front lines:
[Rob Enslin, North America president at SAP] says that when he travels, the only device he carries besides a Research In Motion (RIMM) BlackBerry is the iPad. "It's allowed me to almost run a paperless office," says Enslin, who uses it to access business applications, briefing documents, customer information, and other data.

SAP, based in Walldorf, Germany, also works with clients to put its products on mobile devices including the iPad. Tellabs, for instance, collaborated with SAP and Sybase on an iPad application that lets managers more quickly approve shipping of customer orders. "We also have three or four different applications lined up behind this that will help us with better inventory control," says Jean Holley, chief information officer at Tellabs, based in Naperville, Ill.
It's not surprising given the iPhone's success with everyone from executives to delivery drivers, and while some still question the iPhone's enterprise readiness, the activity in our very own forums indicates many companies are still forging straight ahead.
Michael Morisy is the community editor for ITKnowledgeExchange. He can be followed on Twitter or you can reach him at Michael@ITKnowledgeExchange.com.
---
July 7, 2010 4:22 PM
Don't worry, this isn't another Y2K-ish post about the end of Windows XP support—and civilization—as we know it. More like a friendly community reminder: Next week, July 13th, marks the end of support for Windows XP Service Pack 2. Your computer will most likely not explode into millions of tiny, useless pieces if you don't immediately upgrade to SP3 or Windows 7, but you should be thinking about the next step for you or your company's OS.
The details
Microsoft is discontinuing support and updates for Windows XP SP2 beginning July 13, 2010.
Since there is no 64-bit version of SP3, Windows XP SP2 64-bit will be supported until April 8, 2014.
Windows XP Home will no longer be pre-installed on netbooks after October 22, 2010.
Not a big deal considering it's been a long time coming, right? According to a poll from PC Advisor, 37% of respondents continue to use XP, but only 5.6% are using SP2 or earlier; 31.4% have already upgraded to SP3. Windows 7 is close behind with 30.6% respondents. Netbooks were the primary reason for the slow on-again, off-again demise of Windows XP, which is still the most popular operating system in the world with 62.55% market share. Now even that group of holdouts might be coming to an end: 81% of netbooks sold after April 2010 had Windows 7 installed.
What would an upgrade from Windows XP to SP3 or Windows 7 mean? Continued »
---
July 7, 2010 5:38 AM
Editor's Note: Ever feel like you're crossing a line with something your boss has asked you to do? Joshua Garick, a lawyer in Boston, MA., explains why you might need to think twice before installing the latest spyware on employee computers, particularly if you're a bit dubious about what the boss is snooping on. Also, read his first guest post on why you should be wary of extended warranties. -Michael Morisy
There has been a buzz as of late as to whether IT professionals should be held criminally liable if they perform a technical task results in criminal activity. An example is the Lower Merion Township case where the school district's IT department equipped school-issued laptop computers with webcams that took over 56,000 images of unsuspecting students in their homes.
The FBI and U.S. Attorney are presently investigating the matter to determine whether charges should be filed.
The IT professional should view cases like this as a warning. IT professionals, like anyone else, will be held liable for their criminal acts. You are hired powerful skill set which, if used inappropriately, could have devastating consequences. You should not use your skills in an illegal or immoral manner. This is akin to Superman using his x-ray vision to garner a look at Lois Lane.
Let me explain why you will be arrested if you break the law:
A recurring argument against imposing criminal liability is that the IT professional is simply performing a technical task for his employer. This is not a valid defense. Under civil law this might be true, but not for criminal law. example, I am accidently struck by a UPS truck when I cross the street, UPS – and not the driver – would likely be vicariously liable for my injuries under a legal principle known as respondeat superior – which means "let the master answer." This, however, does not apply to criminal prosecutions or should it. If the UPS truck driver's boss ordered him to drive his truck into a pedestrian, the driver must draw from his moral compass and recognize that he is about to engage in criminal activity. Societal norms suggest
that a victim's right to not be struck by a speeding truck is greater than the driver's right to his job. If the truck driver is fired because he refuses to follow this order, at least there isn't an injured pedestrian on the side of the road.
This analogy holds true in the IT world. Criminal laws evolve over time and change based on societal norms. The latest trend is to combat privacy and other issues resulting from advances in online technology. These problems can only be created by you – the IT professional. If you are asked to do something that is illegal, you have an obligation to us non-technical folks to abstain. This is not to suggest that the IT professional should fear the unintended consequences of his work. Like the UPS driver accidentally hitting a pedestrian, if you do not have the requisite criminal intent to create an illegal technology, you will likely not be charged with a crime.
Consider the fallout from Google Map's collection of personal data obtained during its search for unsecured wi-fi networks. If you believe Google's explanation that any data obtained was an unforeseeable accident, the IT professional who created the technology would probably not be subject to arrest.
What is important, however, is that you keep abreast of the law. Years ago, identity theft, data breaches, dissemination of personal information, online bullying, etc., did not exist. Now most jurisdictions have laws on the books in response to these growing problems. Do you know them? Remember the old adage: ignorantia juris non excusat – ignorance of the law does not excuse. Though certainly a daunting task, there are many resources that can assist you and help save your hide. Most companies have (or should have) internal processes to ensure legal compliance. Question your legal counsel or your company's management to make sure your project isn't criminal. If you are dissatisfied with your general counsel's advice (or you don't have one), you can always discuss the matter with your own attorney. erhaps the best advice is to appeal to your own sense of morality. If you are asked to do something you are uncomfortable doing, don't do it. Under whistleblower protection laws, your job may be protected if you notify the authorities about illegal or suspected illegal activities in lieu of carrying them out. Make sure to consult with an attorney in your state to understand your rights.
---