---
July 13, 2010 6:00 AM
Next week marks the end of support for Windows XP Service Pack 2, and along with it comes Microsoft's continuous push for full adoption of Windows 7. But Windows XP, a beloved OS for many years, will be hard to let go of. To aid you in the mourning process, we've compiled a list of Windows 7 pros from all over Twitter. Check them out, ask them your questions, befriend them. You'll be moving on in no time.
@EvertonBlair describes himself as a "wannabe tech blogger/geek from London" and updates his account with interesting discussions he finds on Windows 7. He also blogs over at Windows 7 News.
@twechy: One guy's project in gathering the best IT news and putting it all in one place, his Twitter feed.
@MSSpringboard is the official feed for Windows 7 IT Pros. Tweets come from community managers Stephen (SR) and Adam (AT).
@TechNetTips Microsoft TechNet's @MattGraven tweets daily tips for IT pros.
@GKRaleigh: The official Twitter account for Global Knowledge, an IT & Business Training company that focuses on Cisco, Microsoft and project management. (Recent tweets have advertised a contest for a discount on Windows 7 training.)
@ITProPortal: General IT news from IT Pro Portal, which has a great Windows 7 resource area.
As always, this is a live list, so let me know who you rely on to get the latest news or help with Windows 7. Email me directly at Melanie@ITKnowledgeExchange.com or leave it in the comments section, then check back for updates!
Melanie Yarbrough is the assistant community editor at ITKnowledgeExchange.com. Follow her on Twitter or send her an email at Melanie@ITKnowledgeExchange.com.
July 12, 2010 6:19 AM

Here's a nice piece on SearchEnterpriseDesktop.com by Gary Olsen that covers some often overlooked and under-appreciated tools, many of which are built right into Windows 7. In fact, if administering Windows 7 systems is anywhere on your list of responsibilities,  you'll find there are many free tools at your disposal for administering, securing, troubleshooting—you name it—your Windows 7 systems.
In his piece, Gary touches on my favorite suite of tools: Sysinternals. Over the years I've found that hardly anything matches the power and utility of the free Sysinternals tools. It's no wonder Microsoft acquired them. The Sysinternals tools actually take me back to my days working with Novell NetWare and JRBUtils. No one around offered a more comprehensive set of niche tools that could take the pain out of administering NetWare (which really wasn't painful). Interestingly, JRB software apparently saw the proverbial writing on the wall with Novell and has moved on to Active Directory tools. They've begun charging for them (the NetWare stuff used to be free), but they're still worth checking out.
If you're not all that familiar with Sysinternals, check out these pieces I've written for TechTarget that describe what they're all about:
Using Sysinternals tools in security management scenarios
Sysinternals tools: A must-have for every Windows security toolbox
The very best Sysinternals tools for Windows server security
Kevin Beaver is an independent information security consultant, keynote speaker, and expert witness with Principle Logic, LLC and a contributor to the IT Watch Blog.
---
July 12, 2010 6:04 AM

Profile: Michael Morisy
Cisco recently unveiled the Cisco Cius, which I dubbed an "iPad for the working stiff." At the device's introduction, Cisco CEO John Chambers was clear that Cisco wasn't trying to build an "iPad-killer" so much as a killer business tablet, focusing on high-def video and enterprise-grade functionality instead of the pure "Wow" factor that drives so much Apple hysteria. I also noted that, despite Chambers' laser-focused aim on the enterprise market, Apple already had a headstart, winning over "scores of business professionals that have already adopted, gleefully, the business side of the Apple iPad."
Bloomberg Businessweek drove that point home on Tuesday, profiling major firms like SAP and Mercedes-Benz that were, sometimes tentatively, beginning to deploy the iPad out on their front lines:
[Rob Enslin, North America president at SAP] says that when he travels, the only device he carries besides a Research In Motion (RIMM) BlackBerry is the iPad. "It's allowed me to almost run a paperless office," says Enslin, who uses it to access business applications, briefing documents, customer information, and other data.

SAP, based in Walldorf, Germany, also works with clients to put its products on mobile devices including the iPad. Tellabs, for instance, collaborated with SAP and Sybase on an iPad application that lets managers more quickly approve shipping of customer orders. "We also have three or four different applications lined up behind this that will help us with better inventory control," says Jean Holley, chief information officer at Tellabs, based in Naperville, Ill.
It's not surprising given the iPhone's success with everyone from executives to delivery drivers, and while some still question the iPhone's enterprise readiness, the activity in our very own forums indicates many companies are still forging straight ahead.
Michael Morisy is the community editor for ITKnowledgeExchange. He can be followed on Twitter or you can reach him at Michael@ITKnowledgeExchange.com.
---
July 7, 2010 4:22 PM
Don't worry, this isn't another Y2K-ish post about the end of Windows XP support—and civilization—as we know it. More like a friendly community reminder: Next week, July 13th, marks the end of support for Windows XP Service Pack 2. Your computer will most likely not explode into millions of tiny, useless pieces if you don't immediately upgrade to SP3 or Windows 7, but you should be thinking about the next step for you or your company's OS.
The details
Microsoft is discontinuing support and updates for Windows XP SP2 beginning July 13, 2010.
Since there is no 64-bit version of SP3, Windows XP SP2 64-bit will be supported until April 8, 2014.
Windows XP Home will no longer be pre-installed on netbooks after October 22, 2010.
Not a big deal considering it's been a long time coming, right? According to a poll from PC Advisor, 37% of respondents continue to use XP, but only 5.6% are using SP2 or earlier; 31.4% have already upgraded to SP3. Windows 7 is close behind with 30.6% respondents. Netbooks were the primary reason for the slow on-again, off-again demise of Windows XP, which is still the most popular operating system in the world with 62.55% market share. Now even that group of holdouts might be coming to an end: 81% of netbooks sold after April 2010 had Windows 7 installed.
What would an upgrade from Windows XP to SP3 or Windows 7 mean? Continued »
---
July 7, 2010 5:38 AM
Editor's Note: Ever feel like you're crossing a line with something your boss has asked you to do? Joshua Garick, a lawyer in Boston, MA., explains why you might need to think twice before installing the latest spyware on employee computers, particularly if you're a bit dubious about what the boss is snooping on. Also, read his first guest post on why you should be wary of extended warranties. -Michael Morisy
There has been a buzz as of late as to whether IT professionals should be held criminally liable if they perform a technical task results in criminal activity. An example is the Lower Merion Township case where the school district's IT department equipped school-issued laptop computers with webcams that took over 56,000 images of unsuspecting students in their homes.
The FBI and U.S. Attorney are presently investigating the matter to determine whether charges should be filed.
The IT professional should view cases like this as a warning. IT professionals, like anyone else, will be held liable for their criminal acts. You are hired powerful skill set which, if used inappropriately, could have devastating consequences. You should not use your skills in an illegal or immoral manner. This is akin to Superman using his x-ray vision to garner a look at Lois Lane.
Let me explain why you will be arrested if you break the law:
A recurring argument against imposing criminal liability is that the IT professional is simply performing a technical task for his employer. This is not a valid defense. Under civil law this might be true, but not for criminal law. example, I am accidently struck by a UPS truck when I cross the street, UPS – and not the driver – would likely be vicariously liable for my injuries under a legal principle known as respondeat superior – which means "let the master answer." This, however, does not apply to criminal prosecutions or should it. If the UPS truck driver's boss ordered him to drive his truck into a pedestrian, the driver must draw from his moral compass and recognize that he is about to engage in criminal activity. Societal norms suggest
that a victim's right to not be struck by a speeding truck is greater than the driver's right to his job. If the truck driver is fired because he refuses to follow this order, at least there isn't an injured pedestrian on the side of the road.
This analogy holds true in the IT world. Criminal laws evolve over time and change based on societal norms. The latest trend is to combat privacy and other issues resulting from advances in online technology. These problems can only be created by you – the IT professional. If you are asked to do something that is illegal, you have an obligation to us non-technical folks to abstain. This is not to suggest that the IT professional should fear the unintended consequences of his work. Like the UPS driver accidentally hitting a pedestrian, if you do not have the requisite criminal intent to create an illegal technology, you will likely not be charged with a crime.
Consider the fallout from Google Map's collection of personal data obtained during its search for unsecured wi-fi networks. If you believe Google's explanation that any data obtained was an unforeseeable accident, the IT professional who created the technology would probably not be subject to arrest.
What is important, however, is that you keep abreast of the law. Years ago, identity theft, data breaches, dissemination of personal information, online bullying, etc., did not exist. Now most jurisdictions have laws on the books in response to these growing problems. Do you know them? Remember the old adage: ignorantia juris non excusat – ignorance of the law does not excuse. Though certainly a daunting task, there are many resources that can assist you and help save your hide. Most companies have (or should have) internal processes to ensure legal compliance. Question your legal counsel or your company's management to make sure your project isn't criminal. If you are dissatisfied with your general counsel's advice (or you don't have one), you can always discuss the matter with your own attorney. erhaps the best advice is to appeal to your own sense of morality. If you are asked to do something you are uncomfortable doing, don't do it. Under whistleblower protection laws, your job may be protected if you notify the authorities about illegal or suspected illegal activities in lieu of carrying them out. Make sure to consult with an attorney in your state to understand your rights.
---
July 6, 2010 8:38 AM
We've got the third and final installment of Keith Morrow's three part series, No Time, No Budget, and No People? No Problem! Straight from former CIO of Blockbuster and 7-eleven and current president of K. Morrow Associates, learn how acting like a start-up and maximizing the assets you already have can save you money and precious time when deploying applications in the cloud. Be sure to read parts one and two, too.
Today's successful companies are those that embrace the API economy to expand their brands and create new opportunities for engaging with customers. In this final piece, we'll discuss how creating new distribution channels via APIs rapidly creates more opportunities to sell products, reach new audiences and create new markets. Delivering content via multichannel strategies is the ultimate way to ensure that you are accessible how, when and where your customers want you to be.
Focus on Developer / Partner Adoption
The minute we decided to build and publish the API service, we knew we had to build in such a way that allowed our development partners (mobile device and set-top box companies) to adopt it easily and ramp up fast. We kept the APIs simple, only exposing what the partners needed. And we built the API service just as we would a GUI-based application, making sure that the use cases and the error handling were well thought out.
Once you achieve success with the initial applications, you can think about extending the reach of the API set to more developers. In e-commerce, we are all familiar with the affiliate model, where we rely on aggregators such as Commission Junction to deliver traffic to our online stores. Vendors such as PayPal are also enabling third-party developers to build payment solutions on their API platform. In our case, by opening our API service to a greater developer network, we enabled movie review websites and entertainment-oriented Facebook apps to begin using our movie library.
Continue to Protect Your Organization and Customers
Being conservative when it comes to technology adoption is not a bad thing for retail organizations. After all, we want to protect our customers who entrust their private and transactional data with us and mitigate our company's risks.
As we stitched together new business solutions from existing ones, we continued to verify that the high standards we hold ourselves to in matters of data security, transactional scalability, and consumer privacy are continuously followed. In terms of credit card / transaction processing, we were really sensitive about complying with the PCI standards set forth by the credit card associations. Just because our apps were built quickly with minimal cost didn't mean we could side step any security and privacy regulations or best practices.
Conclusion
Even though retailers have limited budget and no additional manpower in this recession, they can still innovate and deliver applications that meet customers' demands for access to product information and the level of collaboration they demand with their social networks. The keys are to act fast; leverage existing enterprise software and data assets; and pragmatically tap into existing cloud computing and API-enabling technology offerings that can help us meet customer, competitive, and marketplace challenges.
---
July 6, 2010 6:51 AM
In addition to being more user-friendly than OS's of the past, Windows 7 has some pretty stout security controls right out of the box. However, like other things security-related, lack of maintenance and oversight can turn an otherwise reasonably secure OS on its head. Did I mention some of the security features are tied to the version of Windows 7 you're running combined with the version of Windows Server on the other end?
Anyway, here are some pieces I've written about Windows 7 security that you may want to check out:
Using BitLocker in Windows 7 – pros, cons, and other general things you need to know
Securing removable media with BitLocker To Go – a neat solution that can help ensure one of those darned thumb drives doesn't get your business into a bind
Cracking passwords in Windows 7 – perhaps more appropriately titled "How to crack Windows 7 passwords so you can find the vulnerabilities before the bad guys exploit them"
Using Windows XP Mode for security testing in Windows 7 – how you can use the potential VMWare Workstation killer for security testing with the added benefit of not mucking up your local workstation installation
Using Windows 7's DirectAccess to enhance the mobile user experience – Microsoft's VPN alternative and what you need to know to make sure it doesn't create more problems than it solves
Windows 7 vulnerabilities you won't hear about – some of the things no one's talking about when it comes to Windows 7 security
If you're looking for more information check out my other tips, podcasts, screencasts, and webcasts on Windows security.
Kevin Beaver is an independent information security consultant, keynote speaker, and expert witness with Principle Logic, LLC and a contributor to the IT Watch Blog.
---
July 5, 2010 6:43 AM
IDC just released a Microsoft-sponsored whitepaper on the business value of Windows 7. They found that in just seven months (a convenient number) companies started seeing a payback with an ROI of 375%. Apparently there's a 43-hour average savings per user per year. Not too shabby!
As far as security goes, I've been a big fan of Windows 7 for a while now, but I've been an even bigger fan of how much Windows 7 has improved my productivity. So I can attest to the numbers in IDC's whitepaper. If anything, just the "Show desktop" button – now located in the lower right-hand corner of the screen – has saved me a ton of time flipping back and forth to my desktop while I work. I don't even have to look for it now but rather take my mouse and ram it down to the lower right and click. It works every time.
Also, the concept of libraries and the general browsing of different folders has made my folder clicks so much more efficient. I know it doesn't sound like much but as in the world of auto racing, thousandths of a second count and add up big time over the long haul.
Sure, Windows 7 has its quirks and still isn't the perfect OS, but I'll take it over what we've had in the past any day!
What do you think of Windows 7? Let us know in the comments section or send us your stories and reviews.
Kevin Beaver is an independent information security consultant, keynote speaker, and expert witness with Principle Logic, LLC and a contributor to the IT Watch Blog.
---
July 2, 2010 1:59 PM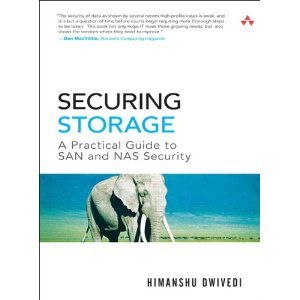 While I'm on my storage security kick I thought it'd be worth sharing a valuable book on the topic by Himanshu Dwivedi:
Securing Storage: A Practical Guide to SAN and NAS Security
It's five years old but still very relevant in today's storage environments. If anything, just browse through it the next time you're in the bookstore. It delves into storage security weaknesses you can't afford to overlook that so many people are still ignoring.
Kevin Beaver is an independent information security consultant, keynote speaker, and expert witness with Principle Logic, LLC and a contributor to the IT Watch Blog.
---
July 2, 2010 1:42 PM
Have you seen Microsoft's cloud storage offering called Windows Live SkyDrive? It's funny, SkyDrive has apparently been around for nearly three years but I'm just now hearing about it. I don't know if that's Microsoft's lack of marketing or seemingly minimal push into the cloud or just my inability to keep up with their offerings. Regardless, SkyDrive has some interesting features you may want to check out:
File backup and storage (up to 25GB)
Live file sharing and collaboration (with close tie-in with Office Live apps)
File synchronization with your local system (coming soon)
One big drawback with SkyDrive is that file upload size is limited to 50 MB, which seems a bit odd. SkyDrive may not be "enterprise" ready and you may prefer some of the features of other online backup providers, but I could certainly see SkyDrive being a good fit in many instances. If you're open to explore it, the best way is to set up a Windows Live account and take it for a spin to see how it works.
Kevin Beaver is an independent information security consultant, keynote speaker, and expert witness with Principle Logic, LLC and a contributor to the IT Watch Blog.
---