---
July 26, 2010 9:33 AM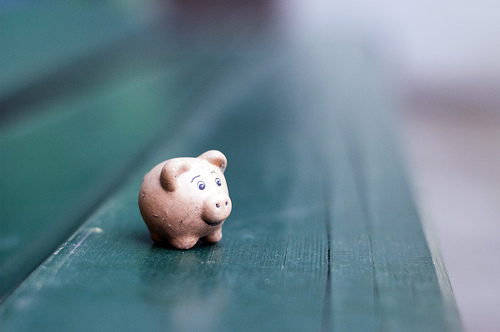 While there was plenty of buzz about Microsoft proclaiming Windows 7 "the fastest-selling operating system ever," the interesting news is that this rather traditional offering is so essential to keeping Microsoft happily profitable in the era of hyper-cloudification. Allan Krans put it well in his piece at LocalTechwire:
Using even conservative math, the revenue opportunity for Microsoft to convert the remaining 85 percent of PC users to Windows 7 approaches $50 billion. Beyond Windows, Microsoft has significant market opportunities in Office, SharePoint, Windows Server, and multiple other product areas that will sustain its financials for years.

Cloud is important and is capturing a large amount of Microsoft's investment and messaging, but its existing business will sustain revenue and profit for quite some time.
While Windows 7 is a polished piece of work, it's also, at the core, "more of the same" as far as operating systems go (or as Dee101 less charitably put it, Windows 7 is Vista SP2+), unlike Google's nascent Chrome OS which fully embraces the cloud-as-a-platform philosophy.
In other words, while Microsoft is very publicly, very loudly "all in" on cloud (and its Azure efforts back that up), it's also very aware and very happy that it doesn't have to go flying into the cloud without a long runway still firmly on terra firma.
Michael Morisy is the community editor for ITKnowledgeExchange. He can be followed on Twitter or you can reach him at Michael@ITKnowledgeExchange.com.
July 22, 2010 6:44 AM
Rackspace launched their open-source cloud project this past Monday with an out-of-this-world partner. NASA and Rackspace, citing their non-commercial interests as the basis for the relationship, recognized the potential to complement one another in the cloud.
As SearchCloudComputing's Carl Brooks reports:
[NASA CTO Chris] Kemp said that just as Rackspace found his work on the compute side valuable, NASA found what it was looking for in cloud storage in Rackspace's Object Storage technology, which will also be released to the public domain this fall.
So what exactly is OpenStack? It's Rackspace's code for Cloud Files and Cloud Servers available to developers. Eventually it'll also be NASA's Nebula cloud platform, created to offer a cloud solution for large scientific data sets.
Rackspace CSO and president of cloud technology Lew Moorman told Linux Insider:
We are founding the OpenStack initiative to help drive industry standards, prevent vendor lock-in and generally increase the velocity of innovation in cloud technologies. We expect ongoing collaboration with NASA and the rest of the community to drive more-rapid cloud adoption and innovation in the private and public spheres.
One of NASA's motivating factors for creating Nebula and getting involved in the project was the lack of affordable cloud options for anyone other than businesses. With this initiative, Rackspace wants to spur cloud adoption across the board, including by the federal government. Last week, Amazon released its Cluster Compute Instance in beta, an answer to the scientific community looking for more powerful cloud solutions. And Rackspace isn't alone in its endeavors either; there are similar offerings from Eucalyptus, which offers "infrastructure software that enables enterprises and government agencies to establish their own cloud computing environments," and Cloud.com, which offers CloudStack packages for free (community edition), and in open source and proprietary form for both enterprise and service providers.
OpenStack has a leg up on the competition, however, with major names signing onto the project: Citrix, Dell, Intel, Rightscale and about twenty others.
Rackspace's goal—to leverage a community of developers for innovative additions to the code—might be too lofty for some. John at the CloudBzz blog thinks OpenStack isn't enterprise-ready. Additionally, any hope for differentiation amongst developer contributions might not be easily realized since every developer is working with the same code and building atop one another might lead to overlap.
But for every naysayer, there's enthusiasm to match. The New York Times Bits blog picked up the story, equating Rackspace's potential for achievement as the "next Linux operating system, Firefox Web browser or Android phone platform," naming their biggest challenge as "getting that software developer critical mass."
What other obstacles do you think lie between Rackspace and its goals of setting the industry standard, doing away with vendor lock-in and creating an open cloud community?
Melanie Yarbrough is the assistant community editor at ITKnowledgeExchange.com. Follow her on Twitter or send her an email at Melanie@ITKnowledgeExchange.com.
---
July 20, 2010 6:15 AM
We've been doing a lot of soul-searching lately here at the Enterprise IT Watch blog. Like the loss of any trusted friend, the recent passing of Windows XP on July 13th has us reminiscing about successes and failures of past Windows operating systems. And it looks like we're not the only ones; check out the Twitter conversation I eavesdropped [below] regarding the general attitude toward Vista. Do you think the multitude of problems from the get-go contributed to Vista going down infamously in OS history? Or do you think its downfall was amplified by Microsoft's broken promises, that it was eventually mended to a working and even satisfactory operating system?
Did you bypass Vista altogether or are you still using it? What is it going to take for you to upgrade or migrate to Windows 7?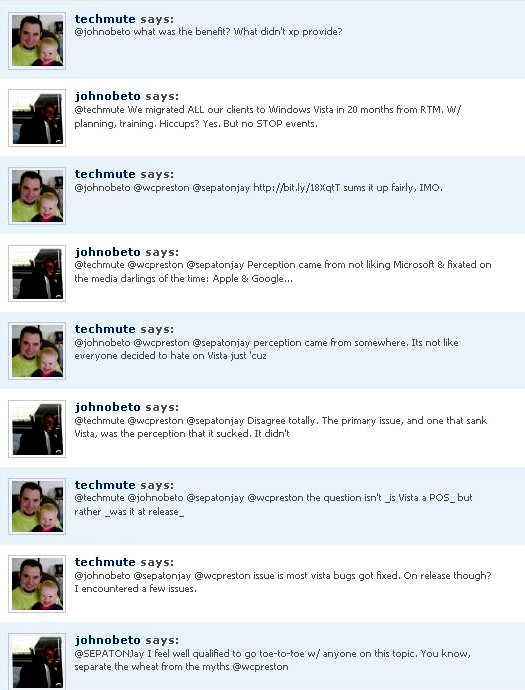 We'd love to know your relationship with past Windows operating systems, and how that affects your attitude toward current offerings such as Windows 7 and rumors of Windows 8. So sound off! And if you see @johnobeto or @techmute around, tell them we'd love to hear the rest of this debate!
Want to see what others on Twitter are saying about Windows 7? Check out our Windows 7 Pros Twitter list and share any interesting conversations or debates with us!
Melanie Yarbrough is the assistant community editor at ITKnowledgeExchange.com. Follow her on Twitter or send her an email at Melanie@ITKnowledgeExchange.com.
---
July 15, 2010 6:45 AM
No one has ever encouraged comparing apples to oranges, but what about Apple to Microsoft? Having won over consumers' hearts and wallets, Apple is the company to beat and be compared to in laptops, operating systems, phones and tablets. Though admittedly late to the arena, Microsoft hasn't yet given up on playing the game.
At this year's MIX10, Microsoft gave developers and web designers a glimpse into their completely overhauled mobile operating system: Windows Mobile 7, slated to be available by the end of this year. It may sound familiar: there's an app store, an almost desperate focus on social networking, touch screen, and push notification. There's a detailed breakdown of Windows Phone 7 Series over at PC World.
You might expect a phone from Microsoft, a company recognized for its enterprise-friendliness, to follow that route and offer, finally, an enterprise-friendly, consumer-attractive phone. Continued »
---
July 14, 2010 6:32 AM
If you've got Windows 7 on your mind and you're anticipating moving ahead with it in your enterprise, Microsoft has some good resources worth checking out.
Microsoft Assessment and Planning Toolkit: A "Solution Accelerator" to help you take an inventory of systems/software, determine compatibility, and prepare a Windows 7 migration readiness report (something that can really shave some time off any feasibility studies or migration preparation).
Microsoft Application Compatibility Toolkit: A tool and means of documentation for determining application compatibility with Windows 7 (something I don't see being a big problem for most organizations).
User State Migration Tool: A tool for migrating user files and OS settings. (I'm not a big fan of such an approach given all the junk that's often pulled over onto the new machine creating a not so fresh situation on your computers from the get go. For some enterprises, however, this may be the only option.)
Microsoft Deployment Toolkit 2008: A tool for automating the Windows 7—and Office 2010 and Server 2008 R2—deployment process; a big time saver if you do it right!
Time management experts have shown that one minute of planning can save five minutes in execution. Taking the time to sit down and go over your Windows 7 migrations/deployments up front will provide a huge payoff. You know Windows 7 is coming, might as well start thinking about it now.
Kevin Beaver is an independent information security consultant, keynote speaker, and expert witness with Principle Logic, LLC and a contributor to the IT Watch Blog.
---
July 14, 2010 6:08 AM
The day before Windows XP SP2 was to be no more (or its updates at least), Microsoft released Windows 7 SP1 beta. The preview isn't meant for home users; when downloading the preview from the Microsoft site, choosing Consumer or Tech Enthusiast will block the download from your system. This doesn't provide much security, since consumers and tech enthusiasts can instead choose IT Manager, Worker or Developer. Still, statements from the Microsoft site discourage consumer downloads: "SP1 Beta does not provide new end-user features, and installation is not supported by Microsoft."
The preview is available for download as a combination with Windows Server 2008 R2 SP1, including an update to the Remote Desktop in Windows 7 that works with Windows Server 2008 R2 SP1's remote-access platform RemoteFX. Another addition to the server? Dynamic Memory allows IT staff to adjust the memory of guest VMs on the fly.
There are both 32-bit and 64-bit versions of the combination download. You have a choice of using Windows Update or network installation of 1.2GB disk image in .iso format.
Have you tried out the preview? We'd love to hear your opinions and experiences with it. Email me directly at Melanie@ITKnowledgeExchange.com or let us know in the comments!
Melanie Yarbrough is the assistant community editor at ITKnowledgeExchange.com. Follow her on Twitter or send her an email at Melanie@ITKnowledgeExchange.com.
---
July 13, 2010 12:18 PM
As you may or may not have heard, it's Windows 7 in 2010 month here at IT Knowledge Exchange, and we're dedicated to bringing you the latest news on this latest Windows OS. Luckily we have a little help from our friends around the IT Knowledge Exchange block, so without further ado…
Update on Sysinternals Website! and Sysinternals Disk2vhd from The Real (and Virtual) Adventures of Nathan the IT Guy by Nathan Simon
Not sure what Sysinternals is? Kevin Beaver highlights his favorite suite of tools in The Windows 7 Toolbox from the Enterprise IT Watch Blog.
A Little Birdie Told Me: Windows 7 Pros from the Enterprise IT Watch Blog by Melanie Yarbrough
Windows 7 SP1 Beta Released Today (7/12/2010) from IT Career JumpStart by Ed Tittel
Check back for updates on what's being said around IT Knowledge Exchange regarding Windows 7. Have your own tips and stories? Send them to us at Melanie@ITKnowledgeExchange.com or leave them in the comments section!
Melanie Yarbrough is the assistant community editor at ITKnowledgeExchange.com. Follow her on Twitter or send her an email at Melanie@ITKnowledgeExchange.com.
---
July 13, 2010 6:00 AM
Next week marks the end of support for Windows XP Service Pack 2, and along with it comes Microsoft's continuous push for full adoption of Windows 7. But Windows XP, a beloved OS for many years, will be hard to let go of. To aid you in the mourning process, we've compiled a list of Windows 7 pros from all over Twitter. Check them out, ask them your questions, befriend them. You'll be moving on in no time.
@EvertonBlair describes himself as a "wannabe tech blogger/geek from London" and updates his account with interesting discussions he finds on Windows 7. He also blogs over at Windows 7 News.
@twechy: One guy's project in gathering the best IT news and putting it all in one place, his Twitter feed.
@MSSpringboard is the official feed for Windows 7 IT Pros. Tweets come from community managers Stephen (SR) and Adam (AT).
@TechNetTips Microsoft TechNet's @MattGraven tweets daily tips for IT pros.
@GKRaleigh: The official Twitter account for Global Knowledge, an IT & Business Training company that focuses on Cisco, Microsoft and project management. (Recent tweets have advertised a contest for a discount on Windows 7 training.)
@ITProPortal: General IT news from IT Pro Portal, which has a great Windows 7 resource area.
As always, this is a live list, so let me know who you rely on to get the latest news or help with Windows 7. Email me directly at Melanie@ITKnowledgeExchange.com or leave it in the comments section, then check back for updates!
Melanie Yarbrough is the assistant community editor at ITKnowledgeExchange.com. Follow her on Twitter or send her an email at Melanie@ITKnowledgeExchange.com.
---
July 12, 2010 6:19 AM

Here's a nice piece on SearchEnterpriseDesktop.com by Gary Olsen that covers some often overlooked and under-appreciated tools, many of which are built right into Windows 7. In fact, if administering Windows 7 systems is anywhere on your list of responsibilities,  you'll find there are many free tools at your disposal for administering, securing, troubleshooting—you name it—your Windows 7 systems.
In his piece, Gary touches on my favorite suite of tools: Sysinternals. Over the years I've found that hardly anything matches the power and utility of the free Sysinternals tools. It's no wonder Microsoft acquired them. The Sysinternals tools actually take me back to my days working with Novell NetWare and JRBUtils. No one around offered a more comprehensive set of niche tools that could take the pain out of administering NetWare (which really wasn't painful). Interestingly, JRB software apparently saw the proverbial writing on the wall with Novell and has moved on to Active Directory tools. They've begun charging for them (the NetWare stuff used to be free), but they're still worth checking out.
If you're not all that familiar with Sysinternals, check out these pieces I've written for TechTarget that describe what they're all about:
Using Sysinternals tools in security management scenarios
Sysinternals tools: A must-have for every Windows security toolbox
The very best Sysinternals tools for Windows server security
Kevin Beaver is an independent information security consultant, keynote speaker, and expert witness with Principle Logic, LLC and a contributor to the IT Watch Blog.
---
July 12, 2010 6:04 AM
Cisco recently unveiled the Cisco Cius, which I dubbed an "iPad for the working stiff." At the device's introduction, Cisco CEO John Chambers was clear that Cisco wasn't trying to build an "iPad-killer" so much as a killer business tablet, focusing on high-def video and enterprise-grade functionality instead of the pure "Wow" factor that drives so much Apple hysteria. I also noted that, despite Chambers' laser-focused aim on the enterprise market, Apple already had a headstart, winning over "scores of business professionals that have already adopted, gleefully, the business side of the Apple iPad."
Bloomberg Businessweek drove that point home on Tuesday, profiling major firms like SAP and Mercedes-Benz that were, sometimes tentatively, beginning to deploy the iPad out on their front lines:
[Rob Enslin, North America president at SAP] says that when he travels, the only device he carries besides a Research In Motion (RIMM) BlackBerry is the iPad. "It's allowed me to almost run a paperless office," says Enslin, who uses it to access business applications, briefing documents, customer information, and other data.

SAP, based in Walldorf, Germany, also works with clients to put its products on mobile devices including the iPad. Tellabs, for instance, collaborated with SAP and Sybase on an iPad application that lets managers more quickly approve shipping of customer orders. "We also have three or four different applications lined up behind this that will help us with better inventory control," says Jean Holley, chief information officer at Tellabs, based in Naperville, Ill.
It's not surprising given the iPhone's success with everyone from executives to delivery drivers, and while some still question the iPhone's enterprise readiness, the activity in our very own forums indicates many companies are still forging straight ahead.
Michael Morisy is the community editor for ITKnowledgeExchange. He can be followed on Twitter or you can reach him at Michael@ITKnowledgeExchange.com.
---