---
April 28, 2010 3:32 PM
When I spoke with Lenny Heymann, general manager of Interop, he was very conservative in predicting event turnout, saying Interop 2010 was "going to be a little smaller than last year's" conference. Maybe he was just being modest, because once the crowds swelled in, the show was plenty busy.
Several analysts, journalists and attendees all told me that numbers seemed as high or higher than last year's Interop (I didn't attend), but press relations for the show said final numbers would not be available until after they closed up shop, sensibly enough. They would, however, part with one statistic: Paid conference attendance was up 30% over last year, which would (as best I can tell) put conference attendance at around 1,900 people. Keep in mind, conference attendance is a fraction of total attendance since a lot of people just browse the show floor or are exhibiting at the show themselves.
According to the EEIAC (an independent event attendance auditor), last year's event saw a total of 1,478 conference attendees (not including who just visited the expo floor, which is free), which just over half the previous year's attendance at 2,846 (Source PDF ).
April 27, 2010 6:37 PM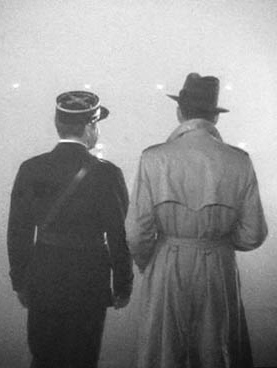 Cisco's been on an acquisition tear throughout most of the recession (See the complete list), but the seeds of today's CleanAir announcement date back to 2006, when Cisco announced a partnership with a little known company called Cognio, which had only begun shipping their breed of Wi-Fi management software the spring before.
But that was just the start to what would turn into a beautiful friendship. The next year, Cisco was so happy with the results it announced it would go on to acquire Cognio, with Cisco's Brett Galloway saying:
"Wireless spectrum is a strategic asset for our customers, and its management is key to the robust delivery of mobility applications," Galloway said. "Cognio's innovation in spectrum intelligence will help ensure Cisco continues to differentiate our ability to deliver our customers rich and dependable end-user mobility experiences."
Yankee Group senior vice president Zeus Kerravala said that acquisition was part of the turning point for Cisco to move from "selling wireless stuff" to becoming a true mobility vendor.
As an aside, Brett Galloway was the Cisco executive who made today's CleanAir announcement, too. While digging around, we also had a Cisco representative offer the following statement regarding what makes CleanAir better than standalone offerings, like Airmagnet or Cisco's own Spectrum Expert:
While spectrum intelligence can be acquired in the form of tools like Spectrum Expert which are useful in the pre-deployment phase, the best solution is to have spectrum intelligence technology integrated directly with the infrastructure.  The fully integrated Cisco CleanAir solution provides powerful features that are not available in Spectrum Expert such as 24/7 proactive monitoring of interference, spectrum security and performance alerts, remote management, and interference device location. And perhaps most importantly, integrated spectrum intelligence enables a new breed of RRM, which is able to understand and intelligently mitigate the impacts of interference.
There you have it: The long, relatively un-sordid backstory behind Cisco's latest wireless defense mechanism. I'm meeting with Cisco again Thursday, so feel free to e-mail or tweet any unanswered questions you might have to me in the meantime.
---
April 27, 2010 2:16 PM

In what may or may not have been a ploy to break the record for number of props used in an Interop keynote (a microwave, Bluetooth headset, mobile phone [those still exist?] and more all appeared), Cisco's Brett D. Galloway (above, right) proudly announced the latest prong of Cisco's Borderless Networks strategy: CleanAir technology (official release). CleanAir-embedded access points (APs) will connect with a WLAN dashboard to give networking professionals a quick overview of where their APs are deployed and, more importantly, what else is laying around in their offices, such as rogue Wi-Fi devices, unsecured wireless routers or even authorized devices that just happen to be knocking out an entire department from being able to sustain a reliable wireless connection to the wireless network.
In short, the new toolset is everything you need to be your own network toxic defender.
The visual dashboard can also overlay an office blueprint so that, for example, you can see who exactly decided it would be a good idea to install that X10 wireless camera to catch who was eating all the popcorn (Cisco's example, not mine). The dashboard also shows a barometer that indicates, on a scale of 1 to 100, how relatively healthy your wireless network is, a nice feature for proving to your local pointy-haired boss that you're doing your job.
The tool is also integrated with some smart technology that automatically helps your APs route around problem areas to reduce interference, and since the technology is on a seperate chip, Cisco claims it won't degrade overall network performance.
Wireless mapping tools are nothing new (Airmagnet is one, for example), but anything officially built into the Cisco fold has a strong market advantage, and it looks like the engineering team there has done a lot of work to make the process as intuitive and friendly as possible.
But really, did they need the bright red barometer?
---
April 27, 2010 12:34 PM
Kevin Kennedy, Avaya's president and CEO, said IP was able to consolidate or supersede dozens of other protocols like PUP and RIP and that the time was soon coming for SIP to take the same route, but a layer higher. Avaya was pushing SIP as the protocol of choice for voice, video, Instant Messaging and other types of communication, and Kennedy gave six core reasons why SIP was the right rule to ring them all: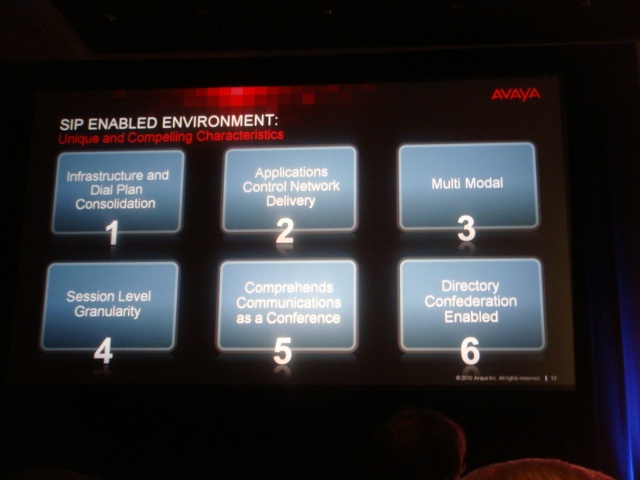 1) Infrastructure and Dial Plan Consolidation

2) Applications Control Network Delivery

3) Multi Modal

4) Session Level Granularity

5) Comprehends Communications as a Conference

6) Directory Confederation Enabled
And while I certainly believe consolidation, standardization and interoperability are beautiful things, Avaya has an uphill battle, at least in the short term. SIP has been over-promised for years and years, while even full SIP compliance doesn't guarantee the communications interoperability and unification Kennedy gushed about.
Still, it's a beautiful dream and Avaya has big enough guns that it's entirely possible, particularly as enterprises look to speed up deployments while reducing complexity.
Curt Franklin has a good write up on the rest of Kennedy's Interop keynote if you're interested in what you missed or want another perspective.
---
April 27, 2010 9:08 AM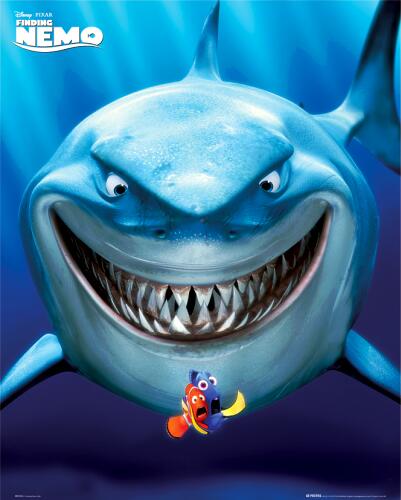 With a few exceptions, conferences are growing smaller: Travel budgets are slashed, work loads are up, and companies are trying to "go green," with or without a pricey Cisco telepresence get up (although I secretly think that last is still less about Mother Earth and more about Father Dollar). Interop is no exception, a fact Lenny Heymann, general manager of Interop, addressed head on when I asked him about it, admitting the "event is going to be a little smaller than last years'," which itself was a smaller event.
But he said that, in a way, that's OK. "We're tracking really well in terms of the key vendors," he said. "The people who still come are the ones … who are going to be buying things, the ones who want to get something done."
Show attendees I spoke with yesterday echoed Heymann's sentiment: This year's Interop isn't about ogling booth babes while getting your booklet stamped to win a Wii; it's shaping up to be a more focused, get-what-you-need show where attendees are coming to learn, to meet potential partners, and to get things done.
"It used to be companies just sent people because everybody sent people," an attendee told me yesterday as we were registering. "Now, you really have to justify it, but a lot of people are still coming, and they're coming with a clear agenda."
And as another attendee pointed out, it might be leaner but it's still a much more happening event than SUPERCOMM, which is now as lean as it can get: Cancelled.
Continued »
---
April 26, 2010 7:20 PM
Maybe it was the equivalent of having a heart attack at a cardiology trade show, but a number of Interop's early bird registrants found themselves on the receiving end of an IT snafu: Attendees were told to "Wait just 10 more minutes" as they were left to stare at an endlessly looping registration screen.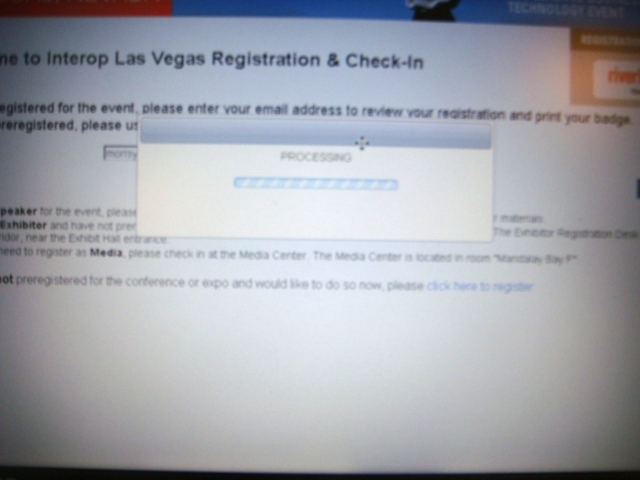 One bemused attendee quipped, "Is there an IT guy in the house?" 10 minutes later, there was still no sign of advancement as the self-service terminals, and the line continued to grow.
Eventually the aforementioned smart aleck begged off: He was on duty in a exhibitor support role to quietly show off his wares, and he had meetings to attend. Things proceeded relatively smoothly thereafter, with at least one more outage but few vocal complaints. Early birds might get the worms, but they also get the bugs, too.
---
April 26, 2010 11:30 AM
Now that everyone has checked in (well, almost everyone) and is finishing up on their conference preparation, it's about time you started finishing up that itinerary. You can read about what Interop General Manager Lenny Heymann said regarding this year's hot topics (virtualization, cloud computing and networking fundamentals) but if you'd like an outside perspective, the SearchNetworking staff did some great preview interviews (all available on their Interop Las Vegas landing page) and came away with 6 clear-cut recommended sessions, straight from the organizers themselves. You'll have your itinerary done in no time.
Doug Washburn on the Data Center
Sue Fogarty, SearchNetworking's editorial director, spoke with Doug Washburn, Forrester Research analyst and chair of Interop's Data Center track.
Washburn's top recommended sessions about the data center include:
"Bridging the C-suite gap: How to build the business case for data center transformation"
"Planning for server, storage and network convergence"
"How data center managers should evaluate the cloud and cloud-like efficiencies"
Jim Metzler on the Networking Track
"Why Networking Must Fundamentally Change"
"Breakthrough Network Technologies"
"Advances in Network Management"
---
April 26, 2010 7:00 AM
Sure, technically Interop Las Vegas 2010 started yesterday, but it really kicks off in full today, with the keynotes beginning tomorrow. Whether you're trekking into the Las Vegas sands or following from afar, the IT Watch Blog brings you the Interop experience, minus the hangover, starting with our exclusive interview with Interop Las Vegas 2010 General Manager Lenny Heymann.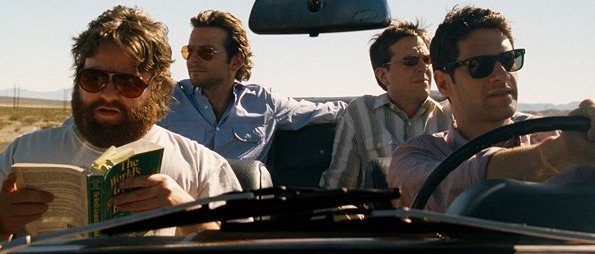 And Heymann had some surprising things to say: That the networking market has been dull, that virtual events aren't eating away at live conferences and that early indicators are showing desktop virtualization might get very hot, very soon.
But perhaps the most surprising thing Heymann told me? He's been helming Interop for so long, he doesn't know how many he's run anymore
"I joined the company that produces Interop [TechWeb] in 1997," he said. "And somewhere in the early 2000s I took over as GM." When pressed to be more specific than that, however, Heymann's memory failed him.
It's a forgivable lapse since Interop, which has grown to become one of the most influential IT conferences, has found itself changing to keep its top dog status.
"Going back to the early days, Interop was created to help foster, literally, interoperability in the networking area," he said. "As we grew and networking grew in importance, we took on a lot more of the IT and business technology story. Currently we cover the whole gamut of business technology that IT professionals need."
So what are the hot topics at Interop 2010?
Cloud Computing: "There's so much attention and valid interest [in cloud computing], and it's not just an outsourcing problem," said Heymann. "There's networking and security issues and it goes on and on. … Cloud is now number one with a bullet in terms of people wanting to know more information."
Virtualization: Just behind cloud computing, and closely related to it,  is an avid interest in virtualization: Server virtualization, network virtualization, and even desktop virtualization, which is just now beginning to appear on many IT departments' radar screens.
Sunday and Monday are both seeing dedicated virtualization tracks and sessions. Surprisingly, Heymann said that this year saw a spike in desktop virtualization, with 33% of respondents in a pre-Interop poll indicating they were investigating deploying the technology.
Networking: Although Interop was created as a deep technology networking conference, Heymann admitted that the focus had often shifted to other, "hotter" technologies over the years.
"The last few years in networking have been a little bit slow: The market has been slow overall, but one thing we're looking forward to this both from the conference and exhibitors is more excitement, in terms of how vendors are going to deal with virtualization and cloud computing," he said. "The other thing that's going to add energy to the networking world is a whole lot of mergers that have taken place over the past year."
3Com and HP, Avaya and Nortel, Cisco and countless assimilated pieces. Heynmann said that with all the shake ups, Interop is the one place end users can come and hear the whole story straight from the horse's mouth.
Whether you're trekking out into the Las Vegas sands or watching safely from your home base, IT Knowledge Exchange has you covered: The Enterprise IT Watch Blog is teaming up with SearchNetworking.com to bring you the most comprehensive Interop coverage. Follow Interop coverage on the IT Watch Blog or check out SearchNetworking's coverage on the Network Hub. If you're in Las Vegas yourself, shoot me an e-mail at Michael@ITKnowledgeExchange.com: I'd love to hear what you've learned, seen or heard, and we have plenty of free swag to give away to IT Knowledge Exchange members!
---
April 23, 2010 10:29 AM
This sponsored guest is from Cisco Systems and was written by Mark Leary, a Cisco senior strategist and Chief Marketing Officer – Network Systems.
We work, live, play, and learn in a world that has no boundaries and knows no borders. We expect to connect to anyone, anywhere, using any device, to any resource — securely, reliably, seamlessly. That is the promise of Borderless Networks.
In order to fully deliver on this promise, Cisco is advancing along three critical fronts – Workplace Transformation, Technology Leadership, and Operational Excellence. In this blog, let's focus on Workplace Transformation and how Cisco is working to accelerate technology advancements and customer success along this front.
The new workplace is visual, mobile, and in-the-moment. And for the end user, the quality of the experience is everything. Network service levels are judged purely by the quality of this "customer" experience. And remember, this "customer" could be running any application, in any location, from any device. And in this borderless world, this "customer" may be internal workers, business partners, or external end customers.
Here, the network must respond to onrushing video traffic demands, meet the rising expectations of an increasingly mobile user population, and last, but not at all least, ensure the integrity of critical business exchanges – no matter the business application, no matter the user location, no matter network conditions… no matter what!
The New Workplace is Visual.
Video drives high impact in business and applies high pressure on the network.
And video is growing dramatically across all networks — big and small, local and global, public and private. 65% of the traffic on Cisco's own network is video – and that figure is climbing!
Medianet capabilities ensure that your network not only delivers a high-quality video experience to the end user when needed, but also helps ensure that your network is ready for on-rushing video demands and applications. Built-in intelligence offers adaptability and predictability, reliably and transparently providing high-quality media experiences to any device on the network.  With medianet, your Borderless Network optimizes traffic flow and bandwidth utilization, while reducing the impact of network congestion. And it does all this while lowering the complexity and risk associated with video rollouts.
You can bet that Cisco IT makes effective use of medianet capabilities within our own internal network. Without medianet readiness, our own network and IT staff wouldn't be able to deliver the kind of experience our workers, partners, and customers have come to expect from Cisco's network and systems.
Cisco's medianet solution is further bolstered by key networking services such as Multicast, QoS, and mobile VideoStream. These key services combined with such critical built-in switch and router device capabilities as port buffering and video streaming are put to effective use by a broad range of video applications, ranging from the interactive Cisco TelePresence and WebEx to the one-way IP video broadcast or distance learning session.
Providing both the infrastructure and demanding applications such as Cisco TelePresence has taught us a lot about how to do video right across the network. Cisco Validated Designs and public cloud-based services from Cisco and service provider partners are offered in support of the specific needs of our customers. Cisco IT's experience, proven network engineering practices and designs, specialized support services, and an extensive ecosystem further heighten the positive impact of business video within Borderless Networks.
The New Workplace is Mobile.
The explosion of mobility devices, users, and applications raises the stakes in wireless scalability, security, and support requirements.
Radio frequency (RF) interference is a growing concern for organizations deploying indoor and outdoor wireless networks. Left unaddressed, RF interference can result in low data rates and throughput, lack of sufficient WLAN coverage, WLAN performance degradation, poor voice quality, and low end-user satisfaction. This, in turn, can lead to decreased network capacity, network downtime, and potential security vulnerabilities from malicious interference. Cisco offers industry-leading RF management capabilities in its mobility solutions. Cisco technologies such as ClientLink, Spectrum Intelligence, and VideoStream ensure clear and efficient communications at all times – even when faced with onrushing mobile video demands.
With rising demand for connections and increased traffic volumes, mobility solutions that readily adapt to meet new service demands are of high value. Cisco offers unmatched scalability and service intelligence in wireless networks. For example, Cisco's 802.11n product portfolio combined with 802.11n design and support services are evidence of our drive to boost performance, while easing adoption of new mobility capabilities. Cisco's context-aware capabilities and strong security services are yet other areas of mobility leadership.
And given Cisco's architectural approach to Borderless Networks, it should come as no surprise to find Cisco leading in bringing together wired and wireless networks. Here, we offer physical integration via Catalyst-based WLAN controllers and ISR-based WLAN access points. Integration is further heightened through the consolidation of wired/wireless security systems and policies, enabling access and user protection no matter the connection.
The New Workplace is In-The-Moment.
Application-layer traffic controls within the network work to ensure consistent response times and "always-on" access. QoS, NBAR, NAM, and PISA technologies are just some of the key technologies Cisco provides in support of the quality application experience. Each provides its own unique boost to the customer experience.
For remote and branch offices, Cisco's WAAS solution optimizes applications across the WAN. Offered as both a standalone solution and one that is integrated with the Cisco Integrated Services Router, WAAS minimizes WAN traffic volumes, supports efficient content delivery and user exchanges, and enables new remote systems such as video kiosks. Most importantly, WAAS provides for a first-class application experience to the remote user. Given that this remote user can often times be a worker interacting with end customers or an actual end customer interacting with on-line transaction systems, a good experience translates directly to heightened customer satisfaction – and likely, repeat and referral business.
Taking application optimization one step further are solutions aimed at supporting applications within the network itself. This not only improves the performance of applications, but also helps minimize the complexity associated with deploying and operating network-based applications. The Cisco ISR hosts applications via its Application eXtension Platform (AXP) – a service module inside the ISR. The Cisco ASR serves as a web conference manager via its WebEx Node service module.
The aim of these network-hosted applications is to ensure the effective and efficient delivery of premium service – no matter location or application.
As stated previously, network service levels are judged purely by the quality of the "customer" experience with any and all networked applications. No borders. No limits.
Are you doing all you can to make sure your "customers" are completely satisfied with their networked experience? Do onrushing video applications represent a significant challenge to your network? Do mobile users and devices represent opportunities or threats to your network? Do additional business applications represent heightened productivity improvements or lowered service levels? Let us know where you stand. And how we can help improve not only your status quo, but also your future outlook.
---
April 21, 2010 6:30 AM
Ty Kiisel, today's guest author, writes about project management for @task as an "accidental" project manager.  He shares many of the lessons learned from personal experience and conversations with customers-hopefully demonstrating that it really doesn't matter what industry you're in, the rewards of successfully executing project-based work are universal.

As covered wagons made their way along the Oregon Trail headed for the gold fields of California or the lush timber of Oregon, whenever the wagon wheels started to squeak, the wagon driver knew it was time to stop and grease the squeaking wheel-before it failed.  Along the trail there wasn't the equivalent of a Firestone or a Goodyear to get a replacement.  A failed wheel was inconvenient at best or a matter of life and death at worst.
Originally, I think this phrase implied that problems should be fixed as soon as they are identified.  But over the last 100 plus years, the term has become associated with "the person who complains the loudest gets what they want."
Organizations that rely on a "first come, first served" approach to making project decisions, or worse, the "whoever screams the loudest" approach, might get projects out the door-however are they the right projects.
For most organizations, keeping people busy isn't the challenge, it's keeping people busy doing the right things.  Evaluating every potential project based upon pre-determined metrics ensures that the business value of every project will be evaluated objectively, regardless of the stakeholder.  Making knee-jerk reactions to the demands of influential stakeholders can be expensive.  Spending valuable resources working on projects that provide minimal value can be catastrophic.
Establishing a process that requires every potential project to demonstrate its value based upon pre-determined criteria gives executives confidence that they are making well-informed project decisions.  Some of the important questions to ask when evaluating any project should include:
1.     What are the high-level objectives of the project? It's not uncommon for a project to morph into something very different from what was originally intended.  Specifically identifying the goals of every project help project teams, sponsors, and stakeholders stay on track.
2.    What are the estimated costs of the project-and the anticipated rewards? Without the answer to these questions, it becomes difficult to determine if the potential project will provide any business value, let alone the greatest value.
3.    Does the potential project align with the mission, vision, and values of the organization? Individual projects must represent the execution of strategic direction if the desired result is to maximize every dollar spent in the pursuit of the greatest ROI.
4.    What are the risks associated with pursuing the project under consideration? If potential project risks can be identified and evaluated while in the consideration process, actions can be taken to mitigate risk and increase the probability of success.
In a perfect world, every potential project that provided business value would be pursued.  However, anyone doing project-based work understands that there always seems to be more work than there is time or resources to do it. Which is why establishing a method for evaluating every potential project is so important.  Measuring and considering every potential project based upon merit is the first step to effectively managing demand-and an important component to project success.
Should the squeaky wheel always get the grease? Probably not.
---