---
June 23, 2010 1:34 PM
Every silver lining has to have a cloud attached to it, and a headline from Xinhaunet's Sci & Tech section provides just that. The silver lining? Technology implanted in a human to improve quality of life. The cloud? As with most exciting and cutting edge technology, lack of proper security. Thus Dr. Mark Gasson, a British scientist, has lay claim to becoming the first man to be infected with a computer virus.
Before you grab your yellow outbreak suit and throw your computers out a window, full disclosure: He infected himself. Dr. Gasson set out to demonstrate the danger of further development of medical devices such as pacemakers and cochlear implants without equal development of security.
"With the benefits of this type of technology come risks, " Dr. Gasson told Xinhaunet. "We may improve ourselves in some way but much like improvements with other technologies, mobile phones for example, they become vulnerable to risks, such as security problems and computer viruses."
The chip implanted in the doctor's wrist allowed him access to secure buildings and his mobile phone. Once he contaminated the chip, the planted virus was able to pass onto external control systems. This discovery and the ease with which his experiment was executed was cause for concern for Professor Rafael Capurro of Germany's the Steinbesi-Transfer-Institute of Information Ethics. He weighed the pros and cons of implant surveillance, telling the BBC: "Surveillance can be part of medical care, but if someone wants to do harm to you, it could be a problem."
Both Dr. Gasson and Professor Capurro shared their findings and concerns at Australia's International Symposium for Technology and Society this month.
With security always an underlying concern in all areas of technology, what is your take on the quest for security as developed as the technology it protects? Is Dr. Gasson's experiment just another case of preaching to the choir, or do you think it will take a threat to human well-being—rather than just their data—to finally shape up the standards for security?
Melanie Yarbrough is the assistant community editor at ITKnowledgeExchange.com. Follow her on Twitter or send her an email at Melanie@ITKnowledgeExchange.com.
June 23, 2010 11:42 AM
HP's TechForum 2010 in Las Vegas kicked off Monday and runs through Thursday, June 24. This year's hot topic theme? Converged infrastructure.
Yesterday's big announcement was StoreOnce, HP's new deduplication software. The software, which is now available for HP's new D2D4312 disk backup appliance, promises to minimize every component of deduplication: hardware requirements, storage capacity, memory and disk I/O requirements.
HP StoreOnce's Deduplication Bells and Whistles
Like the old adage, "Less is more," HP StoreOnce hopes to strip down the process of deduplication for more efficient data protection and storage. What exactly can you get your hopes up about the new software?
Deployable at multiple points of converged infrastructure.
Deduplicate fewer times and gain more control over data growth.
Use the same software across backup clients, virtual and inline appliances and scale-out storage systems.
From the HP StoreOnce news release [PDF]:
"HP StoreOnce provides a significantly more efficient method for managing and protecting data while maximizing utilization of storage capacity than competing data deduplication offerings."
In a recent InformationWeek survey, only 24% of respondents reported using data deduplication technology, while 32% reported evaluating the option and 10% gave a definite no to deduplication. Which group do you belong to? Do HP's announcements have any effect on your current practices or evaluation of deduplication?
If you are planning to adopt deduplication with HP, prepare for a 20% improvement in inline deduplication performance, allowing you to spend about 95% less on storage capacity. The software is available in all HP StorageWorks D2D backup systems, with offerings suitable from SMB to midsize data centers. The D2D4312, for midsize data centers, boasts scalable capacity up to 48 terabytes and "enables clients to consolidate backup of multiple servers in a single process." When compared to tape backup and offsite archiving, HP's D2D4312 can save you up to $2 million dollars for multisite deployment. Not only that, but no matter your storage interface, HP ensures simple deployment into your existing backup process.
What's your take on data deduplication? Is HP StoreOnce the revolution it promises to be?
Check out more announcements from HP.
Melanie Yarbrough is the assistant community editor at ITKnowledgeExchange.com. Follow her on Twitter or send her an email at Melanie@ITKnowledgeExchange.com.
---
June 22, 2010 3:16 PM
Salesforce may be one of the darlings of the cloud computing world, but they have a lot of baggage to get over if their latest venture, Chatter, is to succeed. The new communication platform, which rolled out of beta and into general availability today, mixes a bit of Facebook, a dash of Twitter and a trusted enterprise platform in the hopes of boosting enterprise collaboration and helping Salesforce gain enterprise traction beyond its wildly-devoted sales and customer service customers.
The service has already been in beta with dozens of customers trying it out, and the early returns are good: A reported 22% uptick in productivity and over 55 ChatterExchange apps available for out-of-the-box integration.
We were actually leaked some demo screenshots straight from the Chatter team itself as it brainstormed with similar software groups, and the stream is reproduced, unaltered, below:

Michael Morisy is the community editor for ITKnowledgeExchange. He can be followed on Twitter or you can reach him at Michael@ITKnowledgeExchange.com.
---
June 21, 2010 11:37 AM
Team USA isn't the only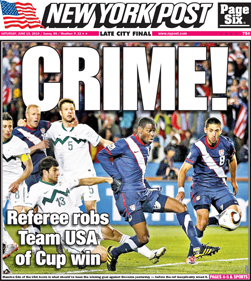 one being robbed at the World Cup: The global game is bringing spam, viruses and phishing attacks to offices around the globe, with network congestion serving as icing on the cake, particularly during game time.
Major events have long been fodder for such attacks and troubles, but Internet hot-spot watchers have been surprised by the magnitude of the World Cup's impact on office life. According to a statement from Cisco's Spencer Parker, a product manager:
" … employees are actively taking an interest in the World Cup during working hours.  Employees could be watching live streaming of these football matches on their PCs, checking the score during the matches, or even listening to the games.  As a result we have seen this significant uplift in Web traffic at the precise times that the matches are taking place."
And how significant is that uptick? Cisco ScanSafe customers have seen web usage jump 27%  globally during World Cup games. If SalesForce becomes SalesStop this Wednesday at 10:00 am ET, now you know why.
But productivity and network traffic aren't the only victims: Cisco also estimated 3 billion World Cup spam messages went out on June 11th, and some of them held nastier payloads than others. Websense's Security Labs Blog deconstructed a typical nastygram spam, promising the latest World Cup scandal: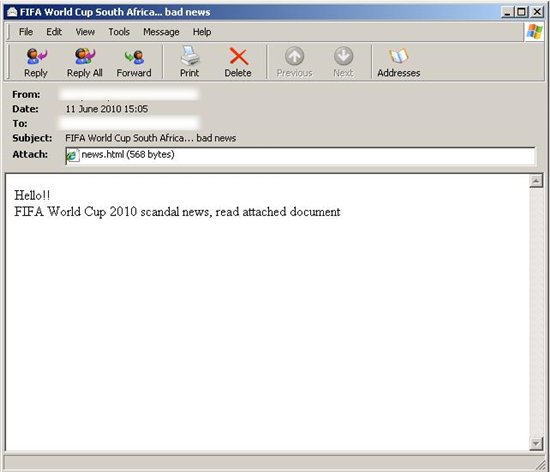 Tragically, rather than the tantalizing scandal – compromising shots of the ever popular WAGs, perhaps? – the attachment only includes URL trickery leading to a compromised webpage and a viral payload.
Game on, but make sure your staff knows the risks.
Michael Morisy is the community editor for ITKnowledgeExchange. He can be followed on Twitter or you can reach him at Michael@ITKnowledgeExchange.com.
---
June 21, 2010 6:22 AM
I saw this chat regarding storage, the cloud, and data protection and it reminded me of how nauseated I get when I hear about all the great new ways that the cloud is going to save those of us in IT from the evils of the world.
Be it in the cloud, in your data center, or in cousin Willy's basement, the same data protection principles apply to storage systems. The reality is:
No cloud vendor can offer risk-free storage services.
No SAS 70 audit report is going to tell the whole story.
No contract or SLA is going to keep your business out of hot water or the headlines when an issue of confidentiality, integrity, or availability of your data is compromised.
A marketing spin can be put on anything.
If a storage device is on the network and a human being is somehow involved in its setup, ongoing management, and maintenance, you can bet your bottom dollar that there's going to be risk. Cloud or not, do yourself and your business a favor and understand what you're getting into before you jump on the bandwagon.
For further reading on the risks and realities of cloud backup, check this out:
Data security concerns with online backup

Find unexpected vulnerabilities to ensure cloud compliance
Kevin Beaver is an independent information security consultant, keynote speaker, and expert witness with Principle Logic, LLC and a contributor to the IT Watch Blog.
---
June 21, 2010 2:30 AM
It's another big week here in Boston with the approach of the USENIX Annual Technical Conference 2010, and buzz around Microsoft Research's upcoming announcements all include the word "cloud." So what exactly do they have up their sleeves?
CloudCmp
With the increase of players in the cloud market, including Microsoft's own Windows Azure Platform, Microsoft Research has come to the rescue with this framework to aid customers select a cloud provider [PDF]. Their benchmarking tools help predict application cost and performance once deployed, allowing for more detailed comparison among cloud services.
Stout
The purpose of this technology is to eliminate the disparity between how applications perform under light workloads versus high workloads by utilizing smarter request sends. Rather than immediately sending all requests as they occur, Stout [PDF] will "[treat] scalable key-value storage as a shared resource requiring congestion control." In the case of lighter workloads, requests will be sent immediately while Stout will auto-batch requests for heavier workloads to prevent queuing delays.
Utility Coprocessor, or Ucop
The purpose of this middleware is to economize "dramatic speedups of parallelizable, CPU-bound desktop applications using utility computing clusters in the cloud." They've created a prototype, based in Linux, that allows a single cluster to serve everyone, requiring only that the users and cluster use the same major kernel version. Learn more about how they manipulated client configurations in their white paper [PDF].
Seawall
This—performance isolation for cloud datacenter networks [PDF]—is the answer to the lack of control over how networks are shared, which opens cloud applications to interference and unpredictable performance: an "edge-based solution that achieves max-min fairness across tenant VMs by sending traffic through congestion-controlled, hypervisor-to-hypervisor tunnels."
Check out the USENIX ATC 2010 website for further information on the conference, speakers and announcements to come. Are you planning to attend the conference? Give us updates and opinions in the comments section or email me directly.
Melanie Yarbrough is the assistant community editor at ITKnowledgeExchange.com. Follow her on Twitter or send her an email at Melanie@ITKnowledgeExchange.com.
---
June 18, 2010 9:13 AM
If you thought your data was getting crowded in your storage center, you haven't seen the cloud storage market lately. Verizon dealt itself into the game on Tuesday with its Verizon Cloud Storage Storage-as-a-Service offerings. Distinguishing itself from consumer-focused services such as Amazon's S3, Verizon promises to provide enterprises with superior value and access speed, utilizing their global data network in combination with storage capacity. According to IT News, Verizon's first nodes are set to go live in the U.S. in October; until then, they'll jumpstart the service in July using Nirvanix's Storage Delivery Network. The service is pay-as-you-go, starting at $0.25 per gigabyte per month, with discounts for more volume.
Despite concerns enterprises have over security, reliability and data recovery and retrieval, big names like EMC and AT&T entered the arena last year along with Amazon's S3 with similar offerings. And though more carriers may join the game, Verizon is highlighting the benefits of being on its global IP network: data access with fewer network jumps along with Verizon's security infrastructure.
Customers will be able to access data using:
Application programming interfaces
Third-party applications and backup agents
Standard CIFS
Standard NFS
Browser-based portals for data management between Nirvanix and Verizon's data centers
The SaaS is partnered with Verizon's new consulting service, Verizon Data Retention Services, to help guide businesses through storage policy development to best suit their needs and operations.
What are your thoughts on the cloud storage bandwagon? What are your concerns surrounding switching your storage to the cloud with a new service like Verizon's SaaS?
Melanie Yarbrough is the assistant community editor at ITKnowledgeExchange.com. Follow her on Twitter or send her an email at Melanie@ITKnowledgeExchange.com.
---
June 18, 2010 6:22 AM
If you're like me, you've yelled, cussed, and screamed over frustrations brought on by backup software. Let me share my experiences.
First off, I remember, back in the late 80s/early 90s, using a Colorado drive (remember those?!) with DOS-based software that just worked. Besides the occasional hardware burp, I knew I could set my 250MB system to backup overnight and by dawn it'd likely be finished.
Flash forward a few years to the mid to late 1990s and what did we have? More complexity. Sure, products like Arcserve and BackupExec had lots of features, but they also had tons of complexity. I just needed to run backups but couldn't figure how to half the time without all the bells and whistles getting in the way. Perhaps I should've taken a class. On top of that, the software was extremely unstable and unreliable. Growing pains in that era I suppose. I miss the simplicity of networks, OSs, and so on from those days but certainly don't miss all the headaches backup software brought on.
Flash forward to today: I don't hear about such problems. Have the vendors finally gotten it? I've sort of witnessed this starting 6 or 8 years ago with the cool new disk imaging software company called Acronis that had a product called TrueImage. Acronis not only brought innovation to the table (being able to image a drive while the OS was running), but they helped me realize that backups can indeed be simple again. I thought Acronis TrueImage picked up where Ghost and Drive Image left off and they've continually innovated to the point where backups just work. No fuss, no muss, just good old reliable backups.
According to the recent SearchStorage.com quality awards, Acronis is holding its own against the big guys now, which is pretty impressive. It shows how a small company willing to innovate can take on the establishment. I love free enterprise! Don't take this the wrong way, I'm no spokesperson. However, when I find software that works well I'm going to sing its praises and tell others about it.
Speaking of innovation, check out this graphical depiction of the history of computer storage. Very cool stuff that makes you realize how far we've come.
Kevin Beaver is an independent information security consultant, keynote speaker, and expert witness with Principle Logic, LLC and a contributor to the IT Watch Blog.
---
June 18, 2010 6:02 AM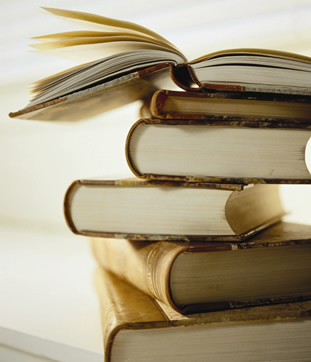 In light of this month's theme, Storage in 2010, we've compiled some books on data storage and more energy-efficient IT operations. Have you read one of these titles or did we leave a great book out? Let me know at Melanie@ITKnowledgeExchange.com and we'll add it to our list!
What books or guides have helped you figure out your storage needs and best practices?
Melanie Yarbrough is the assistant community editor at ITKnowledgeExchange.com. Follow her on Twitter or send her an email at Melanie@ITKnowledgeExchange.com.


---
June 17, 2010 12:22 PM
In preparation for my session at the upcoming Gartner Security Conference, I've been reviewing Intel's Anti-Theft Technology. Have you seen it? It's pretty neat and is a unique approach to the mobile security dilemma.
Basically, Intel is starting to integrate laptop security into their 2010 Intel Core hardware which promises to:
Detect suspicious behavior that could indicate someone trying to break into the computer.
Guard your hardware even if your hard drive is removed, replaced or reformatted.
Restore operation when (if) the laptop is recovered.
Intel claims the technology will work even if someone re-images the system, changes the boot order, installs a new drive, or keeps the system off the Internet.
Now this is change we can believe in!
I've always thought that unless and until the vendors integrate controls such as Intel's Anti-Theft Technology and drive encryption from the factory, we're going to continue having a ridiculous amount of mobile security breaches. Sure, these technologies aren't going to run themselves, but I believe them being built-in will dramatically increase the chances that they'll be used.
I'll give it a few more years, but I think my continual ranting about mobile security may eventually come to an end.
Kevin Beaver is an independent information security consultant, keynote speaker, and expert witness with Principle Logic, LLC and a contributor to the IT Watch Blog.
---