---
November 11, 2009 2:08 PM
Posted by:
Michael Morisy

Advice
,
IT Project Failures
,
Link Bait
,
Project Management
,
Sesame Street
10. Focus on the fundamentals. Sesame Street tackles a whole host of issues, from basic counting and the alphabet to overcoming cultural differences and even death. For the most part, however, the issues are key elements of early development: Not always easy, but necessary. Are the projects and problems you're tackling necessary to the bottom line? Will they give a return to the business?
9. Speak different languages. Early on, Sesame Street emphasized the importance of learning foreign languages, even if it was just the basics, such as the Count learning to say uno to diez in Spanish. More now than ever, it's critical that IT learns to speak in business terms to explain value, as recent guest blogger  Claude Roeltgen noted. So-called soft skills can save a career, and really, it's just a matter of saying what you need and what you can do in the right language. [kml_flashembed movie="http://www.youtube.com/v/Jg3WY2Sgxtw" width="425" height="350" wmode="transparent" /]
8. Learn to count. Or better yet, teach others to count. Just as our dear friend The Count spent painstaking hours teaching others to count from one to ten (in English and beyond!), IT must teach the rest of the business how IT enables profits and performance. And if you let others do the counting? Expect IT to become a cost center, with aggressive accounting for every dollar and annual budget fights.
7. Be wary of strangers. Sesame Street wins over adult fans with copious guest stars, running the gamut of celebrities, athletes and musicians. But these guests are introduced by trusted adults on the show, and viewers learn that while you shouldn't fear people different than you, you also shouldn't give them your complete trust until they've earned it. What are your security policies, and what do you do to ensure that temporary workers or outside consultants have what they need — but nothing else?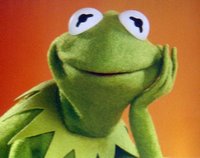 6. It's not (always) easy being green. Kermit the Frog was right: No matter often people tout the benefits of "going green," cutting costs while saving energy can be full of trade-offs. There's always new equipment to buy, new processes to manage, and while there may be a green revolution, there's a premium to be paid for leading that charge. On the other hand, Kermit did get the girl and in many cases the energy savings from a comprehensive, business-savvy "green" policy can bring home the bacon at the end of the day.