---
November 4, 2010 11:11 AM
Each year, the legions of IT professionals fan out to hit up the conference circuit to learn more about their craft, whether it's at a pricey Gartner Summit or an easy going, free-to-attend Security BSides event. One thing we haven't seen, however, is a good breakdown of when these conferences are happening, and which are the best in their category. We're trying to change that: Take our quick survey below, and in return we'll compile a list of the best IT conferences out there, complete with dates, coupon codes, tips and news coverage, all available in a convenient Google Calendar format (if you'd prefer some other way to access the data we compile, just let us know in the comments).
If we use your suggestion, we'll even throw an extra 50 free knowledge points your way … for each suggestion!
Michael Morisy is the editorial director for ITKnowledgeExchange. He can be followed on Twitter or you can reach him at Michael@ITKnowledgeExchange.com.
November 3, 2010 1:47 PM
In the age of Facebook, it matters who your friends are. So when the Open Data Center Alliance announces itself and its members – BMW, JP Morgan Chase, Lockheed Martin, Deutsche Bank, Marriott – people take notice. Yep, that's representation from over $50 billion in IT spend.
But isn't this just another glorified user group? Not really. Continued »
---
November 1, 2010 3:50 PM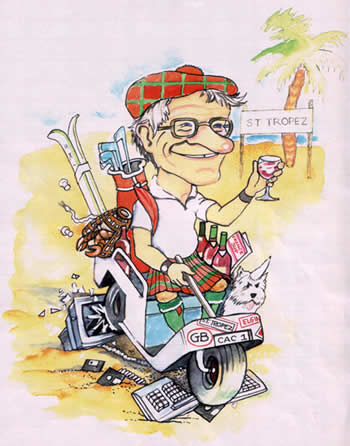 According to the Gartner report released today, "User Survey Analysis: Key Trends Shaping the Future of Data Center Infrastructure Through 2011," 47 percent of those surveyed struggle with data growth on a daily basis. Numbers two and three on the list of daily challenges were system performance and scalability and network congestion and connectivity architecture, chosen by 37 percent and 36 percent of respondents, respectively.
The survey didn't just ask about obstacles, but solutions Continued »
---
October 27, 2010 8:56 AM
Starting November 1st, Amazon will grant all new customers one year of running an EC2 instance for free. They've got some side dishes too: You can leverage that free usage tier across Amazon S3, Amazon Elastic Block Store (EBS), Amazon Elastic Load Balancing, and AWS data transfer. The sky's the limit: launch new apps, see how your current apps stand up in the cloud, or sort out all of the hype surrounding AWS firsthand.
But what's their angle? Continued »
---
October 25, 2010 1:29 PM
Despite IT's general disinterest in all things cloud, conferences such as last week's Interop NY dedicated the majority of their sessions to the subject: 40 of over 100 sessions and expo floor presentations centered around the cloud. But according to Gartner Inc.'s 2010 Hype Cycle Report, released earlier this month, IT professionals everywhere can finally exhale. Continued »
---
October 22, 2010 1:59 PM
You're not going to wake up one morning and discover you're in the private cloud. Just as there required planning to create your current infrastructure, there are certain steps you need to take before changing it. This year at Interop New York, the focus on the private cloud starts first with virtualization, and the key to getting the most out of virtualization is automation.
This method of managing provisioning and configuration involves codifying something that you're currently doing manually. This will require different tools and levels of management as your infrastructure evolves. Continued »
---
October 22, 2010 9:26 AM
It's true that the number of data breaches are decreasing. But as CEO of CyberRiskPartners Drew Bartkiewicz pointed out, the number of records compromised per breach is increasing. This observation seems to be the contributing factor to what Infosecurity refers to as a product of our economy shifting to more information-based:
Theft of information assets was reported by 27.3% of companies over the past 12 months, up from 18% in 2009. In contrast, reported incidences of theft of physical assets or stock declined slightly from 28% in 2009 to 27.2% in 2010, according to the survey [from the Kroll Annual Global Fraud Report].
So with all of these numbers scaring the enterprise into holding tighter to their users' information than ever before, is it actually the cloud's fault? Continued »
---
October 21, 2010 10:33 AM

Profile: Kevin Beaver
I just received an email from CREDANT Technologies – the data protection company specializing in encryption and related endpoint security solutions – requesting my participation in their "cloud" survey. When I saw this I thought, huh!, what does the cloud have to do with what they do??
Apparently there's something in the cloud for them. I actually followed up with CREDANT and found out that they're looking to get a quantitative view of the market and see how they can help their customers who are asking more and more about the cloud. Very interesting.
I suppose what we're seeing is the metamorphosis of traditional network environments inside our own four walls to ones that are spread across data centers throughout the world…even for endpoint protection. I'm still having a hard time wrapping my head around what the intent is and how everything will end up 10-15 years from now.
Call it simple curiosity, vendors trying to jump on the bandwagon or whatever apparently this cloud thing is reaching further and further into enterprise. Certainly worth keeping our eyes on it. Not that I buy into managed services, I mean application service providers, I mean software as a service, I mean the cloud. Whew – sometimes it really does make me tired.
Kevin Beaver is an independent information security consultant, expert witness, author, and professional speaker with Atlanta-based Principle Logic, LLC and a contributor to the IT Watch Blog. You can reach Kevin through his website at www.principlelogic.com and follow him on Twitter at @kevinbeaver.
---
October 21, 2010 8:00 AM
I made the trek to Interop New York yesterday morning, and jumped right into my first breakout session: Measuring Cloud Performance. I know what you're thinking: More marketing mumbo jumbo on the buzz word that's lost all meaning. And there were definitely moments of that, especially with a VP of product marketing on the panel, but during the predominantly question-and-answer forum, there were also moments of frustration and frank discussion on the state of the cloud computing industry.
The Panel
Moderated by Hooman Beheshti, a VP at Strangeloop, the discussion was led by panelists David Link, CEO of ScienceLogic; Randy Bias, CEO of Cloudscaling; Jason Read, founder of CloudHarmony; Russell Rothstein, VP of Product Marketing for OpTier; and Alex Polvi, CEO of CloudKick.
The Hard-Hitting Cloud Questions: What is Cloud Performance?
Beheshti began the conversation with what seems to be the standard jumping off point for any discussion concerning cloud: What the heck is it? The panelists gave a few answers: The difference of app performance when moving to a multi-tenant environment. Paying attention to the performance changes that happen based on shared resources and oversubscription. Understanding the latency that happens between the business and the cloud and the cloud and the customer.
---
October 19, 2010 8:18 AM
Microsoft CEO Steve Ballmer announced Ray Ozzie, Microsoft's Chief Software Architect, would be leaving the company, making him the latest in a line of visionaries to leave the Redmond campus. What is startling to so many isn't that Ozzie's going – his daring, cloud-first strategies runs counter to every prevailing stereotype about Microsoft – but that it seems Microsoft's still betting big on its legacy business, which many have assumed would begin to whither sooner rather than later.
In other words, Microsoft is still placing many of its bets on the traditional Windows/Office powerhouse rather than on the Ozzie-led cloud Azure architecture, which has, as the New York Times' Ashlee Vance points out, run into stumbling block after stumbling block:
Microsoft's cloud story has been mixed under Mr. Ozzie's leadership. The company has a number of huge services like Hotmail and Xbox Live and online versions of its corporate e-mail and collaboration software. But it took Microsoft years to build the Azure platform that stands as its highest profile cloud play, allowing companies like Amazon.com and Salesforce.com to strengthen their positions in the market.
But can you really blame Ozzie? Barbara Darrow saw the writing on the wall months ago, when she outlined coming fractures between Ozzie and the teams he was, in theory, supposed to lead but which he had little to no direct control over:
You've got to wonder how Ray Ozzie, the chief strategist brought in to forge Microsoft's cloud thinking, can prosper in this environment where a half dozen company presidents report into the CEO, Steve Ballmer, but not to him.

And you've got to wonder if long-simmering rumors of discord between Ozzie and Sinofsky, mean trouble for Azure ahead. After all, if a mere tablet threatened Office, think what true cloud computing means to Microsoft's ginormous on-premises operating systems and apps business.
So what's Microsoft's cloud strategy now? Do they even need one to make you, as a Microsoft corporate customer, happy? Let me know in the comments or directly via e-mail, listed below.
Michael Morisy is the editorial director for ITKnowledgeExchange. He can be followed on Twitter or you can reach him at Michael@ITKnowledgeExchange.com.
---