---
November 15, 2010 4:32 PM

Profile: Kevin Beaver
Contrary to the marketing hoopla we're being force fed, once all the "cloud" hype settles down the data center as we know it is still going to be around. So, there's no better time than now to get your physical security and IT ducks in a row to ensure everything in and around the data center stays in check.
Here are several pieces I've written on data center management than can help you get rolling:
Several of these pieces are from another trade rag I write for called Security Technology Executive, a great resource for all things data center related.
Kevin Beaver is an independent information security consultant, expert witness, author, and professional speaker with Atlanta-based Principle Logic, LLC and a contributor to the IT Watch Blog. You can reach Kevin through his website at www.principlelogic.com and follow him on Twitter at @kevinbeaver.
November 15, 2010 10:25 AM
If you thought your data center was overrun with data, imagine holding all of the information of over 500 million people, from the things they like to who they're having a complicated relationship with this week. That's right, the monster that is Facebook is running out of servers. Their solution? Continued »
---
November 10, 2010 9:51 AM
A recent Ponemon Institute study revealed that 95% of organizations represented by the 450+ U.S.-based data center professionals surveyed have experienced an unplanned data center outage within the past two years.
For some perspective, some data center outages can add up to thousands of dollars in loss per second of outage.
The numbers just don't add up. Continued »
---
November 4, 2010 11:11 AM

Profile: Michael Morisy
Each year, the legions of IT professionals fan out to hit up the conference circuit to learn more about their craft, whether it's at a pricey Gartner Summit or an easy going, free-to-attend Security BSides event. One thing we haven't seen, however, is a good breakdown of when these conferences are happening, and which are the best in their category. We're trying to change that: Take our quick survey below, and in return we'll compile a list of the best IT conferences out there, complete with dates, coupon codes, tips and news coverage, all available in a convenient Google Calendar format (if you'd prefer some other way to access the data we compile, just let us know in the comments).
If we use your suggestion, we'll even throw an extra 50 free knowledge points your way … for each suggestion!
Michael Morisy is the editorial director for ITKnowledgeExchange. He can be followed on Twitter or you can reach him at Michael@ITKnowledgeExchange.com.
---
November 3, 2010 1:47 PM
In the age of Facebook, it matters who your friends are. So when the Open Data Center Alliance announces itself and its members – BMW, JP Morgan Chase, Lockheed Martin, Deutsche Bank, Marriott – people take notice. Yep, that's representation from over $50 billion in IT spend.
But isn't this just another glorified user group? Not really. Continued »
---
November 1, 2010 3:50 PM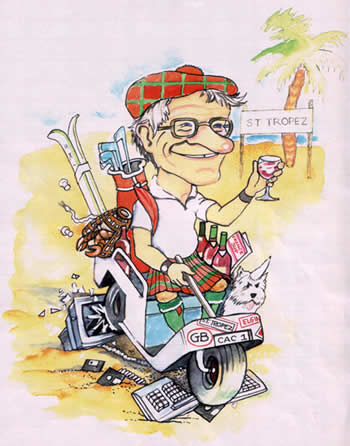 According to the Gartner report released today, "User Survey Analysis: Key Trends Shaping the Future of Data Center Infrastructure Through 2011," 47 percent of those surveyed struggle with data growth on a daily basis. Numbers two and three on the list of daily challenges were system performance and scalability and network congestion and connectivity architecture, chosen by 37 percent and 36 percent of respondents, respectively.
The survey didn't just ask about obstacles, but solutions Continued »
---
October 27, 2010 8:56 AM
Starting November 1st, Amazon will grant all new customers one year of running an EC2 instance for free. They've got some side dishes too: You can leverage that free usage tier across Amazon S3, Amazon Elastic Block Store (EBS), Amazon Elastic Load Balancing, and AWS data transfer. The sky's the limit: launch new apps, see how your current apps stand up in the cloud, or sort out all of the hype surrounding AWS firsthand.
But what's their angle? Continued »
---
October 25, 2010 1:29 PM
Despite IT's general disinterest in all things cloud, conferences such as last week's Interop NY dedicated the majority of their sessions to the subject: 40 of over 100 sessions and expo floor presentations centered around the cloud. But according to Gartner Inc.'s 2010 Hype Cycle Report, released earlier this month, IT professionals everywhere can finally exhale. Continued »
---
October 22, 2010 1:59 PM
You're not going to wake up one morning and discover you're in the private cloud. Just as there required planning to create your current infrastructure, there are certain steps you need to take before changing it. This year at Interop New York, the focus on the private cloud starts first with virtualization, and the key to getting the most out of virtualization is automation.
This method of managing provisioning and configuration involves codifying something that you're currently doing manually. This will require different tools and levels of management as your infrastructure evolves. Continued »
---
October 22, 2010 9:26 AM
It's true that the number of data breaches are decreasing. But as CEO of CyberRiskPartners Drew Bartkiewicz pointed out, the number of records compromised per breach is increasing. This observation seems to be the contributing factor to what Infosecurity refers to as a product of our economy shifting to more information-based:
Theft of information assets was reported by 27.3% of companies over the past 12 months, up from 18% in 2009. In contrast, reported incidences of theft of physical assets or stock declined slightly from 28% in 2009 to 27.2% in 2010, according to the survey [from the Kroll Annual Global Fraud Report].
So with all of these numbers scaring the enterprise into holding tighter to their users' information than ever before, is it actually the cloud's fault? Continued »
---