---
March 20, 2011 8:00 AM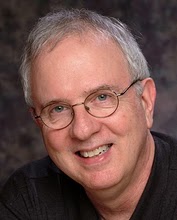 Don Crawley has been a tech trainer for about 13 years, but like the title of his series of books, "The Accidental Administrator", he sort of stumbled into the profession. Eleven years ago, Crawley started in Cisco routers and developed a lot of training materials. Eventually so many clients expressed how much they liked his training skills that he became the accidental technical trainer.
Continued »
March 16, 2011 10:27 AM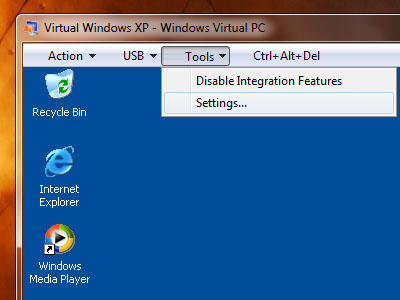 Luckily for most of us, especially end users, Windows 7 is highly compatible with current systems, even running better on the hardware than its predecessor, complete with XP mode or enterprise desktop virtualization to allow XP-specific applications to continue to run. This creates little, if any, turn around time for end users.
According to many who have made the switch, Windows 7's interface changes are fairly intuitive and user-friendly. Other changes, such as to the notification area in an attempt to make Windows less intrusive, may require workarounds or additional education for staff. IT Knowledge Exchange member IceCubbe points out that many of the systems settings can be difficult to find, despite the updated search function. His suggestion? Take advantage of Microsoft's "little trick dubbed 'GodMode'":
Continued »
---
March 15, 2011 1:10 PM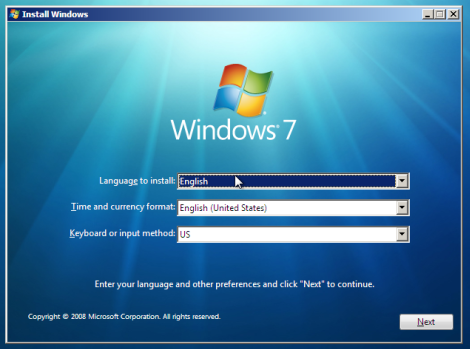 One of the first things to understand before deploying any new system, whether it be applications in the cloud or Windows 7, is that there are no quick fixes for hurting networks. That said, undertaking a move such as a migration to Windows 7 means an equal mix of planning, preparation, and deployment. The enterprise is taking the plunge all over, and it seems the reviews so far have been pretty glowing. These success stories did not happen without a certain amount of planning and work, so in order to experience your own, you should pull out the elbow grease.
Continued »
---
March 14, 2011 12:07 PM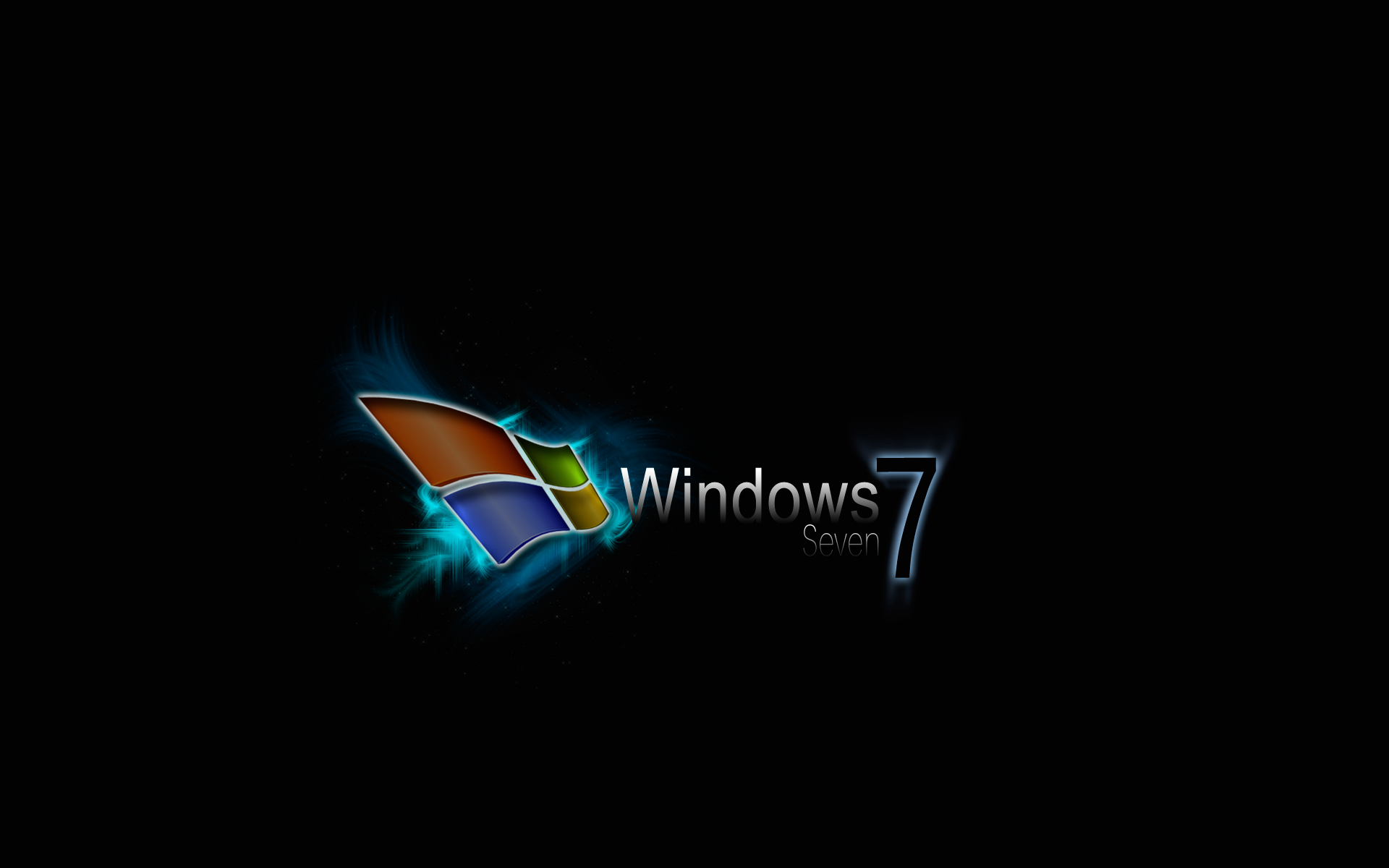 We're always looking for places to get the latest and most helpful information, and this month we're covering Windows 7. We asked the community where they went for Windows 7 information, tips and tricks, and here's what they said:
Saturno suggested GlobalKnowledgeBlog for its section on Windows 7 that is always being updated with new materials. Engineering Windows and the Windows 7 Team Blog are also great stops on your way to a better understanding of the operating system. Johnstockman enjoys the Microsoft Springboard Windows 7 blog for help in Windows 7 deployment.
Slack400 recommends Windows Networking and SearchEnterpriseDesktop for more in-depth information. Some of his favorite guides on SearchEnterpriseDesktop:
The Windows 7 Blog is another compilation of developments in Windows 7 and Windows in general. Check out IT Knowledge Exchange's options for Windows 7-related blogs as well: Windows Enterprise Desktop by Ed Tittel, Windows 7: Through the Looking Glass by Tony Bradley, and The ranting of an IT professional by Jason Tramer highlights Windows 7 on a pretty regular basis. Of course, there are always the Enterprise IT Watch Blog and the answer forums for those questions or quirks that you can't find anywhere else.
Add your own picks in the comments section, the forums, or email me directly at Melanie@ITKnowledgeExchange.com.
---
March 11, 2011 2:30 PM
Google has deployed its Person Finder Crisis Response technology today after news of the earthquake and subsequent tsunami in Japan. From the site:
A massive 8.8 magnitude earthquake hit the Pacific Ocean nearby Northeastern Japan at around 2:46pm on March 11 (JST) causing damage with blackouts, fire and tsunami. On this page we are providing the information regarding the disaster and damage with realtime updates.
Complete with emergency numbers in Japan, message boards, transportation information, and maps, the interactive Crisis Response site primarily offers the chance to report information about missing or injured persons or to request information about someone possibly affected by the quake.
Originally created after the Haiti earthquake and recently deployed in response to the Christchurch earthquake in New Zealand last month, the tool was built by Google's "philanthropic arm, Google.org." Since the project is open-source there have been non-Google contributors in addition to Google's Crisis Response team.
For more information on the disaster or the project, go to the Person Finder site directly.
Melanie Yarbrough is the assistant community editor at ITKnowledgeExchange.com. Follow her on Twitter or send her an email at Melanie@ITKnowledgeExchange.com.
---
March 10, 2011 3:42 PM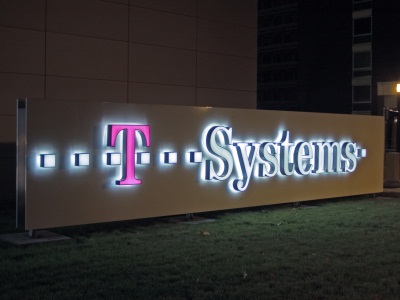 According to a Microsoft press release, T-Systems International, a Deutsche Telekom AG subsidiary and ICT provider, is migrating all of its managed desktop services to Windows 7 Enterprise. Dr. Ferri Abolhazzan, a member of the T-Systems Board of Management and head of production, praised Windows 7's features and improved security such as BitLocker, DirectAccess, and the support for roaming profiles. The release also highlighted the opportunity to save costs in energy, "The built-in power management features in Windows 7 will help decrease power consumption, as well as prolong the battery life of laptop computers."
The company is migrating 250,000 managed seats to the new OS, in an effort to standardize desktop deployment. T-Systems isn't the only company making the migration or singing Windows 7's praises, so it's looking good for the OS, whose first service pack was recently released.
Have a different take on Windows 7 or its new service pack? Let us know in the comments section or send me an email at Melanie@ITKnowledgeExchange.com.
Melanie Yarbrough is the assistant community editor at ITKnowledgeExchange.com. Follow her on Twitter or send her an email at Melanie@ITKnowledgeExchange.com.
---
March 10, 2011 6:09 AM

Profile: Michael Morisy
Would you buy your IT help at the same place you snagged that great burrito deal? That's what Groupon was hoping in a recent (possibly record breaking) deal: $12,500 for $25,000 worth of "Business Intelligence or cloud services," offered by Ajilitee. And right next to it? A Microdermabrasion offer.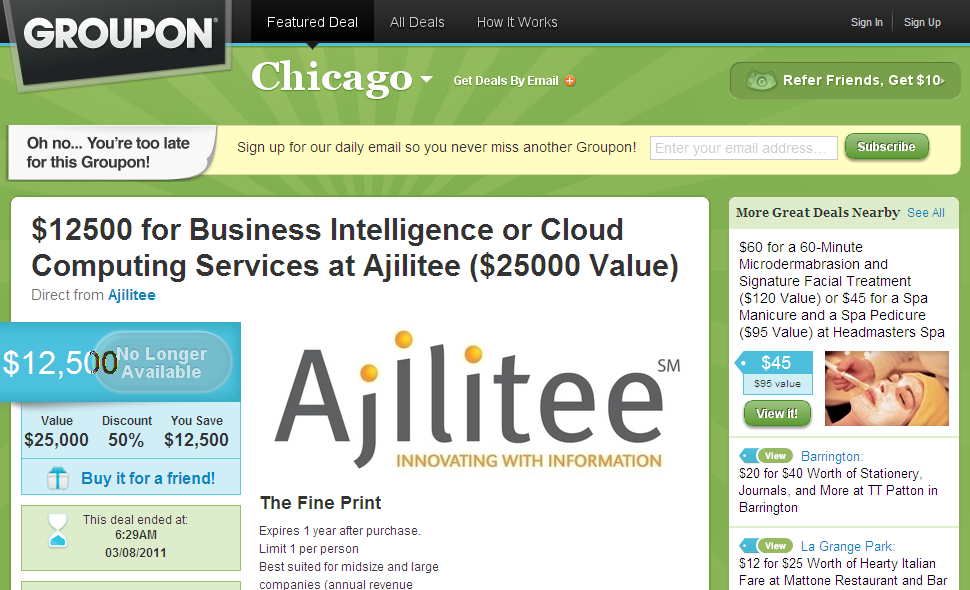 Clever marketing stunt? Testing the waters for big ticket items? It's hard to tell, particularly since it appears that no one actually bought the offer, but apparently Ajilitee is happy with the buzz it's generated.
---
March 9, 2011 2:37 PM
Has the solution to the "Windows 7: To VDI or not to VDI" dilemma finally arrived? Suddenly Microsoft's July extension of VDI use rights as part of their Software Assurance licensing benefits comes into focus. With the release of Windows Thin PC, or WinTPC, Microsoft simplifies the debate for users already enrolled in the Software Assure Program.
Whereas other users have to pay an extra cost for Windows Virtual Desktop Access subscriptions to use thin-client devices, future users of WinTPC won't have to buy a VDA license, as explained by Gavriella Schuster, General Manager for the Windows Commercial business, in the Windows Team blog:
WinTPC is a smaller footprint, locked down version of Windows 7, designed to allow customers to repurpose their existing PCs as thin clients. PCs with WinTPC will not require the VDA license that regular thin clients will need to access VDI desktops. WinTPC is expected to be available for download from the Microsoft Connect Site in Q1 2011.
This benefit approach is Microsoft's way of helping companies maximize technology investments by lowering or eliminating the up-front costs of thin clients to be used for VDI as well as the cost of licensing. Another concern for Microsoft, as outlined by Karri Alexion-Tiernan in a blog post, is to address the shrinking budgets for new devices. Allowing customers to utilize existing PCs frees up some of that budget to be spent "towards devices that offer more functionality and flexibility, such as new Windows 7 PCs, tablets, or slates." While there is much skepticism from the experts, WinTPC is nonetheless slated to be released this month. More announcements are to be made tomorrow, so we'll update you on any news.
Is Microsoft going to be too late to the tablet party?
While the iPad infiltrated the consumer market before sneaking its way into the enterprise – to many people's chagrin and still only with a sliver of enterprise users – perhaps Microsoft is taking the backwards approach: Enter the enterprise market with Windows-equipped tablets after the market is full-fledged and saturated. Hey, it worked with their mobile timeline, right?
What do you think of WinTPC? Not impressed by Microsoft's unending attempts to lock users in? Let us know in the comments section or send me an email at Melanie@ITKnowledgeExchange.com.
Melanie Yarbrough is the assistant community editor at ITKnowledgeExchange.com. Follow her on Twitter or send her an email at Melanie@ITKnowledgeExchange.com.
---
March 7, 2011 4:00 PM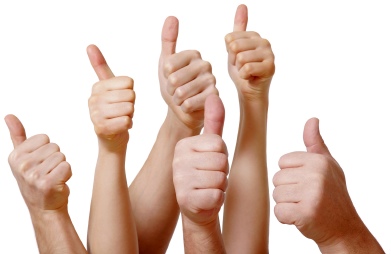 With enterprise IT's evolution comes the evolution of its operating system of choice, which for many is some flavor of Windows. Since Windows 7's release, there has been some hesitation to migrate across the board, with many companies still holding on dearly to Windows XP. It seems that those who have made the jump, or stuck their toes in the Windows 7 water, are pretty satisfied with the outcome. We polled some IT Knowledge Exchange members, and got some glowing reviews.
Continued »
---
March 3, 2011 1:08 PM
With last week's release of Service Pack 1 for Windows 7 and Server 2008 R2, you may be experiencing some hesitation or caution when approaching the installation of this major update. As Ed Bott has observed, there have been no major issues reported by those who have taken the leap and installed SP1.
If you're still in testing mode, however, he recommends using the SP1 Blocker toolkit from Microsoft to prevent the service pack's delivery via Windows Updates. He also has some good advice for those ready to install the new package, or really any new major update:
Create a manual system restore point to return to in case of a problem.
Perform a manual image backup of your system prior to installation.
Michael Morisy recently talked about the plethora of Windows options available on the market right now. One man took it a step further, and took a walk down Windows memory lane. Whether you're planning a company roll out of Windows 7, or you're considering the installation of SP1, take a minute (or ten) to go back to your roots:
[kml_flashembed movie="http://www.youtube.com/v/vPnehDhGa14" width="425" height="350" wmode="transparent" /]
For additional questions or concerns regarding the update, check out Microsoft's TechNet Forums for user reactions and threads. Have other concerns or questions? Take advantage of the ITKnowledgeExchange community and visit the Forums, post in the comments section, or contact me directly at Melanie@ITKnowledgeExchange.com.
Melanie Yarbrough is the assistant community editor at ITKnowledgeExchange.com. Follow her on Twitter or send her an email at Melanie@ITKnowledgeExchange.com.
---