---
November 30, 2012 2:02 PM
Though many people still head to the big box stores at 3 a.m. on Black Friday, online shopping continues to rise. Online sales were up 20.7 percent over last year; this infographic from IBM shows all topics related to Black Friday including mobile and tablet sales.
Check out Ron Miller's post to see which platform was the big winner on Black Friday.
November 30, 2012 10:30 AM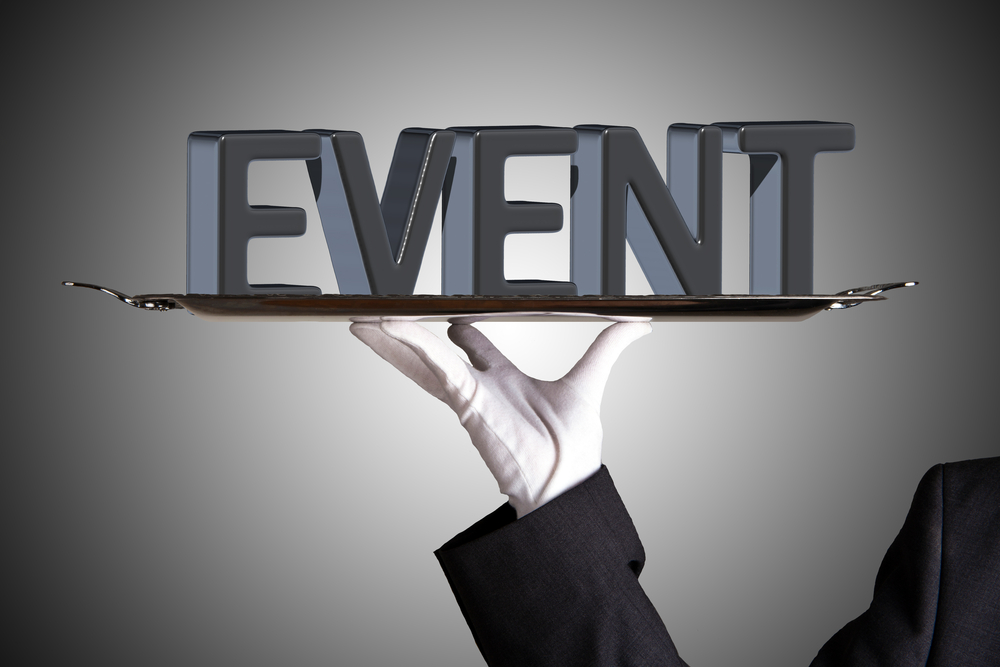 Event image via Shutterstock
The West Coast will be the hot spot in December as several IT events will be hosted in Los Angeles, San Francisco and Las Vegas. Try to get some time off to enjoy these great events!
1.  Gartner Identity & Access Management Summit (December 3-5, Las Vegas, Nevada)
2. 7th Annual LNG Tech Global Summit 2012 ( December 3-5, Rotterdam, Netherlands)
3. Gartner Data Center Conference (December 3-6, Las Vegas, Nevada)
4. TechTarget: Storage for Virtual Servers and Desktops (December 4, Boston, Massachusetts)
5. Content and Apps for Automotive USA 2012 (December 4-5, San Diego California)
6. AnDevCon IV: Android Developer Conference (December 4-7, San Francisco, California)
7. INTERFACE – Seattle (December 6, Seattle, Washington)
8. Cloud World Forum North America (December 6, New York, New York)
9. 26th Large Installation System Administration Conference: LISA '12 (December 9-14, San Diego, California)
10. ClearEdge Apache Hadoop for Programmers (December 10-12, Jessup, Maryland)
11. Vision 2013 (December 11, Los Angeles, California)
12. TechTarget: The Consumerization of IT (December 11, San Francisco, California)
12. Third Annual  UP 2012 Cloud Computing Conference (December 12, San Francisc0, California)
13. Social Media & PR New York Training (December 13, New York, New York)
14. Practical Experience with Apache Pig (December 13, Jessup, Maryland)
15. TechTarget: Desktop Virtualization 2012 (December 13, Los Angeles, California)
16. TechTarget: Big Data Insights (December 18, New York, New York)
17. Dell SonicWALL: Security Threats in Modern Times, Why Traditional Firewalls are No Longer Relevant (December 20, Los Angeles, California)
We'll be sharing IT events each month here on the Enterprise IT Watch blog. Got an event to add to our list? Let us know via Twitter (@ITKE) or email. Going to one of these events? Share your takeaways (and photos) with us!
---
November 29, 2012 1:02 PM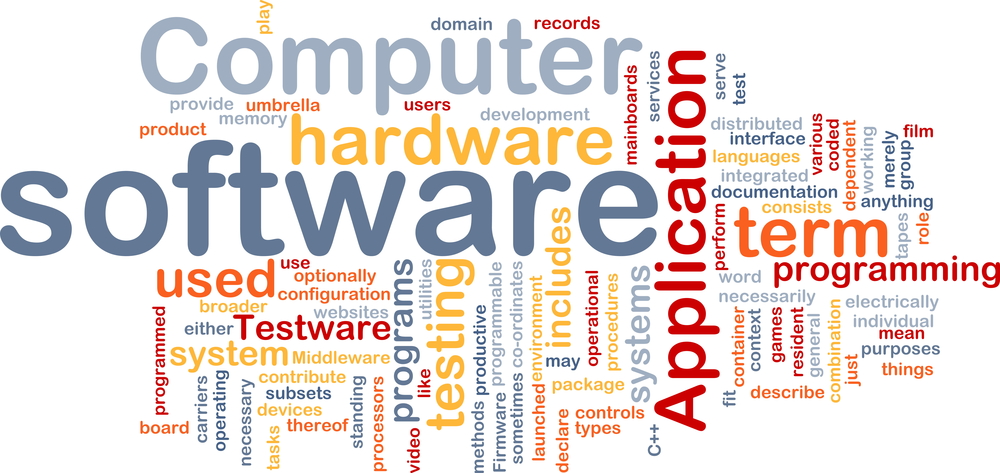 Software image via Shutterstock
By Steve Poling (@stevepoling)
JIRA is a great tool to keep track of issues in a software project, be they requirements or bug-reports. You can create a JIRA issue, attach a description of what you want, and assign it to someone. Or to yourself. The tool generates charts and graphs that will impress your boss.
But there's a problem I call JIRA-mandering and it's as bad a thing as wickedly-drawn political districts.
The people who are defining a system under development, or reporting problems in an existing system may not have a clear notion of what they want or what's wrong. This vagueness isn't a bad thing because we need to capture issues and give them visibility. It's better than nothing! But the vagueness can lead to JIRA-mandering as we learn what we want and as one thing leads to another.
Suppose you've got a vague requirement to publish something, but when you get into the implementation, you learn of constraints and considerations you were unaware of at the outset. It's easy to tack these considerations onto the original JIRA issue.
Another possibility is that when you originally formulate a JIRA issue you want X and Y and Z. Only trouble is that at the time you didn't realize that X and Y are as easy as getting milk and cigarettes from the corner store, while Z is like flying to the moon to get rocks. I can hear my boss saying, "I appreciate the milk and smokes, Steve, but you're not closing the issue."
Perhaps you've heard of SMART criteria (Specific, Measurable, Attainable, Relevant, and Timely). "Hey, boss, did you realize you were asking for the moon?" Or "Hey boss, what do you really need moonrocks for?"
I think JIRA issues should be as SMART as you know how to make them. And you've got to have an understanding with your stakeholders that JIRA issues are subject to change as we learn and work through what the software needs. I propose a continuous process of refining JIRA issues to make them SMARTer.
Whenever someone gives me work, we both want to know when it'll be done. I know I'm done writing software when it passes an Acceptance Test. (Every test should have one reason to fail, but that's another story.) Let's suppose a stakeholder creates a JIRA-mandered issue and assigns it to you. The first thing you should do is determine what the Acceptance Test will be. It's one of those good habits: start with the end in mind.
When you do this to a JIRA-mandered issue, you'll discover that either you cannot articulate an Acceptance Test, or you'll find you're talking about a collection of tangentially-related tests. Most likely, it'll be a mix of the two: a fog-ball nestled in amidst a number of better-understood, disparate matters.
If you can't articulate an Acceptance Test for a JIRA issue, you've got to negotiate with your stakeholder. Try to get the issue split into parts that clearly identify the parts you understand and the rest. And I suppose that when you see parts of two different JIRA-mandered issues that naturally belong together, try to recombine them into their own JIRA issue.
Just as gerrymandering undermines the integrity of democratic governance, a haphazard coverage of the requirements and issues in a software system undermines visibility into its development or maintenance.
Steve Poling was born, raised and lives in West Michigan with his wife and kids. He uses his training in Applied Mathematics and Computer Science as a C++/C# poet by day while writing Subversive Fiction by night. Steve has an abiding interest in philosophy and potato cannons. He writes SF, crime fiction, an occasional fractured fairy tale, and steampunk. His current writing project is a steampunk novel, Steamship to Kashmir – provided he isn't distracted by something new & shiny.
---
November 28, 2012 2:04 PM
In episode two of 'The Avengers: The Office Parody', the group pulls several pranks on SABob, forcing him to team up with the greatest superhero of all time (in my opinion): Batman!
To see how SABob became a member of The Avengers, check out episode one here!
Thanks to Mischa Gorrell for the tip in our LinkedIn Group.
Disclaimer: All videos presented in the "YouTube IT Video of the Week" series are subjectively selected by ITKnowledgeExchange.com community managers and staff for entertainment purposes only. They are not sponsored or influenced by outside sources.
---
November 21, 2012 12:00 PM
This week, the National Museum of Computing is opening its doors to the world's oldest computer. Known as 'The Witch', the computer weighs two tons and was used to help scientists crunch large numbers.
After 15 years, the computer is getting restored and this video proves 'The Witch' is back in action!
Disclaimer: All videos presented in the "YouTube IT Video of the Week" series are subjectively selected by ITKnowledgeExchange.com community managers and staff for entertainment purposes only. They are not sponsored or influenced by outside sources.
---
November 16, 2012 2:07 PM
By Cesare Garlati (@CesareGarlati)
Rather than resist it, organizations should embrace Consumerization to unlock its business potential. This requires a strategic approach, flexible policies and appropriate security and management tools.
The consumerization of IT is the single most influential technology trend of this decade. Companies are already well aware of it, as they wrestle with the growing influence of smartphones, tablets, Facebook, Twitter and on and on. While this growth does bring risks, too many companies make the mistake of trying to resist the influx of consumer IT. So what are the solutions and best practices for a company to turn consumerization into a competitive advantage?
One: Have a plan. Take a strategic approach to Consumerization and develop a cross-organizational plan. IT cannot do this in a vacuum and will have to engage executives, line of business owners (marketing, sales, HR, product development) as well as customers, partners, and internal early adopters. While planning to adopt new consumer technology, IT managers should survey their most innovative users to discover what devices and applications they like and what they find most useful in their work activities. In this way IT will pull from users' experience rather than pushing IT views to their base.

Two: Say yes – but not to everything for everyone. Develop a set of policies that clearly define what devices and applications are considered corporate-standard (fully supported by IT) vs. tolerated (jointly supported with the user) vs. deprecated (full user liability). In addition, IT should profile the global workforce based on relevant attributes such as role, line of business and location. And then map technologies to user profiles and define SLAs for each intersection.

Three: Put the right infrastructure in place. Deploy appropriate IT tools specifically designed to secure and manage consumer technology in the enterprise. Be aware that while some solutions have already materialized along the lines of specific product segments, no single vendor can provide one single solution covering all functional requirements across all platforms. As vendors enter the Consumerization space with solutions initially developed for adjacent product segments, most solutions tend to offer overlapping core functionality and to lack the cross-platform support critical to protect and manage the full spectrum of Consumer technologies. Therefore, IT will have to integrate multiple offerings across different product categories: security solutions for Internet content security, mobile antimalware and mobile data protection, Mobile Device Management tools for system provisioning and application management, and Telecom Expense Management providers for procurement, support and cost control of voice and data services.
In conclusion, organizations need to embrace consumerization to unlock it business potential. This requires a strategic approach, flexible policies and appropriate security and management tools.
Have you seen this strategy working well in your company? Not at all?  Let me know. Leave a comment here.
This content has been re-posted with consent from BringYourOwnIT.com.
---
November 15, 2012 1:17 PM
For many people, the idea of cloud computing is fairly new to the IT industry. However, it actually dates back to the 1960s, as J.C.R. Licklider introduced us to the notion of  an 'intergalactic computer network'.
This infographic from NTTCOM.TV displays how cloud computing has evolved over the course of history, from its beginning to 2012. Tell us in the comments below what you think the future of the 'cloud' holds in store for us.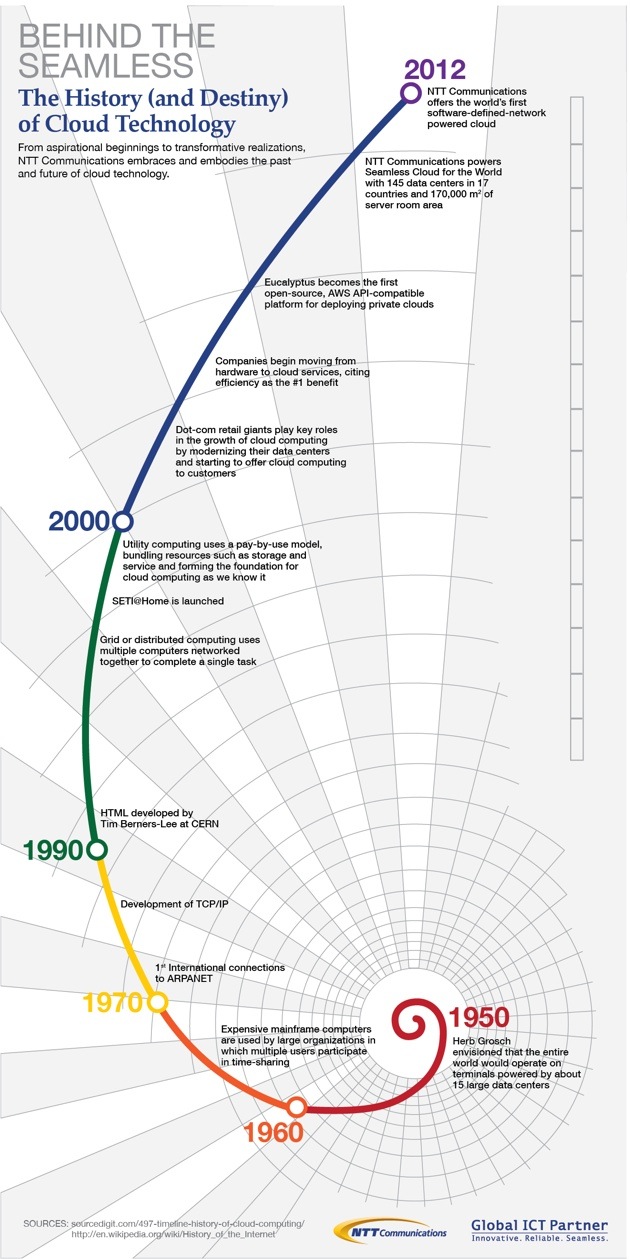 ---
November 14, 2012 4:04 PM
As more reviews continue to come in for Microsoft's new tablet, 'Surface', Mashable has a particularly unique take. This video shows how one Surface tablet got run over by a car — and lived to tell the tale.
Disclaimer: All videos presented in the "YouTube IT Video of the Week" series are subjectively selected by ITKnowledgeExchange.com community managers and staff for entertainment purposes only. They are not sponsored or influenced by outside sources.
---
November 13, 2012 9:55 AM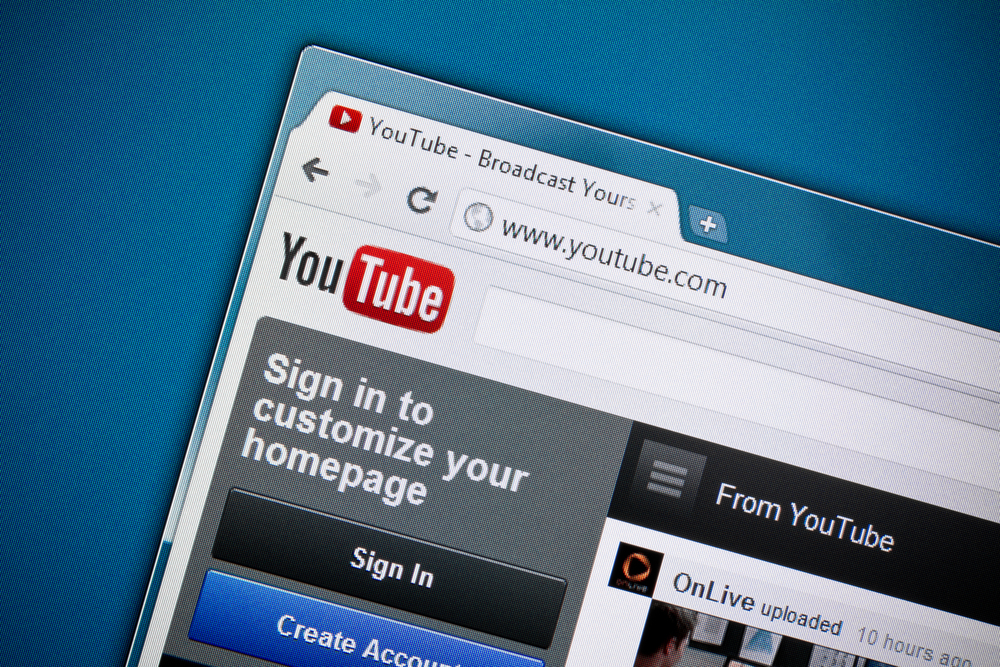 YouTube image via Shutterstock
On November 13, 2006, Google completed the acquisition of the video-sharing website, YouTube, for an estimated $1.65 billion.
The social media platform, created by Chad Hurley, Steve Chen and Jawed Karim, has exploded across the Internet world and is the #3 ranked website in the world according to Alexa's traffic rankings.
We'll give away 400 Knowledge Points to the person who can tell us the most popular YouTube video of all time. (HINT: It's a music video).
Each Tuesday, the ITKE team will take you back in time, as we take a look at the events that have changed technology history. Have a tip for us? Email mtidmarsh@techtarget.com or find us on Twitter (@ITKE).

Disclaimer: All posts presented in the "This week in tech history" series are subjectively selected by ITKnowledgeExchange.com community managers and staff for entertainment purposes only. They are not sponsored or influenced by outside sources.
---
November 9, 2012 3:44 PM
By Cesare Garlati (@CesareGarlati)

In a previous post, I raised three pitfalls that your BYOD program cannot afford to ignore when allowing employees to use their personal devices for work:
– Remote deletion of personal data on an employee-owned device
– Tracking an individual's location
– Monitoring an employee's Internet access
Based on my involvement with various BYOD projects and my ongoing conversations with many industry experts, here is my recommendation for three best practices that will allow you to strike the delicate balance between employee privacy and corporate liability:
Have a Comprehensive, Clear Policy that explicitly covers these issues of data deletion, location tracking and Internet monitoring.
HR, Legal, and Communications should provide their expertise to create the actual document. This is not solely the IT department's responsibility. It requires far more than a little box to check off, as you would when accepting a software user agreement. The details must be read, understood and signed off on. Employees must be trained.
To that point, the policy document must be in clear layperson language, and spell out all the bad things that could happen to your device in a worst-case situation. For example: If my smartphone/tablet is stolen, the company will remotely wipe any sensitive corporate data from it.  I understand and accept that there is potential risk to my personal data.
The policy should cover possible confiscation of a personal device—if the company's electronic communications and actual devices should be impounded during an E-Discovery legal case. Here, the company should state its position about replacing an employee's personal device.
The company must be up-front in acknowledging that in exchange for using the corporate network, IT will have the ability to locate your device at any time.
Finally, with respect to monitoring Internet activity, the policy should be exceedingly clear:  Any data I access through the Internet when I am attached to the corporate network may be monitored and logged. The company has a responsibility not to divulge my personal information, unless there is criminal activity that the company would be obligated to report to authorities.
Do Not Assume That One Policy Size Fits All Users
Design your policy with the ability to tailor it for different groups of users and limit device control and user tracking to the minimum required by your company's regulations.
There is no need to require an employee to accept the possibility of personal data wiping if s/he only uses the corporate network to browse the Internet.  On the other hand, an engineer needing access to the company's Intellectual Property needs to accept a different level of privacy exposure.
Work with functional managers to help determine the degree of access you grant.
If you are dealing with a senior executive, your role may be to personally detail the potential exposures of sensitive corporate data.
Deploy the Right IT Infrastructure for Your Situation
The right IT infrastructure for Consumerization may include deploying different solutions to mitigate the pitfalls of employee privacy while securing corporate data.
Use as much virtualization as possible. VDI or other similar means to provide remote access to corporate applications from laptops and desktops is an approach I recommend where employee privacy is of concern.  No corporate data resides on the employee device, so there is nothing to wipe out.  Likewise, there is no need to track location, because everything is happening inside your data center. There's also nothing to monitor in the device itself, because the virtual desktop activity is local to your corporate network.
Mobile Device Management is needed to secure smartphones and tablets where the virtual environment does not work well because of the small screens, or because the target mobile operating system doesn't provide true VDI support yet – such as Apple iOS and Android.
Consider pseudo virtualized solution for Android devices.  These essentially split the 'personality' of the smartphone, which allows the user to have separate user identities by partitioning the personal and corporate sides.
In conclusion: Consumerization and BYOD are real and here to stay. Rather than resist it, organizations should embrace BYOD programs to unlock the business potential of Consumerization. This requires a strategic approach, new flexible policies and appropriate security and management tools.
This content has been re-posted with consent from BringYourOwnIT.com.
---